Nineteen High Schoolers Complete MCW's Pre-Pharmacy Scholars Boot Camp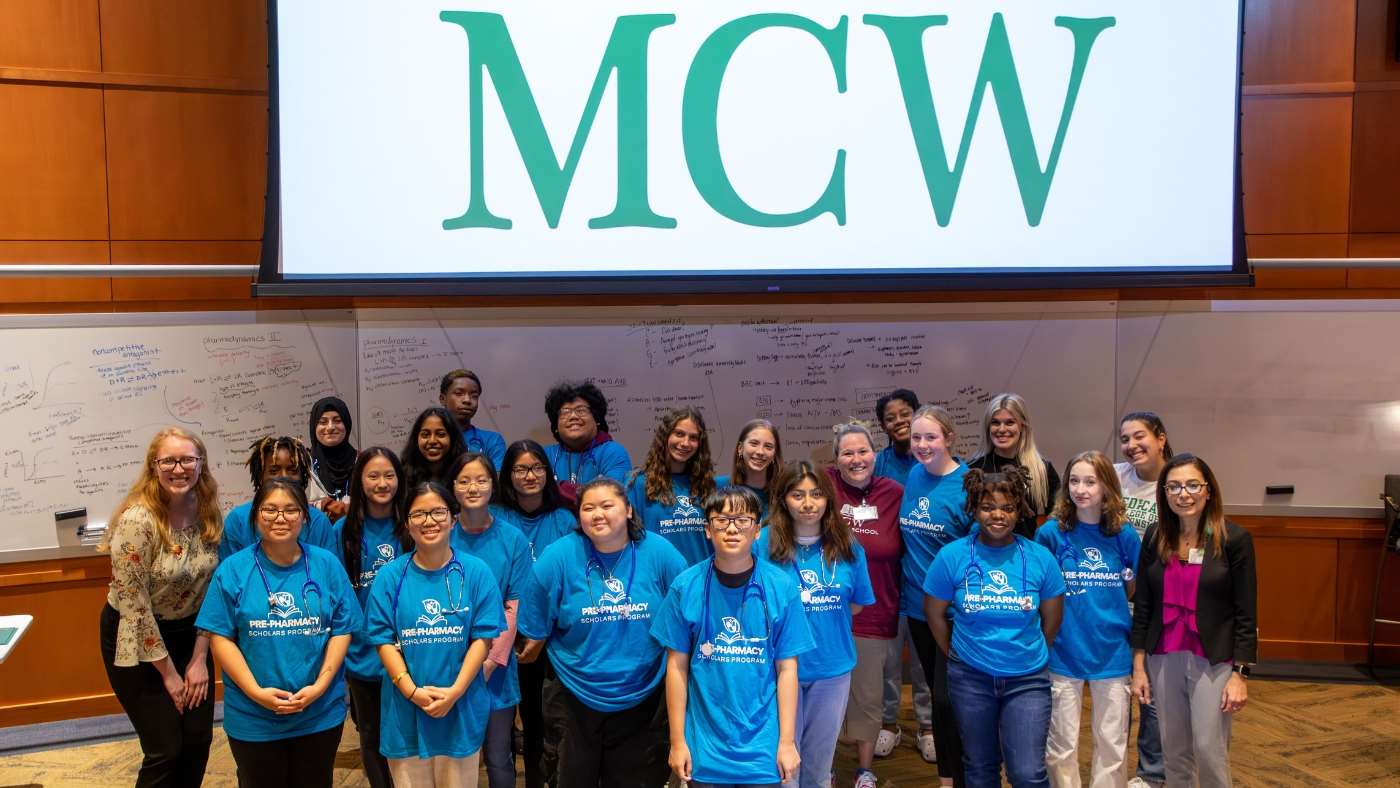 The Medical College of Wisconsin School of Pharmacy launched a new career exploration program for high schoolers with a boot camp during the first week of August 2023 on MCW's Milwaukee campus.
Nineteen students from 11 different Milwaukee-area high schools participated in the boot camp. They attended sessions about inclusive leadership, self-care and wellness, how to write a college essay, and a panel discussion about innovation in pharmacy practice. MCW School of Pharmacy partners Froedtert Hospital and Children's Wisconsin took scholars on a tour of their facilities as well.
"It was a lot of fun meeting everyone. All the students and teachers were so welcoming, and it's such a good community to want to be a part of," says Donovan Hang, a senior at the Hmong American Peace Academy. Hang says his favorite parts of the boot camp were the lab experiences.
Scholars engaged in a vitals lab, where they learned about measuring blood pressure, heart rate, pulse oximetry, temperature, and more. In the compounding lab, scholars made their own hand sanitizer, learning how to properly use a scale, measure in a graduated cylinder, and mix the proper formula to kill viruses.
Hang adds that the Pre-Pharmacy Scholars program has encouraged him to continue exploring pharmacy career paths. "Before the boot camp, I just thought a pharmacist was a person in a hospital or pharmacy who sorted pills," says Hang. "But I came here with an open mind, and I learned there are so many levels of pharmacists – like nuclear, clinical, and ambulatory care."
The Pre-Pharmacy Scholars program continues throughout the rest of the school year with quarterly mentoring activities. Scholars are matched with two mentors – a pharmacist mentor and a pharmacy student mentor – who they will shadow at their practice site or in the classroom, respectively.
When Liliana Galvan, 2025 PharmD candidate, heard about the program, she wanted to get involved. As an undergraduate student, she participated in a similar program where she mentored high school students and wanted to continue in that role.
"I just want to be that person someone can look to and say, 'You look like me and we come from similar backgrounds,'" says Galvan. "High school is such a hard time, and I think being exposed to all these opportunities and being told that you can do it is impactful. I'm excited to be that support for someone," says Galvan.
Galvan recruited her fellow pharmacy students to sign up to become mentors for the Pre-Pharmacy Scholars program. During the boot camp week, she moderated a panel discussion where she and her peers shared their perspectives on different aspects of pharmacy school.
She also planned and led an engaging activity where scholars learned about how medications are distributed to pharmacies, what the pharmacy workflow looks like, and how to counsel patients on medications. This knowledge culminated in a relay race, where scholars filled a prescription and explained to their patient how to use it.
"I learned a lot. I wasn't expecting a pharmacist to do so much," says Nada Hamdoun, a recent graduate of South Milwaukee High School. "We learned about the 'life of a pill,' and I didn't know they actually make the pill. It got me interested in pharmacy."
"It was fun to see the scholars get into it, and some of them were really excited about the counseling step, in particular," says Galvan.
The Pre-Pharmacy Scholars Program is funded by a National Association of Chain Drug Stores Foundation scholarship, designed to support projects that advance patient care by creating new learning opportunities for students and fostering diversity in pharmacy.
"I think the most surprising thing about this program was that it's free," says Anna Vang, a junior at the Hmong American Peace Academy. "It was eye-opening to meet real pharmacists, and hearing the student pharmacists express how they felt through school makes me prepared for what I might experience in the future."
Grant funding from the NACDS Foundation will support the 2023-2024 Pre-Pharmacy Scholars Program. To continue the program into future years, the MCW School of Pharmacy will need additional financial support. If you're interested in contributing to the program, please contact Dr. Abir El-Alfy via email at aelalfy@mcw.edu.