Biophysics Graduate Student Patrick Brennan Receives F31 Grant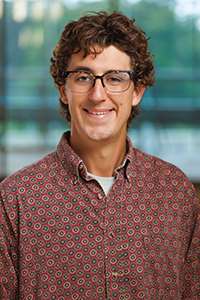 Patrick Brennan, a Biophysics graduate student in the Lerch Lab, was awarded a two-year, $93,504 F31 grant from the National Heart, Lung, and Blood Institute to investigate the effects of dynamic post-translational modification s-palmitoylation on the conformational plasticity and subsequent intracellular signaling of the β2 adrenergic receptor.
Heart failure is a leading cause of morbidity and mortality in western countries and represents the final common clinical event of numerous cardiovascular diseases. Cardiac β2 adrenergic signaling determines cardiac output and has been extensively studied as treatments directed toward β2 adrenergic signaling have proven effective at improving cardiac performance and heart failure outcomes. The β2 adrenergic receptor is a G-protein-coupled receptor, a family of membrane proteins representing the largest and most versatile group of cell surface receptors.
The result of this project will provide a greater clarity on β2 adrenergic receptor signaling and regulation within the context of a physiologically relevant cellular environment, which will help with the design of effective treatments targeting cardiac β2 adrenergic signaling.