General Internal Medicine Hospitalist Program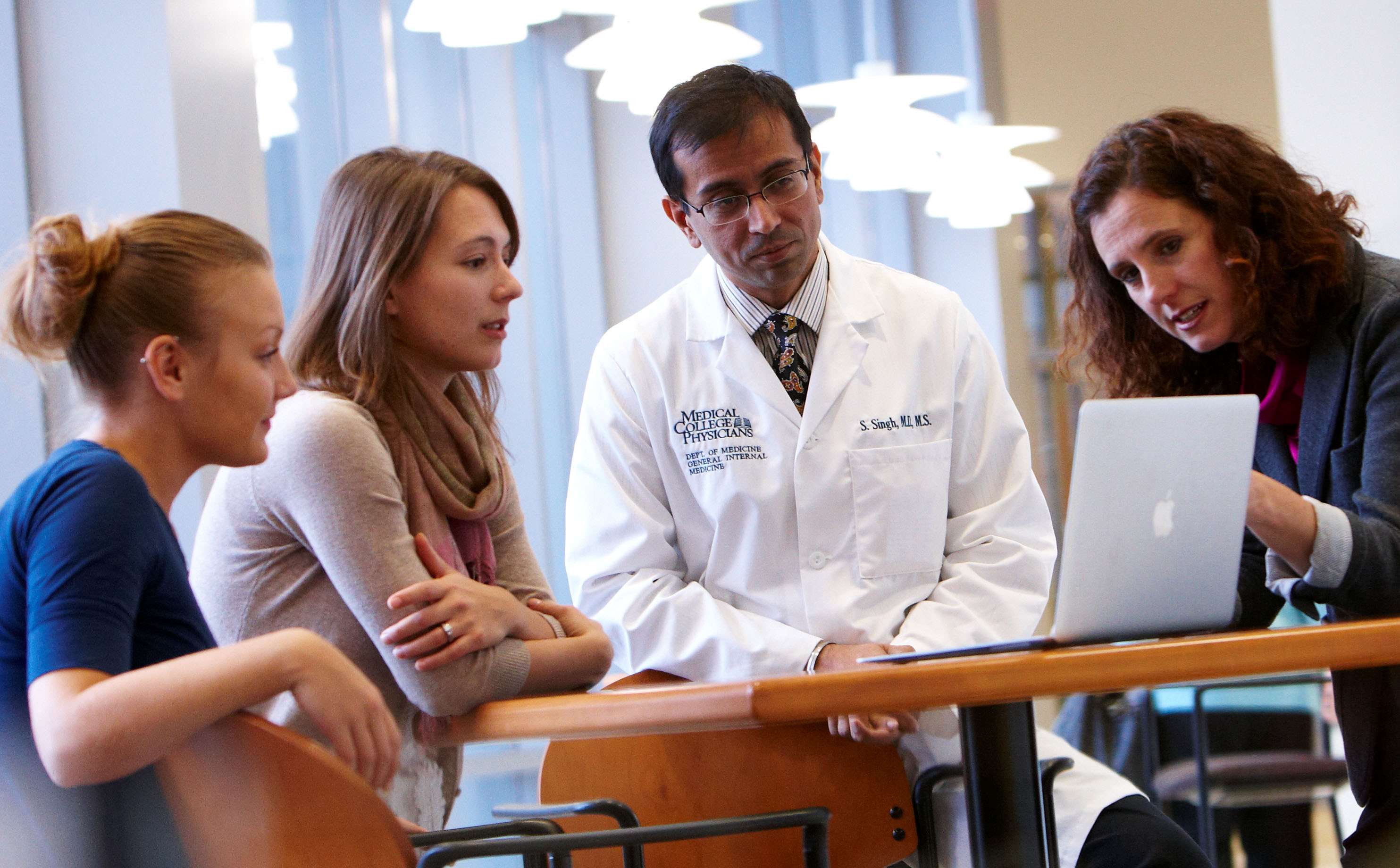 Hospitalists are a group of attending physicians and advanced practice providers primarily dedicated to providing care to patients admitted to the inpatient medicine services at Froedtert Hospital. They are experts in the care of acutely ill medical inpatients. They work with the inpatient nursing staff, social workers, and other hospital staff to create an environment of seamless care for our hospitalized patients.
In addition to providing exceptional clinical care, hospitalists amplify the rich environment of patient medical education in the General Internal Medicine Division of the Department of Medicine at the Medical College of Wisconsin and Froedtert Hospital. They are valued educators of training physicians and other health care providers and are also active researchers who contribute to evolving medical knowledge.
About the Hospitalist Program
Vision
Vision
The Section of Hospital Medicine at the Medical College of Wisconsin is dedicated to providing exceptional care for hospitalized patients. This is done in the context of educating future providers, advancing knowledge in the delivery of team-based, multidisciplinary hospital-based care, and improving the patient experience.
Goals
Goals
Deliver high quality clinical care with excellent outcomes and maintain safe, sustainable workloads
Proactively identify opportunities to enhance and optimize clinical operations
Align with hospital and college partners to maintain value in clinical care delivery
Empower and develop current and future hospitalist leaders
Recruit and retain invested, outstanding academic hospitalists
Increase academic productivity through robust educational and research activities
Support scholarship and advancement of academic careers, including pathways to promotion
Enhance hospitalist visibility as exceptional and productive academic clinicians, educators, researchers and administrators
Message from Our Section Chief

Welcome to the Section of Hospital Medicine at Medical College of Wisconsin! This is an exciting time, as we draw upon a long-standing legacy of innovation, excellence, and highly talented faculty and staff in pursuit of our vision to deliver high quality clinical care to acutely ill medical inpatients, educate the next generation of clinicians, and contribute to medical knowledge through research.

I invite you to review our website, where you will find a remarkable collection of people and programs - many of them leaders in healthcare education, quality and safety, clinical operations, and research.

If you are interested in learning more, please contact us.

Barbara Slawski, MD, MS, SFHM
Professor of Medicine and Orthopaedic Surgery
Chief, Section of Hospital Medicine
Division of General Internal Medicine
Department of Medicine, Medical College of Wisconsin