Medical College of Wisconsin General Internal Medicine Hospitalist Program - Clinical Services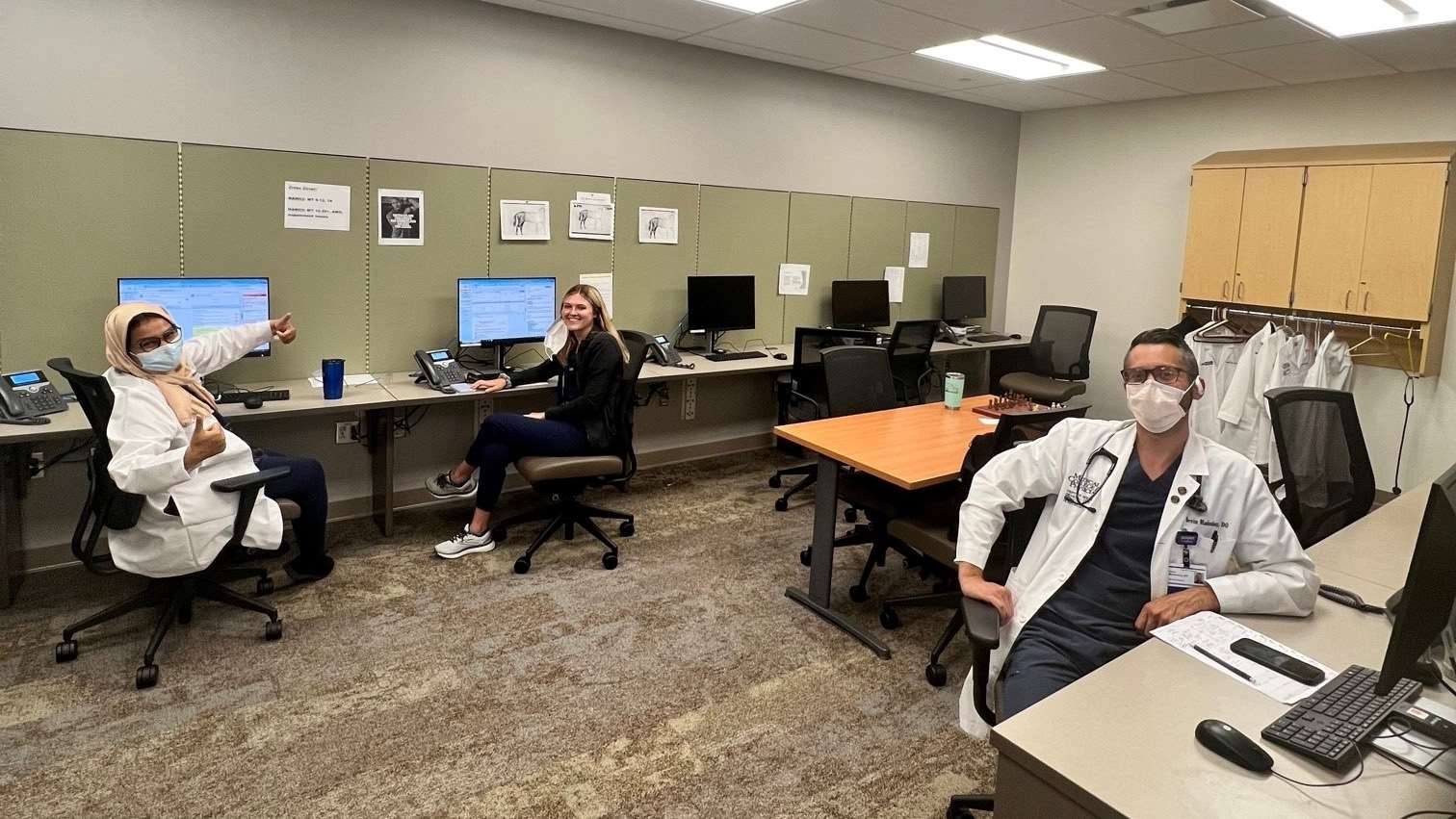 Ward Teams
Resident Teams
These teams deliver exceptional clinical care while educating residents and students from the Medical College of WI. Each resident team typically consists of an Academic Hospitalist faculty member, senior resident, interns, third and fourth year medical students and pharmacy staff. Their focus is excellent patient care in the setting of a collaborative work environment. In addition, there is a commitment to both teaching and learning with and from the patient.
Hospitalist Teams
Our Hospitalist staffed medical teams are the largest admitting service at Froedtert Hospital. Each team is led by a board-certified Internal Medicine physician with a special interest in academic hospitalist medicine. This means they are skilled experts in the care of acute illness in a hospitalized adult. This faculty member leads a team consisting of an Advanced Practice Providers and at times, a large number of learners from multiple programs. The care delivered by our hospitalists teams is collaborative with our specialists yet personalized resulting in exceptional outcomes.
The Observation Medicine Team 
The Observation Medicine Team is a 24/7 service that expedites hospital-level evaluation and treatment of patients with an expected short length of stay in an open, hybrid-model Observation Unit. This specialty hospitalist team has close relationships hospital-wide, dedicated to excellence in patient care and seamless follow-up.

The Advanced Heart Failure Team
The Advanced Heart Failure Team is a collaborative service involving the Hospitalist section and the Division of Cardiology. The team is comprised of a lead Hospitalist faculty along with an Advanced Practice Provider who work together with the AHF cardiologists to make medical decisions collaboratively. This highly successful co-management model allows for the best possible management of these complex patients with regards to both their general medical problems and advanced cardiac disease.


Transplant Team Service 
Transplant Team Service provides specialized medical care for patients with kidney, liver, pancreas, and bowel transplants. Hospitalists are the primary attendings of record for these patients and provide care two senior residents and a separate transplant pulmonologist if lung transplant patients are admitted. This service works closely with the transplant nephrology and transplant ID teams.
Complexity Intervention Unit
Introducing Froedtert Hospital's Complexity Intervention Unit (CIU). Opened in February 2023, our 16-bed acute care medical unit is designed to provide specialized care for patients with both active inpatient medical and psychiatric needs. Our board-certified physicians in Internal Medicine and Psychiatry, along with the support of Consultation-Liaison (CL) Psychiatry, offer group/recreational therapy to help take care of patients in a holistic and concurrent manner. With a focus on safety, we ensure a caring and secure environment for both patients and staff. Please note that the CIU is not an inpatient psychiatric unit, but rather a facility dedicated to integrated care.
Admitting Medical Officers
Admitting Medical Officers (AMOs) are Hospitalists who provide 24/7 high-level, high-acuity care at Froedtert Hospital and the Medical College of Wisconsin. The AMO role at Froedtert Hospital was developed to serve several vital functions within our hospital.

AMOs triage patients coming from all entry points including the Emergency Department, inter-hospital and intra-hospital transfers to appropriate services and level of care based on patient's acuity. This includes requests for patient transfer to the Internal Medicine inpatient service from other services within our hospital, hospital Emergency Departments or inpatient services, direct admissions from MCW/Froedtert outpatient clinics. The AMOs serve a communication channel for the flow of patient care within this role.

AMOs are the primary provider responders with the Rapid Response Team (RRT). The RRT responds to emergency calls across our campus, on inpatient and outpatient basis. During 2021, these calls included >3000 RRTs.

AMOs function as a support and supervisory role 24/7 to our Internal Medicine residents working after hours as well as our cadre of Advanced Practice Providers working at Froedtert Hospital.


The nocturnist AMO is part of the team that consists of physicians and advanced practice providers who provider inpatient care after hours. This team collaborates with Emergency Medicine, the Access Center, and specialty teams to triage and care for medical inpatients overnight. This includes cross coverage of an average >200 hospitalized patients, admissions to the medicine wards and perioperative consultation.
Procedure Service
The Procedure Medicine Service is committed to providing the highest quality and safest bedside procedures to adult inpatients at Froedtert Hospital. In addition, the service offers comprehensive teaching on safe and appropriate procedural assessment and technique using ultrasound guidance for all of our procedures. In this model, hospitalists with procedural training and experience directly provide supervision to Internal Medicine Residents in ultrasound evaluation and guidance in performing Lumbar Puncture (diagnostic and with Intrathecal chemotherapy), paracentesis, thoracentesis, non-tunneled small-bore chest tubes, non-tunneled dialysis/apheresis catheters, central lines, bone marrow aspirate with biopsy, incision and drainage of non-cavitary abscesses, and arthrocentesis (large joints). Our team collaborates with and does procedures for a number of different services in addition to internal medicine, including neurology, surgical, and oncology services. This multi-disciplinary approach has allowed for streamlined and faster care to patients without the need for transporting them throughout the hospital. It has been demonstrated that our service model was associated with high levels of patient and provider satisfaction with inpatient bedside procedures.

The Procedure Medicine program is matrixed across all major business processes and, since inception, the standardized protocols and processes have increased hospital efficiency, and with a similar safety profile to interventional radiology.

Hospitalist Advanced Practice Providers
The hospitalist group includes >35 physician associates and nurse practitioners who provide excellent medical care during daytime hours on medical teams with our attending physicians. In addition, advanced practice providers admit patients to the hospital 24/7 and provide cross coverage nocturnist care. They specialize in treating complex medical conditions and coordinating care with specialists and primary care providers. Hospitalist advanced practice providers are also dedicated to our academic mission, precepting over 30 PA and NP students per year. Our students benefit from a daily lecture series given by each of our APPs that review patient cases and discuss important medicine topics. Hospitalist APPs also participate in hospital committees and quality improvement projects with the goal of improving patient safety and satisfaction. They are also conducting original research and publishing case reports.