Medical College of Wisconsin Colorectal Surgery Research Team
The research efforts within the Division of Colorectal Surgery remain robust. Dr. Kirk Ludwig continues as the institutional principal investigator (PI) for a Cooperative Group Colorectal Cancer Trial at Froedtert and MCW Cancer Center. The purpose of the trial is to explore the use of neoadjuvant chemotherapy for treatment of locally advanced rectal cancer. Dr. Ludwig is also involved in two early stage projects studying the safety and efficacy profile of each new product. One study drug is to be used in conjunction with an enhanced recovery pathway for gastrointestinal recovery on the resolution of postoperative ileus following bowel resection. The other product is a new formulation of an anti-infective drug to be used to prevent surgical site infection following elective colorectal surgery involving colon or rectal resection. Dr. Ludwig also serves as the Division Chief and holds the Vernon O. Underwood Endowed Chair. Under his supervision, the Division has begun to carefully track functional outcomes in those undergoing resections for rectal cancer and the treatment of anal cancer. Dr. Ludwig has a national reputation as an expert in the surgical treatment of rectal cancer with special emphasis on sphincter sparing techniques.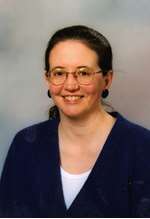 Dr. Mary Otterson maintains a primary clinical and research focus on inflammatory bowel disease. She is currently the MCW site PI for a prospective, multi-institutional study evaluating bowel and sexual function following ileal pouch anal anastomosis surgery with the hopes of identifying surgical and disease-specific factors predictive of improved function. Furthermore, she, along with the other faculty in the Division of Colorectal Surgery, are participating in the ADMIRE-CD II trial, a phase III, randomized, double blind, parallel group, placebo controlled, international, multicenter study assessing the efficacy and safety of adult allogeneic expanded adipose-derived stem cells for the treatment of complex perianal fistula(s) in patients with Crohn's disease.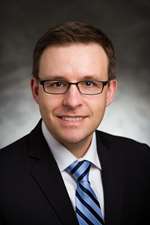 Dr. Timothy Ridolfi recently completed a 3-year project aimed at evaluating the changes in enteric nervous system following low anterior resection. This work allowed him to complete a Master's Degree in Clinical and Translational Science. He is also interested in the evaluation for complete response in the setting of neoadjuvant therapy for rectal cancer. This work is done in collaboration with the Departments of Pathology, Radiology, and Biophysics and relies heavily on advanced MRI techniques that are currently offered only at MCW. This project was awarded funding from the Association of VA Surgeons Foundation Karl Storz Award. In other research, Dr. Ridolfi is using the Vizient dataset, which includes outcome data from more than 100 medical centers, to evaluate the most beneficial aspects of enhanced recovery after surgery programs in regard to colon and rectal surgery. Lastly, Dr. Ridolfi is involved in a collaborative study which is aimed at self-examination techniques for identifying anal cancer.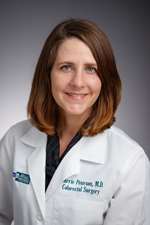 Dr. Carrie Peterson is the site PI for a national randomized superiority trial of elective colectomy versus best medical management for patients with quality of life (QoL) limiting diverticular disease. The goal of the trial is to answer the question: For patients with QoL-limiting diverticular disease, is elective colectomy more effective than best medical management? Dr. Peterson also is collaborating with the Department of Radiation Oncology on a Randomized Clinical Trial for rectal cancer patients evaluating if increasing radiation doses lead to improved tumor regression so patients can avoid colostomies and, perhaps, surgery entirely. She also continues to pursue her research interests in minimally invasive colorectal surgery and surgical outcomes and is heavily involved in several research projects evaluating improvements in quality and perioperative process improvements. Along with the others in the Division of Colorectal Surgery, Dr. Peterson is participating in a prehabilitation project in the frail undergoing colon resection. The project is aimed at both improving frailty preoperatively as well as improving postoperative functional recovery.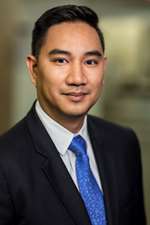 Dr. Jed Calata joined the division of colorectal surgery at Froedtert Hospital & the Medical College of Wisconsin in 2020 and has particular clinical interest in anorectal disease, pelvic floor disorders, and minimally invasive surgery. He is working on clinical research projects helping to improve patient outcomes and recovery by developing new enhanced recovery protocols and investigating novel perioperative nutrition techniques to help colorectal surgery patients recover faster, with less pain and complications after surgery. Dr. Calata is also an accomplished teacher and is interested in academic research on improving surgical education and teaching.
Dr. Kent Peterson
is our 2020-2021 Colorectal Research Resident. Dr. Peterson is completing his General Surgery residency at MCW and has a very active role in the multitude of current ongoing projects within the Division. He is currently investigating specialized anesthetic techniques used in anorectal surgery, as well as radiomic data as it pertains to rectal cancer.
Kathryn Hoffman continues in the position of Clinical Research Coordinator to assist in the organization and successful completion of the ever-expanding list of research projects within the Division of Colorectal Surgery.
We have several ongoing studies that patients may be eligible for, including the following:
Evaluation of Rectal Cancer Response to Neoadjuvant Therapy by 3T MRI – CRS PI: Timothy Ridolfi, MD, MS
TULIP (The United States Ileal Pouch-Anal Anastomosis Study) – CRS PI: Mary Otterson, MD
Comparison of Surgery and Medicine on the Impact of Diverticulitis (COSMID) Trial – CRS PI: Carrie Peterson, MD, MS
ADMIRE CD-II Study: A phase III, randomized, double blind, parallel group, placebo controlled, international, multicenter study to assess efficacy and safety of Cx601, adult allogeneic expanded adipose-derived stem cells (eASC), for the treatment of complex perianal fistula(s) in patients with Crohn's disease over a period of 24 weeks and a follow-up period up to 52 weeks. – CRS PI: Mary Otterson, MD
Prehab Study: Prehabilitation of Frail Surgical Cancer Patients using Remote Ischemic Preconditioning – MCW PI: Matt Durand, PhD – Physical Medicine and Rehabilitation; CRS Team (Drs. Ludwig, Peterson and Ridolfi)
PAC Study: Prevent Anal Cancer Self-Swab Study – MCW PI: Alan Nyitray, PhD – Psychiatry; CRS Team (Drs. Ridolfi, Ludwig, Otterson and Peterson)
PENDING: Randomized, Double-Blind, Placebo-Controlled, Phase 2 Trial to Evaluate the Safety and Efficacy of TU-100 as an Adjunct to an Enhanced Recovery after Surgery (ERAS) Protocol in Subjects Undergoing Bowel Resection – CRS PI: Kirk Ludwig, MD
PENDING: Safety and Efficacy of D-PLEX in the Prevention of Post Abdominal Surgery Incisional Infection (SHIELD II) (D-PLEX 312) – CRS PI: Kirk Ludwig, MD
PENDING: MRI-Guided Adaptive Radiation Therapy for Organ Preservation in Rectal Cancer (MRI-ENHANCE) – MCW Co-PIs: William Hall, MD and Carrie Peterson, MD, MS