Welcome to the Department of Surgery
Welcome to the Medical College of Wisconsin Department of Surgery – we are so proud of our department and every member of our team who are committed to creating the best place in the world to launch your career in surgery. This site provides an insight to our department and our people, who are inspired every day by our dedication to academic achievement and excellence in education, research, patient care and community service.
Our storied tradition of excellence in resident and student education remains a top priority of all faculty. Our innovative surgical residency program provides residents with the skills needed to care for the patients of today and tomorrow – the principles you learn at MCW will provide the foundation for life-long learning combined with a culture of caring – for patients and each other. If you are a student who is contemplating a career in surgery, are academically oriented and highly motivated to achieve excellence in patient care, we invite you to explore our program on this site and learn more about the PERK(C)S of training at MCW in the "Surgery Residency Program" video.
You can also learn more about our residency program by selecting Education, our departmental structure by selecting Divisions, and our Faculty and their Research and Academic Contributions by selecting the respective links. You can also explore the Medical College and the city of Milwaukee through the links provided. Please also visit our Annual Report which provides a pdf version of our department and all of the people who make this such a great place to train!
Douglas B. Evans, MD
Chair, Department of Surgery
Donald C. Ausman Family Foundation Chair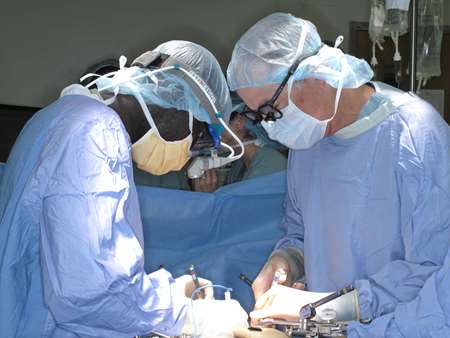 Dr. Evans is in the operating room with Dr. Elliott Asare when he was a surgical chief resident. Dr. Asare went on to complete a fellowship in surgical Oncology at the University of Texas, M. D. Anderson Cancer Center and Elliott is now on the faculty at the University of Utah School of Medicine Department of Surgery.
Mission, Vision, and Core Values
Mission
Mission
The Medical College of Wisconsin Department of Surgery is dedicated to leadership and excellence in education, research, patient care, and community service.
Vision
Vision
The Medical College of Wisconsin Department of Surgery will become one of the best departments in the nation by dedication to:
Commitment to resident, student and continuing medical education
Innovative basic, translational, and outcomes research
Excellence and scholarship in patient care with robust interdisciplinary programs
Professionalism and collegiality in relationships with colleagues, nurses, residents, students and staff
Creativity, teamwork and pride in dedication to mission and achievement of vision
Core Values
Core Values
Commitment to education
Innovative research
Excellence in patient care
Professionalism and collegiality
Creativity, teamwork and pride
Surgery Grand Rounds

Froedtert Hospital

Girma Tefera, MD | Sustainable Global Health Program: What Should Surgeons Know
What's happening in the Department of Surgery
Join the conversation at @MCWSurgery
Contact Us
Surgery
Medical College of Wisconsin
8701 Watertown Plank Rd.
Milwaukee, WI 53226