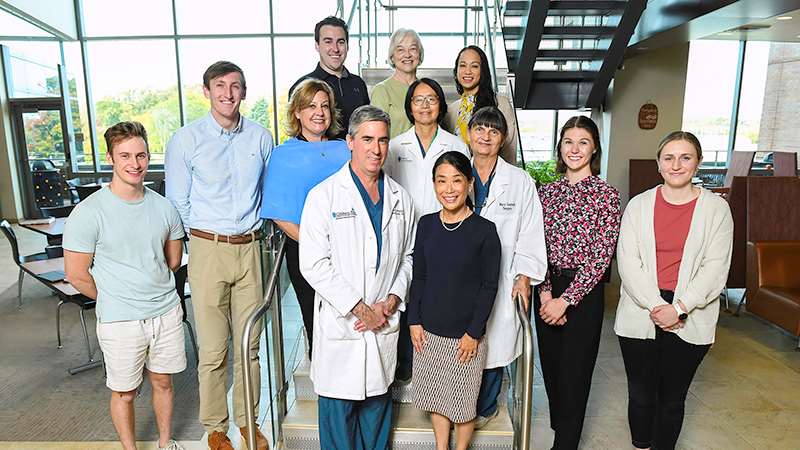 Mitchell Lab
Our laboratory is interested in understanding the functional significance of genetic variants associated with congenital heart disease (CHD). We use an in vitro disease model of cardiomyocytes (CMs) differentiated from patient-specific induced pluripotent stem cells (iPSCs) to investigate disease etiology and impacted molecular pathways. We explore therapeutic approaches to rescue iPSC-CM disease phenotypes observed in our disease model – these approaches include gene editing, cell signaling modifications, and response to small molecule compounds. Recently we have been investigating printing bioengineered tissue in a 3D construct with our partners in biomedical engineering. Our overall goal is to increase precision in the choice of treatments and improve the effectiveness of individualized medicine for CHD patients.
Our laboratory has also studied the science of cell-free DNA extensively and continues to explore numerous applications of cell-free nucleic acids in cardiac transplantation, cardiac surgery, and during infection with collaborators.
See Dr. Aoy Tomita Mitchell's publications
See Dr. Michael Mitchell's publications
Our Team
Aoy Tomita Mitchell, PhD
Professor with Tenure, Department of Surgery
Division of Pediatric Cardiothoracic Surgery, and
Professor of Biomedical Engineering

Education: BS, Mechanical Engineering, Massachusetts Institute of Technology, Cambridge, MA; PhD, Genetic Toxicology, Massachusetts Institute of Technology, Cambridge, MA
Michael E. Mitchell, MD
Medical Director of Cardiothoracic Surgery
Surgical Director of the Herma Heart Institute
The S. Bert Litwin Chair of Cardiothoracic Surgery
Children's Wisconsin
Professor and Chief, Division of Congenital Heart Surgery
Department of Surgery, Medical College of Wisconsin

Education: AB, Chemistry, Princeton University, Princeton, NJ; MD, Harvard Medical School, Boston, MA
Mary Goetsch, BS, MS
Lab Manager

Education: BS, Zoology, University of Wisconsin – Milwaukee, Milwaukee, WI; MS, Molecular Biology of University of Wisconsin – Milwaukee, Milwaukee, WI
Huan-Ling Liang, MD
Research Scientist II

Education: MD, Binzhou Medical College, Binzhou, P.R. China, 1990; ECFMG Certificate, 2010
Anne Laulederkind, RN, BA, BSN, CCRC
Manager, Clinical Research
Education: BS, Nursing, Vanderbilt University Nashville, TN; BA, Political Science and History, Illinois Wesleyan University Bloomington, IL
Lisa Armitage, BS
Administrative Assistant Sr.
Education: BS, Biology and Psychology, Carroll University, Waukesha, WI
Abby Multerer, MS
Research Technologist III

Education: MS, Clinical Microbiology, University of Wisconsin - La Crosse, WI; BS, Microbiology, University of Wisconsin - La Crosse, WI
Melissa Anfinson, PhD
MD/PhD Medical Scientist Training Program (MSTP) Student

Education: PhD, Medical College of Wisconsin; BS, Chemistry, College of St. Benedict, St. Joseph, MN