A Fresh Perspective on Research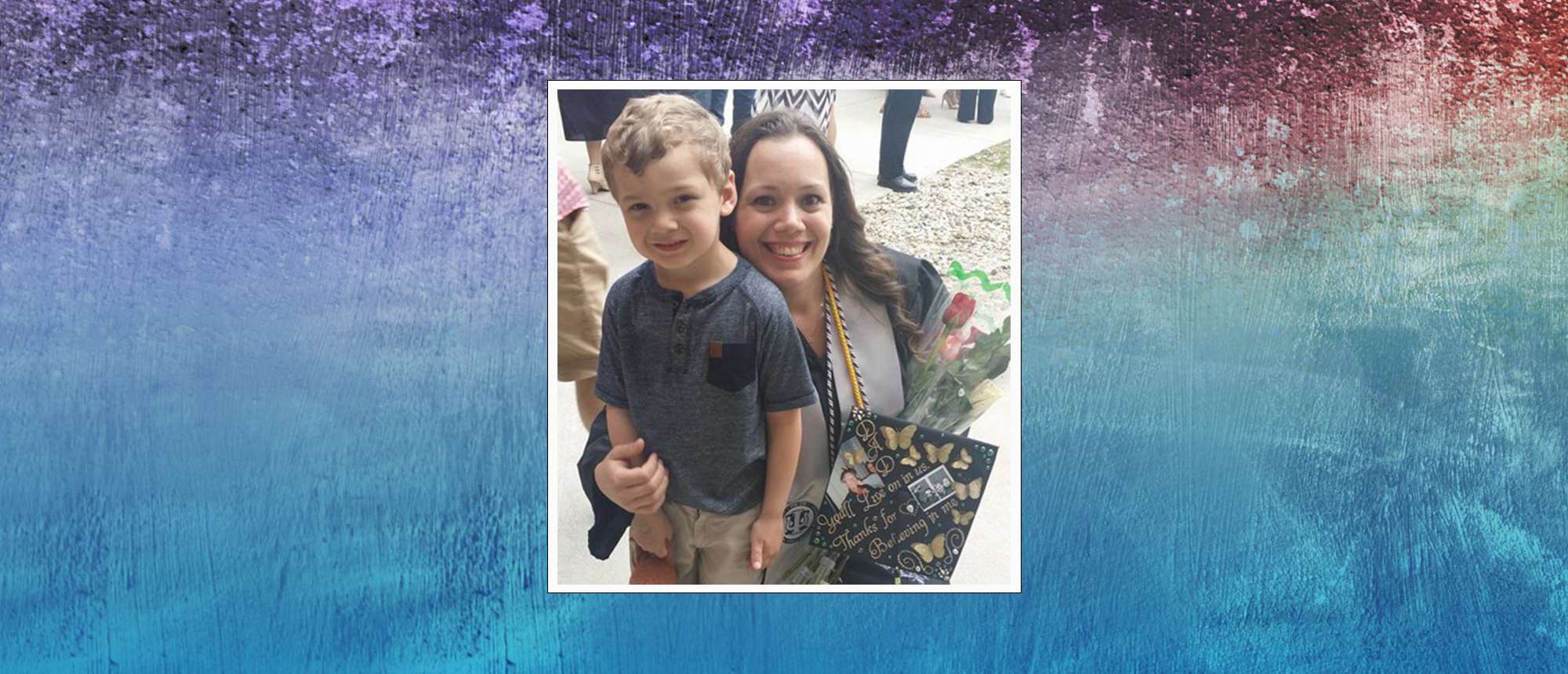 If someone 10 years ago had told Amanda Marks, a fifth-year Medical College of Wisconsin (MCW) graduate student, that she'd be where she is now, she would have thought they were crazy.
"This is not a world I even knew existed," Marks says.
Marks, who dropped out of high school at the age of 16, will defend her doctoral thesis soon. In summer 2022 she won two prestigious awards for her innovative research on kidney disease and presented at a national conference.
"I got the award that night, and I cried," she says.
Some of the emotion was the gratitude she had for winning the award, but part of it was the relief she felt in finally feeling free to share her story of perseverance with colleagues and others in the field.
"It's OK that I am a high school dropout and that my path was different," she says. "There were people coming up to me and telling me my story was inspiring."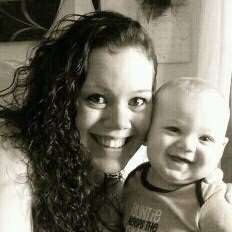 Marks faced many struggles growing up. As a young child, she was raised predominantly by her biological mother in an abusive and unstable home until moving in with her father, she says. After dropping out of high school at 16, she moved out of her father's home and started to support herself, working customer service and some managerial positions. At 25, she became a mother, which pushed her to reconsider her future. She anguished over how to ensure that her baby, a boy, would not suffer the generational cycle of poverty and abuse and avoid the same mistakes his parents had made. She saw education as a key to giving him a better life.
"Everything I read said parents increasing their educational status will help foster an environment in education for their children, increase socioeconomic status and provide stability," she says.
When her son was just three months old, she went back to school, enrolling in social work classes at Milwaukee Area Technical College (MATC). She figured that with her background and the challenges she had faced that she'd be uniquely qualified to help people as a social worker. Although she found success during her time there, she also realized that social work was not for her.
After two years at MATC, she enrolled at the University of Wisconsin-Parkside, where she majored in psychology. But as she continued to excel in the classroom, her family life and support system began to unravel. Her father passed away. She would also lose several other family members during this time. Heartbroken, the straight A student's grades started to suffer.
Her professor, Dr. Melissa Gregg, asked her if something was wrong.
Things were very wrong, Marks acknowledged. Sensing her need for guidance, Dr. Gregg introduced her to the world of research. Marks entered her lab, conducting neuroscience perception cognition behavioral research. Together, they applied for and received a grant for that study, and Marks was able to present it at several national and even an international conference.
Upon graduation, Marks knew she wanted to continue working in research and further her education. She applied to and was accepted into graduate school at the University of Nevada, Las Vegas. But a new interest had also brewed. After attending an open house at MCW, she became interested in physiology and applied to the physiology department there. It was a field that was far out of her comfort zone.
"During undergrad, I had just one human biology course; no chemistry, no physiology or biochem or any of these classes that lay the foundation for graduate studies in physiology" Marks shares.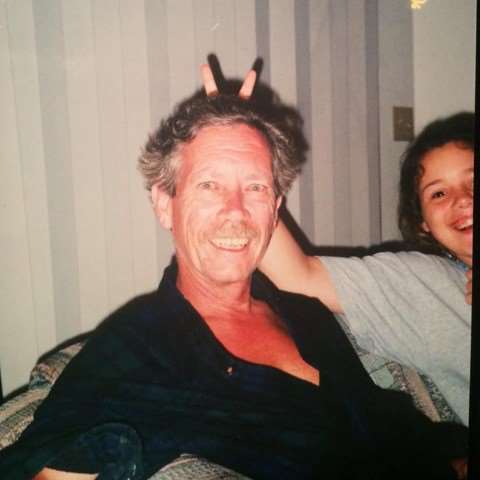 What she did have was passion and hard work ethic, which she says are keys to success in that field and many others. She was intrigued by the thought of attending MCW, which had a reputation for student projects that within years could become clinically relevant, Marks says. She was accepted but waitlisted, and decided to hold off to join MCW rather than attend graduate school in Las Vegas.
It paid off. During her first two years at MCW, Marks was able to focus almost exclusively on coursework, which helped her overcome a learning curve that was elongated by her gap in education and lack of experience in physiology. During that time, she received support from Alison Kriegel, PhD, associate professor of physiology at MCW, who would become her PhD mentor.
"[Marks] had interest in joining the laboratory even though it wasn't in her area of background," Dr. Kriegel says. "She really sort of connected with what we were doing in the lab and the lab atmosphere."
Rather than assigning Marks a project in the lab, Dr. Kriegel allowed her to discover an area of interest within that study and pursue it.
"What I try to do is offer some options for students on projects that we're working on an ongoing basis and see what they felt personally connected to and had an interest in," she says.
She gave Marks a large RNA sequencing data set to investigate.
"She gave me the freedom to go through it and think about things in a creative way," Marks says.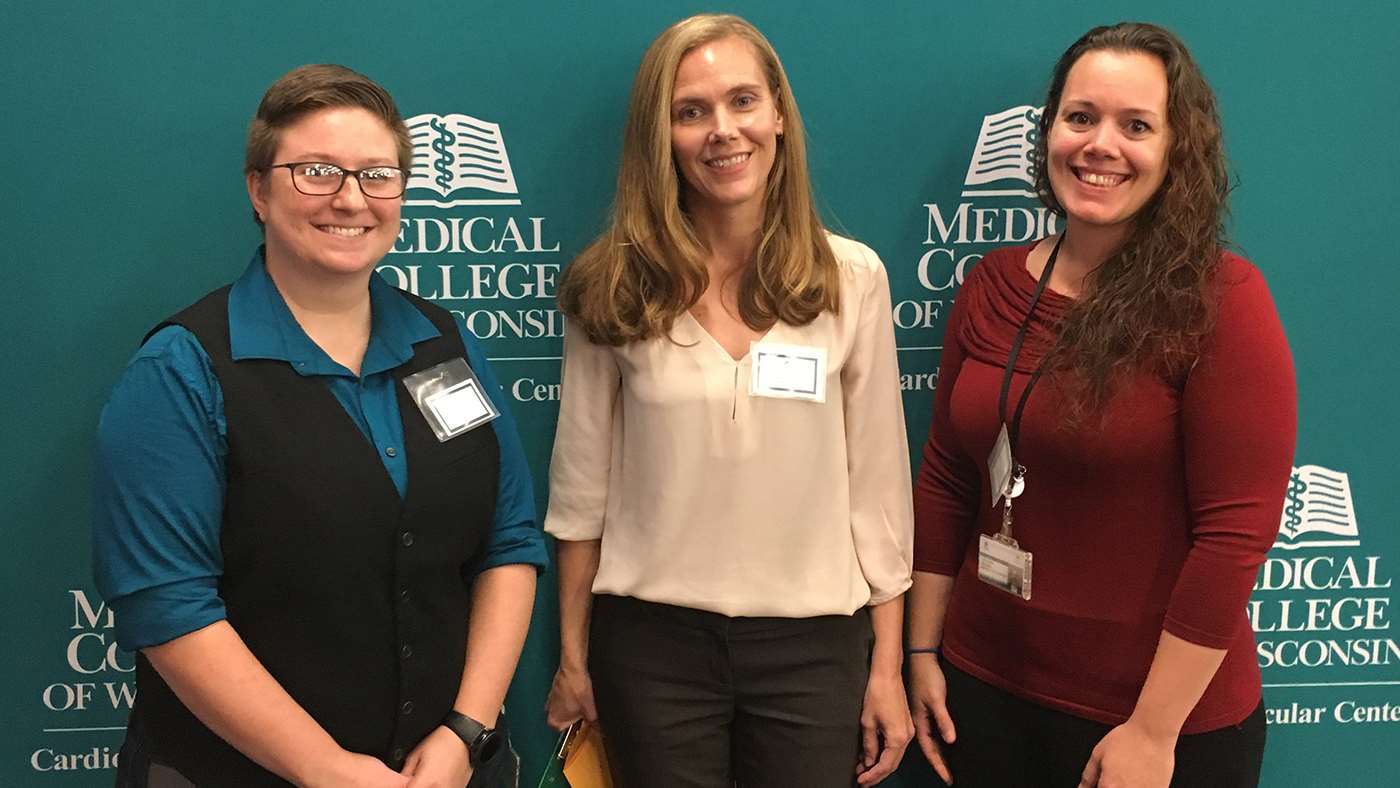 Marks would discover a protein she believed played an integral role in the progression of kidney failure in the rat model of chronic kidney disease. Although her hunch could be considered by some as a long shot, Dr. Kriegel allowed her to delve further to pursue her hypothesis. Her research moved from cell culture models to animal studies.
"I was able to do an intervention to show that that protein was really important," Marks says. "It worked better than I could have even imagined."
It was this research that won Marks two awards, one from the American Society of Nephrology and the other from the American Physiological Society. She also presented at a conference that included many of the world's most renowned kidney specialists.
"When you win awards, it's not just that you're part of a group but you're really valued within that group," Dr. Kriegel says.
Marks credits Dr. Kriegel and her other mentor, Bert V. Forster, PhD, professor of physiology at MCW, for giving her an opportunity to succeed in the realm of scientific research. She credits her father for teaching her the work ethic required to accomplish these goals, and her stepmother, Karin, and sister, Misty, for believing in her even when she did not believe in herself.
"[Drs. Kriegel and Forster] took a chance on me when they didn't have to; they gave me the confidence to continue," she says.
As important as the academic support they provided, Marks says, they also gave her support as a nontraditional student to care for her child. Sometimes that meant leaving the lab to pick up her son from school, and other accommodations.
"They made this an environment that I could thrive in even though I didn't have a traditional schedule or support," she says.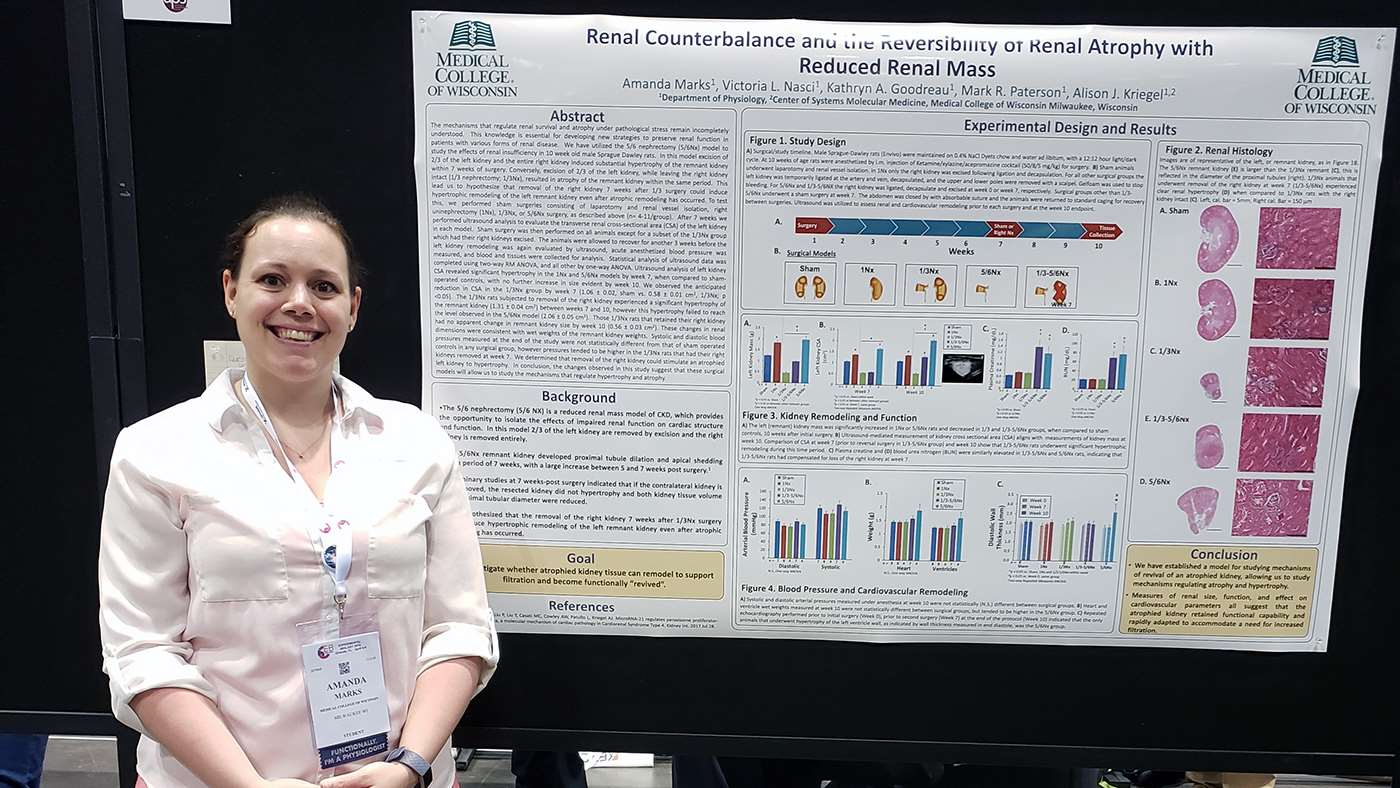 Marks says that the experience has led her to pursue a postdoctoral fellowship to conduct more research. It has also inspired her to become a mentor for other women and students who come from nontraditional backgrounds. She believes that having more diverse perspectives in the field will help push science further.
"We need more people with diverse backgrounds who think differently to be in research because they bring unique qualities to the table," Marks says.
As she prepares for her next move, Marks has also taken some time recently to enjoy the fruits of her labor and make up for time spent in the lab and away from her son. She was able to take her son on their first vacation recently.
"I didn't respond to emails; I just enjoyed life," she says. "This experience has not only taught me about science but to appreciate every moment in my life and to never give up on myself."