Changing the Pace of Science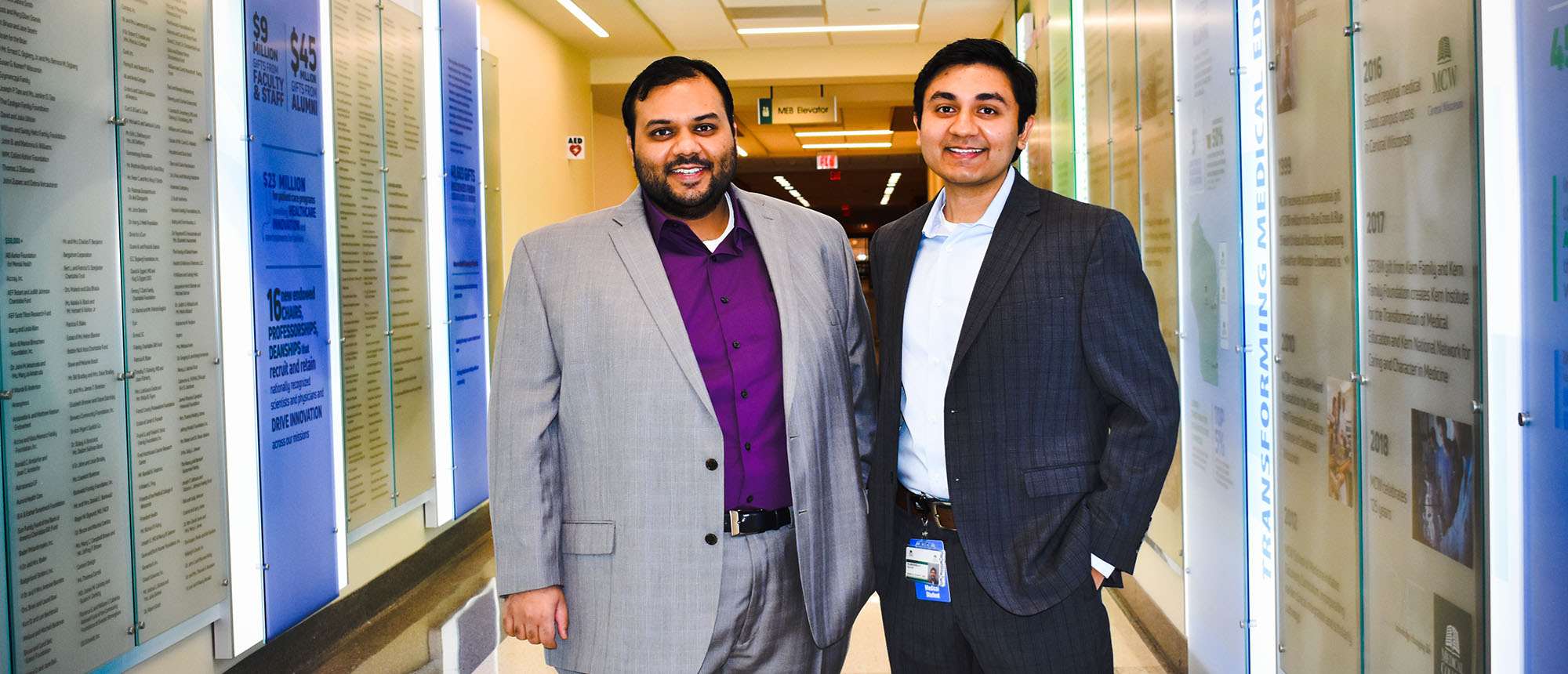 According to Harsimran Kalsi, a first-year medical student at the Medical College of Wisconsin (MCW), it takes about 17 years for data in a lab to translate into clinical therapies used at a patient's bedside.
"That's not really sustainable, especially when things like COVID-19 happen and you need to be more flexible and a little bit faster," he says.
Even before the COVID-19 pandemic, in the summer of 2019, Harsimran and his brother, Satvir, today a fourth-year MCW student, began trying to solve this ongoing problem. They crafted their solution as participants in a National Science Foundation Innovative Corp. Program, shaping it through conversations with dozens of scientists from multiple institutions.
What was slowing science down, they asked. Was it the red tape, or was it just that science is hard?
The Kalsi brothers learned that all of this was true, but what really prevented science from moving faster was the need for easier ways to connect scientists, research and scientific instrumentation.
"And a platform to make that happen," Satvir adds.
From there was born Otto Sciences, which Satvir describes as the Amazon and Airbnb of science.
Otto is a marketplace that seeds the supply demand of science, allowing for labs and scientists to live up to their full potential, he says. For example, he explains, say a researcher in a biology department at a large university has a $1.5 million piece of equipment that takes up a whole room of space, but only uses it six times a week for 10 minutes at a time.
"The rest of the time it's just sitting around collecting dust and costing money to maintain," Satvir notes. "In that scenario, the person with that equipment could essentially create a listing on Otto that allows them to use their excess capacity to perform services for others, maximizing the utility of their expensive equipment, earning the lab more connections and funding, as well as increasing access to state-of-the-art equipment and stimulating the overall ecosystem of discovery."
On the other end, what would happen is an early-stage company or biotech lab, or a smaller university, would have access to a machine that would be difficult to purchase themselves.
"It helps that principal investigator support his own research while also helping that smaller company grow," Satvir notes.

It also opens up the playing field for other medical schools and universities to compete for grants they might not have access to if they didn't have the right equipment, while also facilitating cooperation among scientists from around the country and even the world.
What that also means from a medicine perspective, adds Harsimran, is that ultimately patients won't have to wait 17 years for a treatment that can help them.
"We want really good, robust, reliable science that people can trust, but we don't want that enormous wait time and that enormous investment," Harsimran says. "And we want to make it available to the smartest people that are here."
So far, their pilot program has 15 users from various backgrounds and $1.1 million in products, services, and rentals across 23 listings. The brothers, who were born in Milwaukee and are first-generation college graduates, are working to scale up by adding clients from both academia and the private sector.
With the support of several grants, including a $10,000 award from the MKE Tech Hub Coalition and Wisconsin Economic Development Corp., and expertise gained while participating in multiple startup programs, including gener8tor's gBETA Milwaukee accelerator and the Milky Way Tech Hub accelerator, the brothers are busy preparing their second iteration of Otto.
You might wonder how the Kalsi brothers, who both have spent years conducting research — Harsimran on tissue engineering, neurodegeneration, epidemiology, X-ray crystallography and other fields, and Satvir in surgical, artificial intelligence, and radiological research — find time between classes to work on Otto.
"If it's important, you will find time for it and enjoy that whole process of making that happen," Harsimran says. Sometimes, he adds, he spends time between classes talking to venture capitalists and fundraising for their company.
Satvir, who will graduate medical school and start his residency in 2022, calls it a balancing act, but an act he loves.
"Some people might go hiking or go on road trips; we find our fun in talking to other biotechnology companies and facilitating an experiment in space," he says.
Yes, space. One of the brothers' new clients is a NASA implementation partner, and through Otto, scientists can facilitate an agreement to conduct an experiment in space.
But back on Earth, the brothers are happy to be among the latest in a long line of MCW researchers who have launched innovative startups that are changing science.
"Here at MCW, we have lots of innovators – doctors, scientists, students - who end up making companies that do great things," Satvir shares. "It's awesome to see and be connected to people like that and be able to leverage the system of work to reach more people."
They're also inspired by the idea of using their innovation to help others by speeding up science.
"We're doing whatever we can do to make it easier in the future to bring more minds to the table to handle tough problems that affect people," Harsimran says. "Every year that a solution doesn't get out to people is a year that this solution can be saving lives."