Diagnosing Success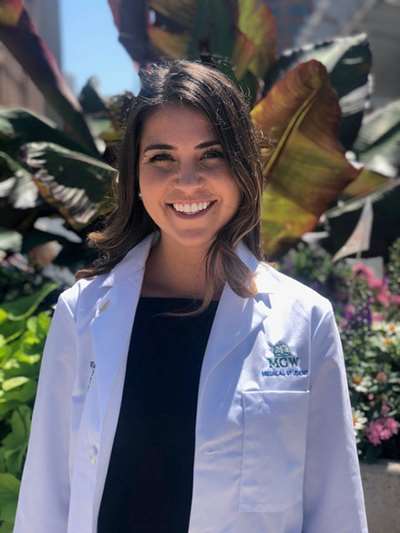 Sarah Benett, a Bay Area native now studying medicine at the Medical College of Wisconsin (MCW), has always been a top-tier student. But for some reason, she says, she always struggled on tests.
"In elementary school, the PSATs, the SATs, all of that," Benett recalls. "I always thought I was just a nervous test taker."
Feeling like her test scores were lower than she wanted them to be, she compensated by being active in extracurricular activities: the student council, soccer at Johns Hopkins University, research projects and more.
"It wasn't necessarily to offset my test scores, but to show that I'm good with my clinical skills and good with my community," Benett says.
Finally, it was time to take her Medical College Admission Test, referred to by students as the MCAT. After three tries, she settled for a final score that she admits she wanted to be higher. While Benett's MCAT score and other accomplishments were more than enough to gain her a spot at MCW, she couldn't shake a lingering doubt about whether she belonged where she was.
The Importance of Neuropsychology Testing
As she navigated MCW, Benett did well in her classes but still struggled with the occasional test, including her first set of board exams, Step 1. She thought her struggles on that test were the result of anxiety from COVID-19 and the civil unrest that was shaking the nation, which she shared with her therapist.
Her therapist recommended neuropsychology testing, something Benett hadn't considered before, as she was showing signs of a learning disability.
Nine hours of testing later, the examinations revealed something that helped Benett, who was 27 at the time, finally make sense of her lifelong struggle with tests. She was dyslexic, a disorder that involves difficulty learning to read or interpret words, letters and other symbols, but does not affect your intelligence.
"I read a question and my brain processes it in a different way, so I answer the wrong question," Benett explains. "It was a life-altering moment, but in a good way."
It also helped her friends she often studied with and even her parents understand her better.
"My friends told me that it makes so much sense, and it was a big 'aha' moment for my parents," Benett shares.
But learning she was dyslexic was one step. Now Benett needed to figure out what to do about it.
"I was still trying to process what this meant and what I should do now," she shares. "I was questioning everything."
Benett sought out counselors who had experience working with adults with dyslexia as well as a few other physicians who have it. They showed her techniques that worked for them, such as changing fonts on computers and where to find software that reads text to you, and directed her to other helpful resources for adults with dyslexia.
Living With Dyslexia – And Succeeding
Much of what she did then was trial and error, Benett admits, but it did help her develop a strategy of how to approach questions and test taking. She asked for and received accommodations when possible, such as additional test time. Her confidence level soared, and her test scores drastically improved between her first and second set of boards exams.
In addition to testing, the techniques she learned after being diagnosed have helped Benett, now a fourth-year student, during her rotations in the pediatric emergency department at Children's Wisconsin.
"If anything, it gives me more of an understanding and more context into how to deliver health information," Benett shares. "The biggest role of being a pediatrician is the health education component, so knowing different ways I can describe or explain health information helps people be fully aware of what's going on and feel confident in that information."
As Benett continues her journey toward becoming a physician – she is applying into a pediatric residency – she hopes that universities create more resources to help students navigate learning challenges.
"This is still a problem, and there are a lot of medical students who deal with learning disabilities, whether that's dyslexia or ADHD, or anything else," she says. "Just be more cognizant that it might be helpful to have people in positions that know the system or know more about it so they can really help us."
Benett also hopes to serve as a role model for children who face challenges like hers: "I want to remind them that if they're not succeeding or they feel like they're not neurotypical or something, it's normal and it's OK."