MCW Responds to the Waukesha Holiday Parade Tragedy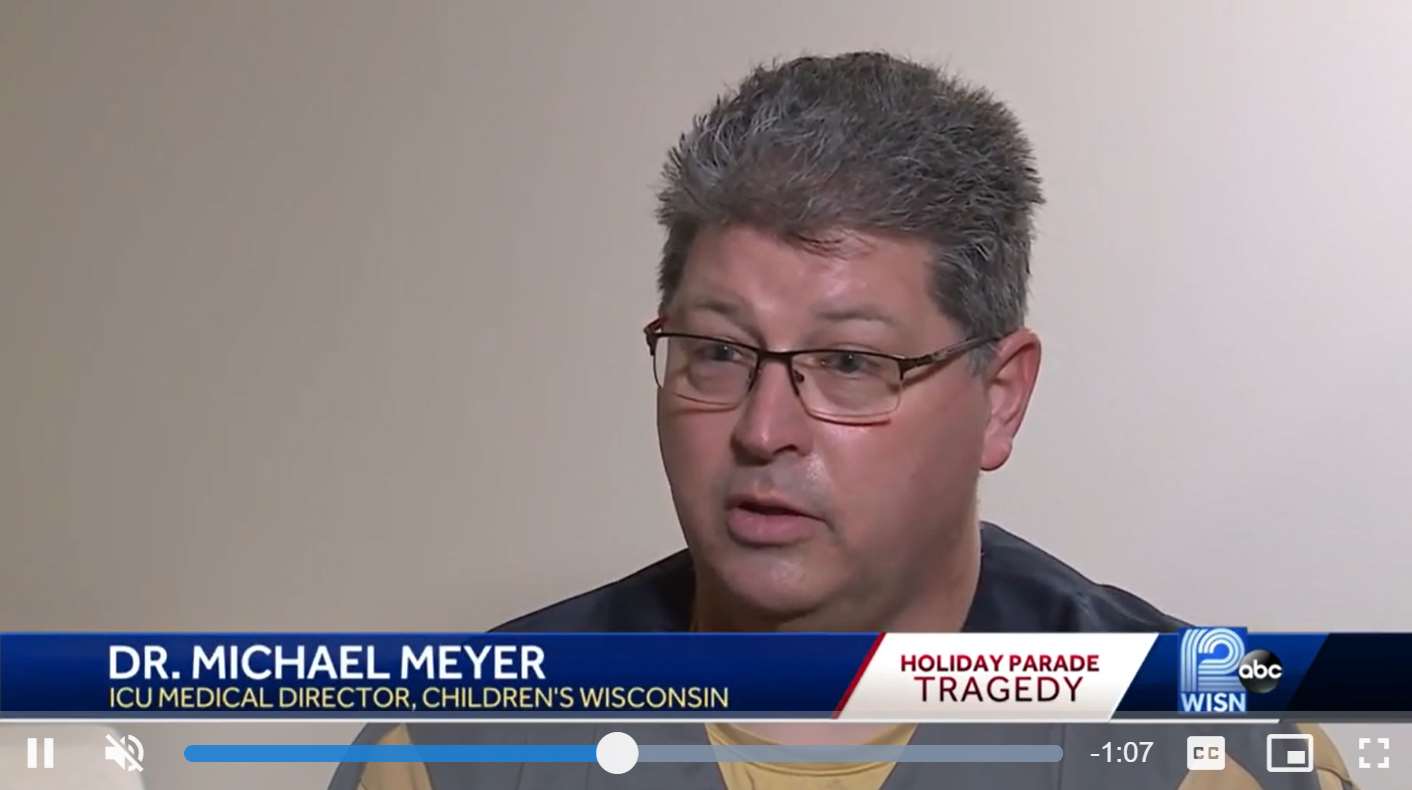 Dr. Michael Meyer says that nurses, therapists, techs, support staff and doctors all responded to the emergency call to treat children injured during the Waukesha holiday parade. He adds that these individuals put aside their shock and anger over the incident and asked how they could help the community.
On November 21, 2021, tragedy struck in Waukesha, Wisconsin. The city was holding its annual holiday parade, and a man in a red Ford Escape deliberately plowed through the parade route, initially killing five and injuring almost 50. Within an hour after the incident, far from the chaos playing out in that Milwaukee suburb, members of the MCW faculty who provide patient care at Children's Wisconsin (Children's) and Froedtert Hospital (Froedtert) jumped into action to make sure they could treat the injured and help a community begin to heal.
Both hospitals activated their respective trauma surge plans – something they train for regularly. The plans require additional staffing and provide protocols for how to evaluate and care for an abrupt surge in patient volumes while simultaneously prioritizing needed resources. Despite the event happening on a Sunday afternoon, additional staffing came together quickly.
"Nurses, therapists, techs, support staff and doctors came in because they felt they were needed. When I called people, all I heard was, 'I'm on my way,'" says Michael Meyer, MD, FEL '01, MCW professor of pediatrics and chief of pediatric critical care and medical director of the Children's intensive care unit. "Even people who were out of town asked if they should return to relieve their colleagues the next day. Some came back, and we utilized them. People put aside their shock and anger over the incident and asked how they could help the community."
Dr. Meyer was referring specifically to the individuals who came to the hospital to help in the ICU, but he could have been referring to any of the patient care areas. Throughout Children's, the feeling was the same – they had never seen so many faculty, advanced practice providers, trainees and staff show up so quickly to care for patients, sometimes even individuals who hadn't been asked. To help their colleagues. To contribute.
And it was needed. Children's emergency department received 18 patients that Sunday night, all between the ages of 3 and 16 – including three sets of siblings. Injuries ranged from facial abrasions to broken bones to serious head injuries. Six patients went into surgery the same night and two others the next day. Those first six required the assistance of 62 staff members during 15 hours of combined surgical time.
Some of the patients came directly to Children's, either brought by their families or by ambulance. Others came via ambulance from community hospitals, having been initially triaged, assessed and stabilized there. Depending on their injuries, some patients underwent IVs, blood transfusions, immobilization, imaging – or, if a head injury, CT scans – before being transported to Children's.
"The assessments and stabilization the patients received by the first responders and the teams at community hospitals helped immensely," says Amy Drendel, DO, FEL '05, MS '05, professor of pediatrics (emergency medicine) and medical director of the Children's emergency department and Level 1 Trauma Center. "We were much better prepared before the patients arrived, which helped us coordinate care to provide the best possible outcomes. This enabled us to prepare each room and team for a specific patient need."
With so many patients coming in at once, there were many details to which faculty and staff needed to lend their expertise, such as initial patient evaluation and prioritization and patient flow among the emergency department, the operating room and the ICU.
And then there was reuniting families with their children. Some parents were unsure if their child was at Children's – or even alive. Some knew their child was at the hospital but not sure where. Children's social workers helped reunite families with their children.
The morning after the incident, MCW pediatric psychologists began working with the social workers and chaplains to address the emotional and mental health needs of the patients and their families. Because of the nature of the tragedy, they assigned one psychologist to each patient/family.
Jacquelyn Smith, PhD, MCW assistant professor of pediatrics (psychology and developmental medicine), works with a team of pediatric psychologists who provide inpatient emotional and mental healthcare to patients and their families. She says that the team handled 24 consults the day after the incident, most of which were parade-related.
"People respond in different ways after an event like this," Dr. Smith shares. "They can be anxious, unable to concentrate or may relive the experience. One of our goals is to provide education about trauma and give them the tools to reduce the likelihood of developing long-term symptoms of traumatic stress. It's important for people to understand that healing is possible even in the wake of such tragedy, but also that many different emotional responses are common after a traumatic incident."
Dr. Smith adds that her team partnered with Terri deRoon-Cassini, PhD, MS, MCW associate professor of surgery (trauma and critical care), and her team to provide counseling to adult family members at Froedtert if needed.
Children's also set up a help line for anyone in the community who might have been struggling mentally or emotionally because of the parade tragedy. Staffed by psychologists, the line received around 100 calls. Additionally, a Children's bereavement counselor visited Waukesha schools in the following days to provide counseling where needed.
"I am proud of our organized response. Each family received medical and behavioral health support, the community could connect through a help line and adults could get the help they needed as well," remarks Dr. Smith. "Everyone in the system takes the approach of treating patients and their families like they would want to be treated if the tables were turned."
The way the teams responded was noticed. "We have never seen that magnitude of need in such a short period of time. Considering the devastation that took place, there was no chaos in our facilities. It was orderly," says Michael Gutzeit, MD, GME '88, chief medical officer at Children's. "Our teams responded with their hearts and heads in a caring and compassionate way to address the needs of the patients and their families, as well as the community's physical, mental and emotional needs. I have never been more proud of our team. There was collaboration, innovation, integrity and purpose."
Jason A. Jarzembowski, MD '02, PhD, chief executive officer for Children's Specialty Group, MCW senior associate dean for clinical affairs – pediatric practice and professor of pathology, shares similar accolades. "Our response to traumas are organized and scripted. Everyone knows what to do and what is going on," he shares. "I am proud of the people involved and amazed by their dedication and the focus they had to take care of these kids and work together as a team."
Jose Salazar, MD, MCW assistant professor of surgery (pediatric) who was the trauma surgeon on call the night of the tragedy, also shares his pride. "That night, the help we got made it feel like we were one big team. There were OR staff, surgeons, emergency department faculty and staff. Lots of people came in and worked on a Sunday night without being asked. They just showed up," he remarks. "We are used to taking care of a single patient, but that night, it felt like we were a hospital taking care of the community."
First Lady Jill Biden, Second Gentleman Douglas Emhoff and US Surgeon General Vivek Murthy, MD, visited Children's on December 15, in part to thank those who had provided care to the victims of the Waukesha tragedy. Before leaving, they met with two of the injured children and commended the dedication and compassion shown by the care teams who helped them and the other victims to heal.
Froedtert Hospital Activates Surge Plan in Response to Parade Tragedy
Unsure of what to expect that night, Froedtert Hospital activated its surge plan, notes David Milia, MD '04, FEL '10, (pictured right), MCW associate professor of surgery (trauma and critical care) and medical director of the Froedtert & the Medical College of Wisconsin Level 1 Trauma Center at Froedtert Hospital. Dr. Milia was working that night, directing the trauma area, and Amy Zosel, MD, '03, MSCS, associate professor of emergency medicine, was directing the emergency room. As part of their surge plan, Jason Liu, MD, MPH '09, professor of emergency medicine and medical director of Milwaukee County's EMS Disaster/Emergency Preparedness, was brought in to coordinate the response at a higher level.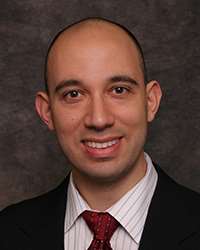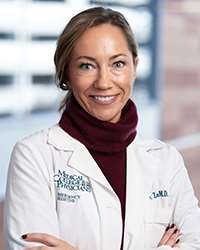 Dr. David Milia (left) and Dr. Amy Zosel (right)
Extra residents, surgeons, nurses, APPs, anesthesiologists and the other specialties and staff members who might be necessary were called in and assessed all available resources, such as ICU beds and ORs. Froedtert Hospital's main campus received three patients from the Waukesha parade tragedy, and four other patients were sent to Froedtert Hospital Menomonee Falls. "Everyone showed up the night of the tragedy, had a role and handled their role well. And each of the teams and departments involved collaborated very well. It was obvious we train for events like this," Dr. Milia says.
– Anthony Braza