MCW Student Reconnects With Her Island Homeland Through New Global Research Partnership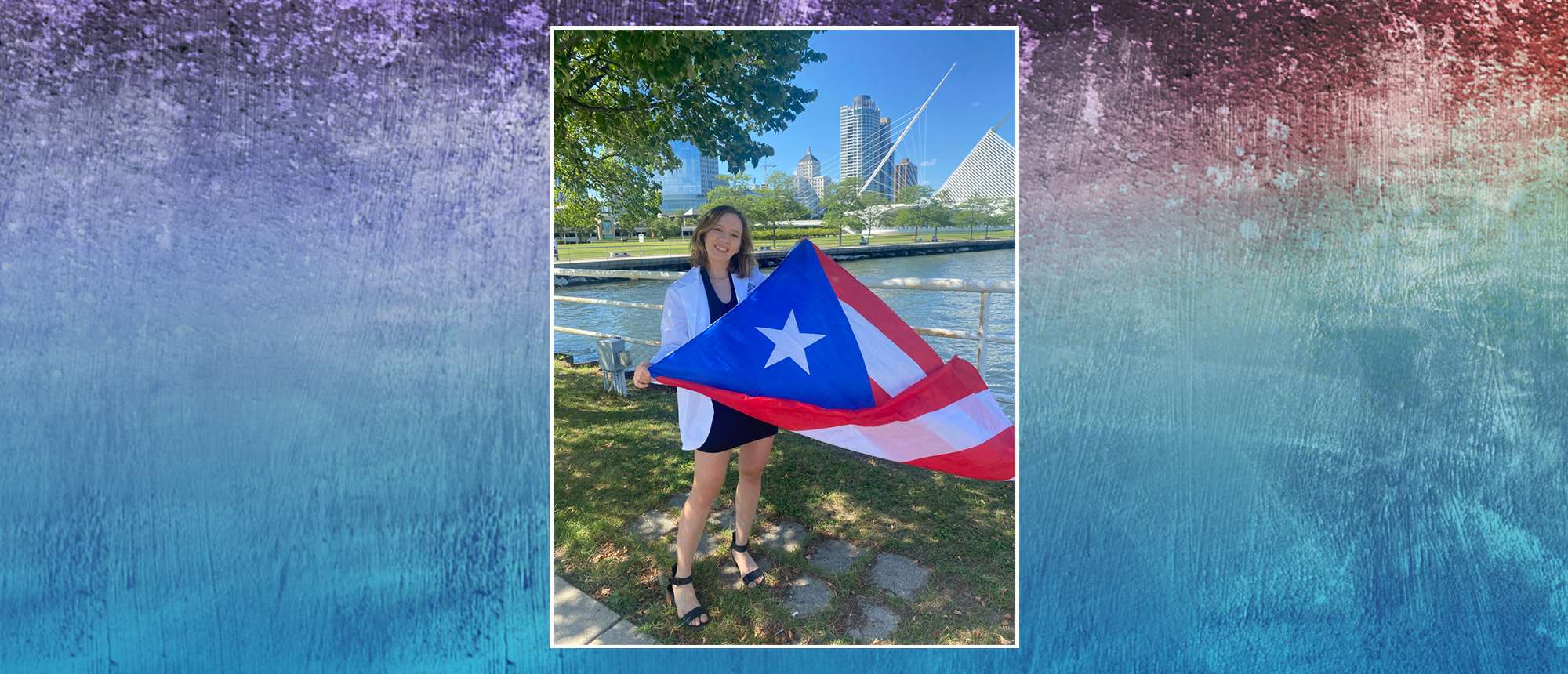 Ana Mia Corujo Ramirez moved to the Midwest from Puerto Rico as an undergrad to pursue her passion for research at Iowa State University. Now, at the Medical College of Wisconsin (MCW), rising third-year medical student Corujo Ramirez is using those research skills to contribute to decreasing health disparities at home.
In 2018, Corujo Ramirez was a participant in the Mayo Clinic's prestigious Post-Baccalaureate Research Education Program. Just one year prior, in 2017, Hurricane Maria devastated Puerto Rico, a Caribbean Island of 3.2 million people. Long-lasting impacts from that hurricane still continue to affect the island to this day.
"Not being home was really difficult," she recalls. "I always wanted to do a little bit more to help."
Corujo Ramirez learned about a primary investigator who was working to implement a mental health curriculum in marginalized communities in Puerto Rico and jumped at the opportunity to support this effort. Her job was to help pick experiments that would allow students to see the effects of stress. The study furthered her passion for helping others.
"I realized that I love working with communities and like connecting the benchwork experience that I have with kids in communities," Corujo Ramirez says.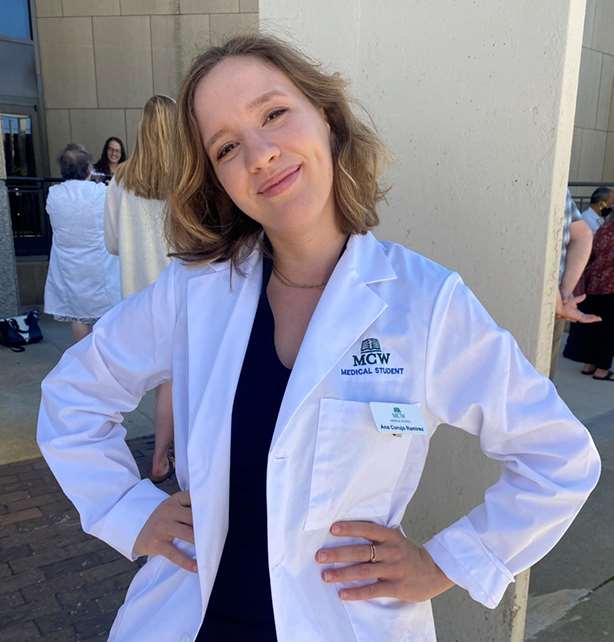 Following that experience Corujo Ramirez was accepted to MCW's School of Medicine, where her work with oncologists reinforced her passion for supporting communities and also gave her the opportunity to contribute to addressing health disparities in Puerto Rico. Following her first year of medical school, Corujo Ramirez was accepted as a scholar in the Dr. Elaine Kohler Summer Academy of Global Health Research. Managed by the MCW Office of Global Health, it's a 10-week program that facilitates students' hands-on, faculty-mentored experience with global research collaborators across the world.
Corujo Ramirez's summer research focused on implementing a COVID-19 antigen testing protocol at the Parcelas Suarez in Loiza, Puerto Rico. That project was funded by the Yale School of Medicine and RADx-UP, a program created by the National Institutes of Health to increase COVID-19 testing in communities most affected by the pandemic. Her participation in the research was made possible through a new collaboration between the MCW Office of Global Health and the Puerto Rico Public Health Trust, and the support of her faculty mentor Zeno Franco, PhD, associate professor of family & community medicine at MCW.
The purpose of her study was to help understand COVID-19-related community needs, increase access to COVID-19 testing and local resources, and improve vaccination distribution. To do so meant understanding the complex history of Loiza, a coastal town with a rich Afro-Caribbean heritage but also a community that has been historically neglected by the government, Corujo Ramirez shares.
"They are very inspiring and resilient people, but they have little financial resources," she says.
Many of the residents who came for COVID-19 testing were older Afro-Caribbean females with a wide range of chronic health conditions, Corujo Ramirez recalls. This put them at higher risk of developing further complications from COVID-19, which was among a number of challenges of the project.
"Working in the community, my role was to learn from them and see how we could make this testing protocol feasible in a place where we were in a drought," she says.
Sometimes it meant there was no running water while other times it meant moving locations and other methods of being flexible, she adds.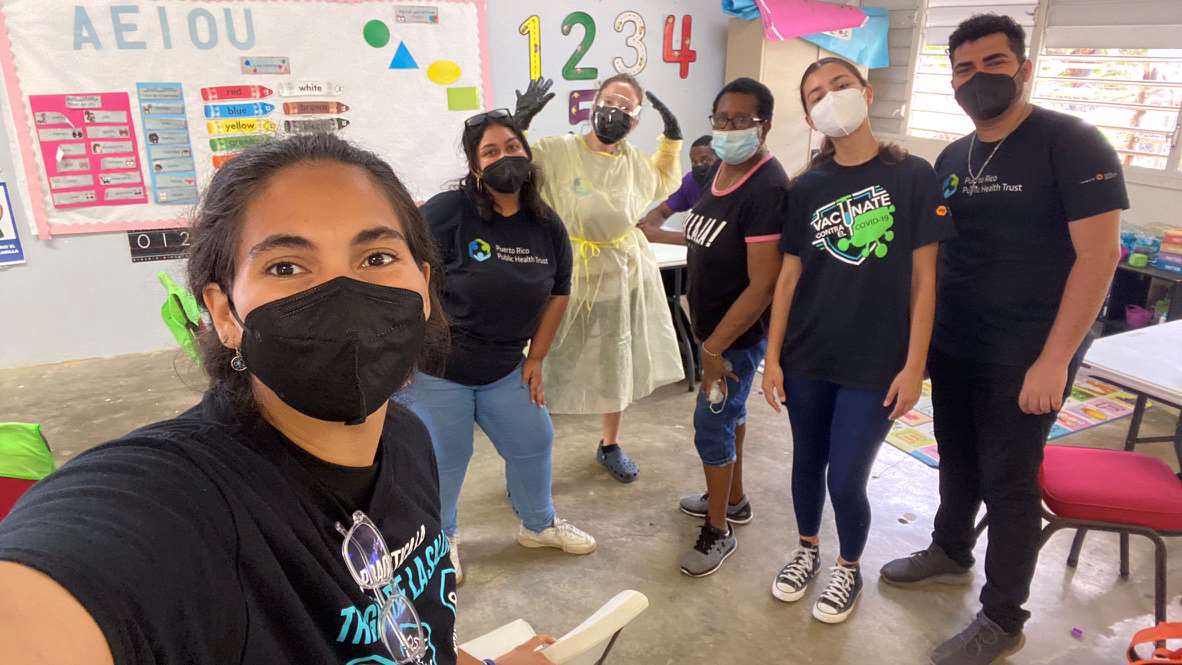 Another aspect of Corujo Ramirez's research was to help conduct a community census that helped determine resident needs in the event of a natural disaster. This ended up being crucial considering that Hurricane Fiona hit Puerto Rico a few months after.
Corujo Ramirez says the support she received from the community would not have been possible without Evelyn Allende, a community leader in Loiza who introduced the researcher to residents.
"This town has gone through a lot, so they don't trust very easily," she says. "Having [Allende] welcome me opened doors for other community members to trust me."
Corujo Ramirez was also grateful to members of the Puerto Rico Public Health Trust for giving her honest feedback and setting her up for success, and to her family, who has supported her research journey and work back on the island.
"They're really proud and very supportive of me," Corujo Ramirez says. "Being able to contribute back home made them especially proud."
She expressed gratitude for her mentor, Dr. Franco, funding from the Wm. Collins Kohler family, facilitation from the Office of Global Health, Global Health Pathway education and others at MCW.
"There was a whole army behind me to help make this research experience possible," she says.
The project is ongoing, according to Corujo Ramirez, as new COVID-19 protocols are being put to action in Loiza. Another positive outcome of this project is that it opened doors for future collaborations between MCW and the Puerto Rico Public Health Trust and the island as a viable option for future student researchers. Perhaps one day, MCW students will support a project that Corujo Ramirez is leading on the island. Her long-term goal of becoming a global physician is clinical practice in Puerto Rico, perhaps in her hometown of Isabela.
"There's such a huge physician shortage in Puerto Rico," she says. "I think it's important to serve where I was born."