MCW Student Takes Lead of Program Aimed at Helping International Students Overcome Challenges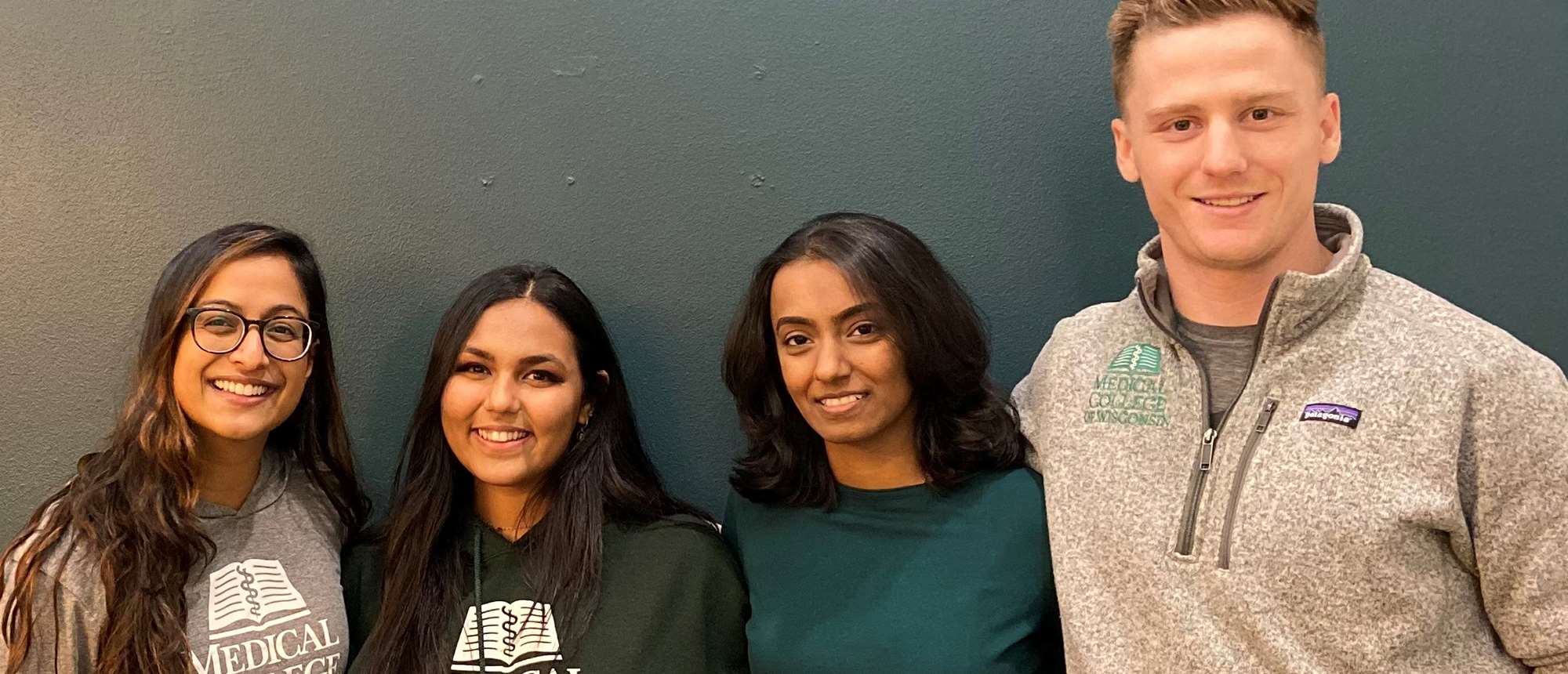 While earning her undergraduate degree in biomedical engineering at the University of Wisconsin-Madison, Gopika SenthilKumar became inspired by a mentor to become a physician-scientist.
"I absolutely fell in love with everything an MD-PHD could do," she says.
It was while chasing that dream that Gopika, who was born in India and moved to America with her family in the sixth grade, learned the hard way about challenges international students face when pursuing medical school.
"I had a couple schools call and say, 'We used to have funding for international students, but we don't this year so we can't consider your application,'" explains Gopika, now a third year MD- PhD student at the Medical College of Wisconsin. "Others called after my interview and said they were trying to find funding for me and needed to waitlist me until that was figured out."
Educational Barriers for International Health Sciences Students
Grants and financial aid for international students are competitive and difficult to come by, as foreign students are not eligible for domestic aid, like FAFSA or work-study. They are limited to university-related job opportunities and have work hour restrictions. Gopika also learned that some schools don't accept international medical students, as foreign students require a work visa for their residency after medical school, which is not always easy to obtain. The student must first gain a residency placement and sponsorship from that institution, and then the program has to fund their J1 or H1B work visa. To avoid this challenge, many U.S. schools focus on domestic students, whose residency process is straightforward. Of the schools that do accept international students, most require that the students show proof of two to four years of medical school costs set aside in an account.
In short, international students face an uphill climb even before they begin their arduous academic journeys.
The Power of Mentorship
Gopika now works to help other international students like her overcome those challenges. She is co-executive director of F1 Doctors, an online-based student-run, volunteer platform that provides peer-to-peer mentorship for health sciences and pre-health sciences students from around the world who are applying at US professional schools.
Gopika provided support to undergraduate students through the program before coming on board as a research lead prior to becoming executive director. "This platform has only been around for two years. I wish it existed when I was applying to medical schools," she says.
"Students would reach out to me from around the world, and say, 'Hey, I'm interested in joining XYZ medical school, but here are the constraints I'm facing,'" she says, adding that mentoring can happen through emails or phone calls depending on the mentor-mentee relationship.
Mentors and mentees might discuss the challenge of finding co-signers for student loans, what to do when they've maxed out their bank loans before completing med school, and issues related to taxes. Aside from financial concerns, many also reach out for help navigating the language and culture barriers they face.
"I have students who are applying to medical school and English is their second language, so I help with their application and make sure what they really want to convey is reflected," Gopika says. "Everyone has different concerns; it's about giving them more confidence despite the challenges."
Finding support is especially crucial for international students, she adds. Gopika explains that while international students tend to have higher GPAs and MCAT scores, they matriculate to medical school at lower rates. Even upon completing their coursework, they face challenges in finding residencies and even the opportunity to stay in America to practice as professionals, she adds.
The F1 Doctors team, which includes more than 140 mentors from over 30 countries, as well as board members and others including Deepali Bhalla, first-year medical student at MCW who serves as the mentor relations director, helps these students overcome those odds. MCW students Radek Buss and Kavya Puchhalapalli are mentors on the platform as well.
The organization recently improved its website to allow users to find mentors from their home countries, institution or visa status, among other options. The team also released six episodes of their podcast, and host panel discussions and other events to highlight success stories from international students. They also want to move the program toward sustainability and create a community of F1 professionals.
"We want there to be a footprint of F1 Doctors long after we're out of school," Gopika says.
Ultimately, though, she wants American medical schools and institutions to understand the great value of supporting international medical students – who bring diverse perspectives to medical education.
"A lot of the medical students contribute to American healthcare and go back to their home countries to share what a wonderful medical community we have here in America. They often share ideologies of global health and want to give back to their communities – locally and abroad."