Sense of Community: MCW Neurosurgeon Resident Reflects on Waukesha Christmas Parade Tragedy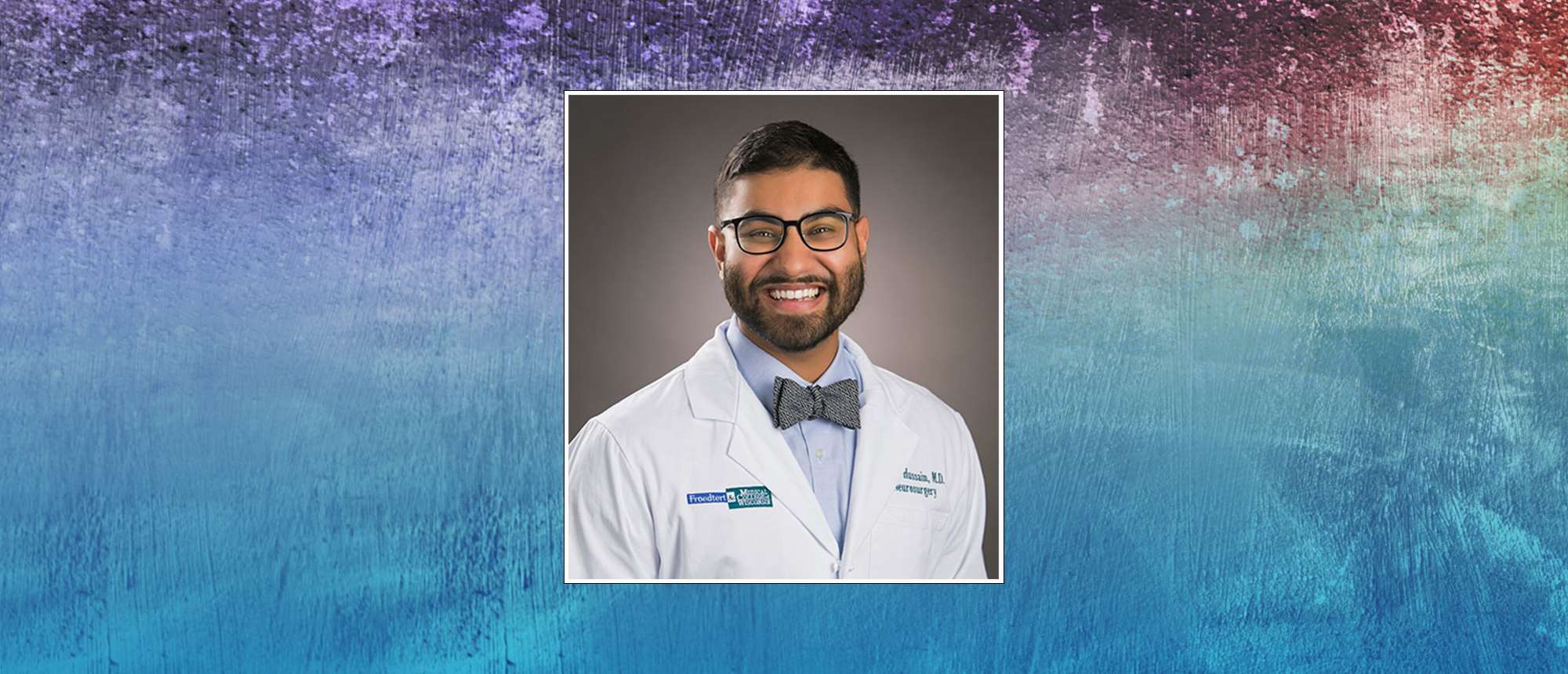 On call during a weekend in November 2021, Omar Hussain, MD, a neurosurgery resident at the Medical College of Wisconsin (MCW), remembers things starting out busy as expected, but nothing too out of the ordinary.
At the time, Dr. Hussain was a junior resident on standby from Friday through Monday morning. He spent the first days doing rounds on his regular patients at Children's Wisconsin Milwaukee Hospital and the Zablocki VA Medical Center while also being called into three separate emergency surgeries. It was at 5 p.m. on Sunday, November 21, that Dr. Hussain was finally able to go home and recuperate.
Just as Dr. Hussain was preparing to sleep, his pager went off again. It read, "Please call regarding traumas."
A call to the emergency room at Children's revealed the gravity of the situation.
"You could hear utter chaos in the background," he says. "They're screaming on the phone."
What Dr. Hussain was able to make out from that call was that there had been a mass casualty incident in Waukesha that injured many children and that he had to get there immediately. By the time he arrived, the picture had become clearer as hospital staff had by then received information about the tragedy that had transpired.
As hundreds of families gathered in downtown Waukesha for the city's annual Christmas parade, a man drove through the crowd, killing six individuals and injuring more than 60 others, including nearly 20 children who would be transported to Children's Wisconsin Milwaukee Hospital.
"We had to triage everybody as they were coming in," says Dr. Hussain, who recalls seeing children with a wide range of injuries, some serious and others less so.
The neurosurgery team performed four emergency surgeries that night and one the next morning. As he worked feverishly, Dr. Hussain couldn't help but to struggle with the idea that someone would want to cause harm to innocent people, creating a huge ripple effect that impacted countless people, including those who would be tasked with treating the children. Rather than continue to focus on that feeling, Dr. Hussain was instead moved by how the community came together in response to the tragedy.
"Everybody was demonstrating love and compassion toward not only the kids who were hurt, but the families that were affected, the loved ones," he says. "The entire recovery process was sort of washed by that sense of community."
Parents of the children brought donations of food not just for each other, but for all of the doctors and nurses in the units their kids were in. As the children were recovering, Dr. Hussain was moved by the entire experience and how it overpowered the negative thoughts he initially had.
"The things I do remember are the food people brought; I remember the smiles that were meeting me every single morning, every time I rounded with the families and the patients," he says.
He also fondly remembers the laugh of a young patient who developed a brain bleed but recovered well from surgery and was nearing the end of her stay at the hospital.
"This is a girl that I was rounding on every single day for two or three weeks straight," he says. "I got to know her quite well, including the family."
When it came time to take out her staples, she asked Dr. Hussain to remove them for her. She handled it like a champ, he recalls. Then came a surprise.
"She says, 'I have a gift for you,'" remembers Dr. Hussain.
It was a toy sloth, which she knew was his favorite animal. What Dr. Hussain didn't know is that it was a squeeze toy filled with a chocolate surprise that would ooze all over his scrubs.
"Everyone thought it was so funny, and this girl was laughing so much," he says. "I looked at her and said, "You do not need to be at the hospital anymore!'"
Having those memories meant more than thinking about the actions of a single person in Waukesha bent on causing harm, he says.
Since then, Dr. Hussain has shared his story during a national neurosurgery conference and has been invited to Boston to share it again with an organization called the Stories From the Stage. As far as what he learned from the experience, Dr. Hussain says it taught him to always have a pen and paper on hand to take notes in what can be a chaotic environment, to maintain an open line of communication with everyone who is providing care to the patient, and to always communicate any information to the families.
"Even on our busiest moments, if there was any sort of change in the plan for any of my patients, children or adults, I will always make sure to communicate that to the family," says Dr. Hussain, who is now a father. "Being in the dark is one of the worst feelings in the world."
He also hopes he never has another experience like the night of November 21, 2021.
"Multiple emergencies can happen at the same time, but never on the scale that I experienced that night and it was never on kids," he says. "It was such a dramatic moment that I don't ever want to be a part of again."
MCW also covered this story in the Spring 2022 issue of MCW Magazine