Additional Application Information
US Medical Graduates (Please provide the following in your ERAS Application)
Common application form
USMLE Transcript (Steps 1, 2, and 3)
Complex scores (DO)
MSPE
At least three letters of recommendation (one has to be from your current program director)
Medical School Transcript
Personal Statement
CV
International Medical Graduates (Please provide the following in your ERAS Application)
Common application form
USMLE Transcript (Steps 1, 2, and 3)
MSPE
At least three letters of recommendation (one has to be from your current program director)
Medical School Transcript
ECFMG Status Report
Personal Statement
CV
Visa sponsorships that will be accepted:


J-1 visa candidates (visa has to be sponsored by the ECFMG)
Fellows Rotation in Endocrinology, Diabetes, and Metabolism
Objectives
To achieve broad, in-depth exposure to all aspects of clinical endocrinology.
Special emphasis at Froedtert Hospital is placed upon management of glucose levels on in-patients from the organ transplant unit. Additional emphasis occurs in the areas of Diabetes in Pregnancy and insulin pumps.
Special emphasis at the VA Medical Center is placed on patient management through a computerized medical record system.
Froedtert Hospital is the principal teaching hospital of the fellowship program and the venue for most teaching conferences.
Location and Contact Information
Froedtert Hospital
East Clinic Building, 4th Floor
(414) 805-0438

VA Medical Center
4B Shared Clinic
(414) 384-2000 x42760

North Hills Medical Center
N129 N7055 Northfield Dr.
Menomonee Falls, WI 53051
Course Structure
Clinics
Outpatients are seen in the Froedtert East Clinics at Froedtert Hospital (FH) and at the 4B Multi-Specialty Clinic at the VA Medical Center.

The Froedtert East Clinics contain eight exam rooms, office space, and several patient care rooms and classrooms for the Diabetes Care Center. The Endocrine Diagnostic Unit is also contained within this location.

Fellows typically evaluate two new patients per clinic and as many follow-up patients as possible (typically four to six). Decisions regarding diagnostic testing and management are made in conjunction with the faculty member during each visit. Fellows are also responsible for dictating the initial letter on consultation to the referring physician and follow-up letters after test results come back.

Fellows follow the same cache of patients for two years throughout one weekly half-day "Continuity Clinic" at the VA Medical Center.

In-Patient Consults
There is not a separate in-patient endocrine service. All patients are admitted to the Medicine Ward teams or other services with the endocrinology service acting as consults.

These are three separate rosters of inpatient consults: the Endocrine Consult Service at FH, the Diabetes Consult Service at FH, and the Endocrine Consult Service at the VA Medical Center. On any given month a fellow is assigned to either the two consult services at FH or the single service at the VA Medical Center.

Each fellow is responsible for approximately five to ten consult inpatients at any given time. Each of the four inpatient consult service sees approximately 10-30 consults per month. While on the FH Diabetes Consult Service, which is separate from the FH Endocrine Consult Service, the fellows monitor fingerstick results and write all insulin orders on the organ transplant patients. All consults are staffed by one of the Endocrinology/Diabetology faculty. Fellows oversee the residents and medical students on the consult service and give short lectures on different endocrine topics during consult rounds. The fellows are also responsible for presenting patients at the Endocrine Surgical Case Conference and Endocrine Case Conferences.

Conferences
Conferences at FH/VAMC include:
Case Conference
Journal Club
Core Conferences
Fellows Endocrine-Surgery
Residents Case Conferences
Endocrine Board Reviews
Medicine Grand Rounds
Conferences are scheduled from 8:00 am-4:00 pm on Thursdays. Medicine Grand Rounds is from 8:00 am-9:00 am on Fridays.

Research
Research mentors may be chosen from among the FH/VAMC faculty.

Night and weekend call
Fellows are on call some weeknights and one weekend a month. A designated FH/VAMC endocrine staff provides backup.

Evaluations
Faculty evaluate the fellows on a monthly basis. The fellows evaluate the faculty and the rotations on a monthly basis.
Program Director & Associate Program Director
Associate Professor
Director, Endocrinology, Diabetes, and Metabolism Fellowship Program
Assistant Professor
Director, Endocrinology, Diabetes, and Metabolism Fellowship Program
Current Fellows
Usonwanne Ibekwe, MD
Endocrine Fellow
Medical School: University of Nigeria Faculty of Medicine; Residency: St. Vincents Medical Center, Bridgeport, CT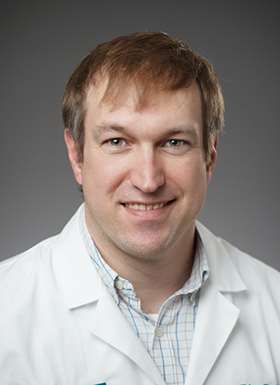 Walter Woznick, MD
Endocrine Fellow
Medical School: Wright State University Boonshoft School of Medicine; Residency: Wright State University Boonshoft School of Medicine
Irfaan Abid, DO
Endocrine Fellow
Medical School: Arizona College of Osteopathic Medicine of Midwestern University; Residency: Hennepin County Medical Center, Minneapolis, MN
Sarah Haroon, MD
Endocrine Fellow
Medical School: Aga Khan University Medical College, Pakistan; Residency: William Beaumont Hospital, Royal Oak, MI
Past Fellows
Joshua Kannankeril, MD 2018-2020
Park Nicollet, St. Louis Park and Burnsville Clinics, MN
Almira Yang, DO 2018-2020
Riverside University Health System Medical Center, CA
Priyanka Agarwal, MD 2017-2019
Working in Texas
Maria Jose, MD 2017-2019
Working in Wisconsin
Sarang Patel, MD 2016-2018
Regions Hospital, St. Paul, MN
Vignesh Shettar, MD 2016-2018
Locum Tenens Endocrinologist
Jenna Sarvaideo, DO 2015-2017
Medical College of Wisconsin, Milwaukee, WI
Rowella Sirbiladze, MD 2015-2017
Maury Regional Medical Group – Endocrinology, Columbia, TN
Summi Pargal, MD 2014-2016
Milwaukee, WI
Scott Ahl, DO 2013-2015
Ventura County Health; California
Namrata Daas, MD 2013-2015
Working in Louisiana
Smriti Manandhar, MD 2013-2015
Western Maryland Health System; Cumberland, MD
Katarzyna Zarnecki, DO 2012-2014
North Shore University Health Systems; Skokie, IL
Olena Hungerford, MD 2011-2013
Franciscan Medical Specialist Group; Indiana
Sujani Poonuru, MD 2011-2013
Park Nicollet; Minneapolis, MN
Tejal Shah, MD 2011-2013
Milwaukee, WI