Fellowship Training in Endocrinology, Diabetes, and Metabolism at the Medical College of Wisconsin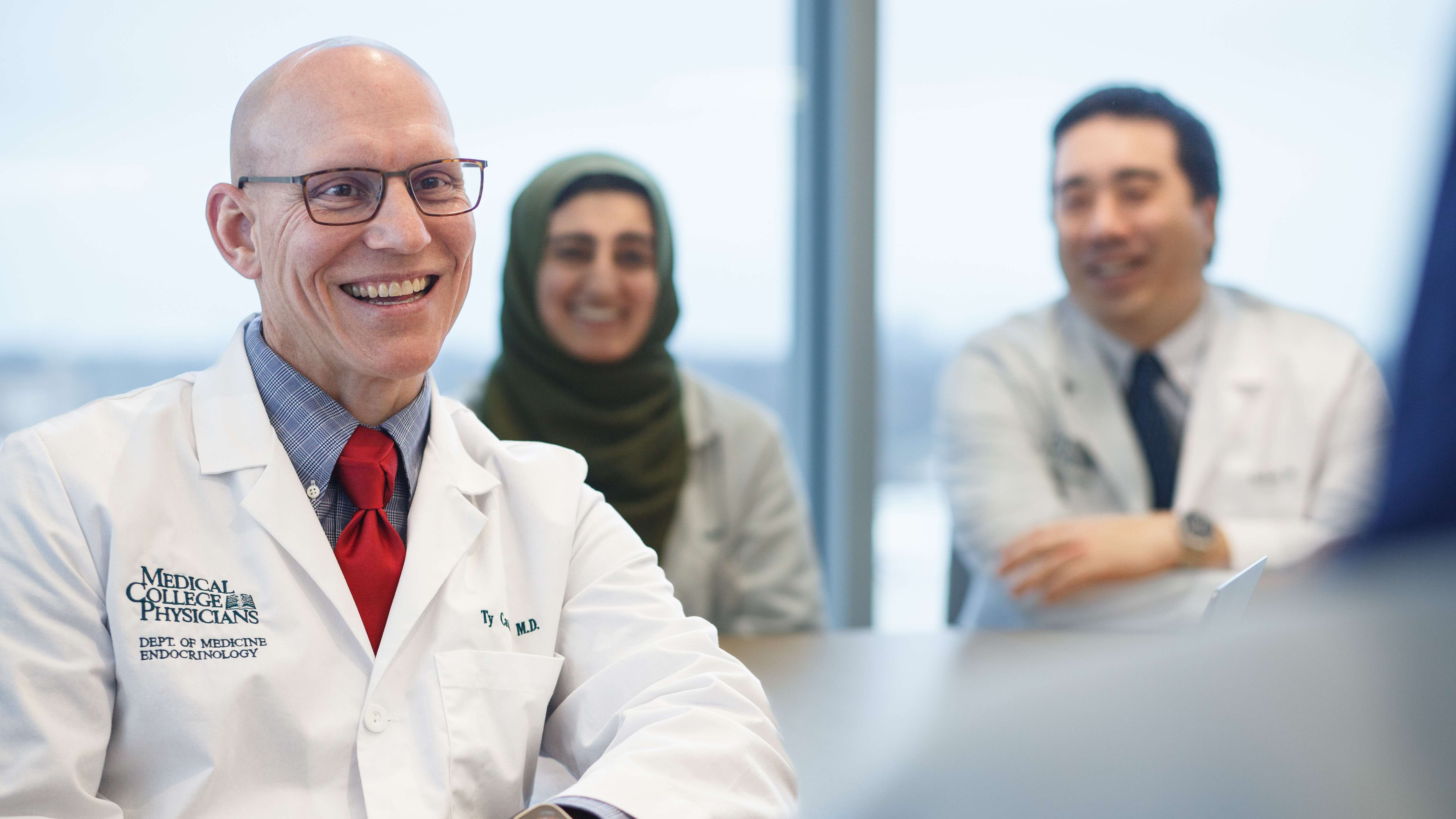 Our fellowship program focuses on training complete endocrinologists.
Fellows experience a wide array of learning environments in order to achieve a comprehensive understanding of pathophysiology, diagnosis, and management of endocrine disorders. Fellows care for patients at Froedtert Hospital and Clinics, and the Clement J. Zablocki VA Medical Center. In addition to clinical care, each week fellows attend dedicated conferences to expand their understanding and learn the state-of-the-art endocrine care.
Program Overview
Clinical Training
Continuity clinic experience
All fellows have a panel of continuity clinic patients that are followed in the outpatient endocrine clinic at Froedtert Hospital. This averages one half-day per week throughout the two years of fellowship. Patients have a wide array of endocrine disorders and diabetes. Additionally, fellows co-manage a panel of patients with a fellow partner while rotating at the Clement J. Zablocki VA Medical Center. Clinics at all sites are staffed by a dedicated endocrine faculty member who provides the appropriate level of supervision and autonomy as fellows progress through their training.
Outpatient clinical experience
In additional to the continuity clinic experience, fellows rotate through a variety of outpatient clinics at Froedtert Hospital including pituitary clinic, thyroid nodule and endocrine neoplasia clinic, and metabolic bone disorder and calcium metabolism clinics. In the second year, fellows also complete rotations in pediatric endocrinology, reproductive endocrinology, and inclusion health.
Fellows undergo training in endocrine physiology, interpretation of laboratory results, endocrine imaging studies (e.g., DXA, pituitary MRI, adrenal gland CT, and thyroid ultrasound), and performing fine needle aspiration of thyroid nodules.
Throughout the two years of training fellows have the opportunity to see patients alongside regionally, nationally, and internationally recognized experts in a wide array of practice settings including our academic medical center, the VA hospital, community based endocrine clinics.
Inpatient experience
Our fellowship training program has two distinct inpatient consultative settings. On average, fellows spend three months in the first year rotating on the Clement J. Zablocki VA Medical Center and Froedtert Hospital inpatient consultation services. The VA Medical Center service is covered by the fellow during daytime hours on weekdays. There are no night or weekend calls. Fellows also rotate on the endocrinology consultation service at Froedtert Hospital. This service is covered our fellows Monday through Friday. In the second year, fellows spend two months on the consultation service at Froedtert hospital.
Research Training
Fellows participate in research that leads to presentation at national meetings and peer-reviewed publications. We strive to establish a faculty research mentoring relationship early in training and dedicated research time is available in the second year of training.
Teaching
Fellows are not only learners at the Medical College of Wisconsin, they are also teachers. Fellows actively participate in the training of residents and medical students who rotate on the endocrinology service. Fellows actively participate in peer education through a broad range of conferences including journal club, case conference, and grand rounds.
Sample Endocrine Fellow Schedule
| | | | | |
| --- | --- | --- | --- | --- |
| | General Endocrine Clinics (FH & VA) | Specialty Clinics & Procedures | Inpatient Consults | Research |
| Year 1 | 8 months | 1-2 months | 2-3 months | NA |
| Year 2 | 6 months | 4 months | 2 months | 1 month |