Developmental and Neurogenetics Laboratory (DNL)
The Developmental and Neurogenetics Laboratory (DNL) at Children's Research Institute provides diagnostic services using state-of-the-art molecular techniques and the latest scientific discoveries to provide innovative methods in the diagnosis of genetic disorders for clinical care.
Specimen Collection and Transport Guide
Origin of Request: Outside referring diagnostic laboratory
Order Method: Review the Specimen and Collection Transport Guide and Complete the Test Requisition Form
Payment Method for Services: DNL invoices referring diagnostic laboratory
Shipping and Billing Information
DNL Medical Director consultation necessary prior to ordering test. Ship overnight collected peripheral blood specimen in EDTA tube (2-4ml) with a refrigerator pack. Do not freeze!
The Developmental and Neurogenetics Laboratory does not bill third parties (e.g. insurance companies). The referring laboratory is responsible for obtaining payment from third parties. Our laboratory bills directly to referring laboratory for payment. Please provide complete institutional billing information within the Institution Contact section on the Test Requisition Form.
Test Requisition Form
Test Requisition Form (PDF)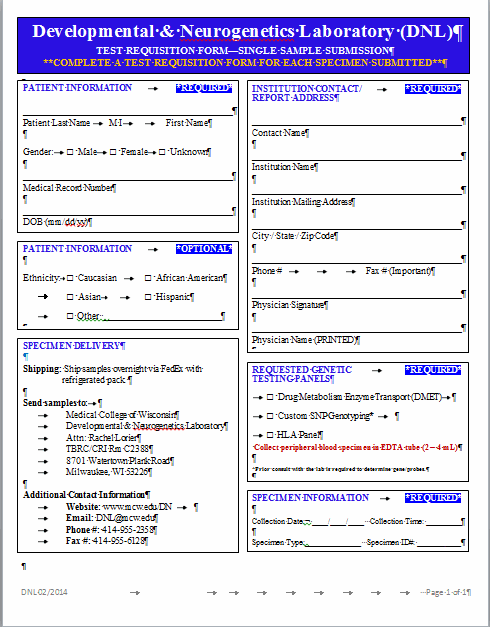 Licensure & Accreditation
The Developmental and Neurogenetic Laboratory maintains CLIA (Clinical Laboratory Improvement Amendments) certification through CMS (Centers of Medicare and Medicaid Services).

ID Number: 52D1043369

Clinical Laboratory Improvement Amendments (CLIA) Certificate of Compliance (PDF)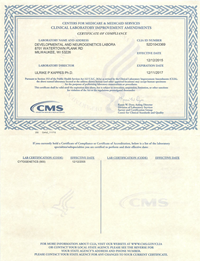 Key Contacts
Laboratory Director

Scientific Director
Ulrich Broeckel, MD

Laboratory Director
Rachel Lorier, BS
Contact Information and Specimen Delivery Address
Medical College of Wisconsin
Developmental and Neurogenetics Laboratory (DNL)
Attn: Rachel Lorier
Department of Pediatrics – Genetics
TBRC/CRI, Rm. C2388
8701 Watertown Plank Rd.
Milwaukee, WI 53226
Hours of Operation
The laboratory is regularly staffed Monday through Friday, 8:30 a.m. to 5 p.m. (Central Standard Time).
Specimen Delivery
Shipments are to be delivered to the Medical College of Wisconsin Loading Dock. The loading dock is located off of Watertown Plank Rd. between 87th and 92nd Streets by use of access road highlighted by red arrow (see map below).