Addiction Psychiatry Fellowship
The Medical College of Wisconsin offers a one-year, ACGME-accredited addiction psychiatry fellowship in Milwaukee, WI.
The goal of the program is to graduate competent physicians who in addition to providing excellent, compassionate care, also take on a role in advocacy and education of community and colleagues. Addiction Psychiatrists are often called upon to be resources in their medical communities to assist physicians and other health professionals who have potentially-impairing psychiatric or addiction health conditions needing treatment.
Addiction psychiatrists work in a field that is extremely rewarding even if often challenging. They work not only in direct patient care but in education of health professionals, research, and public policy advocacy. Involvement in the needs of communities regarding addiction issues impacting the community is an important part of being a subspecialist in this field.
Application Process
The Addiction Psychiatry Fellowship Program at the Medical College of Wisconsin offers two (2) positions annually.
Our program utilizes ERAS (Electronic Resident Application System) and does not participate in the National Residency Matching Program (NRMP).
Applications open with the ERAS Fellowship cycle beginning July 1. Please refer to ERAS for length of application cycle and requirements.
View the recruitment guidelines for 2022/2023 (PDF)
Interviews typically take place early fall for the upcoming academic year.
Didactics and Supervision
Didactics are offered, following a comprehensive syllabus. Core faculty and invited guest lecturers with expertise in special populations will provide the formal teaching.
Fellows are expected to participate in journal clubs, practice seminars and case conferences and attend the departmental Grand Rounds. Participation in the American Academy of Addiction Psychiatry annual meeting is encouraged.
Informal learning opportunities are provided via case based staffing. Much of addiction care is team based. Fellows will participate in team staffings with the opportunity to lead. Fellows will gain active learning experience by assuming a supervising and teaching role for lower level learners and allied health professionals.
After successful completion of the Addiction Psychiatry Fellowship Program, fellows are eligible to take the Addiction Psychiatry certification examination offered by the American Board of Psychiatry and Neurology (ABPN).
Clinical Rotations
Comprehensive addiction training requires exposure to various treatment settings and populations. The Medical College has multiple affiliated hospitals and clinics that offer the breadth of experiences required.
Director | Matthew Stohs, MD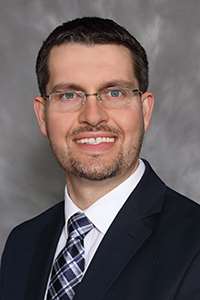 Dr. Stohs received his BS in Biology from Valparaiso University and MD from Tulane University in New Orleans, Louisiana. He completed psychiatry residency and addiction psychiatry fellowship at Mayo Clinic in Rochester, Minnesota. He is board certified in addiction psychiatry, addiction medicine, and general psychiatry.
He is an assistant professor at the Medical College of Wisconsin (MCW) and is a full-time staff addiction psychiatrist Milwaukee VA Medical Center. He strives to apply a whole-person collaborative approach to his care of individuals with addictions and chronic pain. He is the Milwaukee lead site investigator (LSI) for the VA Cooperative Studies Program (CSP) clinical trial comparing injectable vs. oral buprenorphine (VA-BRAVE).
Contact Us
The Addiction Psychiatry Fellowship is accredited by the American Council for Graduate Medical Education (ACGME).
Dr. Matthew Stohs
Fellowship Director