Milwaukee (MKE) Residency Program
The MCW-MKE Psychiatry Residency program is a long-established program in the fantastic city of Milwaukee. We have a unique curriculum that we believe maximizes the breadth and depth of experiences. The MKE psychiatry program is home to all of the available ACGME fellowships, including Addiction Psychiatry, Child & Adolescent Psychiatry, Consultation-Liaison Psychiatry, Forensic Psychiatry and Geriatric Psychiatry.
A message from our Residency Program Director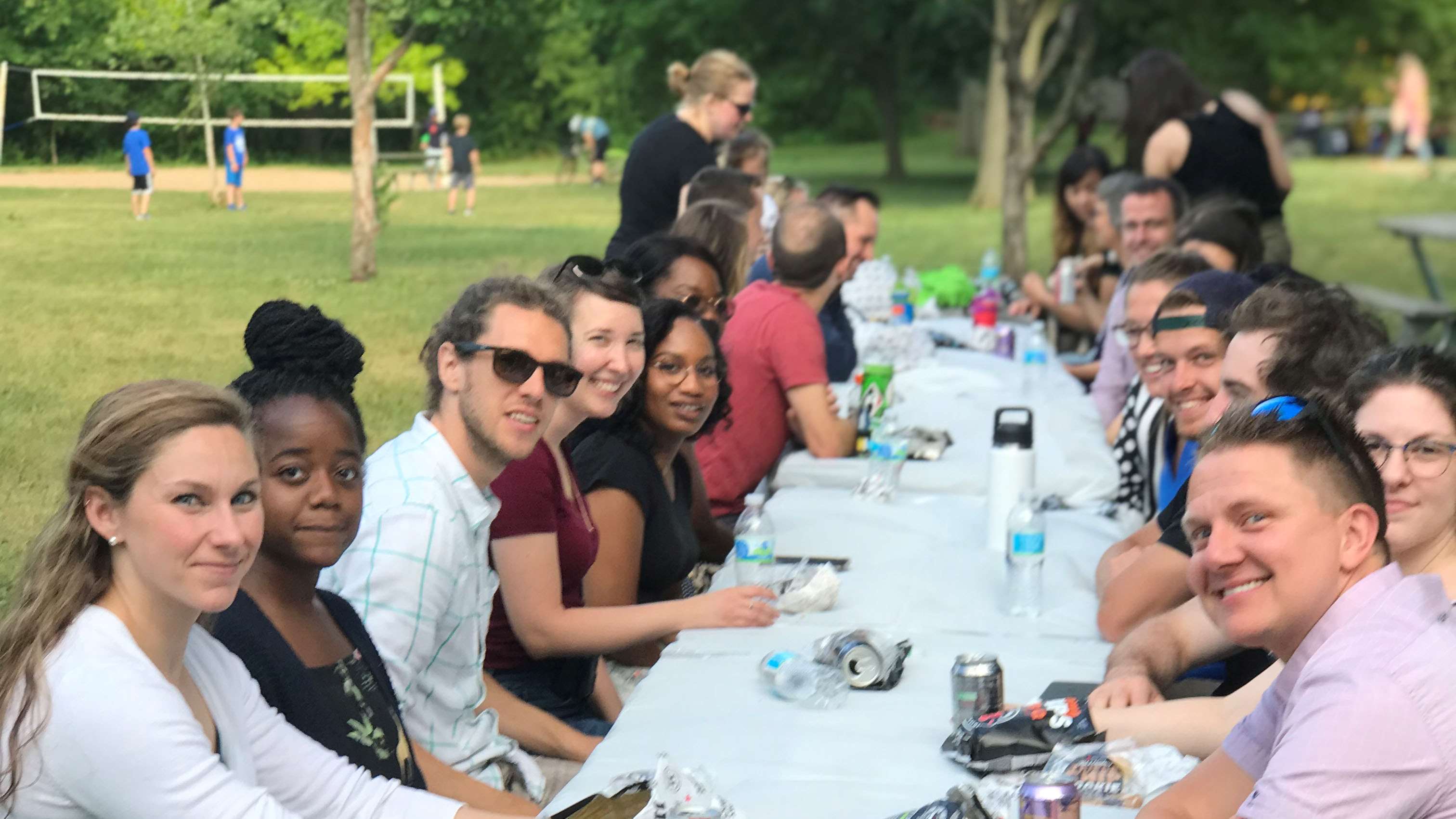 Program Overview
Different than most programs that offer ambulatory psychiatry in the PGY 3 year, our outpatient clinic begins in second year of training with continuing psychotherapy clinics throughout the rest of residency.
This unique curriculum allows for residents to have continuity with patients for several years. It also allows residents to build on the knowledge, skills and perspective learned in outpatient psychiatry when they return to the inpatient, subspecialty and consultation liaison settings in the third year, enhancing the PGY 3 experience. Third year inpatient rotations add the dimension of group psychotherapy, while fourth year is rounded out with neurology, integrated care, psychotherapy and electives.
Our program is fortunate to work with multiple health systems in the Milwaukee area to give residents an experience in a diverse range of settings – from a county psychiatric hospital to a private psychiatric hospital to an academic medical center. Residents rotate at Psychiatric Crisis Service (PCS) – a busy psychiatric emergency room with over 10,000 visits each year, serving all of Milwaukee County. Second year residents spend half of their time in our free-standing psychotherapy center where they learn supportive psychotherapy, psychodynamic psychotherapy and cognitive behavioral therapy.
Consultation-liaison (CL) psychiatry is another area of strength with residents doing five months of CL, including one at the Children's Hospital of Wisconsin. Fourth year residents carry on their CL experience in the outpatient setting, serving as consultants in one of our integrated care clinics. The consultation clinics span the range of integrated care, from co-located care in the Perinatal Clinic to a public health approach with care coordinators in several of our Primary Care Clinics.
"
I specifically ranked this program as #1 over several Ivy League programs because MCW Psychiatry is about learning and takes a very holistic approach to fostering its learners which shows in every aspect of the program and the opportunities we receive.
A "Day in the Life"
Read firsthand experiences about a day in the life of our residents during each level of training.
PGY 1: Zabrina Ebert, DO
I am currently on Inpatient Psychiatry at the VA and this is generally what a day looks like!
6:00 am: Wake-up and take the doggo on a walk before playing with him a bit. Make some breakfast and enjoy coffee prior to getting ready to leave for work.
7:15 am: I leave for the VA (commute is pretty quick especially compared to Chicago traffic of which I'm used to). Arrive there around 7:30.
7:30-8:30 am: I spend time reviewing all patients assigned to my team including follow-ups and new admits. My medical students and I discuss each patient, things that may have changed overnight, and what plans we want to consider for them moving forward including understanding medication options.
8:30-9:00 am: At this time, the medical students and I attend morning report with the attendings, nursing staff, and social workers. The social workers present each patient and the plans currently in place with the nursing staff updating everyone on things that happened overnight and discussing what the patient relates to them. From our end, we update everyone on possible discharges for the day.
9:00-11:00 am: We see patients with our teams including the attendings and medical students. We tend to start with discharges first so we can get the orders in, followed by new patients and general follow-ups. At 11, the patients on the unit get lunch, and we try not to interrupt them.
11:00 am-4:30 pm: The team will go back to the resident work room and discuss patients and plans moving forward. We will work on notes, orders, and any checkups we need to do with patients on the unit including discussing medication risks, benefits, and alternatives. Sometimes, if we feel like a patient would benefit from seeing psychology, we will go staff the patient with them and exchange ideas back and forth. Also, during this time, we will often do teaching presentations and discuss various psychiatric topics over lunch. If a new admit comes in for our team, we will go see them and work on the admit orders and notes. Our day ends officially at 4:30 as long as everything for the team is finished.
5:00 pm: Get home, walk and play with the doggo. Eat dinner and watch a movie or meet up with the co-interns for dinner and to catch-up. I will also do some light studying about topics from the day or to prepare for boards and get ready for bed around 10:00 pm.
PGY 2: Morgan Matzke, MD
Being a PGY-2 is a complete change from intern year! PGY-2 year is our outpatient year, so there is quite a big learning curve as you're practicing as an outpatient psychiatrist with your own panel of patients. Definitely scary at first, but so much learning occurs this year as everyone comes into their own as a psychiatrist. One of the greatest things about our PGY-2 year here at MCW is that we are with our classmates a whole lot more than our intern year! Class camaraderie really increases, and it is so awesome to finally get to see your classmates during work hours. Our days are all different, therefore I will break down our Monday-Fridays on a day by day basis!
Monday: I am at the CCAPS clinic, the medication management clinic at the Tosa Center. Our first patients start at 8:00 am and our last patient is usually finished around 4:00 pm. After about 4:00 pm you're free to leave and finish notes at home (yay remote access!) or you can stick around for a little bit in clinic to finish notes.
Tuesday: I'm at the VA for geropsychiatry and PTSD clinics. The day ends by staffing patients from the afternoon with my PTSD attending at about 5:15 pm. Again, you can do notes throughout the day, or you can go home and relax on the couch to get them done. By the end of Tuesday I'm pretty pooped, so I tend to favor a relaxing night at home watching Netflix and doing my readings for later in the week, but I know some of my classmates are in exercise classes and do more activities in the evening.
Wednesday-Friday: In my opinion, the best days of the week! You create your own patient schedule, so timing is much more flexible. After didactics on Wednesday mornings, all the PGY-2s leave the Tosa Center to head over to the Columbia St. Mary's Center for Psychotherapies. New intakes for the clinic occur on Wednesday afternoons. Otherwise, Wednesday through Friday we manage when we schedule out therapy patients. We are required to see an average of 12 patients from Wednesday-Friday and tend to have 2-3 hours of lectures about psychotherapy on Thursday and Friday. We also are all assigned two supervisors to discuss our patients with weekly, which is an awesome experience to have one-on-one time with a practicing psychotherapist and psychiatrist. Some people choose to start earlier in the morning to be able to end the day earlier, and vice versa! I'm a big fan of starting early so I can have my evenings free! Wednesday nights my co-residents (Irene and Emily) and I take an exercise class in West Allis. I usually like to spend my nights curled up on the couch with my cat, Meredith; trying one of the many restaurants Milwaukee has to offer; or taking a walk around Wauwatosa Village while the weather is still warm.
As a PGY-2, you get most of your weekends off! Yay!! We are on call for one week every 7-ish weeks, which is incredibly reasonable and not very burdensome. Definitely a nice change from intern year where your schedule is constantly changing and you're working quite a few weekends. Milwaukee has so many fun things to do, particularly in the summer, with the many festivals and lakefront activities. We are also a short drive (1hr 45min) to Chicago for even more stuff to do!
PGY 3: Hannah Reiland, DO
For our third year, it's back to block scheduling and back to inpatient! As I write this, I am working inpatient at the VA, where I assist with running a few groups a week in addition to managing an inpatient team with my attending.
I am going to provide you with a brief sketch of the three places I have rotated at so far.
VA Inpatient
Wake up around 6:30 am, get to work around 8:00 am, report is at 8:30 am.
Interview patients and work on notes, group at 10:00 am.
Interview new patients, finish up notes, home by 5:00 pm to exercise, make dinner, and spend time with the husband and corgi!
Froedtert Consults
There is a huge variety of fascinating cases we are consulted for, including heroin-induced toxic leukoencephalopathy, significant catatonia, clozapine-induced ileus, lithium toxicity cases, PNES, Wernicke Korsakoff Syndrome, and the list goes on!
Wake up around 6:15 am, get to work around 7:30 am, review patients.
Discuss plan with attendings for seeing patients, see follow ups, then see new consults as they are called in.
Home by 5:00 or 5:30 pm.
It's typically a very busy day, but I met my exercise and step goals while at work most days, so I didn't feel guilty if I was too tired to exercise after. Most flights of stairs climbed in one day: 29!
Psychiatric Crisis Services Night float
This is a fascinating environment. You never know what will present at the door! All ages, voluntary and involuntary, and people will all types of diagnoses present at all hours. We work overnights, which essentially is 6:00-11:00 pm and 2:00-5:00 am. While working nights can be busy, we have off Friday, Saturday, and Sunday evening, starting back up Monday evening – I have a backpacking trip at Pictured Rocks planned during one of these long weekends! Also, if you like shift work or unpredictability, this is the right place for you!
During my free time, I can be found working on house projects. My husband and I just finished a sunroom remodel. I can also be found biking, rollerblading, and running ALTHOUGH my trail (Glacial Drumlin) is partly closed due to construction! I have to finish watching The Expanse before the next season comes out, and we just finished watching The Boys. I enjoy the occasional happy hour with my fellow residents and look forward to Wednesday didactics to see everyone!
PGY 4: Devin Dunatov, MD
My name is Devin, and I'm a fourth-year resident, along with being our chief resident at Columbia St. Mary's Hospital. This is where we have our resident-run psychotherapy and medication clinic. 4th year at MCW offers a variety of elective rotations which can either be broken into month-long blocks or longitudinal rotations (different clinics each day of the week). Given my chief responsibilities, I have the longitudinal schedule with different clinics each day of the week. This is what a typical Monday looks like for me.
Pre-work – I typically wake up at around 6:30 am and prepare a cup of Stone Creek coffee for my wife and I, our favorite local coffee shop. We live near most of the hospitals we rotate at, so it's around a 10-minute commute to work after breakfast. If I'm feeling ambitious, I'll try to get a quick work-out in before work.
Morning Rotation – On Mondays, I start my day at 8:00 am at the Mental Health Urgent Care Clinic at the VA Hospital. At this rotation, we see a variety of chief complaints and needs that occur on an urgent basis. These can include medication adjustments/side effects, acute crisis management, substance use complaints, and initial psychiatric assessments. You never know what is going to walk through the door in a treatment setting like this.
Lunch – I will typically pack my lunch, and during the summer/fall, I try to enjoy my meal outside under the sun at one of the many outdoor spots at the VA.
Afternoon Rotation – From the VA, I drive around 15 minutes to our Tosa Center, where I rotate at our TMS clinic. TMS stands for "transcranial magnetic stimulation", which is a treatment modality approved for treatment-resistant depression. Each session includes machine calibration, neuro-tracking to identify our stimulation target, and then providing the stimulation treatment. I will typically complete around 4 treatment sessions per afternoon, with our last session ending between 4:30-5:00 pm.
Program Information
Living and Working in Milwaukee
Milwaukee is one of the Midwest's best-kept secrets and a prime location for the Medical College of Wisconsin's main campus. Its cultural diversity, activities and attractions offer something for everyone.
How to Apply
Answers to frequently asked questions about the application process.
Benefits, Conditions & Terms of Employment
2020-2021 Academic Year (beginning July 1, 2020)
Stipends
PGY1 – $61,970
PGY2 – $63,060
PGY3 – $64,170
PGY4 – $65,270
Contact Us
Physical Address
Psychiatry and Behavioral Medicine
TOSA Health Center
1155 N. Mayfair Rd., Third Floor
Milwaukee, WI 53226
Mailing Address
MCWAH Psychiatry Residency Program – Milwaukee
8701 Watertown Plank Rd.
Milwaukee, WI 53226
(414) 955-8998
(414) 955-6299 (fax)