Milwaukee (MKE) Residency Program
The MCW-MKE Psychiatry Residency program is a long-established program in the fantastic city of Milwaukee. We have a unique curriculum that we believe maximizes the breadth and depth of experiences. The MKE psychiatry program is home to all of the available ACGME fellowships, including Addiction Psychiatry, Child & Adolescent Psychiatry, Consultation-Liaison Psychiatry, Forensic Psychiatry and Geriatric Psychiatry.
A message from our Residency Program Director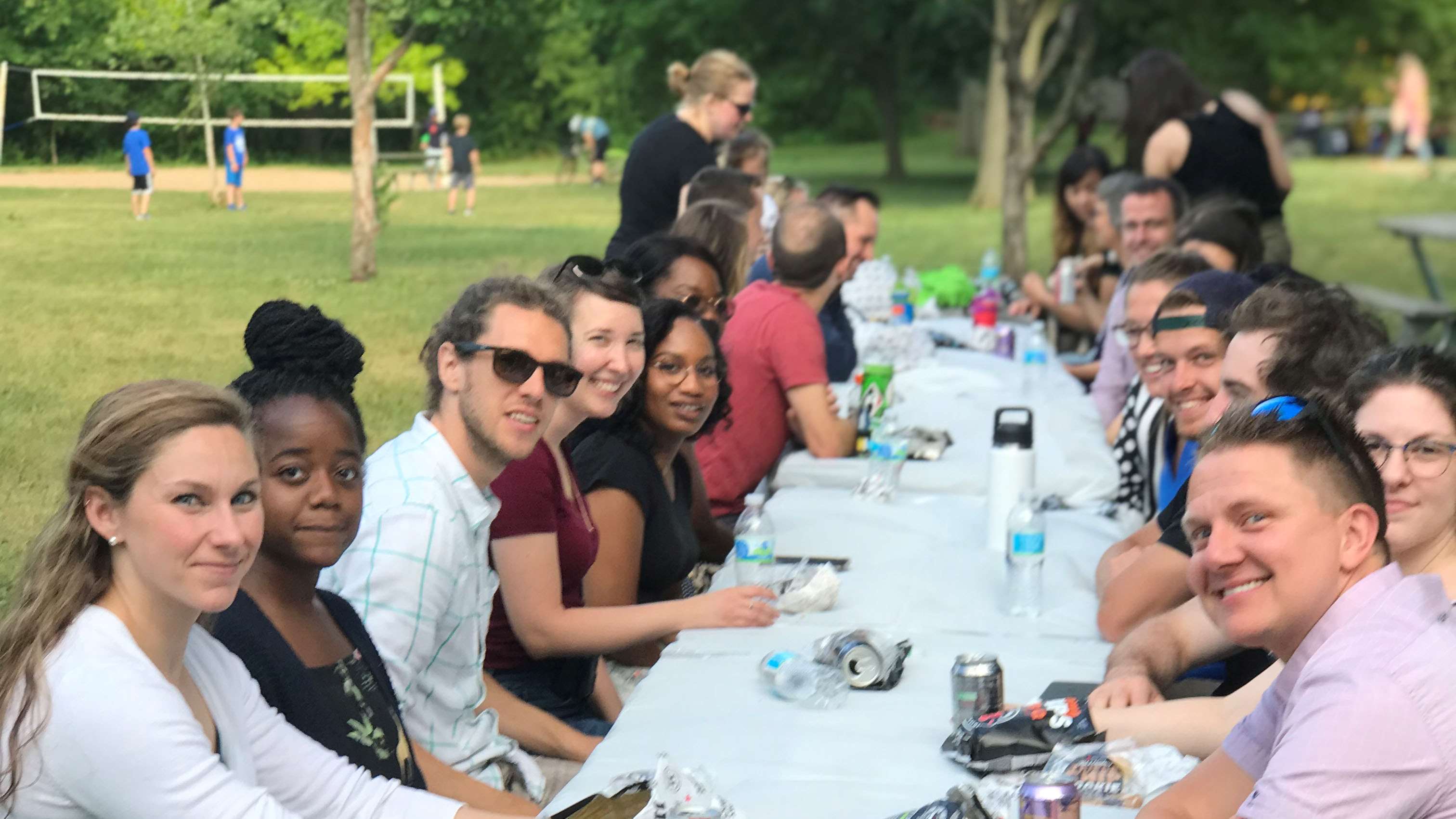 Program Overview
Different than most programs that offer ambulatory psychiatry in the PGY 3 year, our outpatient clinic begins in second year of training with continuing psychotherapy clinics throughout the rest of residency.
This unique curriculum allows for residents to have continuity with patients for several years. It also allows residents to build on the knowledge, skills and perspective learned in outpatient psychiatry when they return to the inpatient, emergency and consultation liaison settings in the third year, enhancing the PGY 3 experience. Third year inpatient rotations add the dimension of group psychotherapy, while fourth year is rounded out with neurology, integrated care, psychotherapy and electives.
Our program is fortunate to work with multiple health systems in the Milwaukee area to give residents an experience in a diverse range of settings – from a county psychiatric hospital to a private psychiatric hospital to an academic medical center. Residents rotate at Psychiatric Crisis Service (PCS) – a busy psychiatric emergency room with over 10,000 visits each year, serving all of Milwaukee County. Second year residents spend half of their time in our free-standing psychotherapy center where they learn supportive psychotherapy, psychodynamic psychotherapy and cognitive behavioral therapy.
Consultation-liaison (CL) psychiatry is another area of strength with residents doing five months of CL, including one at the Children's Hospital of Wisconsin. Fourth year residents carry on their CL experience in the outpatient setting, serving as consultants in one of our integrated care clinics. The consultation clinics span the range of integrated care, from co-located care in the Perinatal Clinic to a public health approach with care coordinators in several of our Primary Care Clinics.
I specifically ranked this program as #1 over several Ivy League programs because MCW Psychiatry is about learning and takes a very holistic approach to fostering its learners which shows in every aspect of the program and the opportunities we receive.
A "Day in the Life"
Read firsthand experiences about a day in the life of our residents during each level of training.
PGY 1: Caitlin McCarthy, MD
I am currently rotating at Milwaukee County Behavioral Health on unit 43B and this is how my typical day looks.
6:00 am: Wake up and try to not snooze my alarm. Either my husband or I will take out our dog, Penelope, and feed her breakfast. I live about 5 minutes away from work, so I like to take my time in the mornings to get organized and ready for the day.
7:45 am: Get to work, log in and review our patients' charts. I use this time to consider plans for current patients, read up on any new patients and start to prepare for possible discharges.
8:30 am: Meet up with my attending and make a plan for the day. We will see any patients we'll be discharging first, then any follow-ups, and finish by seeing new patients so we can spend the most time with them. Depending on how many patients we have and how long we spend discussing their plan, this can take a few hours. Because of COVID-19, we don't have a medical student rotating with us and we try to minimize gathering in groups. Sometimes we will do teaching presentations or discuss a specific drug or topic. My current attending is ALL about teaching, so I'm learning a lot.
12:00 pm: We usually wrap up staffing around this time so I'll work on notes, orders, phone calls, and check in with any patients about changes to their medications or plan. I also follow up with the nurses and social workers to make sure we're all on the same page for our patients, and work with my attending on any admissions that come in during the afternoon.
4:30 pm: Head home if I haven't yet. Lately the weather has been beautiful so I'll typically take Penelope on a walk or run - we live near Hart Park in Wauwatosa, which has a ton of trails that go right along the Menomonee River. Some nights I'll do a yoga or barre class at home, or (socially-distanced) catch up with friends. I also usually try to do some reading related to my patients' medications or diagnoses. My husband and I will cook dinner and relax before heading to bed around 10:30pm.
I don't work weekends on this rotation, so we have been exploring Wisconsin when we can (I'm from Michigan). We love hanging out in the Tosa Village, walking/biking along the river, exploring the Milwaukee breweries, and are planning a trip to Door County soon!
PGY 2: Bradley Zastrow, MD
My name is Bradley Zastrow and I am a second-year resident, meaning I just started my outpatient year. It's a much different schedule than first year, but I'm about it.
I am a morning person, so I like to start my day early. I'm usually out of bed by 5AM (sometimes earlier if my cats get hungry) and like to start my day off by being active. Usually I prefer to work in the weight room, however (thanks to a certain pandemic) I find myself running more often (shoutout to Sam Hall for getting me started, and Peter DeVries for keeping me going!). Then I enjoy a cup of coffee while reading up on upcoming patients, current events, or (most likely) Reddit.
We are in CCAPS (general outpatient med management for depression, anxiety, psychosis, and others) or the VA clinics (half-day of geropsychiatry and PTSD clinics) on Monday/Tuesday. Those days typically start about 8AM. The rest of the week we are doing psychotherapy with CSM patients, so we get to make our own schedule. I like to start those days at 7AM. Combined with lectures, notes, and eating JJs for lunch (shoutout Sara Lindeke) most days I am out of the clinic by 5PM. In the coming months, I will start moonlighting as well. We are fortunate in our program to be able to start as PGY-2s in PCS (a psychiatric emergency room, mostly seeing schizophrenia, mood disorders, and suicidal ideation). It's an incredible opportunity to be able to rotate in this setting first year, and even better considering we can come back to get even more experience.
Other variables relating to residency during the week include protected time for therapy supervision and my own therapy (highly encouraged for all psych residents). In my free time after clinic, I volunteer as assistant coach for a high school girls' basketball team. During the winter months, that pretty much consumes all of my free time. Outside of those months, I try to spend as much time outside as I can. Whether that's hanging out at Sara's pool, running with Peter and his daughters, or lounging around in my hammock along the lakefront, you can pretty much find me outside.
Given we only take call once every 8-9 weeks during our second year, weekends are reserved for sleeping, eating delicious food (brunch), or traveling to see my family.
PGY 3: Kayla Schenheit, MD
My PGY-3 year started with the Froedtert Consults rotation which we take twice as PGY-3s for 1.5 months (3 months total). I have been pleasantly surprised by how much I have been enjoying this rotation. The service is quite busy right now and I am learning so much about both consult/liaison psychiatry and refreshing my memory of internal medicine. Here is an example of my typical day on this service:
6:00 am - I hit snooze 2-3 times. This is a bad habit I have been working on but haven't quite been able to shake. Every other night I am on call for the consults team. However I haven't yet been paged past 10:30 pm so I usually get a good nights rest.
6:15 am - Actually get out of bed and get ready for the day. I pack my own lunch to save myself some note writing time and money.
7:00 am - Leave my house in North Milwaukee for Froedtert Hospital. I live very close to Wauwatosa so my drive only takes about 10 minutes.
7:20 am - Arrive early to prechart some of my patients before students and attendings arrive. This helps subdue my anxiety and allows me to feel well prepared at the beginning of my day.
8:00 am - By now my co-resident and the medical students have arrived. We usually start off our morning with some stories about evening pages, lots of jokes and self-depreciating humor.
9:00 am - All attendings have arrived and I round with each attending individually on my patients. Last week I was carrying 12-14 patients but this week I only have seven. This fluctuates often from what I've been told. Since we are a consult team we don't have to see patients every day and this helps when we have a high case load.
11:00 am - I'm usually done rounding on my follow ups and return to the consult room to page primary teams, work on notes and eat lunch.
1:00 pm - We start seeing new consults as a team. I have been averaging 1-3 new consults per day.
5:00-7:00 pm - The end of my day is pretty unpredictable. Since I am still early on in my PGY3 year and early in my consult rotation, I require some time to synthesize my thoughts and write consult notes. Most days I am done around 6 pm.
6:00/7:00 pm - Dinner time! Usually my husband, Nate, has already started dinner by the time I get home. We plan meals for the week on Sunday so that we are less tempted to order takeout.
7:45 pm - About every other night Nate and I go to the Wisconsin Athletic Club (WAC) across the street from Froedtert Hospital to work out. On nights we don't I try to take our dog, Lola, for a walk, but some days I just need a break so I will read a novel for fun or watch the latest binge-worthy Netflix show. It's important to prioritize taking breaks and time for yourself on this service since we are on call every other weekend.
10:30 pm - My planned bedtime. Sometimes I end up falling asleep on the couch earlier or sitting up in bed on my phone for a while. Like I said, I'm still working on that sleep hygiene.
On Mondays my routine is different because I have therapy clinic in the afternoon. I usually leave the consult service at noon so that I can meet with my supervisor over Webex by 12:30. Then I see four patients. Mondays are nice because my end time is usually 4:45 pm unless I need to finish up a consult note from earlier in the day. I often use Monday nights for grocery shopping and other chores around the house.
Wednesdays are also a bit different because we have didactics in the morning. My day starts off with a call to my own psychiatrist at 7 am. Then I have a short break before our online didactics begin at 8 am. We usually wrap up with a resident business meeting at noon and then I head off to Froedtert by 1 pm. Usually by the afternoon our attendings have seen all of our follow ups so on Wednesdays our main focus is working on the new consults.
Each weekend on call can be a little different depending on what attending you are working with. We usually do not round on any follow ups. Most attendings have you see new consults independently beforehand and then staff the patient's with them later. They often will stop by to see new patients in the afternoon or see them all on Sunday. It's much more laid back and flexible than the weekends I have spent on medicine or neurology.
On the weekends I am not on call I often spend time visiting with my family in Madison or the Twin Cities. However since the COVID19 pandemic hit, Nate and I have been taking up a lot of house projects and spending time video chatting with friends and family.
PGY 4: Peter DeVries, MD
Hey everyone! My name is Peter and I'm a fourth-year resident, along with a chief resident at Milwaukee County Behavioral Health and our outpatient medication management clinic. Fourth year at MCW allows us to take a variety of elective rotations either longitudinally across the year or month-long blocks. Currently, I'm doing the longitudinal route with various clinics throughout the week.
Before work, I typically wake up around 06:00 in order to get in a run or walk with my dog before my two daughters (ages 4 and 2) wake up. My wife is a nurse practitioner in the ICU at the children's hospital so is typically already at work by this time. After this, I get the girls ready for daycare and drop them off before the start of clinic. I live in Wauwatosa, so currently only have to drive about 5-10 minutes to my clinics with very minimal traffic (a big bonus of Milwaukee!).
On Mondays and Tuesdays, I help supervise the second-year psychiatry residents at our outpatient medication management clinic. We see a variety of diagnoses from mood and psychotic disorders to substance use disorders. Throughout the day, the second-year residents will staff their patients with myself and an attending psychiatrist. So far this has been an amazing experience for teaching younger residents and expanding my psychopharmacology knowledge base! My day at work typically ends around 4:00-4:30PM at all of my clinics. Once work is done, I will drive home, eat dinner as a family, then enjoy one of the many parks that the Milwaukee area has to offer. After reading bedtime stories to the girls (currently obsessed with unicorn books), my wife and I will typically watch Netflix or a variety of other TV shows (mostly the bachelor franchise).
On Wednesday-Fridays, I have a variety of rotations such as half-day of lectures, administrative chief time, transcranial magnetic stimulation (TMS), psych-oncology clinic, and Psychiatric Crisis Services at Milwaukee County Behavioral Health. This allows us to experience a range of clinical settings to see what we might be interested in after residency. Throughout our entire fourth year, we have no call and work no weekends! Honestly, the work-life balance not only during fourth-year but also the first three years has been so great for myself and my family! I would definitely choose MCW-Milwaukee all over again!
Contact Us
Physical Address
Psychiatry and Behavioral Medicine
Tosa Health Center
1155 N. Mayfair Rd., Third Floor
Milwaukee, WI 53226
Mailing Address
MCWAH Psychiatry Residency Program – Milwaukee
8701 Watertown Plank Rd.
Milwaukee, WI 53226
(414) 955-8998
(414) 955-6299 (fax)