Milwaukee (MKE) Residency Program
The MCW-MKE Psychiatry Residency program is a long-established program in the fantastic city of Milwaukee. We have a unique curriculum that we believe maximizes the breadth and depth of experiences. The MKE psychiatry program is home to all of the available ACGME fellowships, including Addiction Psychiatry, Child & Adolescent Psychiatry, Consultation-Liaison Psychiatry, Forensic Psychiatry and Geriatric Psychiatry.
A message from our Residency Program Director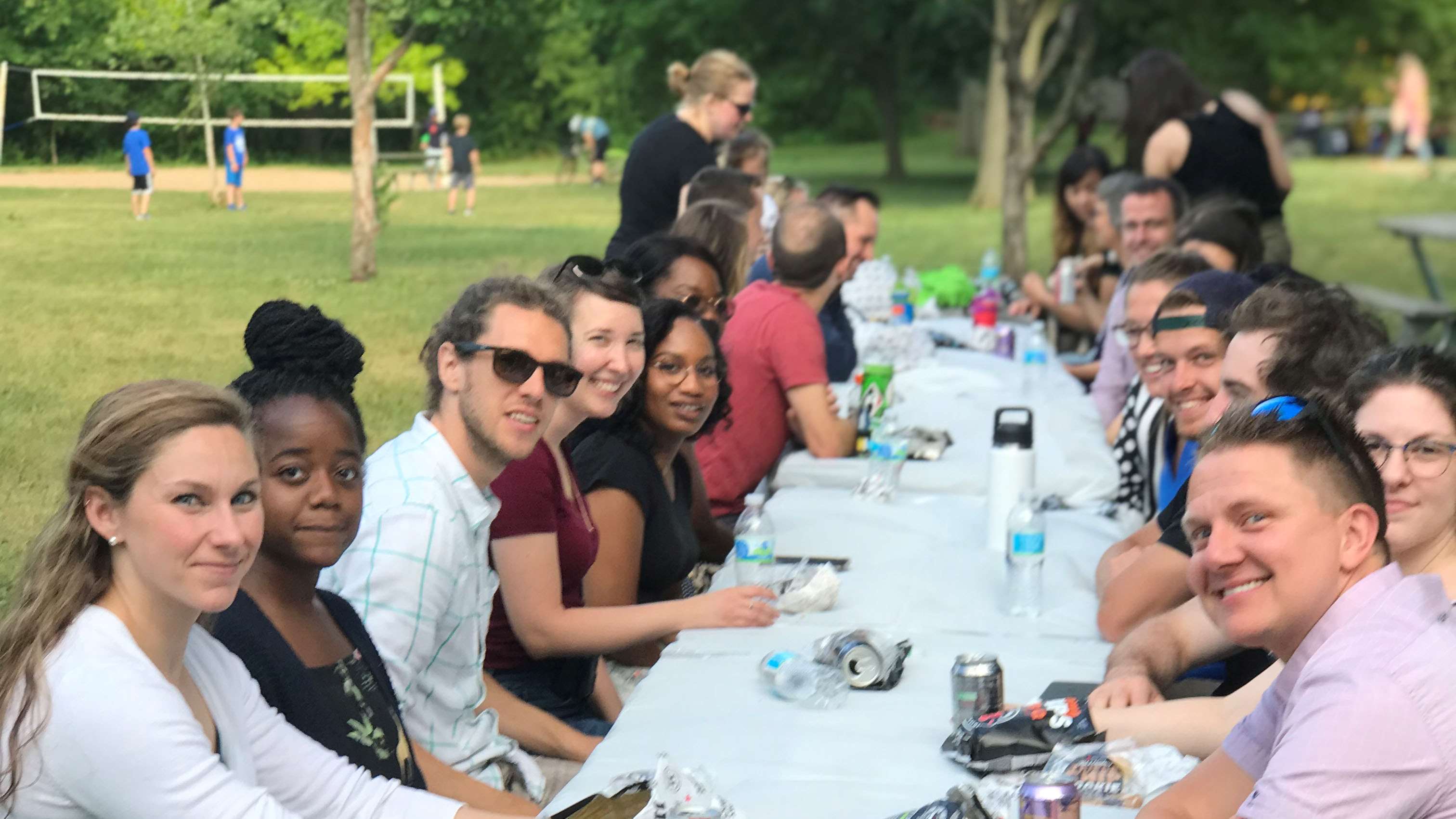 Program Overview
Different than most programs that offer ambulatory psychiatry in the PGY 3 year our outpatient year of psychiatry is during second year of training with continuing psychotherapy clinics throughout the rest of residency.
This unique curriculum allows for residents to have continuity with patients for several years. It also allows residents to build on the knowledge, skills and perspective learned in outpatient psychiatry when they return to the inpatient, subspecialty and consultation liaison settings in the third year, enhancing the learning and skill of the PGY 3 year. Third year inpatient rotations add the dimension of group psychotherapy, while fourth year is rounded out with neurology, integrated care, psychotherapy and electives.
Our program is fortunate to work with multiple health systems in the Milwaukee area to give residents an experience in a diverse range of settings – from a county psychiatric hospital to a private psychiatric hospital to an academic medical center. Residents rotate at Psychiatric Crisis Service (PCS) – a busy psychiatric emergency room with over 10,000 visits each year, serving all of Milwaukee County. Second year residents spend half of their time in our free-standing psychotherapy center where they learn supportive psychotherapy, psychodynamic psychotherapy and cognitive behavioral therapy.
Consultation-liaison (CL) psychiatry is another area of strength with residents doing five months of CL, including one at the Children's Hospital of Wisconsin. Fourth year residents carry on their CL experience in the outpatient setting, serving as consultants in one of our integrated care clinics. The consultation clinics span the range of integrated care, from co-located care in the Perinatal Clinic to a public health approach with care coordinators in several of our Primary Care Clinics.
"
I specifically ranked this program as #1 over several Ivy League programs because MCW Psychiatry is about learning and takes a very holistic approach to fostering its learners which shows in every aspect of the program and the opportunities we receive.
A "Day in the Life"
Read firsthand experiences about a day in the life of our residents during each level of training.
PGY 1: Makenzie Hatfield-Kresch, MD
I just finished my one-month on inpatient medicine at Froedtert, which is one of the more time intensive rotations of intern year. While it was busy, the acuity of patients, clinical conditions seen, and interacting with residents from IM, IM/Peds, and anesthesia made it a truly rewarding, informational month. You truly get to bond with your fellow team members and we would watch movies in the call room during down time or have karaoke moments. It was excellent to finally be able to apply as a physician all the information learned as a medical student.
Medicine rotates admission days, so here's what a late admission day looked like for me.
5:30 am – Wake up, get dressed, browse social media from last night
6:00 am – Leave the house to head to Froedtert. Check out from the night team isn't until 6:45, but I like to pre-chart while my pager isn't going off.
6:15 am – Arrive at Froedtert and head to the call room (and grab breakfast on the way at the cafeteria!)
6:45 am – Meet with the on-call team from the previous night to get check out on patients (i.e. any acute events/issues overnight)
7:00-8:30/9:00 am – Pre-round on patients, go over plan with med student and/or senior resident
8:30/9:00 am – Rounding! (time depends on attending). Some attendings prefer to table round first, others do walking rounds like in the "olden, golden days" of residency
11:00 am – Finish rounding, go team care coordination rounds (15-minute meeting with social work, nursing, pharmacy about care plan for your patients for the day)
12:00 pm – Noon report time! Internal medicine has a daily case conference presented by a resident, fellow, or attending. Very informative and a nice break from clinical duties.
1:00-5:00 pm – Finish doing daily tasks on patients (consults, orders, checking in on acute patients), work on discharges, and as it is a late admit day, admit patients until 5:00 pm.
Check out is at 4:00 pm to the night team, but it isn't done until daily tasks are done for the day and until you're finished admitting. On late days, you usually don't leave until around 7:00 pm since you can get admissions until 5:00 pm.
7:00 pm – Head for home!
7:15 pm – Dinner time with the family. Put the baby to bed and hang out with my husband watching movies.
Go to bed whenever, but since I like my sleep, usually around 9:00 pm. (I stayed up late until I had a kid!)
PGY 2: Hannah Reiland, DO
It's nice to be in second year, with outpatient clinics 5 days a week! I rotate through the immediate mental health access clinic (IMHAC) at the VA, the resident clinic at the Tosa Health Center, and the therapy clinic at the Center for Psychotherapy housed in Columbia St. Mary's (there are a few options 2nd year, so some of my co-residents and I have different schedules). Importantly, my weekends are free aside from occasional home pager call!
My typical day starts around 6:00 am, where I wake up and go for a run (or sleep in, depending on the day). I typically get to work a little early, so that I can prepare for my day (I arrive around 7:30). Most of my clinics start at 8:00 am.
On Mondays, I'm at the VA, seeing patients with medication requests and concerns, wanting to detox from various substances, and, oftentimes, presenting for mental health help for the first time in years after struggling on their own. I have learned so much working with this population and the fabulous staff in IMHAC.
On Tuesdays, I'm at the Tosa Health Center traveling between the "Control Room" and my office to staff the variety of patients I see there (our supervisors can see us on camera interviewing our patients and give great advice on steps moving forward with complex patients). I have several very interesting cases and some disorders I had not seen prior to this year! My understanding of psychopharmacology has been improving as I work with patients prescribed a wide variety of old and new medications.
On Wednesdays, it's didactic in the morning, and intakes for our therapy clinic in the afternoons. We control our own schedule at Columbia St. Mary's outside of mandatory didactics, so I see patients on Thursdays and Fridays, giving me some Wednesday afternoons free! I love therapy so far, and feel that I am making progress with several of my patients! My supervisors have been very helpful with my therapy patients as well--I spend an hour a week with each of them discussing my caseload.
I work late on Thursdays so that I can enjoy my Wednesdays and get out at a decent time on Friday, but everyone creates their schedule differently. It's been nice this year to spend so much time with my co-residents, for we are together Wednesday through Friday regardless of our schedules earlier in the week!
Outside of work, I have been pretty involved in house projects, spending time with my corgi and my husband, hanging out with co-residents, going on weekend road trips, and adventuring around Milwaukee. There is a lot to do here, between festivals, beer gardens, bike trails, parks, restaurants, and the craft beer scene. There is so much going on that I have a never-ending list of things I want to check out!
PGY 3: Jeremy Chapman, MD
Being a third year Psychiatry resident at MCW is excellent!
One major skill we hone during our PGY-3 year is consultation/liaison (C/L) psychiatry. In C/L psychiatry, our team works as an on-demand "special ops" unit within the hospital, advising primary teams regarding the psychiatric concerns of their patients. For example, the Surgery service may ask for our help managing a patient who has developed delirium after a surgical procedure. Or, a Medicine team may consult us to help calm a particularly agitated patient. Additionally, we often are called upon to assess the decisionality of a patient who wants to reject recommended treatments.
It's highly satisfying to provide such specialty input to other doctors. Our C/L work offers us the chance to implement our developing psychiatric acumen, and to really weigh in meaningfully on management of complex patient situations. Plus, it's just cool when you're so smart and awesome that other doctors need to ask you for your advice.
Speaking of C/L Psychiatry, the third year is also a time to consider applying for Psychiatry fellowships. C/L Psychiatry is one of several excellent fellowships offered by MCW. The others are: Addiction Psychiatry, Forensic Psychiatry, Geriatric Psychiatry, and Child & Adolescent Psychiatry. I myself will be staying here after for my Child Psychiatry fellowship. One neat thing is that I've already been accepted to the Fellowship – MCW has a special super-early fast-track option for Child Psych, whereby I was able to apply for my fellowship outside of the Match. So, that's a nice load off the ole back.
Other rotations this year include some revisits of first-year rotations, but this time we take on greater responsibilities. We also make brief stints in some other niche areas, including an Eating Disorders inpatient unit, an IOP (Intensive Outpatient Program), and an addictions clinic. The schedule is tops, with very limited call; in fact, I originally chose MCW because of its clear commitment to supporting the residents' Lives-Outside-Of-Residency. In my case, this was most obvious regarding my growing family.
Behind-the-Scenes Factoid: As I type this whole thing, I'm actually sitting at home with my 8-day-old daughter by my side. That's because MCW is way cool about not only maternity but also paternity leave. Many residency programs have been (and some still are!) very stingy about letting new dads take a few days off. Dr. Pheister was 100% supportive of my request to take one month off to help at home with the new baby. I couldn't be more grateful for our program's immense flexibility, and clear prioritization of its resident workforce.
I love my co-residents, I think they're all brilliant, and as we progress through our training, I'm appreciating more and more how each of us is going to weave our training at MCW into our own unique impact in the lives of our patients.
Alright...please feel free to contact me with any questions you have.
For now, I gotta go change a diaper!
PGY 4: Sarah Slocum, MD
I'm usually up around 6:00 am every day to try to shower and lets our dogs out before either of my two daughters (ages 1.5 and 3.5) wake up. Then it's breakfast and making sure everyone has everything they need to start the day. My husband is a surgery resident so he's usually gone before the rest of us. Since I'm a chief resident this year, I have a mostly longitudinal schedule throughout the year. Most of my clinics are about a 10-12-minute drive from my house, and I drop my daughter off at school along the way.
Monday/Tuesday: I supervise the PGY 2 outpatient medication management clinic (CCAPs) in conjunction with three different attending physicians. There are typically around 30 patients scheduled and my job is to listen to pieces (or all) of each interview, staff with the residents, and help them with any questions they may have. We also have a once-monthly clinic meeting and a once-monthly journal club that happens over lunchtime. I learn a lot from the attendings, and from the residents themselves!
Wednesday: In the morning is grand rounds and didactics, which are required for us. Most of our lectures are within our class years, but some are for the entire residency, or combined years. Following didactics, we have Resident Business Meeting (RBM) which is a residents-only lunch, which the chiefs run in rotation. We talk about what is going well and what isn't, any upcoming deadlines, and disseminate any important information. To purchase lunch for everyone, the department provides some money, and then the residents contribute twice a year as well, if they want to eat the purchased food (some people like to bring their own food, which is also completely fine)! Wednesday afternoon is my dedicated "chief time." We sometimes have meetings scheduled with our program director, department chair, or others. Otherwise, I use this time to check in on residents, work on various projects, or answer my multitude of emails.
Thursday: This is one of my favorite days! I spend it with the consultation-liaison service at our main academic center. I see some follow-up patients from the fellow (who is not there on Thursdays), and I see new consults. The attendings on this service rotate, so there is a fabulous opportunity to constantly be learning different methods, new things about psychopharmacology, or new ways to interact with both patients and other consulting teams. There are also two PGY3 residents, two M3 medical students, and sometimes an M4 medical student on this rotation, which allows for some cross-year teaching to occur during any down-time. We see everything on this service – from depression and anxiety to autoimmune encephalitis, extreme hypothyroidism, various forms of psychosis, neurological diseases, and more!
Friday: Friday mornings I spend in outpatient perinatal clinic with our resident perinatal guru, Dr Wichman. I have my own cohort of patients, and usually see 1-2 new patients and 2-3 follow-ups per half day. These women are either trying to become pregnant, pregnant, or within their first 6 months postpartum. I learn a ton about medication management in pregnancy, as well as what non-pharmacologic options are available. We are lucky to have the PERISCOPE project, which is a specialty perinatal psychiatry teleconsultation line intended for primary care and psychiatric providers; I use it to find community resources for patients, or for referrals for patients who are moving away from Milwaukee. After I finish there, I drive to Columbia St Mary's downtown to see my longitudinal therapy patients in the afternoon. I focus mostly on psychodynamic, supportive, and cognitive behavioral techniques. Because PGY 2 is our "outpatient" year, we have the opportunity to follow some of our therapy patients for up to three years.
I also moonlight some evenings or during the weekend at a local private psychiatric hospital, and at our county hospital psychiatric emergency room (PCS). These opportunities allow me to gain further clinical experience and make some extra money. In my spare time, I run, play with my girls and our pets, watch lots of football with my husband, and read (mostly science fiction and fantasy novels). I think MCW allows for a lot of interest areas outside of work, which has, at least for me, been very beneficial in helping to prevent burn out.
Program Information
Living and Working in Milwaukee
Milwaukee is one of the Midwest's best-kept secrets and a prime location for the Medical College of Wisconsin's main campus. Its cultural diversity, activities and attractions offer something for everyone.
How to Apply
Answers to frequently asked questions about the application process.
Benefits, Conditions & Terms of Employment
2019-2020 Academic Year (beginning July 1, 2019)
Stipends
PGY1 – $60,900
PGY2 – $61,980
PGY3 – $63,070
PGY4 – $64,150
Contact Us
Physical Address
Psychiatry and Behavioral Medicine
TOSA Health Center
1155 N. Mayfair Rd., Third Floor
Milwaukee, WI 53226
Mailing Address
MCWAH Psychiatry Residency Program – Milwaukee
8701 Watertown Plank Rd.
Milwaukee, WI 53226
(414) 955-8998
(414) 955-6299 (fax)