Milwaukee (MKE) Residency Program
The MCW-MKE Psychiatry Residency program is a long-established program in the fantastic city of Milwaukee. We have a unique curriculum that we believe maximizes the breadth and depth of experiences. The MKE psychiatry program is home to all of the available ACGME fellowships, including Addiction Psychiatry, Child & Adolescent Psychiatry, Consultation-Liaison Psychiatry, Forensic Psychiatry and Geriatric Psychiatry.
A message from our Residency Program Director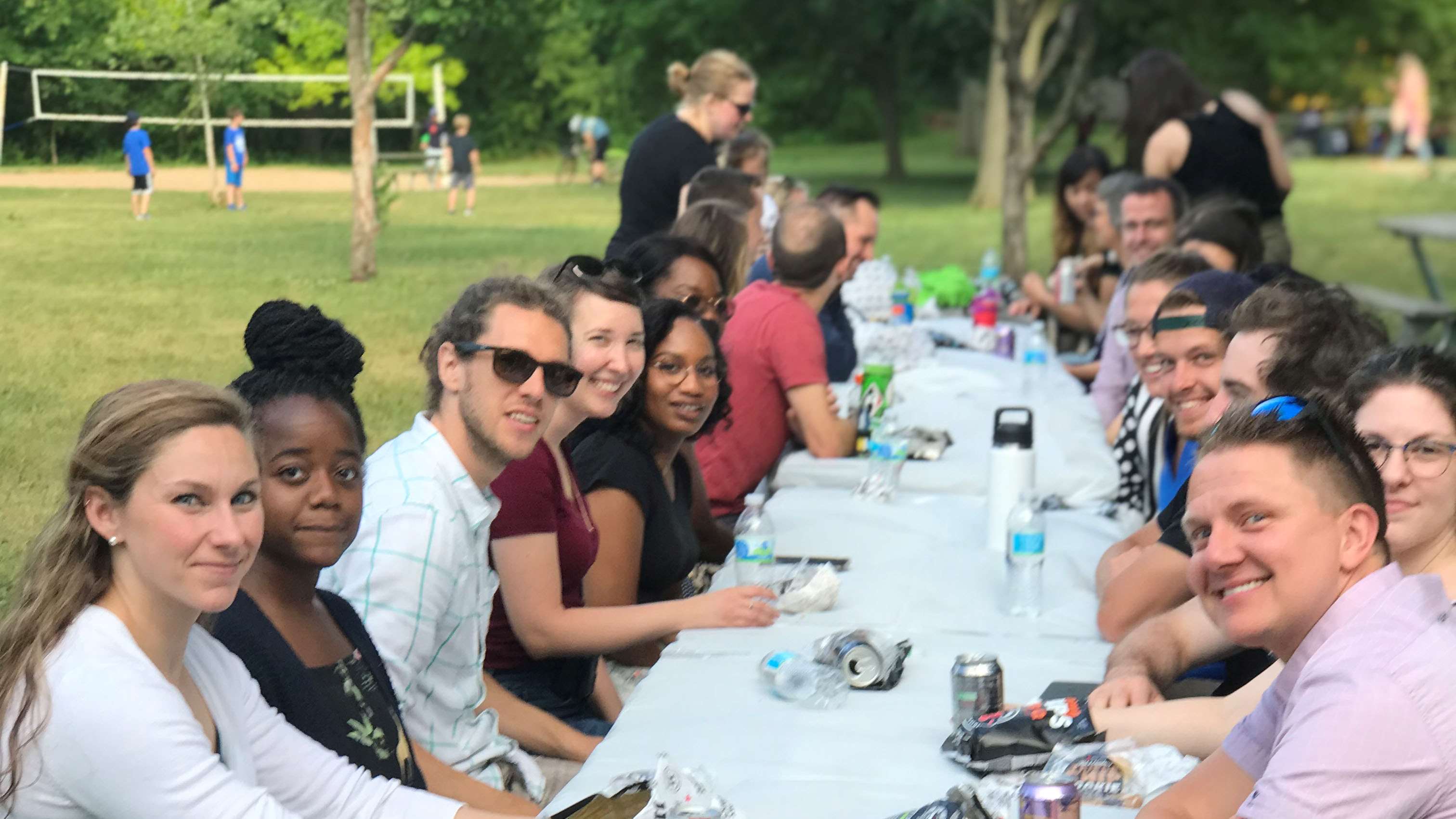 Combined Internal Medicine/Psychiatry Program
Combined IM/Psychiatry residents are dual citizens, splitting their time between both categorical programs, distilling seven years of training into five years by capitalizing on the clinical skills that overlap both disciplines. Combined residents participate in rotations and didactics of the sponsoring categorical programs as well as develop new rotations and experiences in integrated care.
Learn more
Program Overview
Different than most programs that offer ambulatory psychiatry in the PGY 3 year, our outpatient clinic begins in second year of training with continuing psychotherapy clinics throughout the rest of residency.
This unique curriculum allows for residents to have continuity with patients for several years. It also allows residents to build on the knowledge, skills and perspective learned in outpatient psychiatry when they return to the inpatient, emergency and consultation liaison settings in the third year, enhancing the PGY 3 experience. Third year inpatient rotations add the dimension of group psychotherapy, while fourth year is rounded out with neurology, integrated care, psychotherapy and electives.
Our program is fortunate to work with multiple health systems in the Milwaukee area to give residents an experience in a diverse range of settings – from a county psychiatric hospital to a private psychiatric hospital to an academic medical center. Residents rotate at Psychiatric Crisis Service (PCS) – a busy psychiatric emergency room with over 10,000 visits each year, serving all of Milwaukee County. Second year residents spend half of their time in our free-standing psychotherapy center where they learn supportive psychotherapy, psychodynamic psychotherapy and cognitive behavioral therapy.
Consultation-liaison (CL) psychiatry is another area of strength with residents doing five months of CL, including one at the Children's Hospital of Wisconsin. Fourth year residents carry on their CL experience in the outpatient setting, serving as consultants in one of our integrated care clinics. The consultation clinics span the range of integrated care, from co-located care in the Perinatal Clinic to a public health approach with care coordinators in several of our Primary Care Clinics.
I specifically ranked this program as #1 over several Ivy League programs because MCW Psychiatry is about learning and takes a very holistic approach to fostering its learners which shows in every aspect of the program and the opportunities we receive.
A "Day in the Life"
Read firsthand experiences about a day in the life of our residents during each level of training.
PGY 1: Paige Chardavoyne, MD
I am currently rotating at the Clement J. Zablocki VA Medical Center on unit 3C (the inpatient psychiatry unit). This is what a typical day in the life on this rotation looks like!
6:45 a.m.: My alarm goes off and I start getting ready for the day. Meanwhile I am being harassed from room to room by my one cat, Truman, to put food in his bowl ASAP!
7:45 a.m.: I arrive at the VA and start chart reviewing the Veteran patients of the team I'm working on. I prepare to see any new admissions and get orders/paperwork together for any discharges. I usually have 1 medical student with me who arrives a little later and will chart review for the Veteran(s) he/she is following.
8:30 a.m.: Morning report! This is when I hear from other treatment team members how the Veterans are doing. We discuss topics such as discharge plans, psychosocial concerns, and whatever else may be needed.
8:45 a.m.: Once we have report, we go and see the Veterans, beginning with those being discharged. The amount of time spent here varies a lot day to day based on factors such as how many Veterans the team has and if there are any new admissions.
12 p.m.: Usually by this time we have seen everyone. I spend the rest of the afternoon writing notes, placing orders, and handling any issues that arise. If there is an afternoon admission, I'll place orders and prepare to see him/her. Once notes are finished or if there is downtime in the middle of the day, I'll use it to teach. I've worked with both third- and fourth-year medical students on this rotation. For the former, I work with them on psychiatry basics, such as the mental status exam. For the latter, we will discuss patients more in depth and work on assessments and plans.
4:30 p.m.: As long as all the day's work is done, I'll head out at this time if I haven't yet. Most days after work I go to the gym. I do CrossFit and there are tons of CrossFit gyms in Milwaukee to choose from! After that I'll head home and do some studying. I'll head to bed around 10:30pm and get ready for another day!
We do work weekends on this rotation. Generally speaking, we alternate weekends with our co-intern at the VA with us (I'm currently at the VA with Dustin!). During the weekend, there is an attending and often a medical student or two. We see new admissions, write H&P's for them, and complete any other needed admission paperwork. Once that's done, you can head out for the day!
Overall, I've really enjoyed this rotation. I've learned a lot about substance use and its management. The attendings, some of whom are graduates of the residency program here, have been so supportive and great teachers! I've also been enjoying Milwaukee a lot. I'm from the Northeast and don't have any ties/family here besides my fiancé who moved with me. We have had a blast exploring Lake Michigan, the Milwaukee Zoo, the Wisconsin State Fair (with some of my co-residents!), and so much more!
PGY 2: Matthew Fiorillo, DO
My name is Matt Fiorillo, and I am a second year resident at the MCW-Milwaukee campus. MCW is unique in that our second year is dedicated to training in outpatient settings. As a result, every day looks just a little bit different!
I start the week on Monday at the Center for Consultative Academic Psychiatric Services—or CCAPS for short. This clinic is dedicated to medication management services, and we see a broad range of clinical diagnoses including mood disorders, psychosis, and substance use. I usually arrive by 7:00 am to pre-chart on patients and prep notes. We then see patients, and staff with the attending physician, until around 4:00 pm.
On Tuesday, I work at the VA. Here again, I usually arrive by 7:00 am to pre-chart and prep notes. In the morning, I see patients in our Geriatric Psychiatry clinic. These patients often have a number of medical comorbidities in addition to mood disorders and cognitive changes. In the afternoon, I offer medication management services and psychotherapy to treat anxiety and trauma patients. In general, on Monday and Tuesday, I see 1-2 intakes and 6-8 follow-up patients per day. Throughout the day, I receive personalized instruction on patient management skills and complex psychopharmacology.
On Wednesday to Friday, I work at the Columbia Saint Mary's Psychotherapy Clinic. Here, I primarily see therapy patients, but also offer medication management as well. Moreover, we receive daily didactic sessions on CBT, DBT, and psychodynamics. In short, outpatient year has really allowed me to work on time management, medical knowledge, and psychotherapy. In the next several months, I will hopefully start moonlighting at the Psychiatry Crisis Service (PCS). This is a rare free-standing psychiatry emergency department, and will allow me to further hone my skills in an acute care setting.
Maybe the best part of outpatient year is the work-life balance. I am home and done with notes by around 5:00 pm on almost all days. Additionally, during the outpatient year, we take call for a week at a time once every 8 weeks. As a result, I have more free time now than I had during intern year! When I'm not at work, my wife and I like riding our bikes on the Oak Leaf Trail. We also enjoy walking our dogs (Wentworth and Madison), going on weekend trips to Door County, and exploring Milwaukee's restaurant scene.
PGY 3: Deborah Kennedy, MD
Hello, everyone. My name is Deborah Kennedy.
I am currently on my second rotation of PGY-3, which is inpatient psychiatry at Froedtert Hospital Menomonee Falls. Before this, I was on Consults and absolutely loved the experience.
Being a third-year resident at MCW is very exciting and, after an entire outpatient year during PGY-2, it is so gratifying to return to inpatient rotations with a more psychotherapy-oriented perspective.
I usually wake up around 5:30 a.m., and this is my favorite time of the day. I enjoy a good cup of coffee (or two!) while reading a book or doing some meditation before starting my day. Then, I go to the gym, come back home around 6:45 a.m., get ready, and end up leaving home at 7:15 a.m. It takes me around 30 minutes to arrive in Menomonee Falls, as I live in Downtown Milwaukee.
After arriving at work, I do chart review and am usually ready to see patients by 8:15 a.m. My caseload consists of five to seven patients daily, on average, including follow-ups and intakes. We also see some PHP patients twice per week, which adds some extra psychotherapy experience to this rotation. I staff the patients with my attending, and we discuss the treatment plan before our multidisciplinary meeting at 11:15 a.m.
In the afternoons, I work on the notes and contact patients' families for collateral, when necessary. In addition, there are two medical students as part of our team during this rotation, and I love being able to do some teaching between patient care.
I am usually done with work around 4 p.m., except for Tuesday afternoons, as I have my therapy clinic, which ends around 6 p.m. Also on Tuesdays, I am on call from home for possible overnight admission orders and other events that may come up on the unit.
After I am done with work on typical days, I enjoy going for walks along Lake Michigan or the Milwaukee Riverwalk, exploring new restaurants and talking with my family in Brazil. If the weather is not that nice for a Brazilian, I spend time watching some TV, reading and cooking a nice dinner.
I am usually in bed by 10 p.m., unless I am moonlighting at the Psychiatric Crisis Service (PCS), three to four times per month. Then, I am in bed by 11 p.m., as most of my shifts are from 6-10 p.m. I have all weekends off during this rotation, so I have been able to enjoy the rest of the summer. Some of my classmates and I also meet for brunch, when our schedules align.
I love our program and life in Milwaukee. But the best part of MCW psychiatry is definitely the friends I have made (special shoutout to my co-resident Kamal).
PGY 4: Emily Rion, MD
My name is Emily Rion and I'm a current 4th year psych resident. Due to several in our incoming residency class fast-tracking into child and adolescent fellowship, I'm the lone 4th year who is not a chief resident this year, which is a pretty sweet gig.
The only required rotations I'm doing this year is a neurology month and an integrated behavioral health (IBH) rotation in the family medicine clinic which is a half-day every other week. Otherwise, I was able to build my schedule completely. Fourth years can design either a longitudinal schedule (i.e., the same thing each week but a different site each day/half-day) or traditional block schedule (a month or longer on each rotation). I opted to do a block schedule with some nested longitudinal clinics in order to have a greater variety of 4th year experiences.
I have several sub-attending electives (at the VA, Milwaukee County hospital, Froedtert Menomonee Falls) supervising underclassmen and teaching the medical students on rotation. I'm getting more experience with psych consults with another block on Froedtert consults, as well as new experiences seeing consults in the smaller community hospital Froedtert Menomonee Falls. I have several emergency psychiatry blocks: in the immediate mental health access clinic (IMHAC) at the VA, the psychiatric crisis service (PCS) through Milwaukee County, and psychiatry consultation in the medical ER at Froedtert Hospital. I'm also doing off-service electives in toxicology, neuropsychology and palliative care.
In a typical week: I'm on rotation Monday and Tuesday. Wednesday morning is didactics, which are virtual for 4th years this year. Then I have a virtual perinatal psychiatry clinic every Wednesday afternoon. Typically seeing 2 new patients and 2 follow ups independently, staffing new patients with attendings. Thursdays and Friday mornings I'm back at my rotation, and every other Friday afternoon I drive to my integrated behavioral health clinic. Most 4th years also have their psychotherapy continuity clinic for a half day each week.
I manage to find time to see my therapist each Tuesday afternoon, even while on busier rotations. I also have time I know I'll be at home on Wednesday mornings to have cleaners, maintenance, etc. come while I'm in virtual didactics. So far, it's been a pretty good senior year.
Program Information
Curriculum and Rotations
General coursework and rotation information for the MCW-MKE Psychiatry Residency Program.
Program Aims
Clinical Excellence: Develop residents into thoughtful, skilled, and caring psychiatrists who provide evidence-based and patient-centered care in a variety of settings.
Education: Train residents to be life-long learners and effective educators for a wider audience, including health care providers, patients, families, and their communities.
Community Engagement: Foster resident involvement in education and advocacy for the mental health needs of our community.
Scholarship: Promote development of clinicians who participate in scholarly activities throughout their practice, community, and specialty.
Wellness: Continue to support faculty and resident wellness, promoting balance, self-care and development of meaning within our profession.
Living and Working in Milwaukee
Milwaukee is one of the Midwest's best-kept secrets and a prime location for the Medical College of Wisconsin's main campus. Its cultural diversity, activities and attractions offer something for everyone.
How to Apply
Answers to frequently asked questions about the application process.
URiM Visiting Student Program
The Medical College of Wisconsin is currently offering a Visiting Medical Underrepresented in Medicine (URiM) Student Elective Program.
Benefits, Conditions & Terms of Employment
The MCWAH Board of Directors met on December 15, 2021 and established the following annual housestaff stipend levels for the academic year beginning July 1, 2022.

PGY1 - $65,180
PGY2 - $66,310
PGY3 - $67,440
PGY4 - $68,580

Note that, as of 7/1/22 (2022/23 academic year), the working condition fringe benefit annual payment of $1,500 will be retired and will no longer be paid in December and June installments after 6/30/22. Instead, $1,500 has been added to and included in the above listed stipend levels as of 7/1/22. Overall, there is no change for the housestaff other than the amount becoming a part of the stipend that is paid on a monthly basis instead of being paid as a separate benefit.
Contact Us
Physical Address
Psychiatry and Behavioral Medicine
Tosa Health Center
1155 N. Mayfair Rd., Third Floor
Milwaukee, WI 53226
Mailing Address
MCWAH Psychiatry Residency Program – Milwaukee
8701 Watertown Plank Rd.
Milwaukee, WI 53226
(414) 955-8998
(414) 955-6299 (fax)