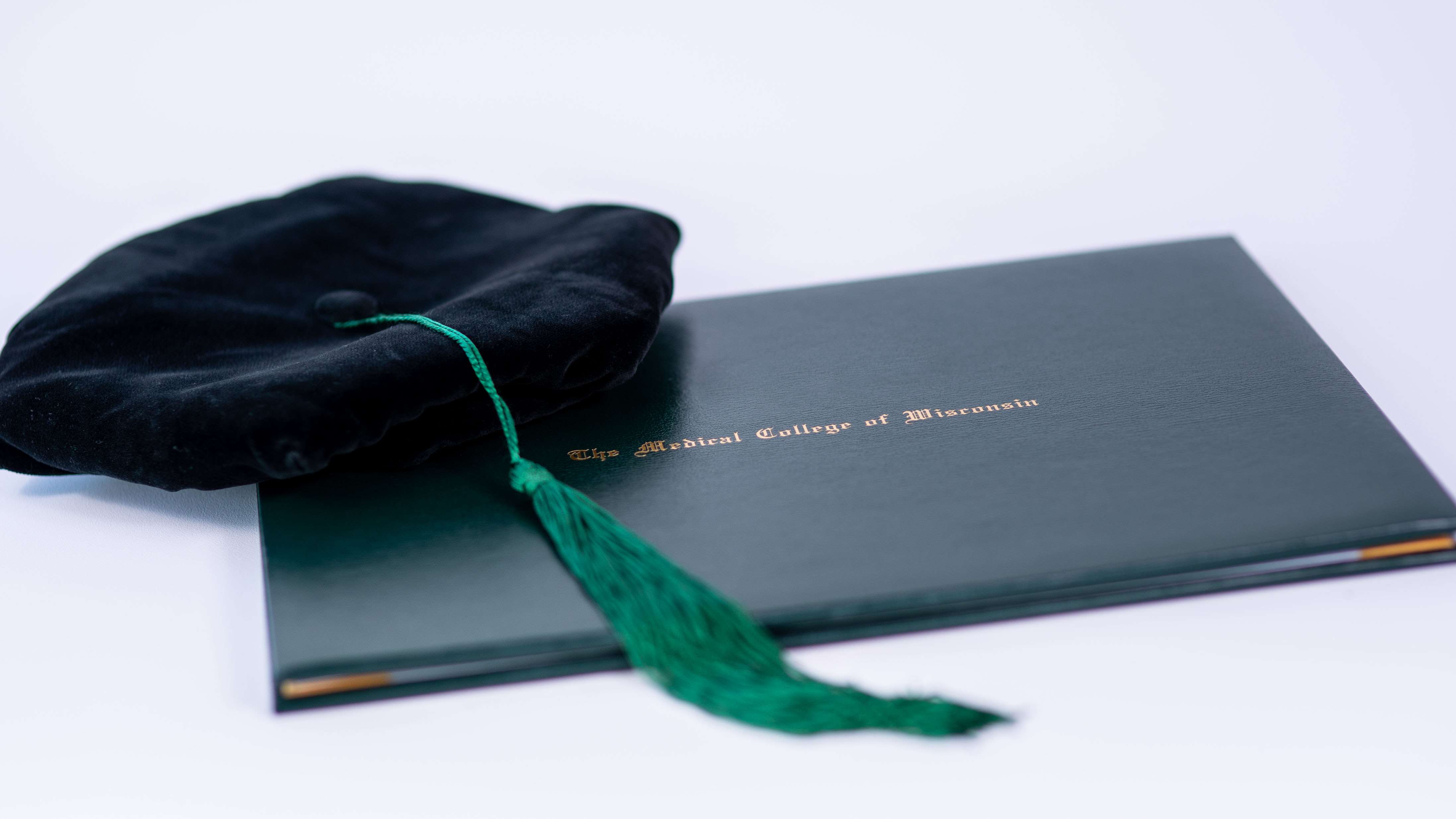 CeDiplomas
The Medical College of Wisconsin is offering Certified Electronic Diplomas (CeDiploma) for our 2020 Spring graduates. CeDiplomas are a quick, easy way to keep a certified electronic version of your diploma readily accessible and is free of charge to the graduates.
Graduates Q&A
What time will the virtual Commencement ceremony take place?
Virtual ceremonies will take place at the original scheduled date of graduation.

MCW-Milwaukee: Friday, May 22, 1:30 pm

MCW-Green Bay: Thursday, May 28, 11:00 am

MCW-Central Wisconsin: Friday, May 29, 1:30 pm
Will we be able to pick-up Commencement rental regalia to take pictures with our family and friends?
Yes, rental regalia will be available for students to pick-up by mid-May.

All regalia, except your tassel, needs to be returned. A shipping return label will be provided to those who pick-up their regalia to be mailed back by Friday, June 12.

We will not have back-up regalia available for size exchanges.
Are students out of state still able to have regalia mailed to them?
Yes, we can ship out rental regalia to those that would like. A mailing address will need to be provided and a link to fill out this form would have been included in the May 5 student communications.

All rental regalia, except the tassel, must be returned. A shipping return label will be provided to those students to mail back by Friday, June 12.
What if students do not mail back rented regalia?
Students will be withheld from receiving their hardcopy diploma and access to their transcripts.
Will there still be an opportunity for photography?
Unfortunately, MCW will no longer be offering a photography opportunity for the students.
Will there be an awards dinner, bruncheon/luncheon, or hooding ceremony? How will we be recognized?
All in-person Commencement week activities have been canceled. Any student awardee will be notified and your award(s) will be mailed to you. All awardees will be listed in the Commencement program book, along with descriptions of each award.

School of Medicine will be offering scheduled virtual oath/hooding ceremonies. A sign-up survey will be emailed on May 5.

School of Pharmacy is holding a virtual celebration for their inaugural class on Thursday, May 21. Future in-person opportunities are also being considered.

Graduate School will be postponing their hooding and looking at future dates. More communications will be sent as plans finalize.
Will there be a military oath available for those students who are military members?
There will not be a military oath given at the virtual ceremony. However, we will include your military listing on the screen at the time your name is read during the event stream.
How will we get our diplomas?
All diplomas will be mailed in the month of July. A certified electronic copy is available to each student if they need their diploma in advance of July. You can request your eDiploma on the Commencement webpage after the date of your graduation.

Milwaukee: May 22, 2020

Green Bay: May 28, 2020

Central Wisconsin: May 29, 2020
Will we receive a copy of the Commencement book?
Commencement books will be mailed out to each student with their diploma. Quantity requests will be included in May 5 communication – survey.

Commencement books will also be available electronically on our Commencement webpage the week of graduation
How are the virtual hooding ceremonies taking place?
Milwaukee School of Medicine will be holding mini virtual hooding ceremonies to those that are interested. The Oath will also be recited in these sessions of 10 students or less. Students received an opportunity to sign up in the May 5 communications.

Milwaukee School of Pharmacy will send details to those students who indicated interest in participating in a small group Hooding Ceremony on Thursday, May 21

MCW-Green Bay is surveying students in their interest and will make a decision based on responses

MCW-Central Wisconsin is providing the opportunity for a virtual hooding ceremony on May 21st and students should have signed up on the survey that was sent out on the May 5 communication
Does my special hooder have to hold an MD or DO degree to participate in the virtual MD hooding?
Because of the Safer at Home order, we are opening up special hooders to anyone. They do not need to hold an MD or DO degree, but must be physically with you at the time of the session.
Can we invite anyone to attend the MD virtual hooding session we signed up for?
Milwaukee School of Medicine

Students are only allowed to sign-up for 1 time slot, but can reserve spots within their reservation to share their moment with friends/mentor/family – up to 10. We also encourage students to sign-up with fellow classmates for these ceremonies.

Unfortunately, each session will have a limit of 10 sign-ups. If there are open slots within your session after the sign-up closes, we will let your group know. That way, if you have an open slot, you can invite a member to attend, etc.

All ceremonies will be recorded for students to share after the ceremony takes place.



MCW-Central Wisconsin

Students will not have guest limitations for the hooding ceremony scheduled on May 21.
Congratulations 2020 Graduates!
Mark S. Avila, MD '85, MBA, AGAF, FACG
Sending traditional accolades and heartfelt congratulations to the Class of 2020 on their rather non-traditional graduation. Years of hard work and dedication have earned you a place in history. Seize this moment and become proud alumna of The Medical College of Wisconsin. I am honored to have you as my colleague. Congratulations!
Brian Bear, MD '84, GME '89, and Laurel Bear, MD '84, GME '87
Congrats to the class of 2020. You should all be so proud of your achievement. As an MCW alumni we are so happy to welcome you and let you know we are there for you. Good luck with your future endeavors.
Steven Bergin, MD '74, GME '78
The alumni of MCW are very proud of you and your accomplishments during these troubled times. I wish you every success as you embark on your graduate medical education journey. I know you will always make us proud!
Jonathan Bock, MD '01
I wish to offer my most sincere congratulations to the 2020 graduates of the Medical College of Wisconsin! Your hard work and perseverance have carried you through to this moment, and I hope you all know how proud we as a faculty here at MCW are of all of you.
Eugene Bozymski, MD '60, GME '66
Job well done, doctors. Every success throughout your career.
Robert Buss, MD '66, GME '69
Congratulations, this is your first salvo to your future adventure. We can't foresee what will be except your preparation is unequaled in readiness. So hit the ground running to your success.
Maria Bustillo, MD '75
Congratulations to the class of 2020. Very proud of you. I know this is a difficult time but please rejoice in your great accomplishment of graduating from a great med school. Good luck in your next adventures in post graduate training.
Barbara Calkins, MD '96
Graduates and future Alumni, I am SO impressed at the amazing job you have done staying positive through this challenging time of COVID-19. Know that you have not been forgotten and that we are all celebrating you whole heartedly. I am humbled by your persistence, determination, and resilience, which will take you far in your profession. Your years of countless hours, hard work, and sacrifices to achieve your goals are proudly recognized today! I am so excited for you all, and I am honored to call you MCW ALUMNI! I hope that you will forever stay connected to us, your MCW family.
Bruce Campbell, MD, GME '85
Congratulations to all of MCW's graduates! The Class of 2020 was always special, but the events of the past several weeks have only made that more clear. You are inventing the future, bringing your science, your resourcefulness, your compassion, and your character to bear. I know that Medicine, Science, and Pharmacy are in good hands because I know and trust you. Keep a journal, listen to your patients' stories, stay safe. Best of everything, my friends!
William V. Dolan, MD '74, FACS
Dear MCW Class of 2020, Congratulations! Welcome to the healing profession! It is an honor to call you colleagues. Remember that it is more blessed to give than to receive. God bless.
Beth Erickson Wittmann, MD '84, GME '88, and Tom Wittmann, MD '84, GME '87
Congratulations Class of 2020. You are now members of a noble profession filled with unique opportunities to serve mankind. These experiences will strengthen you, humble you and enrich you beyond measure. We welcome you to the MCW Alumni family!
Daniel Geenen, MD '89, GME '92
Congrats on finishing a challenging 4 yrs at the Medical College of Wisconsin. You have a strong foundation for your future medical career. Show compassion and honesty and you will go a long way. God Bless and may your future be Grand!! Welcome to the MCW Alumni Association, we look forward to your involvement in promoting the future success of our association!!
Ron Gerrits, PhD '99
Congratulations all! Not necessarily the easiest time to be leaving educational programs, but I am confident MCW graduates are up to any challenges they may face. Best of luck!
Terry L. Gueldner, MD '70, FACS, RPhS
Special congratulations to the classes of 2020 in the Graduate School and Medical School and to the inaugural School of Pharmacy. May you be leaders in your fields of expertise helping colleagues and patients worldwide. You have had excellent education and training at MCW and will carry on the tradition of excellence wherever you live and work.
Paul E. Hankwitz, MD '74, GME '78, FACP
Dear MCW Graduates, CONGRATULATIONS! Your education is but a dress rehearsal for a life that is yours to lead. A great benefit of a career in medicine and other health professions is that the journey has so many possible routes, and so many possible destinations! Don't feel confined by choices you make early on. Be open to evolution to a calling to be your best! On behalf of all alumni, I wish you a career that is characterized by compassion, community, creativity, and continuous learning. Again, congratulations!
Donald J. Heyrman, MD '56 and Donald E. Chisholm, MD '56, GME '64
"Thank you" to all of the graduates of the Medical College of Wisconsin. After years of arduous labor, you are ready with the science to enter the noble role of caring for your fellow human beings. Now comes the hard and difficult part. You must now find a way to bring your skills in science to those you seek to help with Love and Mercy. And above all "Do no Harm".
Neerja Joshi, MD '16
Congratulations to the class of 2020! Though your entry into this profession is probably not beginning in the way you'd imagined, I want you to know that you should savor this day and reflect on all of the obstacles you've overcome to get here. It is a gift to be entrusted with people's lives. Please relish this gift and treasure it forever.
William J. Listwan, MD '68, GME '74, FACP
It has been a difficult and at times challenging journey but the satisfaction that you will find in your professional life will be beyond your expectations. Congratulations.
Jessica Olson, PhD '15, MPH '17
Congratulations to the class of 2020! It is wonderful to welcome you as Alumni! I hope you are all able to take a moment to celebrate and enjoy this tremendous accomplishment. Cheers!
James Pawlak, MD, GME '78, and Kathryn Green, MD, GME '84
Congratulations to all of the 2020 graduates, especially Kristin and Ron Palmen and Peter Capelli. We are so proud of you and look forward to watching your successful journeys in medicine and life! Good luck in your transition to residency. Remember that you will always have our love and support.
Daniel R. Wartinbee, MD '77, GME '82
Congratulations to you as you graduate from Medical, Graduate, or Pharmacy School. You all are true heroes in facing these difficult times and completing your studies under these conditions. May you all be strengthened by what you have accomplished and by the pride you bring to your families and the Medical College of Wisconsin. I wish you all the best as you move forward in your careers.
Jackie Herd-Barber's Message to MCW's Class of 2020
The Medical College of Wisconsin's Board of Trustees congratulate the Class of 2020 for their accomplishments and future endeavors.
Dr. Paul Hankwitz's Message to MCW's Class of 2020
The Medical College of Wisconsin's Board of Trustees congratulate the Class of 2020 for their accomplishments and future endeavors.
Linda Gorens-Levey's Message to MCW's Class of 2020
The Medical College of Wisconsin's Board of Trustees congratulate the Class of 2020 for their accomplishments and future endeavors.
Dr. Justin Mortara's Message to MCW's Class of 2020
The Medical College of Wisconsin's Board of Trustees congratulate the Class of 2020 for their accomplishments and future endeavors.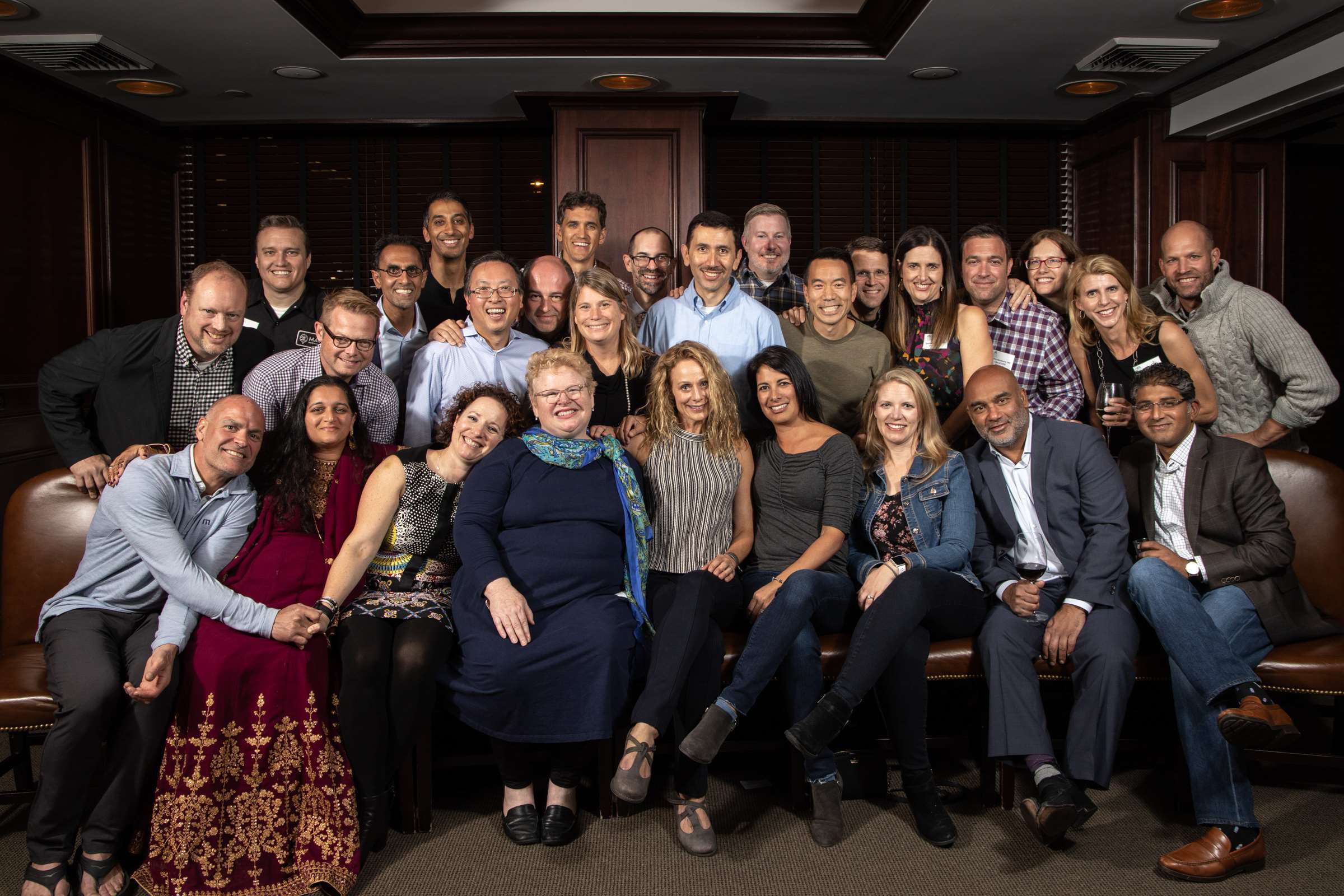 Sign up for MCW Engage!
Stay connected to fellow classmates and keep your bond to MCW strong by registering with ENGAGE, our new, exclusive online community for alumni.
Graduate Contact Information