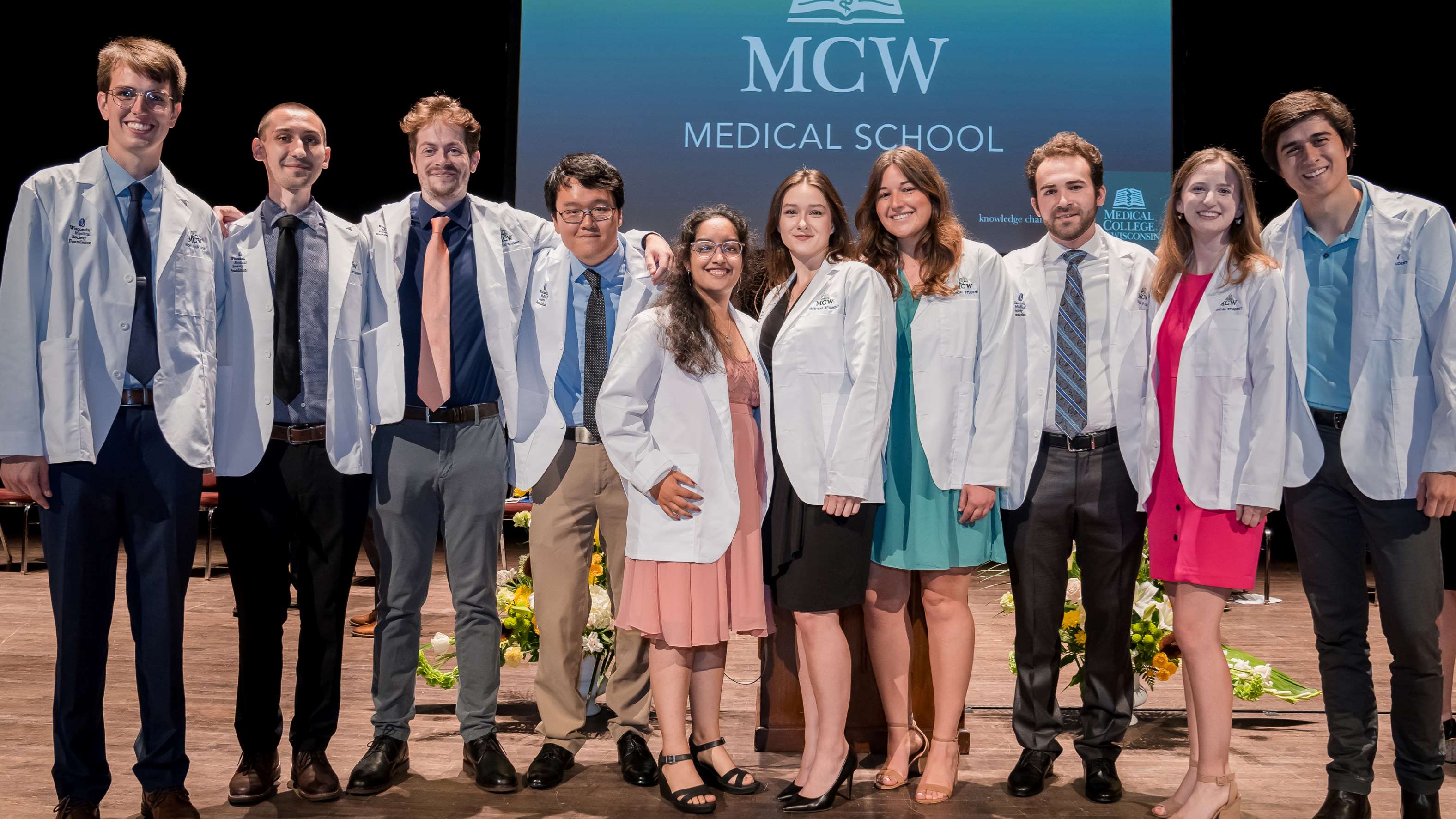 Thank you for considering MCW for your physician-scientist education! We are here to support you every step of the way on your journey.
Since admission is highly competitive, individuals are encouraged to complete their application by early fall.
Before you begin the application process, please review the MCW Medical School application requirements. Applicants should have strong academic qualifications as well as experiences that demonstrate potential for success as clinician-investigators.
When considering different programs, I knew that I wanted to be in a place where the MSTP directors were as invested in me as I was in the program. This is something that I believe is true for MCW's MSTP. Even while interviewing at MCW, program directors encouraged me to reach out to them for advice regardless of whether or not I was accepted. Every MSTP will give its trainees a high quality education, but this on its own is not sufficient. There's an important difference between a MSTP that is looking for applicants who are a good fit for the program, and a MSTP that takes interest in the unique background and goals of applicants so that it can ensure each trainee will be fully supported in the program. Seven to eight years is no small commitment and I believe that excelling throughout requires the freedom and encouragement to pursue my individual passions. For these reasons, I'm excited to be a part of MCW's MSTP!
Josiah Murray
Get Started
Selection Factors
The MSTP Admissions Committee looks at applicants as whole individuals, considering life experiences as well as academic achievement.
Academic Achievement
MCAT and GPA
Substantive Research Experience
Personal Statement and Essays
Letters of Recommendation
Professional Skills
Commitment to Biomedical Research
Community Service
Personal Interview
How to Apply
Apply online through the American Medical College Application Service (AMCAS). Select 'Medical College of Wisconsin' as your designated institution. Select 'Combined MD-PhD Training' as your preferred program.
Early submission of application materials is strongly encouraged as interview offers are made on a rolling basis.
A completed application includes the following:
AMCAS Application - deadline November 1
Medical School Secondary Application and fee - deadline December 2. There is not an additional application fee for the Medical Scientist Training Program (MSTP)
CASPer Exam Results
Letters of Recommendation
MSTP accepts 3-5 letters of recommendation (or a committee composite letter) submitted through AMCAS.
Example letter writers include previous or current research mentors, instructors, physicians or employers.
References should come from individuals who know you well enough to comment on your research experience and future potential as an independent investigator.
MSTP has access to letters sent by electronic submission to the MCW Medical School. Be sure there is at least one letter written by a research mentor to support your career as a physician-scientist.
Any additional supporting MD/PhD letters that you would like to include following your upload can be sent by the faculty member, as an email attachment, to our Program. Please email to mstp@mcw.edu.
It is the policy of the Medical College of Wisconsin to provide equal opportunities, consistent with applicable state and federal laws, to all qualified persons without regard to race, creed, color, sex, age, disability, marital status, veteran status, membership in the national guard, state defense force or any other component of military forces of the United States or Wisconsin, sexual orientation, national origin, ancestry, religion, arrest or conviction record or other pertinent legislation, judicial mandates and presidential executive orders designed to eradicate discrimination in all areas.
Deadlines
You are strongly advised to apply and complete your primary and secondary applications early. Applications are reviewed by the Admissions Committee on a rolling basis by date of completion, but interview slots fill up quickly.
May 1: Primary (AMCAS) application opens
May 30: Earliest date to submit AMCAS application
July 1: Preferred date by which to submit AMCAS application
August 15: Preferred date by which to submit MCW Secondary application
November 1: AMCAS application deadline (11:59 pm CST)
September-April: Applications are reviewed and invitations are sent out
December 2: MCW secondary application deadline (4:00 pm CST)
January-March: Two-day virtual interviews on Thursday and Friday. Interviews are for both the MD/PhD (MSTP) and MD. Rolling admissions decisions. A select few may be chosen early; most are offered later in the application cycle.
April: Revisit in early April
April 30: Deadline for all applicants to accept a single offer of MD admission to any institution
June: First summer rotation
July: Second summer rotation
Early August: New student orientation and classes begin
Interview Visit & Dates
All MCW MSTP initial interviews are virtual.
Interview Dates
December 8 & 9, 2022

January 12 & 13, 2023
January 26 & 27, 2023
February 16 & 17, 2023
March 2 & 3, 2023
Virtual Interview Schedule
Meet program director, current students, program leadership and administrators
Individual interviews with program director, research faculty, MSTP students and admissions committee
Admissions Offer and Second Visit
Applicants who are accepted into the MSTP are highly encouraged to attend our revisit. This visit allows new trainees to meet with members of our MSTP community and faculty members who share their research interests.
Disabled & Disadvantaged Applicants
MCW MSTP welcomes all applicants to train in an inclusive environment. MCW-MSTP not only supports the NIGMS Diversity Statement where "diverse teams working together and capitalizing on innovative ideas and distinct perspectives outperform homogenous teams."
MCW MSTP embraces trainees from diverse backgrounds and life experiences who bring different perspectives, creativity, and individual enterprise to address complex scientific problems. We believe in the benefits of a diverse scientific and medical workforce, which fosters scientific and medical innovation, contributes to robust learning environments, improves the quality of researchers and physicians, and leads to benefit of health research and patient care to enhance public trust.
Applicants to our MSTP may elect to reveal a disability and request an accommodation for the interview, please contact the MSTP Director. This is NOT required.
Frequently Asked Questions
Can I submit more than 3 letters of reference?
Yes, but please be sure that there is at least one written by a research mentor to support your career as a physician-scientist.
Are non-US citizens eligible for support?
How does MCW consider multiple MCAT scores?
The Admissions Committee will consider the two most recent eligible exams.
Are Graduate Record Examination (GRE) scores required?
No, GRE scores are not required for the MCW MSTP.
I don't see a MSTP choice on the MCW application, what should I select?
There are only two choices on the MCW application, MD or PhD, please select "MD" as your program of choice. The system will automatically regard you as a MD/PhD candidate because of your AMCAS designation.
When is the deadline for applying through AMCAS to MCW?
The deadline is November 1. However, early submission of application materials is strongly encouraged as interview offers are made on a rolling basis.
What are the requirements for application?
Please visit the MCW Medical School application requirements.
Does MCW MSTP accept transfer applicants?
MCW MSTP does not accept any students who have matriculated in a different medical institution.
Is there a stipend provided?
Students entering the MSTP receive financial support in the form of a full tuition scholarship throughout the duration of their education, health insurance, and a stipend to cover living expenses. The stipend level, which is adjusted annually, is $32,633 for the current academic year.
What type of housing is available?
Most students live in the Wauwatosa area, but consider living downtown if you like city living. Traffic in the whole Milwaukee area is moderate and commute times are short.
There is a wide range of housing options in the Milwaukee area, from small to large apartment complexes, individual duplexes or quads, townhomes, homes, condominiums, or renting a single room with shared common area. There are plenty of resources online to help you find a place to rent/buy.
Here are some popular ones that our students have used:
MCW Academic Student Services housing page
If you're in the area, drive around and see what is local, not everyone lists online. Ask current students when you come for revisit.
What neighborhoods are located around the campus?
Wauwatosa
This is the area directly around the school. The majority of students live here and are able to walk or bike to school. There are several large apartment complexes, but also many smaller quadplexes, duplexes, flats, and houses. There is no overnight street parking, but 95% of students living here were able to find housing that included parking. One of the best ways to find an apartment in this area is to drive through neighborhoods as many people only advertise by signs in their yard. There is a large mall with a movie theater, many grocery stores, banks, and restaurants in Wauwatosa. Major streets in this area include State St, Glenview Ave, Mayfair Rd/ Hwy 100, and Watertown Plank Rd/ Harwood Ave.
West Allis/New Berlin
Located directly south of school. It is a residential neighborhood with easy access to commercial areas and a few students live in this area. There are numerous apartment complexes, but also some smaller quadplexes, and duplexes. Parking in this area is readily available and overnight street parking is allowed with a permit. The average commute is 15 minutes. There are many stores, banks, and restaurants. Major streets in this area include Greenfield Ave, Lincoln Ave, Cleveland Ave, Oklahoma Ave, Moorland Rd, and Hwy 100/108th St.
Waukesha
Located about 25 minutes west of school off of I-94, is home to a few students. It is mostly residential, but there are many areas with industry and commercial properties. Although the drive is further, students generally are able to find more reasonable rent. There is a wide variety of accommodations ranging from apartment complexes to houses. Parking in this area is readily available and overnight street parking is allowed with a permit. There are many stores and restaurants.
East Side of Milwaukee
The East Side is located along Lake Michigan, just north of Downtown and south of the University of Wisconsin-Milwaukee. It is a residential area with an urban feel. There are many coffee shops, boutiques, and diverse restaurants. There are many apartment complexes, flats and houses. Parking can be a problem in this area, but many apartments do offer parking for a fee. Overnight parking is allowed on many streets with a permit, but finding a spot can be quite competitive (especially in the winter). The average commute to MCW is about 20 minutes. Major streets in this area include Downer Ave, Prospect Ave, North Ave, and Brady St.
Contact Us
Additional questions?
Please contact us with any further questions at mstp@mcw.edu.