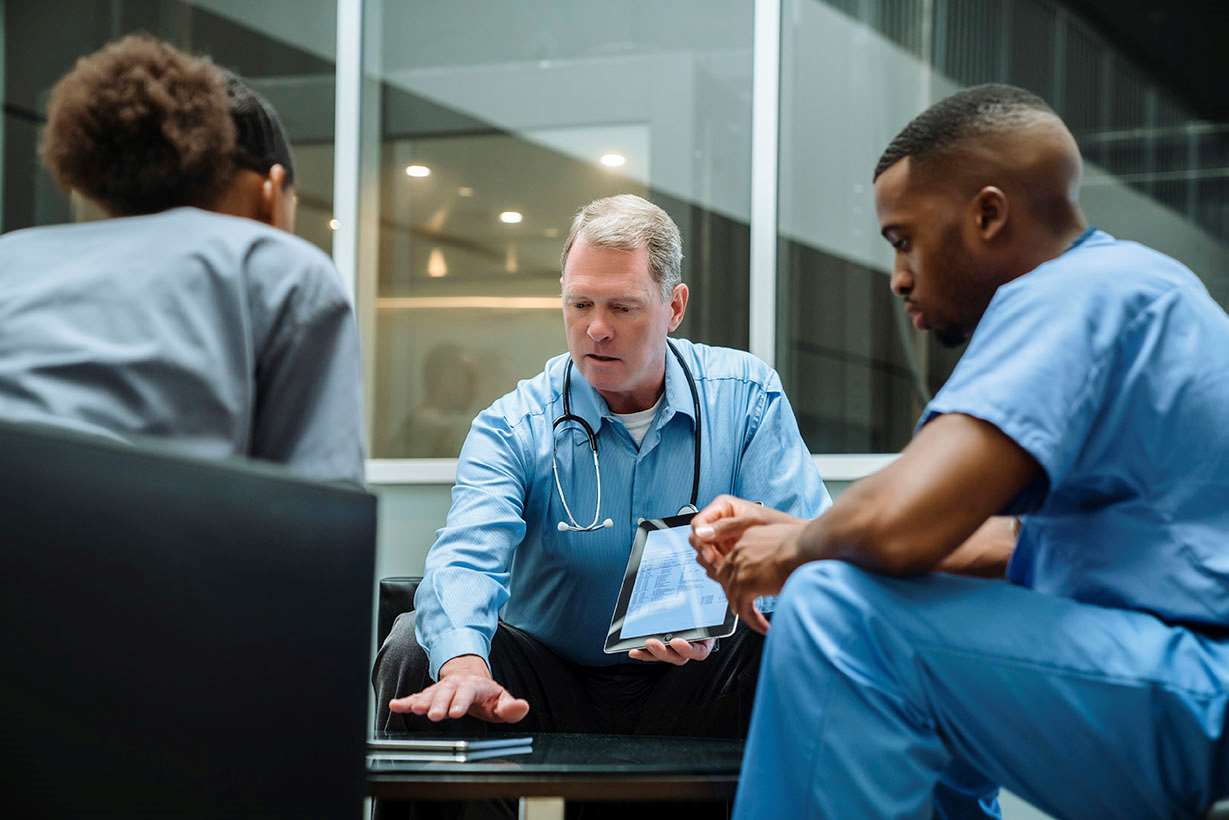 Our alumni choose a wide variety of specialties for their residency, fellowship and faculty positions including Anesthesiology, Cardiovascular Medicine, Dermatology, Endocrinology, Hematology/Oncology, Medicine, Neurology, Ophthalmology, Orthopedic Surgery, Pathology, Pediatrics, Psychiatry, Radiation Oncology, Radiology, Surgery, and more.
Most alumni are residents or faculty at Academic Medical Centers across the United States, including Harvard, Yale, Duke, Johns Hopkins, Vanderbilt, Emory, UCLA, Stanford, MD Anderson, Mayo Clinic, University of Washington and many more including positions on our campus at the Medical College of Wisconsin, Children's Wisconsin, Froedtert Hospital and the Versiti Blood Research Institute.
Congratulations to our 2022 students who matched!
Alumni
Learn more about our alumni and where they are now. Alumni are listed by the year they graduated with their MD, PhD degree.
1990-1999
Neil Farber, MD, PhD | 1983-1990
Retired
PhD Advisor: Garrett, Gross, PhD
Residency/Fellowship: Residency-Anesthesiology, Medical College of Wisconsin; Fellowship-Pediatric Anesthesiology, Children's Hospital of Wisconsin
Tracy Kangas, MD, PhD | 1983-1990
Retina Specialist McFarland Eye Center, Ames, Iowa
PhD Advisor: H. Edelhauser, PhD
Residency/Fellowship: Residency-Ophthalmology, Emory University; Fellowship-Vitreoretinal at Bascom Palmer Eye Institute
Robert Hevner, MD, PhD | 1984-1992
Professor, Pathology; Director, Neuropathology, University of California-San Diego
PhD Advisor: Margaret Wong-Riley, PhD
Residency/Fellowship: Residency-Pathology, Brigham and Women's Hospital: HMS; Fellowship-Neuropathology, Stanford University Medical Center
Richard Riese, MD, PhD | 1984-1992
Chief Medical Officer, Synlogic
PhD Advisor: Neil Mandel, PhD
Residency/Fellowship: Residency-Internal Medicine, Brigham & Women's Hospital; HMS
David Gaffney, MD, PhD, FABS, FASTRO | 1985-1992
Professor and Vice-Chair, Radiation Oncology; Senior Director, Clinical Research, University of Utah School of Medicine and Huntsman Cancer Institute
PhD Advisor: Fritz Sieber, PhD
Residency/Fellowship: Residency-Therapeutic Radiology, University of Utah
Galen Cortina, MD, PhD | 1985-1993
Professor, Surgical and GI Pathology; Chief, Gastrointestinal Pathology, David Geffen School of Medicine at UCLA
PhD Advisor: Joseph Barbieri, PhD
Residency/Fellowship: Residency-Pathology at UCLA; Fellowship-Gastrointestinal Pathology at UCLA School of Medicine
Eric Wong, MD, PhD | 1987-1994
Professor and Associate Director for Imaging Hardware, Center for Functional MRI in the Department of Radiology, UC San Diego School of Medicine
PhD Advisor: James Hyde, PhD
Residency/Fellowship: None
Mehrdad Rezaee, MD, PhD | 1987-1994
Cardiologist, Cardiac & Vascular Care; Former Director of pre-clinical cardiovascular research, Stanford University
PhD Advisor: Roger Markwald, PhD
Residency/Fellowship: Residency-Internal Medicine, Harvard Medical School; Fellowship-Cardiovascular Medicine & Interventional Cardiology at Stanford University
Keith Loeb, MD, PhD | 1987-1995
Associate Professor, Pathology, University of Washington; Associate Member, Clinical Research and Public Health Sciences; Adjunct Associate Professor, Laboratory Medicine, Fred Hutchinson Cancer Research Center
PhD Advisor: A. Haas, PhD
Residency/Fellowship: Residency-Combined AP/CP Pathology at the University of Washington-Seattle; Fellowship- (Research) Fred Hutchinson Cancer Research Center, Basic Sciences Division & Hematopathology; Fellowship-Univ of Washington Medical Center
Paul Hruz, MD, PhD | 1988-1994
Associate Professor of Pediatrics (Endocrinology) & Cellular Biology & Physiology; Director of the Division of Pediatric Endocrinology and Diabetes, Washington University, St. Louis
PhD Advisor: Henry Miziorko, PhD
Residency/Fellowship: Residency-Pediatrics, University of Washington- Seattle; Fellowship-Pediatric Endocrinology, Washington Univ, St. Louis
Russell Wilke, MD, PhD | 1988-1995
Chairman of the Department of Internal Medicine, The University of South Dakota Sanford School of Medicine and Sanford Clinic
PhD Advisor: Cecilia Hillard, PhD
Residency/Fellowship: Residency-Internal Medicine, Univ. of Wisconsin at Madison; Fellowship-Preventive Medicine at Mayo Clinic, Rochester MN
Scott Kulich, MD, PhD | 1989-1996
Associate Professor, Pathology, Division of Neuropathology; Chief, Transfusion Medicine and Chief, Molecular Anatomic Pathology, VA Pittsburgh Healthcare System; Acting Lab Director, Pathology and Laboratory Medicine, Veterans Affairs Medical Center Butler
PhD Advisor: Joseph Barbieri, PhD
Residency/Fellowship: Residency-Pathology, University of Pittsburgh; Fellowship-Neuropathology, University of Pittsburgh
Jonathan D'Cunha, MD, PhD | 1990-1997
Professor, Surgery; Chair, Cardiovascular and Thoracic Surgery; General Surgery Specialist, Mayo Clinic-Arizona
PhD Advisor: Ernest Borden, PhD
Residency/Fellowship: Residency-Surgery, University of Minnesota; Fellowship-(Clinical) Infectious Disease, Univ of Minnesota; Fellowship-(Research) Univ of Minnesota; Fellowship-(Clinical) Cardiovascular & Thoracic Surgery, Univ of Minnesota
Richard Gumina, MD, PhD | 1990-1997
Associate Professor, Internal Medicine; The James Hay and Ruth Jansson Wilson Professor in Cardiology; Associate Division Director for Research; Director, The OSUWMC JB CVM Biorepository, Division of Cardiovascular Medicine; Interventional Cardiologist, The Ohio State University Wexner Medical Center
PhD Advisor: Peter Newman, PhD
Residency/Fellowship: Residency-Internal Medicine, Mayo Clinic; Fellowship-Cardiovascular Medicine and Interventional Cardiology, Mayo Clinic
Shawn Jobe, MD, PhD | 1991-1998
Director of the Michigan State University Center for Bleeding and Clotting Disorders (CBCD), Associate Professor of Pediatrics and Human Development, Michigan State University College of Human Medicine;
Adjunct Associate Investigator Versiti Blood Research Institute, Milwaukee WI
PhD Advisor: R. Markham, PhD
Residency/Fellowship: Residency-Pediatrics, University of Iowa; Fellowship-Division of Pediatric Hematology-Oncology, University of Iowa
David Mei, MD, PhD | 1991-1998
Anesthesiologist, Froedtert Menomonee Falls Hospital, Menomonee Falls, WI
PhD Advisor: Garrett Gross, PhD
Residency/Fellowship: Residency-Anesthesiology, Medical College of Wisconsin
David Potter, MD, PhD | 1992-1999
Anesthesiologist, Colorado Springs, Colorado
PhD Advisor: Henry Miziorko, PhD
Residency/Fellowship: Residency-Anesthesiology, University of Virginia
2000-2009
Pamela Schroeder, MD, PhD | 1991-2000
Program Director, Endocrinology Fellowship, Co-Director, Thyroid Clinic, Medstar Union Memorial Hospital; Assistant Professor, Division of Endocrinology, Johns Hopkins University School of Medicine; Clinical Assistant Professor, Division of Endocrinology, University of Maryland School of Medicine
PhD Advisor: G. Giudice, PhD
Residency/Fellowship: Residency-Internal Medicine, University of Virginia; Fellowship-Endocrinology at Johns Hopkins University School of Medicine
Elizabeth Nora, MD, PhD | 1993-2000
Medical Director ADA certified diabetes center, The Sheboygan Clinic; Aurora Medical Group, Endocrinology/Internal Medicine, Sheboygan, WI
PhD Advisor: Andrew Greene, PhD
Residency/Fellowship: Residency-Internal Medicine, Mayo Clinic; Fellowship-Endocrinology at the University of Wisconsin at Madison
Stacy Sjoberg, MD, PhD | 1993-2000
Physician, Ophthalmology, Great River Eye Clinic
PhD Advisor: Jay Neitz, PhD
Residency/Fellowship: Residency-Ophthalmology, Johns Hopkins Univ.; Fellowship-Corneal and external disease at the University of Iowa
Michael Peterson, MD, PhD | 1993-2001
Professor, Psychiatry, University of Wisconsin school of Medicine and Public Health; Residency Training Director; Director, Hospital Psychiatric Services, University Hospital in Madison
PhD Advisor: Jennifer Morris, PhD
Residency/Fellowship: Residency-Psychiatry, Univ. of Wisconsin at Madison; Fellowship-(Research) at Univ of WI-Madison; Fellowship-(Research) Wyeth-Health Emotions, Univ of WI-Madison
Anand Ganesan, MD, PhD | 1994-2001
Professor, Dermatology; Professor, Biological Chemistry; Director, Resident Education; Core Co-Director, Imaging Core, UCI Skin; Co-Director, Molecular Diagnostics and Therapeutics Program, Chao Family Comprehensive Cancer Center; Vice Chair, Research, Dermatology, University of California-Irvine
PhD Advisor: Joseph Barbieri, PhD
Residency/Fellowship: Residency-Dermatology, Univ. of Texas Southwestern; Fellowship-Physician Scientist Training Program, UT Southwestern Medical Center
Brent Fogel, MD, PhD | 1994-2003
Associate Professor of Neurology and Human Genetics; Director, Neurogenetics Clinic; Director, Ataxia and Neurogenetics Biobank Program; Director, Clinical Neurogenetics Research Center (CNRC) David Geffen School of Medicine, University of California-Los Angeles
PhD Advisor: Mark McNally, PhD
Residency/Fellowship: Residency-Neurology, Univ of California, Los Angeles; Fellowship-Neurogenetics, Univ of California, Los Angeles
James LaBelle, MD, PhD | 1995-2003
Associate Professor, Pediatrics Hematology & Oncology; Director, Hematopoietic Stem Cell Transplant Program, University of Chicago Pritzker School of Medicine
PhD Advisor: Robert Truitt, PhD
Residency/Fellowship: Residency-Pediatrics, Children's Hospital Boston; Fellowship-(Clinical) Hematology/Oncology at Children's Hospital/Dana-Farber Cancer Institute; Fellowship-(Research) Cancer Chem. Biology at Children's Hospital/Dana-Faber Cancer Institute
Christina Spofford, MD, PhD | 1995-2003
Associate Professor, Department of Anesthesiology, Medical College of Wisconsin
PhD Advisor: William Chilian, PhD
Residency/Fellowship: Residency-Anesthesiology, University of Iowa Hospitals and Clinics; Fellowship-Anesthesiology, University of Iowa Hospitals and Clinics
Kathryn Bollinger, MD, PhD | 1996-2003
Associate Professor of Ophthalmology, Director Glaucoma Service, Medical College of Georgia of Augusta University
PhD Advisor: Jay Neitz, PhD
Residency/Fellowship: Residency-Ophthalmology, Cleveland Clinic; Fellowship-Glaucoma, Cole Eye Institute, Cleveland Clinic Foundation
Ann Klopp, MD, PhD | 1996-2003
Associate Professor. Department of Radiation Oncology. The University of Texas MD Anderson Cancer Center
PhD Advisor: William Burns, PhD
Residency/Fellowship: Residency-Radiation Oncology, MD Anderson; Fellowship-(Clinical) Radiation Oncology, Univ of Texas MD Anderson Cancer Center; Fellowship-(Research) Tumor Microenvironment, Univ of Texas MD Anderson Cancer Center
Melissa Agoudemos, MD, PhD | 1996-2004
Pediatric Cardiology, St. Luke's Children's Cardiology: Meridian
PhD Advisor: Andrew Greene, PhD
Residency/Fellowship: Residency-Pediatrics, University of Iowa; Fellowship-Pediatric Cardiology, University of Iowa
M. Reza Taheri, MD, PhD | 1996-2004
Associate Professor of Radiology, Director of Neuroradiology. George Washington University Medical Center, Washington DC
PhD Advisor: David Harder, PhD
Residency/Fellowship: Residency-Radiology, Univ of Washington, Seattle; Fellowship-Neuroradiology, University of Washington, Seattle
Matthew Riese, MD, PhD | 1997-2004 (Deceased)
Associate Professor, Medicine (Hematology & Oncology) and Microbiology & Molecular Genetics, Medical College of Wisconsin; Associate Investigator, Versiti Blood Research Institute
PhD Advisor: Joseph Barbieri, PhD
Residency/Fellowship: Residency-Internal Medicine, Brigham & Women's Hosp., HMS; Fellowship-Hematology/Oncology, The University of Pennsylvania
Timothy Nelson, MD, PhD | 1998-2005
Associate Professor of Medicine and Pharmacology; Medical Director, Transplant Center, Regenerative Medicine Consult Service, Director, Todd and Karen Wanek Family Program for Hypoplastic Left Heart Syndrome, Mayo Clinic, MN
PhD Advisor: Ravi Misra, PhD
Residency/Fellowship: Residency-Clinical Investigator Track, Cardiology, Mayo Clinic; Fellowship-(Research) Department of Medicine, Division of Cardiovascular Medicine, Mayo Clinic
Matthew Anderson, MD, PhD | 1998-2006
Assistant Professor, Pathology, Medical College of Wisconsin; VP and Medical Director, Diagnostic Laboratories, Versiti Blood Center of Wisconsin
PhD Advisor: Jack Gorski, PhD
Residency/Fellowship: Residency-Anatomic Pathology/ Hematopathology, Stanford University School of Medicine; Fellowship-Pathology, Stanford University School of Medicine
Nicole Lohr, MD, PhD, FACC | 1998-2006
Assistant Professor, Medicine (Cardiovascular Medicine); Medical Director, Cardiovascular Clinical Trials, Medical College of Wisconsin
PhD Advisor: William Chilian, PhD and David Warltier, MD, PhD
Residency/Fellowship: Residency-Research Pathway in Internal Medicine, Medical College of Wisconsin; Fellowship-Cardiovascular Medicine, Medical College of Wisconsin
Sachin Patel, MD, PhD | 2001-2006
Professor, Psychiatry & Behavioral Sciences; Professor, Molecular Physiology & Biophysics and Pharmacology; Director, Division of Addiction Psychiatry, Vanderbilt University
PhD Advisor: Cecilia Hillard, PhD
Residency/Fellowship: Residency-Research-Track Residency Program, Psychiatry, Vanderbilt University
Michael Rosenblum, MD, PhD | 1998-2006
Associate Professor of Dermatology, Univ of California San Francisco, Department of Dermatology
PhD Advisor: Robert Truitt, PhD
Residency/Fellowship: Residency- Dermatology, UCSF; Fellowship-(Research) UCSF
Eric Gross, MD, PhD | 2000-2007
Assistant Professor of Anesthesiology, Perioperative and Pain Medicine, Stanford School of Medicine
PhD Advisor: Garrett Gross, PhD
Residency/Fellowship: Residency-Anesthesiology, Stanford University; Fellowship-Anesthesiology Research and Medicine, Stanford University
Sakkapol Ongwijitwat, MD, PhD | 2001-2007
Orthopedic Surgeon, Indianapolis, Indiana
PhD Advisor: Margaret Wong-Riley, PhD
Residency/Fellowship: Residency-Orthopedic Surgery, University of California - San Diego; Fellowship-Orthopedics/Joint preservation, Resurfacing & Replacement, Washington University School of Medicine in St. Louis
Carmen Bergom, MD, PhD | 2002-2008
Associate Professor, Radiation Oncology, Washington University School of Medicine in St. Louis
PhD Advisor: Peter Newman, PhD
Residency/Fellowship: Residency-Radiation Oncology, Medical College of Wisconsin
Michelle Lutz, MD, PhD | 2000-2008
Private Practice, Anesthesiologist, Iowa
PhD Advisor: Howard Jacob, PhD
Residency/Fellowship: Residency-Anesthesiology Physician-Scientist Program, Medical College of Wisconsin
Norman Taylor, MD, PhD | 2001-2008
Associate Professor of Anesthesiology, University of Utah School of Medicine, Salt Lake City, UT
PhD Advisor: Allen Cowley, Jr., PhD
Residency/Fellowship: Residency-Anesthesiology, Harvard, Massachusetts General Hospital, Research Scholarship Program
Scott Thomas McEwen, MD, PhD | 2003-2009
Assistant Professor, Pediatrics, Pediatric Nephrology, University of Minnesota
PhD Advisor: Julian Lombard, PhD
Residency/Fellowship: Residency-Pediatrics, Children's Memorial Hospital, Chicago, IL; Fellowship-Pediatric Nephrology, Ann & Robert H. Lurie Children's Hospital of Chicago
Brandon T. Larsen, MD, PhD | 2002-2009
Assistant Professor and Consultant, Department of Laboratory Medicine & Pathology. Mayo Clinic, Scottsdale, AZ
PhD Advisor: David Gutterman, MD
Residency/Fellowship: Residency-Pathology, University Medical Center, Tucson, AZ; Fellowship-Cardiovascular Pathology, Mayo Clinic, Rochester, MN; Fellowship-Pulmonary Pathology, Mayo Clinic, Rochester, MN
2010-2019
Matthew Mauck, MD, PhD | 2003-2010
Assistant Professor, Anesthesiology, University of North Carolina
PhD Advisor: Jay Neitz, PhD
Residency/Fellowship: Residency-Anesthesiology; Fellowship-Pain Medicine, Duke University
Jonathan Skarie, MD, PhD | 2004-2010
Ophthalmologist, Glaucoma Specialist, Ohio Eye Associates, Visiting Scientist, Cole Eye Center, The Cleveland Clinic
PhD Advisor: Brian Link, PhD
Residency/Fellowship: Residency-Ophthalmology, Medical College of Wisconsin; Fellowship-Glaucoma, University of Wisconsin-Madison
Shelley Amen, MD, PhD | 2001-2011
Assistant Professor, Psychiatry, Yale School of Medicine
National Center for PTSD, VA CT Healthcare System/Yale University
PhD Advisor: Cecilia Hillard, PhD
Residency/Fellowship: Residency-Psychiatry, Yale University
Mark E. Kohler, MD, PhD | 2002-2011
Pediatric Hematology & Oncology Instructor, Children's Hospital Colorado, Aurora, CO
PhD Advisor: Rimas Orentas, PhD
Residency/Fellowship: Residency-Pediatrics, Johns Hopkins University
Fellowship: Pediatric Oncology Branch, Center for Cancer Research, National Cancer Institute, National Institutes of Health, Bethesda, MD
Lance Relland, MD, PhD | 2002-2011
Assistant Professor, Anesthesiology and Pain Medicine, The Ohio State University College of Medicine
Anesthesiologist, Nationwide Children's Hospital
PhD Advisor: Calvin Williams, MD, PhD
Residency/Fellowship: Residency-Anesthesiology, The University of Washington
Jordan Van Orman, MD, PhD | 2003-2011
Anesthesiologist, Saskatchewan Health Authority, Canada
PhD Advisor: John Lough, PhD
Residency/Fellowship: Residency-Anesthesiology, The University of Toronto
Jason Maas, MD, PhD | 2004-2012
Anesthesiologist, Williamsburg, Virginia
PhD Advisor: John Auchampach, PhD
Residency/Fellowship: Residency-Anesthesiology, University of Virginia
Jamie Privratsky, MD, PhD | 2004-2012
Assistant Professor, Intensive Care Physician Scientist, Duke University Medical Center
PhD Advisor: Peter Newman, PhD
Residency/Fellowship: Residency-Anesthesiology; Fellowship-Critical Care, Duke University
Melissa Wagner Schuman, MD, PhD | 2004-2012
Assistant Professor, Clinical Psychiatry and Co-Director, Women's Mental Health Clinical Services, University of Illinois at Chicago
PhD Advisor: Jay Neitz, PhD
Residency/Fellowship: Residency-Triple-Board (Pediatrics/Psychiatry/Child Psychiatry) at the University of Cincinnati College of Medicine & Cincinnati Children's Hospital
William Gross, MD, PhD | 2005-2012
Assistant Professor, Anesthesiology and Neurology, Medical College of Wisconsin
PhD Advisor: Jeffrey Binder, MD
Residency/Fellowship: Residency-Anesthesiology, Medical College of Wisconsin
Christopher Roberts, MD, PhD | 2005-2013
Assistant Professor, Critical Care, Anesthesiology, Medical College of Wisconsin
PhD Advisor: Cecilia Hillard, PhD
Residency/Fellowship: Residency-Anesthesiology; Fellowship: Critical Care Medicine, Anesthesiology, Medical College of Wisconsin
Richard Lennertz III, MD, PhD | 2006-2013
Assistant Professor, Anesthesiology, UW Hospital and Clinics, Madison, WI
PhD Advisor: Cheryl Stucky, PhD
Residency/Fellowship: Residency-Anesthesiology, University of Iowa
Joshua Brown, MD, PhD | 2006-2014
Assistant Professor, Psychiatry and Neurology, Brown University, Providence, RI
PhD Advisor: Nashaat Gerges, PhD
Residency/Fellowship: Dual-Degree Program, Psychiatry/Neurology, Medical University of South Carolina
Tyce Kearl, MD, PhD | 2006-2014
Associate Professor, Medical College of Wisconsin
PhD Advisor: Bryon Johnson, PhD
Residency: Pediatrics, University of Wisconsin-Madison
Fellowship: Pediatric Oncology/Hematology, Medical College of Wisconsin
Kanwar Kaleka, MD, PhD | 2007-2015
Dual-Degree program, Psychiatry/Family Medicine, UCSD, San Diego
PhD Advisor: Nashaat Gerges, PhD
Residency/Fellowship: Dual-Degree program, Psychiatry/Family Medicine, UCSD, San Diego
Michael Larson, MD, PhD | 2008-2015
Assistant Professor, Radiology, UC Davis, CA
Chief Scientific Officer, Data Driven Diagnostic Services, Tucson, Arizona
PhD Advisor: Neil Hogg, PhD and Cheryl Hillary, MD
Residency/Fellowship: Radiology, University of Arizona-Tucson
Anusha Priya, MD, PhD | 2007-2015
Fellow: Regional Anesthesiology and Acute Pain Medicine, Hospital for Special Surgery, NY
PhD Advisor: Margaret Wong-Riley, PhD
Residency/Fellowship: Resident, Anesthesiology, Tufts Medical Center, Boston, MA
Erica Schmitt, MD, PhD | 2007-2015
Fellowship: Pediatric Rheumatology, Washington University School of Medicine in St. Louis
PhD Advisor: Calvin B. Williams, MD, PhD
Residency/Fellowship: Pediatrics, Washington University School of Medicine in St. Louis
Tarin Bigley, MD, PhD | 2008-2016
Fellowship: Pediatric Rheumatology, Washington University School of Medicine in St. Louis
PhD Advisor: Scott Terhune, PhD
Residency/Fellowship: Pediatrics, Physician-Scientist Training Program, Washington University School of Medicine in St. Louis
Scott Bugenhagen, MD, PhD | 2007-2016
Resident, Radiology Diagnostic, Washington University School of Medicine in St. Louis
PhD Advisor: Daniel Beard, PhD
Internship: Vanderbilt University Medical Center
Residency/Fellowship: Radiology Diagnostic, Washington University School of Medicine in St. Louis
Anthony Prisco, MD, PhD | 2008-2016
Cardiology Fellow, Physician-Scientist Training Program/Cardiovascular Disease Fellowship, University of Minnesota, MN
PhD Advisor: Andrew Greene, PhD
Residency/Fellowship: Internal Medicine, Physician-Scientist Training Program/Cardiovascular Disease Fellowship, University of Minnesota, MN
Sasha Prisco, MD, PhD | 2008-2016
Cardiology Fellow, Physician-Scientist Training Program/Cardiovascular Disease Fellowship, University of Minnesota, MN
PhD Advisor: Howard Jacob, PhD
Residency/Fellowship: Internal Medicine, Physician-Scientist Training Program/Cardiovascular Disease Fellowship, University of Minnesota, MN
Stephanie Rolsma, MD, PhD | 2007-2016
Resident, Pediatrics, Vanderbilt University Medical Center, Nashville, TN
Fellowship: Infectious Disease, Pediatrics, Vanderbilt University
PhD Advisor: Dara Frank, PhD
Residency/Fellowship: Pediatrics, Vanderbilt University Medical Center, Nashville, TN
Ishan Roy, MD, PhD | 2008-2016
Instructor of Physical Medicine and Rehabilitation
PhD Advisor: Michael Dwinell, PhD
Residency/Fellowship: Physical Medicine and Rehabilitation, McGraw Medical Center of Northwestern University, Chicago, IL
Max Cayo, MD, PhD | 2009-2017
Resident, General Surgery, Baylor University Medical Center
PhD Advisor: Stephen A. Duncan, DPhil
Residency/Fellowship: General Surgery, Baylor University Medical Center
Megan Determan, MD, PhD | 2009-2017
Resident, Obstetrics and Gynecology, Maricopa Medical Center, Phoenix, AZ
PhD Advisor: Stephen A. Duncan, DPhil
Residency/Fellowship: Residency-Obstetrics and Gynecology, Maricopa Medical Center, Phoenix, AZ
Mina Farahzad, MD, PhD | 2009-2017
Resident, Obstetrics and Gynecology, Emory University School of Medicine
PhD Advisor: Laura Cassidy, PhD
Residency/Fellowship: Residency-Obstetrics and Gynecology, Emory University School of Medicine
Bryce Schuler, MD, PhD | 2009-2017
Resident, Pediatrics, Vanderbilt University Medical Center
PhD Advisor: Howard Jacob, PhD
Residency/Fellowship: Residency-Pediatrics, Vanderbilt University Medical Center
Jessica Wilson, MD, PhD | 2010-2017
Resident, Radiation Oncology, University of North Carolina Hospitals, Chapel Hill
PhD Advisor: Carol Williams, PhD
Residency/Fellowship: Residency-Radiation Oncology, University of North Carolina Hospitals, Chapel Hill
Johnathan Ebben, MD, PhD | 2010-2018
Resident, University of Wisconsin at Madison, Internal Medicine Residency Physician Scientist Training Program (PSTP)
PhD Advisor: Ming You, MD, PhD
Residency/Fellowship: Residency-University of Wisconsin at Madison, Internal Medicine Residency Physician Scientist Training Program (PSTP)
Erin Kropp, MD, PhD | 2011-2018
Resident, University of Michigan Department Physician Scientist Training Program (PSTP) and is planning for a Hematology Oncology fellowship
PhD Advisor: Rebekah Gundry, PhD
Residency/Fellowship: Residency-University of Michigan Department Physician Scientist Training Program (PSTP)
Christopher Langlo, MD, PhD | 2010-2018
Resident: Ophthalmology, University of Louisville
PhD Advisor: Joseph Carroll, PhD
Residency/Fellowship: University of Louisville, Louisville, KY, Ophthalmology
Zachary Shaheen, MD, PhD | 2009-2018
Resident-University of Minnesota Pediatrics Physician Scientist Training Program (PSTP)
PhD Advisor: John Corbett, PhD
Residency/Fellowship: University of Minnesota Pediatrics Physician Scientist Training Program (PSTP)
Katherine Zappia, MD, PhD | 2010-2018
Resident, Cincinnati Children's Triple Board Residency in Pediatrics, Psychiatry and Child and Adolescent Psychiatry
PhD Advisor: Cheryl Stucky, PhD
Residency/Fellowship: Cincinnati Children's Triple Board Residency in Pediatrics, Psychiatry and Child and Adolescent Psychiatry
Steven Blinka MD, PhD | 2012-2019
Resident: Internal Medicine, University of Washington
PhD Advisor: Sridhar Rao, MD, PhD
Residency: Internal Medicine, University of Washington, Seattle, WA
Alexander Dayton MD, PhD | 2011-2019
Resident: Internal Medicine, University of Minnesota
PhD Advisor: Allen W. Cowley, Jr., PhD
Residency: Internal Medicine, University of Minnesota Medical School, Minneapolis, MN
Jonathan Jeschke, MD, PhD | 2010-2019
Resident: Pediatrics, University of Iowa Hospitals and Clinics
PhD Advisor: Calvin Williams, MD, PhD
Residency: Pediatrics, University of Iowa Hospitals and Clinics, Iowa City, IA
Raman Kutty, MD, PhD | 2010-2019
Resident: Internal Medicine, Arkansas State University
PhD Advisor: Ramani Ramchandran, PhD
Internship: Medical College of Wisconsin, Milwaukee, WI
Residency/Fellowship: Internal Medicine, Arkansas State University
Nathan Skinner, MD, PhD | 2012-2019
Resident: Radiology, Washington University, St. Louis
PhD Advisor: Matthew Budde, PhD
Internship: Medical College of Wisconsin, Milwaukee, WI
Residency/Fellowship: Radiology, Washington University, St. Louis
2020-2029
Ismael Banla, MD, PhD | 2012-2020
Resident: Radiation Oncology, Harvard Medical School
PhD Advisor: Chris Kristich, PhD and Nita Salzman, MD, PhD
Residency/Fellowship: Radiation Oncology, Harvard Medical School
Amin Bemanian, MD, PhD | 2013-2020
Resident: Pediatrics, University of Washington
PhD Advisor: Kirsten M. M. Beyer, PhD
Residency/Fellowship: Pediatrics, University of Washington
Eric Exner, MD, PhD | 2011-2020
Resident: Anesthesiology, University of Washington
PhD Advisor: Andrew Greene, PhD
Residency/Fellowship: Anesthesiology, University of Washington
Andrew Kadlec, MD, PhD | 2013-2020
Senior Associate, Vida Ventures, Los Angeles, CA
PhD Advisor: David Gutterman, MD
Residency/Fellowship: None
James Miller, MD, PhD | 2012-2020
Resident: Dermatology, Stanford University
PhD Advisor: Nancy Dahms, PhD
Internship: Gundersen Lutheran Medical Center
Residency/Fellowship: Dermatology, Stanford University
David Schauder, MD, PhD | 2012-2020
Resident: Dermatology, Vanderbilt University
PhD Advisor: Weiguo Cui, PhD
Residency/Fellowship: Dermatology, Vanderbilt University
Monica Thomas, MD, PhD | 2012-2020
Resident: Johns Hopkins University
PhD Advisor: Brian Volkman, PhD
Internship: Medical College of Wisconsin
Residency/Fellowship: Anesthesiology, Johns Hopkins University
Eric Darrah, MD, PhD | 2012-2021
Resident: Pathology, Medical College of Wisconsin
PhD Advisor: Vera Tarakanova, PhD
Residency/Fellowship: Pathology, Medical College of Wisconsin
Alison Huckenpahler, MD, PhD | 2013-2021
Resident: Psychiatry, Washington University in St Louis
PhD Advisor: Joseph Carroll, PhD
Residency/Fellowship: Psychiatry, Washington University in St Louis
Andrew Kleist, MD, PhD | 2012-2021
Resident: Pediatrics, Johns Hopkins University
PhD Advisor: Brian Volkman, PhD
Residency/Fellowship: Pediatrics, Johns Hopkins University
Natasha Moussouras, MD, PhD | 2013-2021
Resident: Pediatrics, University of Washington
PhD Advisor: Michael Dwinell, PhD
Residency/Fellowship: Pediatrics, University of Washington
Michael Olp, MD, PhD | 2013-2021
Resident: Pathology, University of Michigan
PhD Advisor: Brian Smith, PhD
Residency/Fellowship: Pathology, University of Michigan
Jason Siebert, MD, PhD | 2013-2021
Resident: Emergency Medicine, Albert Einstein School of Medicine
PhD Advisor: Subramanian Malarkannan, PhD
Residency/Fellowship: Emergency Medicine, Albert Einstein School of Medicine