Graduate School of Biomedical Sciences Celebrates 25 Years

Dr. Candice Klug and her mentor, Dr. Jimmy Feix, upon the conferral of her PhD from MCW in 1999.
The Medical College of Wisconsin and its predecessor institution, the Marquette University School of Medicine, have been granting doctor of philosophy and master's degrees since 1936. During the early 1990s, president and CEO T. Michael Bolger, JD, sought to further develop MCW's research initiatives by establishing a formal graduate school to allow a focus on training biomedical research scientists. "Creating a Graduate School of Biomedical Sciences was part of our efforts to enhance research," he said at the time.
The Graduate School of Biomedical Sciences was officially announced in February 1995. William R. Hendee, PhD, who also served as senior associate dean for research, was named founding dean and led the School for 11 years. "If you're going to have graduate students, you really need a graduate school that has all the activities to train a PhD scientist," Hendee remarked.
Owen Griffith, PhD, held the position of dean of the Graduate School from 2006-2010. During that time, he also served as professor of biochemistry. In May 2010, after a national search, Ravi Misra, PhD, MCW professor of biochemistry, was named dean of the Graduate School – a position he continues to hold today.
During its first official year, the Graduate School had about 100 enrolled students, primarily in basic science PhD programs. One of those students, Candice Klug, PhD '99, (pictured below), is now a professor of biophysics at MCW and serves as director of the department's PhD program. Of note, she directs the same program from which she received her doctorate education and training.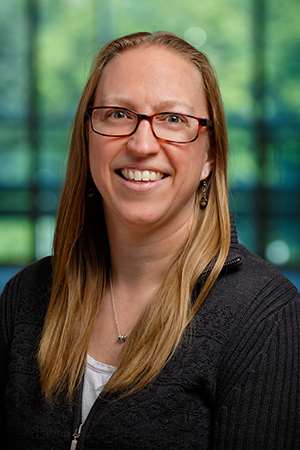 While working at MCW as a research technician after receiving her bachelor of science degree in chemistry from the Massachusetts Institute of Technology, Dr. Klug was recruited to the biophysics PhD program by James Hyde, PhD, professor emeritus of biophysics and founder of the National Biomedical Electron Paramagnetic Resonance (EPR) Center. "There was a flourishing program going on in biophysics. It was a really supportive environment to come into," Dr. Klug shares. After four years of education and training under her mentor, Jimmy Feix, PhD, professor of biophysics, Dr. Klug received MCW's Outstanding Dissertation Award, which is presented annually by the Graduate School faculty to a single graduating student.
Dr. Klug completed a postdoctoral fellowship in ophthalmic biophysical chemistry at the Jules Stein Eye Institute, University of California-Los Angeles School of Medicine, in 2001. That same year, she joined the MCW faculty as assistant professor of biophysics; she was promoted to associate professor in 2005 and professor in 2012, and has served as director of the National EPR Center since 2016. In September 2020, Dr. Klug was awarded the James S. Hyde Professorship in Biophysics.
By the beginning of 2000, the number of students enrolled in graduate programs at MCW had doubled. The growth in students was supported in part by additional program offerings, including several joint-degree programs with the Milwaukee School of Engineering and Marquette University. Various departments simultaneously were increasing their respective faculty representation during this time as well, which led to Dr. Klug's recruitment back to MCW. "To be able to come back not only to my home state, but to the one place in the country that would best support my research, was amazing," Dr. Klug notes.
The Graduate School offers students the opportunity to train with nationally recognized biomedical and health researchers while contributing to cutting-edge, highly translational medical research and improved public and community health. And it is a major component of the research engine of MCW that drives discovery – fueling the passion and creativity that lies within students and faculty to find solutions to the world's most pressing health challenges.
Currently, MCW's Graduate School of Biomedical Sciences boasts nearly 400 students enrolled in 22 degree-granting and graduate certificate programs, including several joint programs with Marquette. The Graduate School also has agreements with several higher education institutions throughout Wisconsin to offer a dual baccalaureate and Master of Public Health degree.
The Graduate School continues to expand its educational breadth, with recent programs such as the Master in Medical Physiology and Master of Science in Global Health Equity that began in 2016 and 2020, respectively. Additional programs scheduled to begin in fall 2021 include the Doctor of Public Health; Master of Science in Genetic Counseling; Master of Science in Precision Medicine; Master of Arts in Biostatistics and Data Science; and a Certificate in Neuroethics.
"Our current offerings in the Graduate School reflect MCW's desire to become a destination for a broad range of health sciences training," shares Dr. Misra. In addition to the programmatic growth that has occurred during his tenure as dean, there has been an institution-wide expansion of centralized resources for students; academic support, career services, and health and wellbeing have been especially significant. "The landscape for graduate and professional students, particularly those in health-related programs, has changed dramatically over the years. Our ability to grow and adapt to meet the ever-evolving needs of our learners is crucial – and something we have been committed to in the Graduate School as well as the institution," he adds.
As the Graduate School continues to grow and evolve, Dr. Klug is confident that its strong focus on mentorship is one of its greatest strengths. "Because I had a quality graduate experience at MCW, I feel compelled to provide just as good of an experience, if not better, to our currently enrolled students," she shares.
Degrees Conferred by the Graduate School, 1995-2020
PhD – 645
MPH – 706
MS – 555
MA – 193
MMP – 64
– Anthony J. Perez