Cardiologist joins Froedtert & the Medical College of Wisconsin Health Network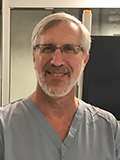 Milwaukee, Mar. 6, 2018 – Michael Salinger, MD, FACC, FSCAI joins the Froedtert & the Medical College of Wisconsin health network in the Division of Cardiology, bringing distinguished expertise in treating structural heart disease. Dr. Salinger provides care for the full scope of cardiac conditions and has a high level of experience with transcatheter aortic valve replacement and mitral valve repair.
With Dr. Salinger's arrival, the Froedtert & the Medical College of Wisconsin health network will begin providing MitraClip to patients with mitral valve disease. The MitraClip treatment is an alternative to open and robotic mitral valve repairs and is for those who are at very high risk or inoperable for open heart surgery. It is available at only select hospitals across Wisconsin. Dr. Salinger is trained and certified in MitraClip and has conducted various research investigations on the treatment.
"We are very pleased to welcome Dr. Salinger and excited about the new opportunities for patient care his arrival brings to our team," said David S. Marks, MD, MBA, Professor of Medicine and Radiology, Vice Chair of Clinical Programs and Chief of Cardiovascular Medicine at MCW. "With the addition of Dr. Salinger, we will continue to extend our reach in improving cardiovascular health for people of southeastern Wisconsin and beyond."
Dr. Salinger most recently served as an assistant professor of medicine at both University of Chicago Pritzker School of Medicine and Northwestern University Feinberg School of Medicine and co-director of the Endovascular Center, director of the Comprehensive Cardiac Care Center and director of Interventional Cardiology at Evanston Northwestern Healthcare/NorthShore University HealthSystem. He is board-certified in Internal Medicine, Cardiovascular Disease, Critical Care Medicine and Interventional Cardiology.
He is a fellow of the American College of Cardiology and Society for Cardiac Angiography and Interventions, has authored or co-authored many publications and delivers presentations throughout the country.
Dr. Salinger completed a post-graduate internship and residency at Northwestern University Medical School, followed by cardiology and critical care medicine fellowships at Northwestern Memorial Hospital in Chicago. He then served as a clinical associate in Interventional Cardiology and Coronary Angioplasty at the Cleveland Clinic Foundation. He received his doctor of medicine from Loyola Stritch School of Medicine in Maywood, Illinois, and his undergraduate degree from Northwestern.
Keep up with the latest news. Sign up for Newsroom Alerts.
Latest press releases, stories and resources.
MCW Media Contacts
The media relations team at MCW is happy to assist in coordinating experts for interviews. Please reach out to us at: