Cardiothoracic surgeon joins Froedtert & the Medical College of Wisconsin health network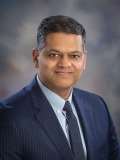 Milwaukee, Jan. 18, 2018 – Goya V. Raikar, MD FACS, FCCP, joins the Froedtert & the Medical College of Wisconsin health network in the Division of Cardiothoracic Surgery, and brings a wealth of experience in robotic mitral valve repair.
Dr. Raikar performed the first robotic assisted mitral valve repair operation in the St. Paul-Minneapolis area. Robotic surgery offers patients the benefits of smaller incisions, less pain, shorter hospital stays and better outcomes.
"We are pleased to add a pioneer of robotic surgery to the Froedtert & the Medical College of Wisconsin health network that will benefit patients in southeastern Wisconsin and beyond," said Paul Pearson, MD, PhD, Chief of Cardiothoracic Surgery at Froedtert Hospital and Professor of Surgery at Medical College of Wisconsin. "With the addition of Dr. Raikar and the strength of the team, the Division of Cardiothoracic Surgery will look to begin offering a Robotic (Da Vinci system) Mitral Valve Repair Program at Community Memorial Hospital."
In addition to mitral valve repair, Dr. Raikar's interests include minimally invasive surgical approaches for coronary artery bypass graft, cardiac tumors, adult congenital defect repairs and cardiac arrhythmia procedures.
Dr. Raikar most recently served as a thoracic surgeon in the Division of Cardiothoracic Surgery at Oklahoma Heart Hospital Physicians, and as a consultant in the Department of Cardiovascular Research Oklahoma Heart Hospital Research Foundation. He was also a professor of surgery at the University of Oklahoma College of Medicine. Previously, he practiced cardiothoracic surgery at Regions Hospital in St. Paul, Minnesota; Northern Heart and Vascular Institute in Redding, California; Marshfield Clinic in Wausau, Wisconsin and Valley Heart Associates in Modesto, California. He is board-certified in both general and cardiac and thoracic surgery.
He is a member of many professional societies and services, including the American College of Surgeons and Society of Thoracic Surgery. He sits on the editorial board of The Heart Surgery Forum and is a past president of the Minnesota Society of Thoracic Surgery. He has authored or co-authored many publications and delivers presentations throughout the country.
Dr. Raikar completed a general surgery residency at Mayo Clinic in Rochester, Minnesota, followed by a cardiothoracic surgery fellowship at University of Wisconsin Hospital in Madison. He received his doctor of medicine from University of Nebraska-Medical Center in 1991, and his bachelor of science from University of Nebraska in 1987.
Keep up with the latest news. Sign up for Newsroom Alerts.
Latest press releases, stories and resources.
MCW Media Contacts
The media relations team at MCW is happy to assist in coordinating experts for interviews. Please reach out to us at: