Dr. Ivor Benjamin Awarded Chairman's Award by American Heart Association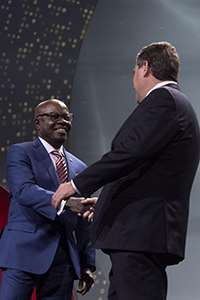 Milwaukee, Nov. 14, 2022 – The American Heart Association presented its Chairman's Award to Ivor J. Benjamin, MD, FAHA, of the Medical College of Wisconsin (MCW). He was recognized with the award during the Presidential Session on Sunday, Nov. 6 at the Association's Scientific Sessions 2022.
Dr. Benjamin was recognized with this award for his role in helping shape the field of cardiovascular science for over three decades in addition to his dedication to fostering a more inclusive and diverse environment in healthcare.
"I'm humbled by this recognition from the American Heart Association," said Dr Benjamin. "As a physician, I feel it's my duty to improve the future of care delivery and patient outcomes, and as a researcher, to discover new treatments and to challenge existing dogmas. Without doubt, I think the best way to accomplish such aspiring goals are to collaborate with thought leaders and by encouraging a more diverse pool and inclusive environment from which the next generation of physicians and scientists will strive."
Keep up with the latest news. Sign up for Newsroom Alerts.
Latest press releases, stories and resources.
MCW Media Contacts
The media relations team at MCW is happy to assist in coordinating experts for interviews. Please reach out to us at: