Fabry disease clinical trial led by Dr. Medin shows promising results
The results of a first-in-the-world clinical trial of a gene therapy for Fabry disease, led by Jeffrey A. Medin, PhD, MACC Fund Professor of Pediatrics and Biochemistry at the Medical College of Wisconsin, were published today in the scientific journal Nature Communications.

Fabry disease is a rare inherited enzyme deficiency that can damage major organs and shorten lifespan. People with Fabry disease have a gene called GLA that doesn't function as it should; as a result, their bodies are unable to make the correct version of a particular enzyme that breaks down a fat called Gb3. A buildup of Gb3 can lead to problems in the kidneys, heart and brain.

Dr. Medin, in collaboration with other researchers in Canada, collected a quantity of the patients' own blood stem cells, used a specially engineered virus to augment those cells with copies of the fully functional gene that is responsible for making the enzyme, then transplanted those cells back to the patients.

They then followed each patient for more than a year, and one patient for more than three years. Results have shown great success. Each patient tolerated treatment well and has been able to come off normal bi-weekly enzyme infusions. Their bodies now produce the enzyme 24 hours a day, every day, instead of just on their normal infusion day.

This treatment has the potential to improve quality of life significantly for Fabry patients around the world, and it provides a platform for treatment of other inherited disorders by this same technology. Not to mention the cost savings are substantial, as well, as enzyme therapy for Fabry disease costs approximately $250,000 per patient per year.

"The Vector Lab at MCW that was outfitted to produce this groundbreaking platform allows implementation of this technology right here in Milwaukee for individuals suffering from this disorder and others like it," Dr. Medin said. "Clinical trials like this are vitally important to understanding new treatments and discovering new potential."

The project was funded by the Canadian Institutes of Health Research and the Kidney Foundation of Canada. Sites where the trial was performed include Alberta Health Services in Calgary, the Queen Elizabeth II Health Sciences Centre in Halifax and at the University Health Network in Toronto. The technology is licensed to AVROBIO, Inc.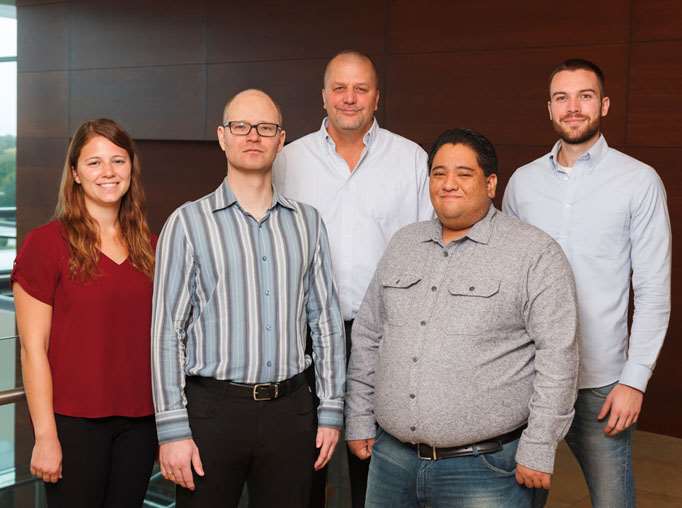 Members of the MCW Vector Facility that supported this trial are (left to right): Kristy Gargulak, BSc, Head of Quality Assurance; William McKillop, PhD, Facility Manager; Jeffrey Medin, PhD, Director; Cesar Moncada, MSc, Head of Production, and Andrew Liermann, BSc, Production Operator.
Keep up with the latest news. Sign up for Newsroom Alerts.
Latest press releases, stories and resources.
MCW Media Contacts
The media relations team at MCW is happy to assist in coordinating experts for interviews. Please reach out to us at: