Local Hispanic woman attends Hispanic Heritage Month reception at White House
Note: Pictures from the event available upon request.

Carla Echeveste, a member of the All of Us Research Program at the Medical College of Wisconsin (MCW), is attending the Hispanic Heritage Month reception at the White House this afternoon.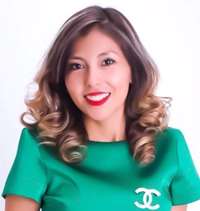 Echeveste was the 2017 Hispanic Woman of the Year - Wisconsin's youngest Hispanic woman to hold this honor - and graduated from Alverno College and Alexander Hamilton High School in Milwaukee. While at Alverno College, she was elected as President for Hispanic Women of Alverno. Upon encountering her mother's diagnosis with breast cancer, she transitioned into a pre-medicine and neuroscience curriculum and recently finished the Post-baccalaureate Premedical Studies Certificate Program at the University of Wisconsin-Milwaukee (UWM) in May 2017.
Echeveste is highly involved in science, technology, engineering, mathematics, and medicine (STEM+M) awareness. She is actively engaged in recruitment and retention efforts to advance minority participation in the fields of medicine and business. She has also pushed to increase preparedness of Hispanic studies to lead or start businesses. Echeveste has promoted higher education with an emphasis on STEM+M via the 2017 Student Educations Forum for parents and college students to get acquainted with established Hispanic professional and career paths. Besides her commitment to the medical community and volunteering her time with key Hispanic organizations, including UMOS, she served as a bilingual ophthalmology clinic assistant to Dr. Collis-Geers, MD an eye surgeon and physical for Sixteenth Street Community Health Centers. Echeveste has also been involved in cancer research, most recently under Dr. Melinda Stolley, PhD and Kathleen Jensik, MSW, PhD candidate at MCW, specifically modifying "Cancer 101", a cancer education curriculum, to be implemented for the Hispanic population in Southeastern Wisconsin.
Currently, she is in clinical research at the Medical College of Wisconsin for the All of Us Research Program, which is a historic and ambitious effort to gather data from one million or more people living in the United States to accelerate research and improve health. By taking into account individual differences in lifestyle, environment, and biology, researchers will uncover paths toward delivering precision medicine.
Echeveste will be in attendance at the White House as she was invited to attend the 2018 Hispanic Heritage Month reception. While there she will not only represent the institution, the state of Wisconsin, Hispanics, but also the many great advances happening with All of Us.
Keep up with the latest news. Sign up for Newsroom Alerts.
Latest press releases, stories and resources.
MCW Media Contacts
The media relations team at MCW is happy to assist in coordinating experts for interviews. Please reach out to us at: