Medical College of Wisconsin names Senior Vice President of University Engagement and Strategic Planning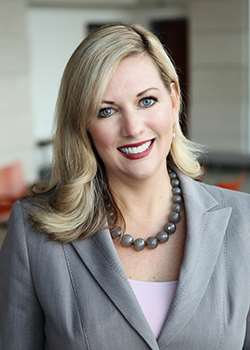 Mara Lord, MBA, has been named Senior Vice President, University Engagement and Strategic Planning, for the Medical College of Wisconsin (MCW), effective Sept. 1, 2019 . As Senior Vice President, University Engagement and Strategic Planning, Lord will help advance MCW's impact as a leading health sciences university. She will provide leadership for University strategic planning, communications, brand strategy and external engagement.
Lord has served in several leadership roles for MCW over the past decade, including: Director of Strategic Planning; Chief of Staff; Vice President for Communications, Experience and Brand Strategy; and most recently Interim Chief Development Officer. She brings more than 25 years of experience in communications, strategic planning and leadership to this new role, having worked previously with the University of Washington, Community Birth & Health (Seattle), Costa Rica Tourism, Summerfest/Milwaukee World Festival, Inc., WISN-TV and ABC.
"We believe partnership is essential to a thriving community and healthier world. Mara's highly collaborative and creative approach will amplify our capacity to make strategic connections that contribute to the health and vitality of our community," said John R. Raymond, Sr., MD, president and chief executive officer of MCW.
Lord earned her Bachelor of Arts in the Comparative History of Ideas from University of Washington and her Master of Business Administration from the University of Wisconsin-Milwaukee Lubar School of Business. She is working toward a Doctorate in Public and Community Health at MCW.
Keep up with the latest news. Sign up for Newsroom Alerts.
Latest press releases, stories and resources.
MCW Media Contacts
The media relations team at MCW is happy to assist in coordinating experts for interviews. Please reach out to us at: