Medical College of Wisconsin Names Vice President and Chief People Officer
Milwaukee, Jan. 5, 2020 – Adrienne Mitchell, MBA, has been named vice president and chief people officer at the Medical College of Wisconsin (MCW), effective Jan. 1, 2021. In this role, Mitchell will oversee and direct strategy and operations of the Human Resources (HR) Department and the Office of Faculty Affairs (OFA) to oversee the development, well-being and advancement of faculty and staff.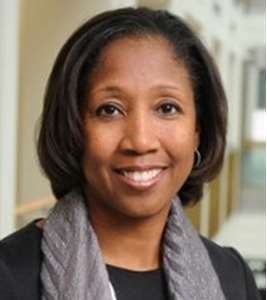 "The people at MCW are most important in shaping the health of our community, Wisconsin and the world," said John R. Raymond, Sr., MD, president and CEO of MCW. "Adrienne brings proven ability to lead human resources strategy and will be instrumental in driving and guiding our strategic objectives. Her deep understanding of academic medicine and passion for fostering a diverse and inclusive workforce will be instrumental in further fueling health and science innovation, growth and opportunity at MCW."
Specifically, she will:
Evaluate and advise on the impact of long-range planning, particularly related to workforce planning;
Work with the chief diversity and inclusion officer to champion efforts to ensure the workforce is reflective of the community served and that a culture of inclusion is understood;
Collaboratively identify metrics and data to measure the success of diversity and inclusion initiatives;
Connect the employer brand to the mission, both internally and within the community;
Ensure HR and OFA practice and strategies are aligned with MCW's overall strategic plan, as well as with MCW's affiliate partners;
Represent HR and OFA in optimization of technology and financial systems, ensuring alignment between the needs of the teams and organizational-wide resources;
Build and maintain key relationships with department chairs, department administrators and MCW administration to ensure that customer needs are met.
Prior to joining MCW, Mitchell served as vice president, chief Human Resources and Information Technology at Wayne Health (formerly Wayne State University Physician Group) in Detroit. During her more than 25-year career in human resources, Mitchell has also held positions of increasing responsibility and leadership at Rush University Medical Center and University of Chicago.

Mitchell earned a Master of Business Administration degree with a concentration in Human Resources and Health Sector Management from DePaul University in Chicago and a Bachelor of Business Administration degree with a major in Computer Systems Management from Eastern Michigan University.
Keep up with the latest news. Sign up for Newsroom Alerts.
Latest press releases, stories and resources.
MCW Media Contacts
The media relations team at MCW is happy to assist in coordinating experts for interviews. Please reach out to us at: