Medical College of Wisconsin Pharmacy School Dean, George E. MacKinnon, III, Receives 2022 Winston J. Durant Lecture Award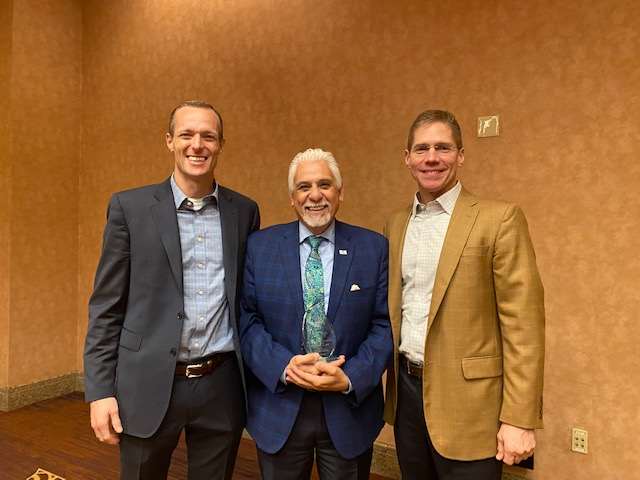 Milwaukee, Dec. 8, 2022 – George E. MacKinnon III, PhD, MS, RPh, FASHP, FNAP, has been awarded the 2022 Winston J. Durant Lecture Award from the University of Wisconsin (UW) Health Pharmacy Department. The Winston J. Durant Lecture Award is bestowed annually upon one past UW Hospital pharmacy resident who exemplifies with significant contributions to pharmacy resident training and/or the mentoring of future leaders, advancement of pharmacy practice and healthcare systems, and demonstration of leadership within the profession.
MacKinnon was presented with the award at the annual Winston J. Durant Lecture Award Luncheon during the ASHP Midyear Clinical Meeting on Tuesday, December 6, 2022. The Winston J. Durant Lecture Award Luncheon is an annual event with each award recipient selected by past recipients of the award.
Dr. MacKinnon was appointed Founding Dean of the School of Pharmacy at the Medical College of Wisconsin (MCW) in 2015. He received his BS (Pharmacy) and MS (Hospital Pharmacy) from the University of Wisconsin-Madison School of Pharmacy, completing two-years post-graduate pharmacy residency training at University of Wisconsin Hospital & Clinics. He earned his PhD in Educational Leadership and Policy Studies from Loyola University Chicago. He is a recipient of an honorary Doctor of Medical Sciences from the Medical College of Wisconsin in 2022. He is a Fellow of the American Society of Health-System Pharmacists (FASHP) and Distinguished Scholar Fellow of the National Academies of Practice (NAP).
Dr. MacKinnon leads the MCW School of Pharmacy delivering a dynamic and innovative Doctor of Pharmacy (PharmD) curriculum. Post-graduate residency placement rates for graduates have increased the past three years from 72% to now 93%, affirming that MCW is producing PharmD graduates that aspire and are accepted in post-graduate training programs nationally. He works to expand pharmacist care models in collaborative approaches with colleagues at Children's Wisconsin, Froedtert Health, Zablocki VA in Milwaukee, and other clinical partners.
Dr. MacKinnon has assisted in the establishment of four academic pharmacy programs, two as founding dean. He has participated in four federally funded interprofessional Training and Educational Grants involving medicine, nursing and pharmacy. His research supports expanding pharmacist care models (e.g., immunizations, primary care, pharmacogenomics) in collaborative approaches to team-based care and principles of team-science.
He advocates for pharmacist models of care at state and national levels. Dr. MacKinnon played an instrumental role in modifying immunization regulations for student pharmacists and advancing legislation that resulted in pharmacists begin recognized as non-physician providers under Medicaid in Wisconsin in 2020 and 2021 respectively. He serves on the Board of Directors of the Pharmacy Society of Wisconsin and Vivent Health. In 2021, he was recognized as a "Notable Heroes in Health Care," by Milwaukee BizTimes for work in immunizations both pre- and post-pandemic.
Keep up with the latest news. Sign up for Newsroom Alerts.
Latest press releases, stories and resources.
MCW Media Contacts
The media relations team at MCW is happy to assist in coordinating experts for interviews. Please reach out to us at: