Medical College of Wisconsin Dean begins national role
Inducted as Chair of the Council of Deans of the Association of American Medical Colleges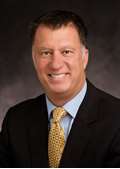 Milwaukee, Nov. 8, 2017 – As Dean of the School of Medicine, Provost and Executive Vice President, Joseph E. Kerschner, MD, helps MCW excel as an innovative and forward-thinking driver of an academic medical center. Now, medical schools around the nation will benefit from his strong leadership as he assumes his role as chair of the Council of Deans (COD) of the Association of American Medical Colleges (AAMC), effective Nov. 8, 2017.
Comprising deans from more than 150 medical schools in the United States and Canada, the COD focuses on improving medical education, advancing academic medicine and supporting the deans of individual medical schools toward excellence in education, research and patient care. As chair, Dr. Kerschner will lead the work of the COD and serve as its representative on the AAMC Board of Directors. He will collaborate with other AAMC council and professional development groups to develop and implement activities.
Since November 2015, Dr. Kerschner has served as COD chair-elect. After two years as chair, he will become immediate-past chair for two more years.
This appointment is a meaningful recognition of Dr. Kerschner's tremendous leadership at MCW, where he nurtures top talent, spearheads initiatives to build new strategic partnerships and addresses the challenges facing academic medicine. His expertise will benefit the whole of academic medicine and the challenges facing its many missions.
"I am grateful for this opportunity to continue to work for the advancement of academic medicine with my other dean colleagues serving with me on the Council of Deans Administrative Board, and to continue to link innovative ideas happening here at MCW and elsewhere to the broader community of medical schools and academic medical centers," said Dr. Kerschner.
Dr. Kerschner was named dean of the MCW School of Medicine in November 2011 after serving as interim dean for 11 months. Prior to that, he served for five years as CEO of Children's Specialty Group, a pediatric practice and joint venture of MCW, and Children's Hospital of Wisconsin. He also served as executive vice president for Children's Hospital and Health Systems and as MCW's senior associate dean for clinical affairs – Children's Specialty Group and interim chair and professor of otolaryngology and communication sciences.
Dr. Kerschner, a pediatric board-certified otolaryngologist, is a nationally-recognized leader in academic medicine. He is a peer-recognized Best Doctor and has served on scientific review panels for the National Institutes of Health's (NIH) National Institute on Deafness and Other Communication Disorders. Additionally, he is an NIH-Funded scientist.
Dr. Kerschner earned his bachelor of science degree from the University of Wisconsin-Milwaukee and graduated from MCW's medical school. He then completed a residency in otolaryngology at the University of South Florida in Tampa. After then returning to MCW to complete a fellowship in pediatric otolaryngology at Children's Hospital of Wisconsin, he joined the MCW faculty in 1998.
The AAMC is a not-for-profit association representing all 149 accredited U.S. and 17 accredited Canadian medical schools, nearly 400 major teaching hospitals and health systems, including 51 Department of Veterans Affairs medical centers, and nearly 80 academic and scientific societies. Through these institutions and organizations, the AAMC represents 167,000 faculty members, 88,000 medical students, and 124,000 resident-physicians.
Keep up with the latest news. Sign up for Newsroom Alerts.
Latest press releases, stories and resources.
MCW Media Contacts
The media relations team at MCW is happy to assist in coordinating experts for interviews. Please reach out to us at: