I Got into the Labs and the Research Bug Got Me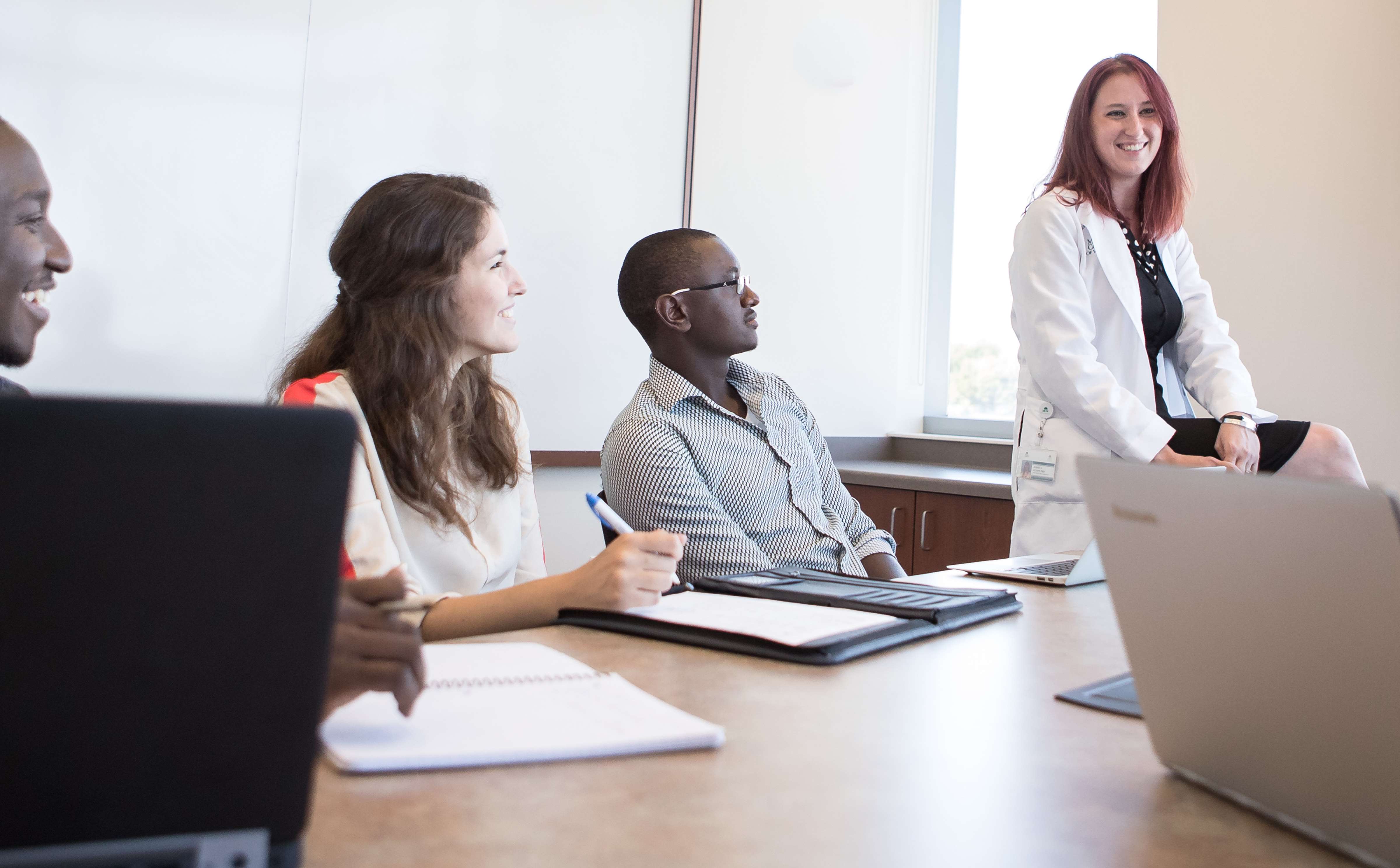 Jessica Olson, PhD, was working as a teaching assistant at Northern Illinois University while finishing her master's degree in virology when it happened. "I got into the labs and the research bug got me. I wanted to move from researching plants to humans, so I came to MCW and did a tour. There were heart cells derived from patients beating in a lab. It was really incredible. I had never seen live, human cells before."
From that moment on, Jessica was hooked. She earned her PhD in Physiology at the Medical College of Wisconsin (MCW), as well as a master's degree in Public Health, before joining the faculty as an Assistant Professor in the Institute for Health and Equity, Division of Community Health.
Today, she is working with the Advancing a Healthier Wisconsin's Cross-Cutting Initiative , which aims to reduce breast and lung cancer throughout Wisconsin by integrating community knowledge, research and education innovations. "Cancer-related health disparities are complex," said Jessica. "It's a mix of genetic issues, lack of access to high-quality, culturally competent care, and many factors that we will need to work as a team to identify."
According to Jessica, connecting researchers, educators and local communities will be key in making an impact. The Cross-Cutting Initiative will examine the multi-faceted root causes of cancer disparities and create innovative approaches to addressing them. The goal is for individuals with diverse expertise to share knowledge and work together towards meaningful change. At MCW, Jessica has met great researchers and community leaders working to determine how to overcome barriers to high-quality care, and is optimistic about the likelihood of the Cross-Cutting Initiative's success.
"It's exciting because I've never seen an approach like this before," said Jessica. "This is a true collaboration across communities that are typically siloed. We are also listening to residents, health workers, and key stakeholders in the community to leverage the best ideas and approaches from all areas before implementing."
In addition to her work to reduce disparities in cancer, Jessica is passionate about educational outreach, especially in the K-12 population. She is currently working on a grant that will educate students about cancer prevention across Wisconsin and empower them as health advocates that bring knowledge home to their families. She has helped establish educational outreach programs such as DRIVE (Delivering Research Innovations Via Experience) which partners two schools from rural and urban Wisconsin communities and encourages them to pursue a topic of interest to them using the resources and expertise available at MCW.
To date, students have pursued impactful projects that include efforts to reduce teen pregnancy, provide resources for food allergy sufferers, and increase donations to homeless shelters. Jessica has also partnered with individuals to establish two engaging lecture series in Southeastern Wisconsin: The Conversations with Scientists Series and the Underground Science Society.
"I chose MCW for my PhD because the collaborative culture was real," said Jessica. "I've always been able to reach out to colleagues and learn from their expertise. I don't think I would have found that anywhere else. There's a home for all of your ideas at MCW. They may get refined and made better. But, if you have a passion for something, there will be someone to help you make it happen."
Jessica is a self-described food nerd who is married to a recruiting leader in the MCW Graduate School. They have two children.