Saturday Clinic for the Uninsured
Saturday Clinic for the Uninsured is a primary care clinic run by medical and pharmacy students that offers free health services to the uninsured patients of Milwaukee.
Primary care and specialty appointments are available. We see patients by virtual Telehealth appointments during the week. We offer in-person visits on Saturday mornings from 8-11 a.m.
Please call our clinic phone (414) 588-2865 to schedule an appointment.
Services We Offer
Services provided at Saturday Clinic:
Management of chronic health conditions such as high blood pressure, diabetes, and asthma
Free or Discounted prescription medication refills
Pharmacy consults
Social work consults
Lab orders for routine laboratory work (performed at Ascension Columbia St. Mary's Hospital)
Lab orders for sexually transmitted infection screening, including HIV testing (performed at Ascension Columbia St. Mary's Hospital)
Routine health maintenance physicals and screening including Pap Smears
In-house specialty services by appointment only:
Allergy
Cardiology
Dermatology – Skin Care
Endocrinology
Gastroenterology (GI)
General Surgery
Gynecology – Women's Health Exams
Hand Surgery
Hematology
Neurology
Ophthalmology – Eye Care
Otolaryngology (ENT)
Physical Medicine & Rehabilitation (PM&R)
Psychiatry – Mental Health Services
Rheumatology
Urology
*Please note, this list is subject to change. For the most updated list of specialty services offered at our clinic, please call our clinic (414) 588-2865. In some cases, if a specialty service at SCU is not available, we can refer out to other clinics in the area which may offer that service.
Things to Know
Notes on Appointments:
Appointments may take longer because we aim to provide holistic and comprehensive care.
Please call our clinic phone (414) 588-2865 to schedule an appointment.
Notes on Our Clinic:
This is a teaching clinic; under faculty supervision, medical and pharmacy students are responsible for day-to-day operations and participate in providing patient care and education.
We see patients who attest to the fact that they have NO health insurance coverage. Unfortunately, we cannot see patients who have partial coverage, including Medicare, Medicaid, BadgerCare, or Title 19 insurance.
Patients and volunteers coming into clinic are required to wear a mask and will be screened for COVID-19 symptoms and exposure.
Notes on Our Services:
We do provide services for children without health insurance by appointment. Please call the clinic phone at (414) 588-2865 to make a pediatric appointment.
We do not provide prenatal care. However, if you have questions about prenatal care, please call our phone number and we can assist with resources.
We can provide interpreter services to address language barriers.
We DO NOT offer COVID-19 testing.
Visiting Our Clinic
The clinic is located at 1121 E. North Ave., at the southeast corner of North Ave. and Humboldt Ave. in the Ascension Columbia St. Mary's Family Health Center. There is street parking and a parking lot adjacent to the building.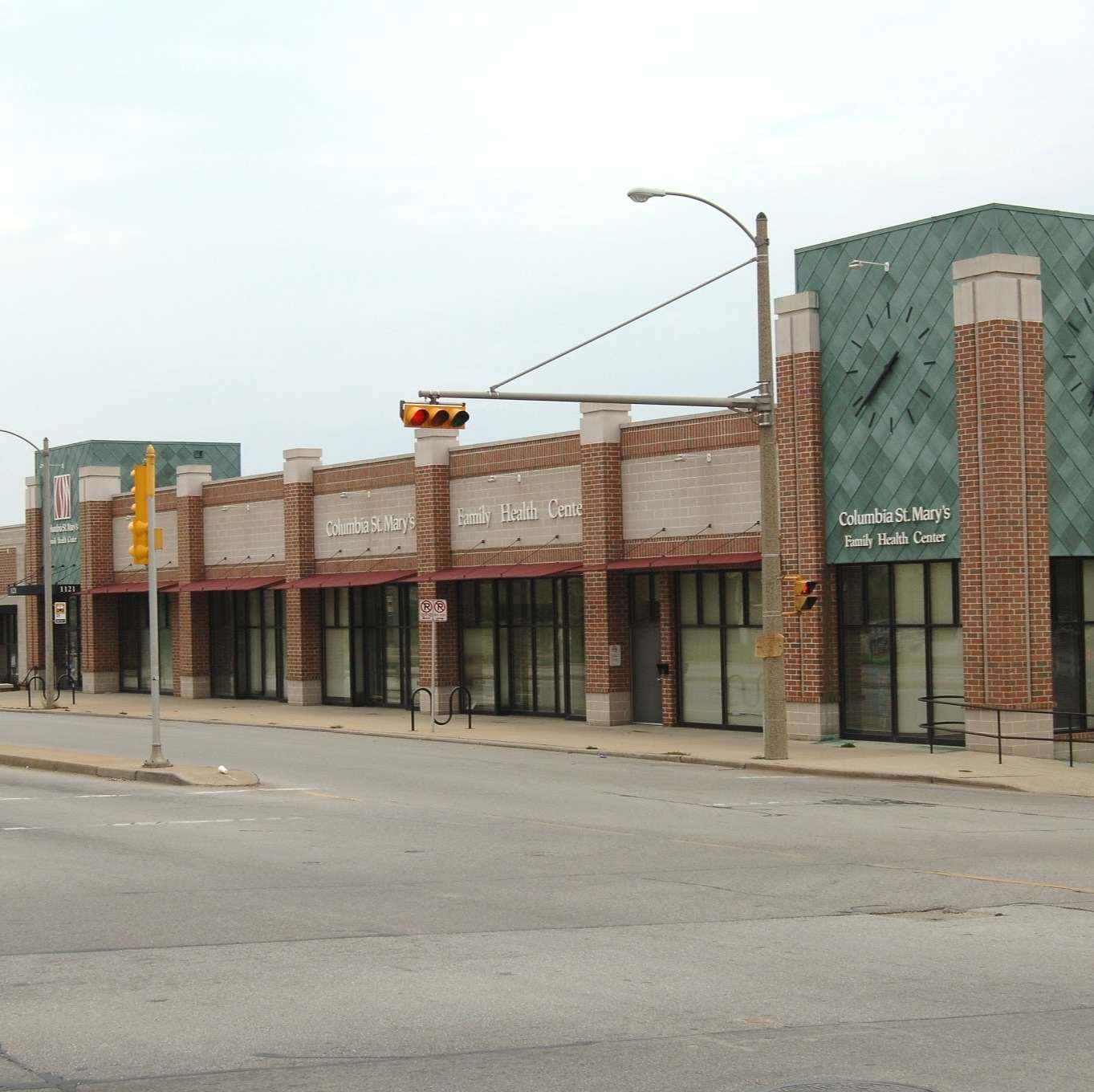 Additional Resources
Additional Free Clinics and Health Resources
Awards and Recognition
2016 President's Community Engagement Award – MCW
2007 Humanitarian in Medicine Award from the Milwaukee Academy of Medicine,
2022 President's Community Engagement Award – MCW
2022 Silver Seal of Excellence from the Wisconsin Association of Free and Charitable Clinics (WAFCC)
2022 Bronze Seal of Excellence from the National Association of Free and Charitable Clinics (NAFC)
Partners
Department of Family and Community Medicine, Medical College of Wisconsin
School of Pharmacy, Medical College of Wisconsin
Ascension Columbia St. Mary's Hospital and Family Health Center
Ascension Wisconsin Pharmacy
Funding Sources
Antoinette A. & Matthew Keenan Endowment
The Catholic Community Foundation
Epic
Helen M. Cudahy Trust
Dr. Kristine A. Tucker and Mr. Todd Tucker
Dr. M. Colin Turner and Ms. Anne K. Valaas-Turner
Clinic Managers
Board Chair: Mutsa Chiromo
Director of Policy & Finance: Mukul Sharda
Director of Medical Student Volunteers: Sophia Ly
Director of Telehealth: Cordelia Elaiho
Supervising Clinician Director: Stephen Gebbia II
Director of Lab: Callie Bednarek
Co-Directors of Referrals: Jessica Angel, Amarpreet Mahil, Gouri Bollepalli
Director of Medication Dispensary: Alynah Adams
Director of Pharmacy Student Volunteers: Megan Dogra
Director of CCT: Flavia Pantoja
Director of Technology & Outreach: Rehaan Machhi
Director of Clinic Operations: Anjna Nair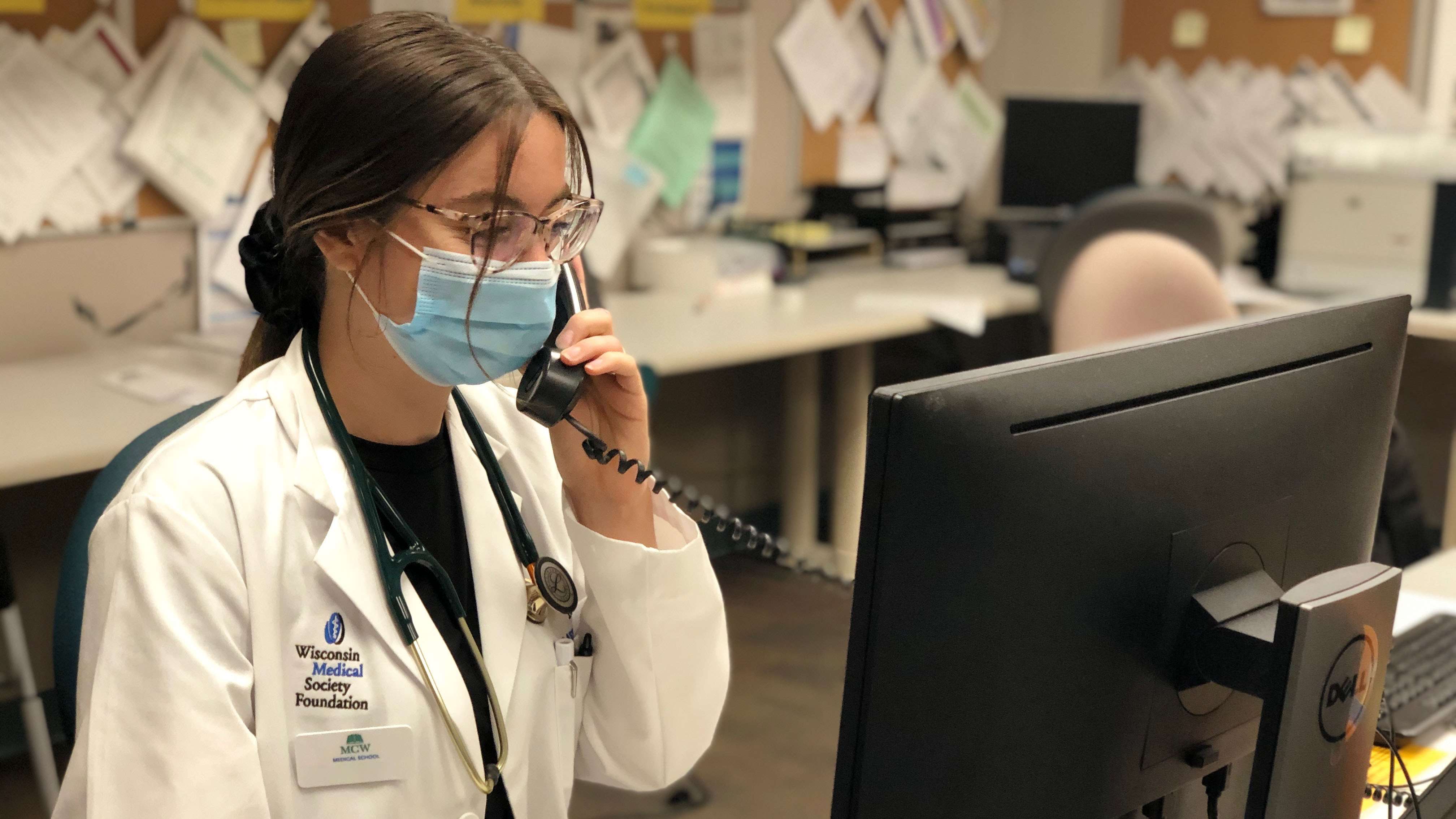 Featured Story: MCW Medical and Pharmacy Students Collaborate to Care for Uninsured Patients in Milwaukee
"I think we don't realize how many people might not have access to medications because they don't have insurance, and that can make it difficult for people to get the care they need. So having a service like this, where people can access medications they wouldn't be able to otherwise is extremely beneficial," says Nesreen Hamoudeh, 2024 PharmD candidate.
Read more about how the Saturday Clinic is making a difference in the community
Our Mission, Vision & Values
Mission
Mission
The Saturday Clinic for the Uninsured utilizes an interprofessional student-led model of care delivery that strives to understand, serve, and promote the health and wellness needs of uninsured patients in the Milwaukee area, while simultaneously educating future health care professionals. We appreciate the multifaceted nature of health and commit to providing respectful, empowering, and equitable care.
Vision
Vision
The Saturday Clinic for the Uninsured strives to provide comprehensive, quality care that empowers patients to achieve their optimal health outcomes. We aim to enhance the learning experience for our volunteers through the lens of structural competency and cultural humility. We strive to establish equitable partnerships among patients, students, providers, and community leaders to achieve the highest standard of care excellence.
Values
Values
Patient-centered: Individualized care that considers a patient's unique needs, values, and background while incorporating them in the decision-making process, allowing them to have agency over their own healthcare.
Quality-Oriented: Striving to continuously uphold high standards of care for patients and educational experiences for student volunteers, while also seeking to improve quality based on feedback from all members of the healthcare team.
Humanistic: Deliberately seeking to incorporate empathy, compassion, altruism, and respect towards the dignity and beliefs of patients and their families in order to enhance care.
Collaborative: Fostering a comfortable learning environment for patients, clinicians, and student volunteers to actively work together in providing benevolent and high-quality care.
Welcoming:Creating a safe, anti-racist, and accessible space where patients are able to express their needs without fear of judgement or discrimination. Clinicians and volunteers strive for just and equitable care of all patients, regardless of identity.
Comprehensive: Seeking to fulfill all of a patient's needs that may arise during the healthcare process-physical and mental health care, medications, referrals, social work, labs and imaging, and beyond. Ensuring that this care is continuous by following up with all patients regardless of health conditions.
Contact Us
Saturday Clinic for the Uninsured
1121 E. North Ave.
Milwaukee, WI 53212
(414) 588-2865