Geriatric and Palliative Medicine Faculty
Emeritus
David E. Weissman, MD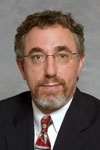 Dr. Weissman is the founding Director of the Palliative Care Program and Professor of Medicine in the Division of Hematology and Oncology. He is nationally recognized for his pioneering work designing and implementing novel health professional education strategies for pain management and palliative care. Dr. Weissman is a consultant to the Center to Advance Palliative Care (CAPC) and numerous medical schools, helping to develop palliative care teaching resources for the next generation of physicians. He is currently funded by the Y.C. Ho/Helen Chiang Foundation to improve medical school education, the JEHT Foundation in support of the Palliative Care Leadership Center Project and CAPC, in support of education product development. Dr. Weissman is Co-Director of EPERC (End of Life Palliative Education Resource Center) - a national resource center for high quality, peer reviewed End of Life educational materials. Dr. Weissman was also the founding Editor-in-Chief of the medical journal, Journal of Palliative Medicine.
Contact Us
Geriatric and Palliative Medicine

Department of Medicine
9200 W. Wisconsin Ave.
Milwaukee, WI 53226
Amanda Szymkowski

(414) 955-0584
aszymkowski@mcw.edu