Medical College of Wisconsin Department of Neurology Epilepsy Fellowship
Interview Updates
For the 2023-2024 application cycle, all Department of Neurology fellowship programs at MCW will be conducting virtual interviews due to the ongoing COVID-19 global pandemic.
Welcome from the Program Director, Dr. Aditya Vuppala
Thank you for your interest in the Epilepsy fellowship program at the Medical College of Wisconsin. Our fellowship is accredited by the ACGME and provides all fellows the opportunity to focus on the evaluation and care of patients with epilepsy. Successful applicants to this program must have completed a Neurology or Child Neurology residency in an ACGME-accredited program and should be board eligible or board certified in Neurology or Child Neurology.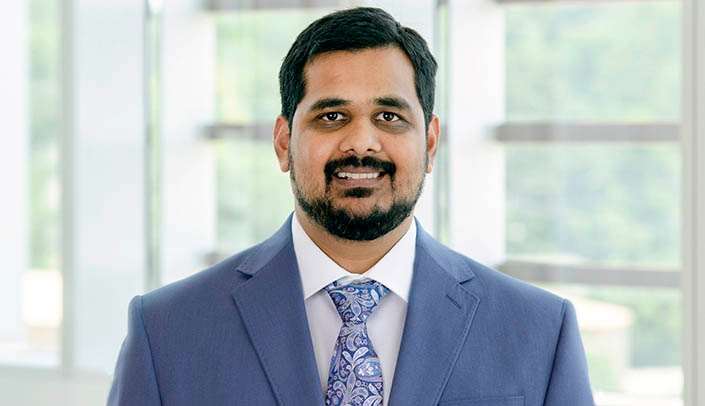 Epilepsy Fellowship Program
Comprehensive training in epilepsy requires experience in several key areas including: 1) outpatient evaluation and management, 2) inpatient evaluation and management in the Epilepsy Monitoring Unit, 3) acute evaluation and management with continuous EEG in the ICU or inpatient setting, 4) pre-surgical evaluation, 5) surgical management of treatment resistant epilepsy and 6) neurostimulation devices. Our program is structured to allow our fellows direct hands-on clinical experience across all of these areas. Elective experiences in magnetoencephalography (MEG), EEG/video-EEG, and outpatient management are offered. Research-focused elective rotations are also available. Our strong epilepsy surgical program provides trainees with exposure to stereo EEG, laser ablation and neurostimulation (responsive, vagal nerve and deep brain) and thus help them nurture into a confident and comprehensive epileptologist. Fellows are given the opportunity to present cases in our weekly epilepsy surgical management conferences. Our MEG program is the only one in the region (Wisconsin and Illinois states), thus providing valuable exposure and training in this field to interested candidates.
Mentorship is a key component of any successful training program and is a major focus for our program. My goal as a Program Director, and our goal as a Fellowship Program, is to provide a strong foundation in Epilepsy that will prepare our graduates for their future. Whether your interests are in clinical practice, research, patient safety and quality improvement, education, or administration, our mission is to tailor your experience to aid you in the pursuit of your career goals.
Training occurs at Froedtert Hospital (tertiary care hospital for adults) and Children's Wisconsin (tertiary care hospital for children). Our program boasts of excellent adult and pediatric epileptologists, who are well known as experts in the field of epilepsy.
This fellowship can be offered as a one-year track or as a two-year track in combination with a Clinical Neurophysiology fellowship. Candidates interested in Epilepsy surgery or hoping to pursue an academic career might want to pursue a two-year track.
Through this program, you'll have the opportunity to work with a diverse set of faculty members. You can learn more about the MCW Adult Neurology faculty and the MCW Child Neurology faculty.
Contact Us
Epilepsy Fellowship
Department of Neurology
8701 Watertown Plank Rd.
Milwaukee, WI 53226
(414) 955-0643
(414) 955-0127 (fax)