Welcome
Our program, at the Medical College of Wisconsin, is dedicated to training and developing the future of neonatology. Our mission is to train physicians who are leaders in patient care, research, and education. The program is designed to provide outstanding clinical training at a Level IV NICU at the largest free-standing children's hospital in Wisconsin. Trainees will receive exemplary research mentoring from highly respected leaders in pulmonary hypertension, bronchopulmonary dysplasia, bioethics, and clinical outcomes. Our training program prepares fellows to be leaders in clinical care and academic medicine.
Scott Welak, MD
Fellowship Director and Assistant Professor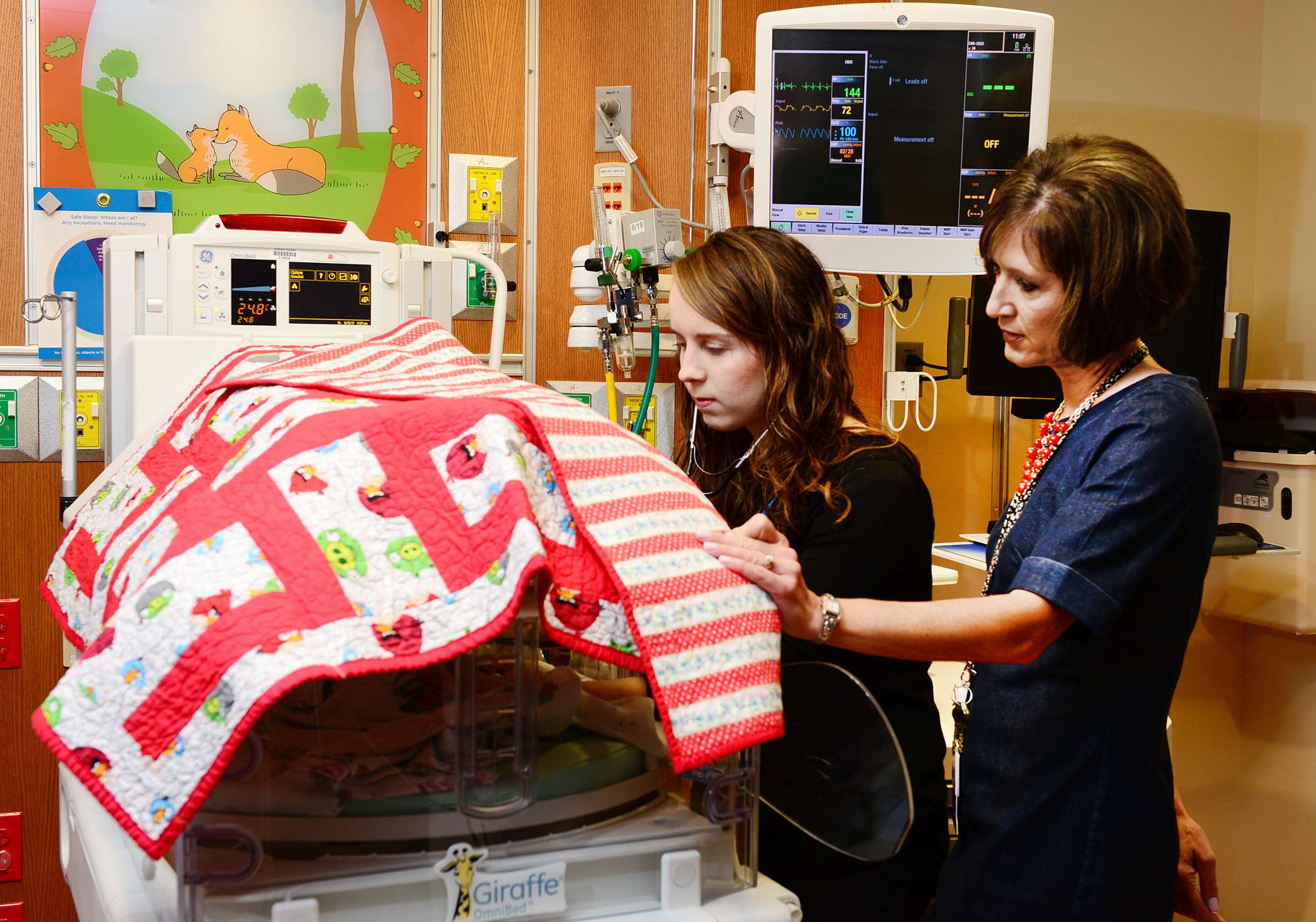 Children's Wisconsin NICU Video Tour
Erin Rholl, MD, a current Neonatology Fellow at the Medical College of Wisconsin, provides a tour of the NICU and other spaces commonly used by fellows in our program.
Meet our Fellows
Our fellows share advice and experiences, discuss our program, highlight our institutions, and speak on living and training in Milwaukee
As a fellow, you will...
Have the unique opportunity to provide care with the optimal balance of autonomy and supervision; our NICU is well known for being a "fellow-run unit."
Master all needed procedural skills, and have the ability to perfect your clinical skills.
Participate in scholarly activity.
Choose a project that will help you develop the skills needed to be a successful academic neonatologist.
Have the opportunity to present your research at international conferences.
Master your skills in patient care, research, and education at the largest level IV NICU in Wisconsin, with a catchment area of more than 9 million.
Care for children with the entire spectrum of newborn diseases, including extremely low birth weight infants, those who have surgical and subspecialty needs, and critically ill neonates.
Learn from faculty who are well recognized as experts in both bedside care and academic medicine, bringing in millions of dollars in NIH funding annually.
About Our Fellowship
The Neonatal-Perinatal Fellowship at MCW and Children's Wisconsin is an outstanding training program for those looking to specialize in the care of critically ill newborns.
Fellowship Overview Presentation
Clinical Experience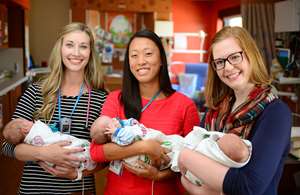 Children's Wisconsin is home to a newly renovated 71-bed Level IV NICU. We recently moved from our previous bay style NICU into the new unit, which features all private rooms. The average daily census of 50-60 patients is divided between three care teams.

While on service in the NICU, fellows oversee the team and provide teaching for the residents, either formally or at bedside when possible. This team oversight may involve interacting with one of the many subspecialty services Children's has to offer, as the NICU team rounds daily with both Cardiology and Pediatric Surgery.

The variety of patients admitted to Children's provides an unrivaled opportunity to master procedural skills. First year fellows are preferentially given procedural opportunities during the first six months of fellowship, and nearly all have become phenomenally competent during that time.
Research Experience
Children's Wisconsin and the Medical College of Wisconsin have a strong tradition of research among our fellows. After graduating, several of our fellows have continued their research endeavors and have become leaders in their respective fields of research. The Division of Neonatology recognizes the unique opportunity that is present during fellowship training.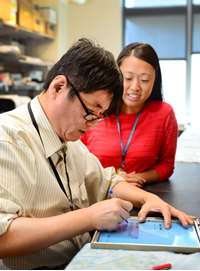 Just as we prepare our fellows to become experts in neonatal medicine, we also mentor them to develop the skills to become experts in research. Rather than assign a project to each fellow, we encourage our fellows to choose a project that will both interest them during fellowship and prepare them for a career in academic neonatology. Our division has a wide variety of research interests, and faculty members are eager to train fellows; however, fellows are not limited to just the Division of Neonatology. Learn more about our faculty's research projects. As the only academic medical campus in Milwaukee, fellows have a wide variety of research projects to choose from. Past fellows have worked with many different divisions at Children's/MCW, including genetics, pediatric surgery, physiology, and palliative care.

During the first few months of fellowship, fellows will find a mentor and research project. Each faculty member conducting research presents their research to the fellows. The fellowship directors will meet with each new fellow to help them decide on a project, and will facilitate discussions with researchers outside of the division if a fellow has a particular interest. Fellows will also pick other faculty members to be on their Scholarly Oversight Committee (SOC), which will provide guidance to that fellow throughout their training. Fellows meet with their SOC members twice per year for updates and advice on their progress. Fellows are expected to submit their research as a manuscript to a peer-reviewed journal in order to graduate. The majority of our fellows not only have submitted one manuscript, but have had several accepted during their training.


Our fellows are encouraged to present their research at national and international conferences. Nearly all of our third-year fellows have presented their research at the Pediatric Academic Society/Society for Pediatric Research (PAS/SPR) annual convention, the preeminent neonatology conference in the world. In addition, many have presented at other conferences, including the American Academy of Pediatrics, in addition to local and regional meetings. The Department of Pediatrics often provides additional funding for travel to the PAS/SPR meeting for presenting fellows.

We recognize the importance of training fellows to become successful physician scientists, and have the ability and expertise to help each fellow achieve their research goals. Our faculty take great pride in training fellows and watching them achieve success in their scholarly project. We are confident that if you choose our fellowship program, you will have the ability to become an excellent clinician and be competitive in your future research endeavors.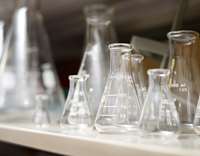 Approximately 21 to 24 months of training will be devoted to research. Neonatology faculty members are carrying out several research projects. There is excellent collaboration with basic science faculty members in several of these research projects. In addition, there is ample opportunity to devise research projects with other basic science and clinical faculty. Basic science projects that are currently ongoing in the division include studies using an animal model of neonatal pulmonary hypertension to evaluate the pathogenesis of the disorder (the role of various endogenous vasodilators and vasoconstrictors such as nitric oxide, prostaglandins and other arachidonic acid metabolites), studies of vascular endothelium (signal transduction, Ca2+ signaling, free radicals, nitric oxide), and studies of pharmacogenomics, teratogens and their effect on fetal development. Current ongoing clinical projects include the study of institutional ethics, end of life care in the perinatal period, evaluation of neuro-developmental and audiological outcome of healthy term newborns with non-hemolytic hyperbilirubinemia, the effect of body position on breathing patterns and pulmonary mechanics in healthy infants, and studies of inhaled nitric oxide on PPHN.
Research Mentorship
Fellows receive excellent mentoring at all levels of training. They are required to complete a research project before the end of the third year and to have at least one or more first author publications in a peer reviewed journal. In order for them to complete a successful research project, a faculty mentor along with two additional faculty members, will be assigned to assist and monitor their progress by meeting twice yearly with a Scholarship Oversight Committee. Fellows will also be expected to present their research periodically in formal conferences to the faculty. The senior faculty and others provide guidance in grant writing, paper presentations, and manuscript writing in the Medical College of Wisconsin. Fellows will be expected to take courses in biostatistics and will have the opportunity to take courses in specialized areas of research Interests (e.g. molecular biology).

Fellows are encouraged to submit abstracts to national meetings annually (both basic science and pediatric meetings, such as Pediatric Academic Society Meetings). The Department of Pediatrics pays for the expenses to attend these meetings through the academic development fund assigned to each fellow.
Fellow Research Accomplishments
Original manuscript publications in the following journals:
Am J Physiol Lung Cell Mol Physiol*
J Neuroinfect Dis*
Pediatrics
Pediatr Res*
J Perinatol.*
Perinatal Cardiology*
Pediatric Emergency Care*
Mat Child Health*
J Matern Fetal Neonatal Med.
Journal of Surgical Research
Journal of Obstetrics and Gynecology
*Fellow was first author
Regional and National Conference Presentations
Pediatric Academy Society
Pediatric Endocrine Society
Best Practices in Pediatrics
AAP Central Conference on Perinatal Research
Awards
Young Investigator Career Development Award, Department of Pediatrics, MCW
Marshall Klaus Perinatal Research Award
District 6 American Academy of Pediatrics Award
SOC Expectations (PDF)
Neonatology Fellowship Curriculum
Children's Wisconsin is home to a newly renovated 71-bed Level IV NICU. We recently moved from our previous bay style NICU into the new unit, which features all private rooms. The average daily census of 50-60 patients is divided between three care teams. Teams A and B are comprised of a Neonatology faculty member, one fellow, 1-2 nurse practitioners, and 2-4 pediatric residents. Team C is comprised of one Neonatology attending, one senior fellow and two nurse practitioners. While on service in the NICU, fellows oversee the team and provide teaching for the residents, either formally or at bedside when possible. This team oversight may involve interacting with one of the many subspecialty services Children's has to offer, as the NICU team rounds daily with both Cardiology and Pediatric Surgery. The variety of patients admitted to Children's provides an unrivaled opportunity to master procedural skills. First year fellows are preferentially given procedural opportunities during the first six months of fellowship, and nearly all have become phenomenally competent during that time.

In addition to direct patient care of infants in the NICU, fellows attend deliveries and perform prenatal consults. Children's Wisconsin is affiliated with Froedtert Hospital (FH). FH has over 3,000 deliveries annually and is home to an expanding Maternal Fetal Medicine and High Risk OB program. Children's is recognized as both the top children's hospital in the state, and also one of the most prestigious hospitals in the nation. Expecting parents are referred to Children's for many reasons, including prematurity, high-risk deliveries, and congenital anomalies. Our pediatric surgeons and MFM physicians have successfully conducted many fetal procedures, including meningomyelocele (MMC) repairs, bladder outlet obstructions, and fetal hydrops. These unique opportunities ensure that fellows will become skilled at not only typical neonatal resuscitations, but also in the delivery room management of complex congenital anomalies. The Labor and Delivery unit is conveniently located within the east tower of the Children's building and is a short walk from the NICU.

Neonatal Developmental Follow-Up Clinic
All fellows will participate in the Neonatal Developmental Follow-up Clinic, which is run by our developmental pediatrician and follows NICU graduates up to age three. Fellows will attend clinic twice per month when not on service. This experience provides fellows with an opportunity to see the outcomes of our smallest and sickest patients, and provide fellows experience with the developmental assessment tools.

Newborn Nursery Rotation
During the first year, fellows will rotate through the newborn nursery for 2 weeks. During the rotation, fellows manage the resident team and are responsible for running rounds and staffing patients in the afternoon. The Newborn Nursery actually functions as a Level II NICU, and often has late premature infants and those requiring moderate intervention. Fellows will become familiar with the protocols and abilities of the Level II newborn nursery within Froedtert Hospital.

Maternal Fetal Medicine Clinic
During their second year, fellows rotate for two weeks in the maternal fetal medicine clinic. Fellows follow MFM providers to learn about the obstetrical management of our potential patients. Fellows attend prenatal consults with Neonatology faculty and pediatric subspecialists and observe fetal surgery if possible.

Cardiac ICU Rotation
During the third year of fellowship, fellows will rotate for two weeks in the cardiac ICU. While there, fellows will gain experience with the post-operative management cardiac conditions and ECMO. NICU fellow rotating through the CICU will provide care for post-operative neonates only.

Clinical Electives
Depending on the individual fellow's needs and desires, elective rotations will be designed throughout the fellowship for additional exposure to areas of particular clinical interest to the fellow (e.g. cardiology rotation with focus on neonatal echocardiography, radiology rotation with emphasis on neonatal ultrasounds and special procedures). Each elective is done for a period of one month and no more than one elective month may be requested for each subspecialty area.
Progression in Responsibilities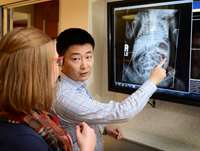 For each year of your fellowship, you will be given more responsibility in direct patient care and leading the care team. We expect that by the end of your third year, you will be functioning at the level of an attending and we will work with you to help you get there! Because of this graded responsibility, each year of your fellowship will look a little different.
Procedural Requirements
Fellows will gain procedural competence through time spent on service and on call in the NICU, in the delivery room, and through various clinical rotations during their fellowship. We feel that competence in the following procedures is necessary prior to completion of training:
Needle aspiration of the chest and chest tube insertion
Delivery room resuscitation
Intubation
Lumbar puncture
PICC line insertion
Peripheral arterial puncture and line insertion
Umbilical line placement (both arterial and venous)
First Year
Develop clinical competence (5 months in the NICU and ½ month in the Newborn Nursery). You will master the procedural skills during the first 6 months by preferentially giving procedures to first-year fellows during this time.
Attend the Neonatal Developmental Follow-up Clinic.
Present two basic physiology conferences, one journal club, and at least one patient oriented conference during your service months.
Attend the Joint Fellowship Curriculum of the Department of Pediatrics.
Initiate research: Identify project, mentor, and Scholarly Oversight Committee (SOC). You will have two SOC meetings to evaluate your progress and provide guidance (see Research).
Second Year
Continue to develop clinical competence (3 months in NICU) but focus more on teaching residents and junior fellows. Two service months will be on resident teams (A or B) while one month will be on C team, staffed by one faculty members and 2-3 Neonatal Nurse Practitioners (NNP's). During your C team month, you will have more opportunity to round independently, and gain the experience in providing care with nurse practitioners.
Continue to attend the Neonatal Developmental Follow-up Clinic.
Present three basic physiology conferences, one journal club, and at least one patient oriented conference while on service.
Work on research project. We encourage fellows to write a first author abstract that will be submitted by the fall of the third year.
Participate in the Joint Fellowship Curriculum
Third Year
Continue to develop clinical competence and teaching skills by serving approximately 3 months (including at least 1 month as a Junior Attending in the NICU).
Continue to attend the Neonatal Developmental Follow-up Clinic.
Present three basic physiology conferences (one of which is a presentation of your research), one journal club, and at least one patient-oriented conference while on service.
Complete research project and write manuscript for submission by end of third year.
Present your completed research project at a major conference (usually PAS/SPR).
Neonatal Transport Team
Children's Wisconsin is the only referral service for the majority of pediatric and neonatal patients in Wisconsin, covering an area of nearly six million people. Many patients require medical transport from referring hospitals to Children's. We have a dedicated transport team that provides this service. This specialized group includes nurses and respiratory therapists who go on every transport. Physicians only go on 10 % of the annual transports. However, given the unique challenges inherited in transporting a critically ill neonate, our neonatal fellows often go on these transports to ensure optimal care. Children's has access to transport via ambulance, helicopter, and fixed wing plane. The majority of transports are within Wisconsin; however Children's commonly transports patients from the upper peninsula of Michigan and northern Illinois as well.

If a physician is needed to go on a transport during the day, the fellow on the admitting team will go with the transport team. On nights and weekends, this responsibility is for the on-call fellow. Exceptions to this are if the fellow is unable to go on transports (pregnancy, illness, or other circumstances). The attending acting as medical control makes the final decision about who goes on transport after assessing the unit's needs and acuity. On transport, the fellow is the "eyes and ears" for the faculty at Children's. They will perform procedural expertise as needed, and will provide medical care in coordination with the transport nurse and respiratory therapist. In addition, the fellow is the representative of Children's, and is responsible for communicating with the patient's family members. Senior fellows also have the opportunity to serve as the "Junior Medical Control" by communicating with the referring physician and transport team in conjunction with the staff neonatologist.

In order to be eligible for transports, you will complete a short orientation to get familiar with the equipment used and review safety information for the helicopters. Fellows are required to document care provided during the transport.
Conferences and Didactic Sessions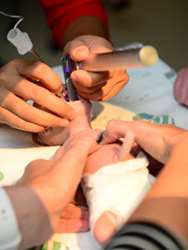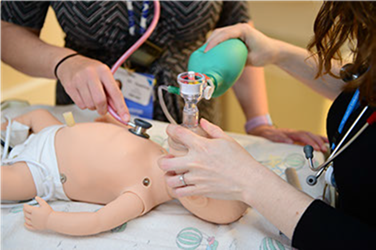 The Division of Neonatology holds many academic conferences throughout the year to enhance fellow's learning. Some of these conferences occur on a weekly basis, while others are monthly to bimonthly. Fellows are expected to participate in these conferences, and the level of responsibility is graduated based on fellowship level.

View list of conferences and didactic sessions (PDF)
Pediatric Joint Fellowship Curriculum
The Joint Fellowship Curriculum (JFC) at the Medical College of Wisconsin is a series of longitudinal educational experiences designed to cover topics required for all pediatric fellows. While
specialty
-specific education is covered within each section, the JFC endeavors to cover the remainder of topics that are common to all fellowship trainees. Fellows not only gain insight on these topics from campus-wide experts, but also do so in a collaborative learning environment with their same level fellow peers from across the pediatric enterprise.
Diversity and Inclusion
At MCW and within the Department of Pediatrics, we have several programs and resources focused on fostering a diverse and inclusive environment. Our departmental and institutional focus is confronting negative perceptions and welcoming our community. Below is just a sampling of the efforts across our institutions to embed the principles of diversity and inclusion into our culture.
DOP Diversity, Equity and Inclusion Council | Our Diversity Council, led by Dr. Mike Levas, the DOP Vice Chair for Diversity and Inclusion, and comprised of faculty, staff, administration, and trainees, is focused on connecting with partners across our system and within the community to ensure the DOP is a diverse, equitable and inclusive employer.
DOP Fellowship and Residency Diversity and Inclusion Committees | In a city filled with its own diversity and rich cultural history, our fellows and residents recognize the importance of addressing diversity, health equity, and inclusion within our programs. As such, the program is proud to recognize the presence and work of its Committee for Diversity, Equity, and Inclusion.
DOP Unconscious Bias Training | The AAMC has partnered with Cook Ross, Inc., a leading consulting firm, to create training focused on the science behind unconscious bias to help academic medical staff and faculty mitigate disparities. Seven members of our team have earned a certification as unconscious bias trainers through Cook Ross. These trainers have translated what they've learned into a two-hour training for our faculty and staff. By learning how to identify and confront unconscious bias, it is possible to mitigate the impact and promote respect for all groups.
Trauma-Informed Workplace Training | This committee has undertaken actions including a department-wide survey and the creation of four online training modules sharing the principles of trauma-informed approach and how to recognize signs and symptoms of trauma in ourselves and others. This group started as part of Fostering Futures, a state-wide initiative aimed at infusing a trauma-informed approach into all the systems and organizations that touch the lives of Wisconsin citizens with the goal of expanding across the state to make Wisconsin the first trauma-informed state in the nation.
Office of Diversity and Inclusion | Established in March 2016, the MCW Office of Diversity and Inclusion (ODI) partners within MCW and with community partners to foster and drive inclusion excellence as an effective, empowering enabler of MCW mission and strategic goals.
Spring Festival of Cultures | The annual Spring Festival of Cultures encourages an increased awareness and celebration of the visible and non-visible identities among our MCW community. This three-day event is an opportunity to promote the fostering of diversity, inclusion and unity at MCW.
President's Diversity and Inclusion Award | MCW's President's Diversity and Inclusion Award recognizes the accomplishments of faculty, staff, students, residents, trainees, and community members in contributing to diversity and inclusion through exemplary leadership.
Institute of Health and Equity | The Institute for Health & Equity is focused on researching the root causes of health disparities in our communities, and advancing the best ideas to foster health equity throughout the world. We target populations with abnormally high rates of disease and injury – urban and rural alike – and then we find out why. Partnering with community health collaborators who live and work closest to the most vulnerable populations, we are making an impact on reducing those disparities, one community at a time.
GMF-MCW Partnership | Through their overall partnership, MCW and GMF will bring complementary expertise on a range of strategies to invest in the health, equity and economic well-being of people across Milwaukee, beginning with the neighborhoods adjacent to the new development. Guided by community priorities and data, the GMF-MCW Partnership will be a catalyst for additional investment and community impact. Together, the partners will:

Engage resident and community partnerships
Improve social determinants of health
Catalyze change that leverages resources and investment
Our Faculty
Our talented team of neonatologists
are well recognized as experts in both bedside care and academic medicine, bringing in millions
of dollars in NIH funding annually. As an MCW fellow, you will have an opportunity to practice and learn alongside these faculty members.
Our Fellows
Third Year Fellows (2019-2022)

Katie Baughman, MD
krbaughman@mcw.edu
Hometown: Grand Blanc, Michigan
Medical School: University of Cincinnati College of Medicine
Residency: University of Michigan
Research/Scholarly Project: Value clarification and alignment in Fetal Concerns consultations
Mentor: Steven Leuthner, MD
Interests: I love spending time with my friends and family, doing a variety of arts/crafts, and being outside near water or mountains! I also enjoy exploring new areas and restaurants.
Why did I choose to do my fellowship at MCW? I considered many factors while creating my fellowship rank-list and ultimately choosing MCW. MCW offers a moderate-sized program with a fellow-driven level IV NICU. Throughout my interview day (and now throughout my workdays), I appreciated the friendships and teamwork amongst fellows, NNPs, and nurses. I also valued finding a program that has the resources available for me to build the foundation for the career that I want; for example, MCW offers opportunities for furthering education via master's programs, mentors in various areas of research (both in the department and across the hospital/university system), and a variety of fetal diagnoses and pathology.
Svetlana Kozlovich, MD
skozlovich@mcw.edu
Hometown: San Diego, CA
Medical School: Rosalind Franklin University of Medical Sciences, Chicago Medical School
Residency: Johns Hopkins All Children's Hospital
Research/Scholarly Project: Investing in utero exposures that predispose to nonalcoholic fatty liver disease
Mentor: Hang Nghiem-Rao, MD
Interests: Visiting different restaurants, travel, craft beer, hanging out with my husband, Nick, and our dog, Bella. Trying out new workout and yoga classes. Working on the endless improvement projects at our home in Milwaukee. Watching Packers games. Go Pack Go!
Why did I choose to do my fellowship at MCW? I was very impressed by the fellows and how confident and well trained they were. I liked that the NICU is fellow-run at MCW. While MCW brings all the impressive aspects of a large academic center, the NICU faculty seemed very humble, accomplished and approachable. At MCW, I feel like I will be better situated to meet my career goals, perhaps even pursue a master's degree, because the staff seems as engaged in my career as I am.

Maria Skorey, MD
mskorey@mcw.edu
Hometown: Yankton, SD
Medical School: University of South Dakota
Residency: Nebraska Joint Pediatric Residency in Omaha, NE
Research/Scholarly Project: Generational differences in feedback practices
Mentor: Kristine Saudek, MD
Interests: Spending time with my family-being a mom to my son Grey and cat mom to two cats-outdoor activities, music, and eating great food!!
Why did I choose to do my fellowship with MCW? I was very impressed on my interview day with the hospitality shown to the applicants. If they treat applicants so well, they must treat their fellows great, too! Also, I could tell this is a well-rounded program with many research opportunities that will train me to be a competent and caring neonatologist. Plus, Milwaukee and Wauwatosa seem like amazing places to call home, with plenty of activities, great drinks and food!
Second Year Fellows (2020-2023)
Kathryn "Katie" Berlin, DO
kberlin@mcw.edu
Hometown: Muskego, WI
Medical School: West Virginia School of Osteopathic Medicine
Residency: Medical College of Wisconsin
Research Project/Scholarly Project: Patient Safety & Quality Improvement
Mentor: Joanne Lagatta, MD and Scott Welak, MD
Interests: I enjoy cooking, traveling, and spending time with my husband, son, and dog.
Why did I choose to do my fellowship with MCW?: MCW gives me access to a busy & diverse NICU while supporting my academic endeavors through the faculty & resources of our department, as well as the medical college as a whole. Milwaukee is also such a fun city: there is always something to do!
Emily A. Callan, MD
ecallan@mcw.edu
Hometown:
Wauwatosa, WI
Medical School:
Medical College of Wisconsin
Residency:
Medical College of Wisconsin/Children's Wisconsin
Research Project/Scholarly Project:
The abnormal metabolic regulation that disrupts homeostasis in pulmonary artery endothelial cells, leading to decreased mitochondrial biogenesis and impaired angiogenesis function in persistent pulmonary hypertension of the newborn (PPHN).
Mentor:
G. Ganesh Konduri, MD
Interests:
Spending time with family and friends, staying active, Marquette basketball, and eating sweets.
Why did I choose to do my fellowship with MCW?:
Children's Wisconsin has a new, state-of-the-art level IV NICU that provides care to a high volume of patients with a wide array of acute diseases, and the program performs cutting-edge basic science research in my chosen pathology of interest, i.e., PPHN. What truly separates MCW from other programs is the faculty's unwavering commitment to optimizing patient outcomes, family experiences, and to teaching and mentoring the next generation of neonatal physician-scientists.

Katherine "Katie" Carlton, MD
kcarlton@mcw.edu
Hometown: Mequon, WI
Medical School: Medical College of Wisconsin
Residency: Medical College of Wisconsin
Research Project/Scholarly Project: Neonatal neurocritical care, hypoxic ischemic encephalopathy, post-hemorrhagic hydrocephalus
Mentors: Susan Cohen, MD and Erwin Cabacungan, MD
Interests: I love to bake and eat! My husband and I especially love to try new restaurants around Milwaukee.
Why did I choose to do my fellowship with MCW?: There are many reasons I chose MCW for fellowship, a few being: 1) Milwaukee is my home, and I love the city and community; 2) Throughout medical school and residency at MCW, I valued the collaborative learning environment and overall abundance of faculty support; 3) On a more personal note, my son spent two weeks in the MCW NICU where the care he received was awe inspiring. I strive to deliver the same level of care and compassion to my patients as a NICU fellow at MCW.
First Year Fellows (2021-2024)
Bethany Klett, MD
Hometown: Cincinnati, Ohio
Medical school: University of Cincinnati
Interests: biking, kayaking, spending time outside, exploring new cities
Research/Scholarly Project: TBD
Mentor: TBD
Why did I choose: I was impressed by the supportive environment of the NICU faculty and fellows on my interview day. I am excited about the busy level IV NICU, active transport team, and wide variety of research opportunities.
Jessica Lyon, MD
Hometown: Mt. Pleasant, MI
Medical School: Michigan State University--College of Human Medicine
Residency: Children's Hospital of Michigan
Research/ Scholarly Project: TBD
Mentor: TBD
Interests: I enjoy spending time with my husband, family, and friends. I also love skiing, trying new restaurants, and spending time outside especially on the lake.
Why did I choose to do my fellowship with MCW? During my interview day it was very apparent the strong camaraderie and respect between the fellows, faculty and NICU staff members that would provide an excellent educational and clinical working environment. I also appreciated the strong emphasis on family and patient center care within the department and program. In addition to an excellent clinical environment, I felt the program would help me succeed in pursuing my research interests in pulmonary hypertension and neonatal ethics. Also Milwaukee/Wauwatosa seemed like a great location to live. After my interview, I knew MCW would be a perfect fit for my fellowship training!
Sunil Sati, MD
Hometown: New Delhi, India
Medical school: Maulana Azad Medical College, New Delhi, India
Residency: Brookdale Hospital Medical Center, Brooklyn
Research/Scholarly project: TBD
Mentor: TBD
Interests: I love spending time with my family doing a lot of activities outdoors or playing board games and watching movies. I also enjoy running and learning new skills.
Why did I choose to do my fellowship with MCW? Being a COVID-19 interview batch, I had an opportunity to interview with many programs without traveling. Although convenient, it also meant no in-person tours and no interview dinners. Despite the limits of a virtual medium, the warmth of the team at MCW could be felt across miles and is what drew me to the place. The program offers a fine blend of clinical training and research opportunities, which seemed like the ideal place for me, well aligned with my goals. MCW felt like home right away and with its ability to provide exceptional training in Neonatology, there was no better choice.
Our Institutions
About the Medical College of Wisconsin
With a history dating back to 1893, the Medical College of Wisconsin is dedicated to leadership and excellence in education, patient care, research and community engagement. More than 1,400 students are enrolled in MCW's medical school and graduate school programs in Milwaukee, Green Bay and Central Wisconsin. MCW's School of Pharmacy opened in 2017. A major national research center, MCW is the largest research institution in the Milwaukee metro area and second largest in Wisconsin. In the last ten years, faculty received more than $1.5 billion in external support for research, teaching, training and related purposes. This total includes highly competitive research and training awards from the National Institutes of Health (NIH). Annually, MCW faculty direct or collaborate on more than 3,100 research studies, including clinical trials. Additionally, more than 1,600 physicians provide care in virtually every specialty of medicine for more than 4.0 million patients annually.
About Children's Wisconsin
Children's Wisconsin is the region's only independent health care system dedicated solely to the health and well-being of children. The hospital, with locations in Milwaukee and Neenah, Wisconsin, is recognized as one of the leading pediatric health care centers in the United States. It is ranked in nine specialty areas in U.S. News & World Report's 2019-20 Best Children's Hospitals report. Children's provides primary care, specialty care, urgent care, emergency care, community health services, foster and adoption services, child and family counseling, child advocacy services and family resource centers. In 2019, Children's invested more than $130 million in the community to improve the health status of children through medical care, advocacy, education and pediatric medical research. Children's achieves its mission in part through donations from individuals, corporations and foundations and is proud to be a member of Children's Miracle Network Hospitals.
Our Twitter
Visit and follow our Twitter page to learn more about our program, our fellows and Milwaukee.
Living and Learning in Milwaukee
Milwaukee is one of the Midwest's best-kept secrets and a prime location for the Medical College of Wisconsin's main campus. A one-of-a-kind city with a vibrant and diverse culture, this charming, yet metropolitan must-see is just 90 minutes north of Chicago and nestled on the coast of Lake Michigan. Whether you're catching a show at Summerfest, the world's largest music festival, immersing yourself in the old world charm of the Historic Third Ward or taking in the sights and sounds of one of the many cafés, beer gardens or restaurants that line the city's riverbank and shoreline, Milwaukee never disappoints. Find out why MCW students, faculty and employees take pride in calling Milwaukee home. You will find that there are many great things to do in Milwaukee.
Neighborhoods that past and current fellows have lived include: Wauwatosa, The Third Ward, Cathedral Square, Bay View, Mequon, Brookfield, and Oak Creek. Fellows even have commuted from places between Milwaukee and Chicago and Milwaukee and Madison (Waukesha, Pewaukee, Racine, Kenosha).
Learn more about housing and rental options.
Benefits, Conditions and Terms of Employment
Application Process and Visa Information
Our 3-year fellowship program is ACGME accredited and begins on July 1 each year. We accept three fellows each year through the National Resident Matching Program (NRMP). Applicants must have completed a US-accredited residency program. Applications from prospective applicants are accepted from July through October via the Electronic Residency Application Service (ERAS). We will access your application and contact you to make interview arrangements.
Complete applications should include the following:
ERAS application form
At least 3 letters of reference including Program Director letter
Medical Student Performance Evaluation/Dean's Letter
Curriculum Vitae
Personal statement
MD Applicants: USMLE scores - Steps 1, 2, and 3 or
DO Applicants: COMLEX scores – Levels 1, 2 and 3
ECFMG certificate for foreign medical school graduates (see visa information below)
Our program currently accepts the following visas:
Permanent Resident Visa
Visitor Exchange Visa sponsored by ECFMG (J-1)
Temporary Professional Workers (H-1B)
For additional visa information please visit MCW's office of Graduate Medical Education.
Fellowship Program Contact
Pediatrics Neonatology
Department of Pediatrics
Children's Corporate Center, Suite C410
999 N. 92nd St.
P.O. Box 1997
Milwaukee, WI 53226
(414) 266-6820
(414) 266-6979 (fax)