Doctor of Pharmacy
There is an increasing demand for pharmacists who can provide expanded services, helping to alleviate the physician shortage by providing greater access to primary and preventive care to patients. That's why MCW's Pharmacy School offers an innovative model of pharmacy education, helping to develop a pipeline of new, world-class pharmacists for Wisconsin to ensure that high quality healthcare continues for future generations in both urban and rural communities throughout the state.
MCW's Approach
Three-Year Program
Three-Year Program
MCW's Pharmacy School is one of the few pharmacy schools in the country offering a three-year doctor of pharmacy (PharmD) degree. This is ideal if you are interested in beginning your work as a pharmacist one year sooner than your counterparts at other institutions or are eager to begin practicing immediately after graduation with certificates in hand for point of care testing, medication therapy management and immunization training.
Small Class Size
Small Class Size
In addition to small class sizes and significant one-on-one attention from renowned faculty, as an MCW Pharmacy School student, you will find a supportive, approachable and innovative learning environment. The educational experience delivered through our unique program blends more than a century of rich medical education traditions with cutting edge educational technologies and team-based learning models in a 21st century pharmacy school curriculum.
Clinical Exposure
Clinical Exposure
Direct clinical exposure to many different medical specialties, including biomedical research, provides you with virtually limitless career options upon graduation, including hospitals, clinics, retail pharmacies or community health centers. No matter which career you choose, the MCW Pharmacy School is here to help you answer your special calling to serve patients and your community.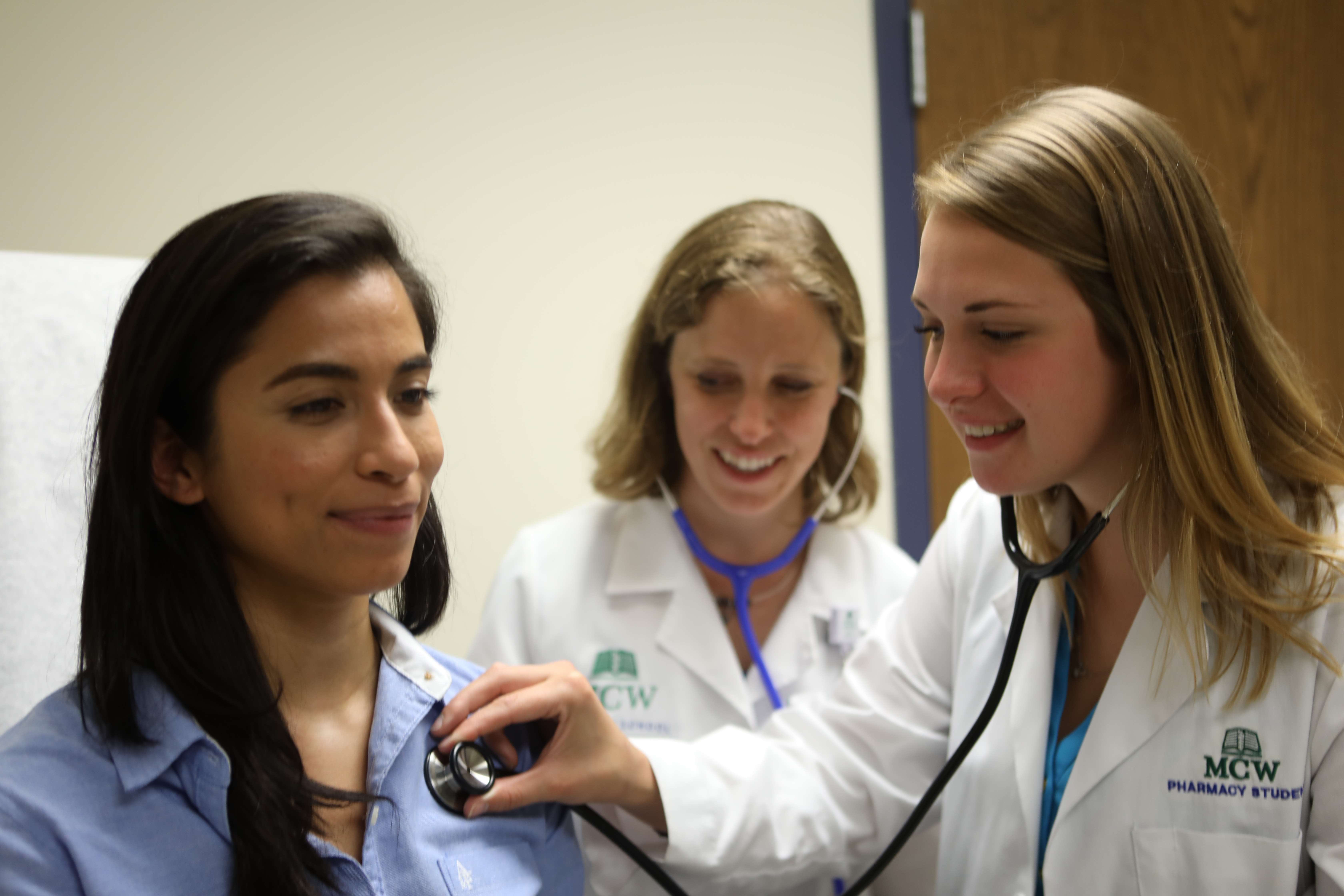 Curriculum Schedule and Catalog
In order to prepare you to fulfill all aspects of the expanding role of the pharmacist, MCW stands ready to provide you with the knowledge, skills and abilities to practice at the top of your license upon earning your degree. That is why your educational experience will include extensive training on administering vaccines, basic medical tests (strep, sinus infections, etc.) and other patient care services, so you can contribute effectively and efficiently to meeting the needs of patients and the community.
Learn more about the unique clinical and interprofessional experiences you'll have as a student at the MCW Pharmacy School.