MCW Welcomes Inaugural Class in the Master of Science in Genetic Counseling Program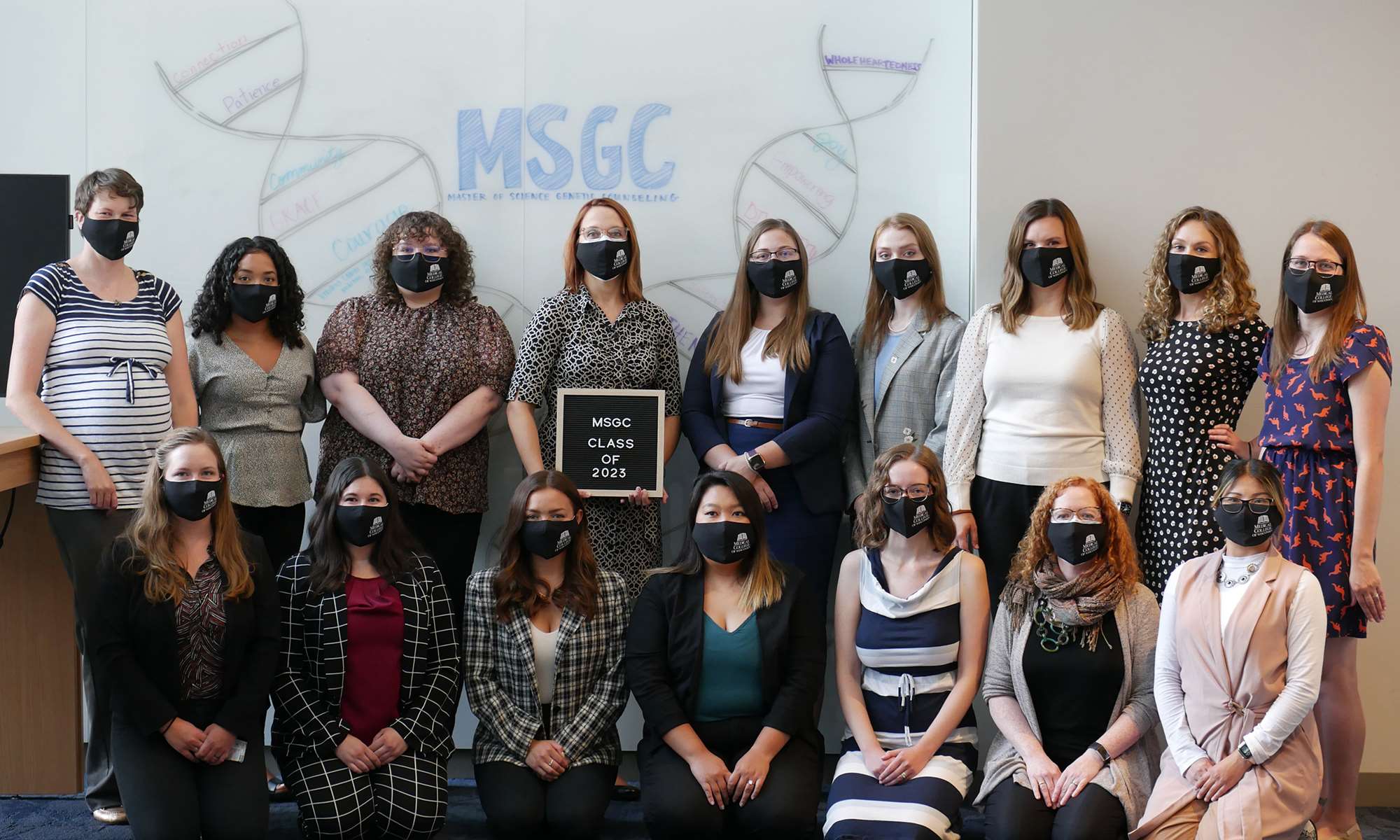 The inaugural class of students in MCW's Master of Science in Genetic Counseling program matriculated in fall 2021.
This fall, the MCW Graduate School of Biomedical Sciences welcomed its inaugural class of students in the Master of Science in Genetic Counseling (MSGC) program. The successful enrollment of all 10 applicants who were matched with the program marked the culmination of years of discussions and planning that began in 2016 with conversations undertaken as part of the development of a strategic plan for genomics-related education at MCW.
Planning for the MSGC program accelerated in early 2019, spurred by funding from the Advancing a Healthier Wisconsin Education and Workforce Development Pathway. The program aims to address the shortage of genetic counselors in the state and to prepare the next generation of genetic counselors to be diverse leaders at the forefront in the delivery of precision health. Jennifer Geurts, MS, assistant professor in MCW's Genomic Sciences and Precision Medicine Center, serves as the MSGC program director.
MCW's MSGC program is one of two certified training programs in Wisconsin, and one of only 51 in the US. The 21-month program enrolls a new cohort of students at the beginning of each fall semester and will consist of coursework, clinical practicums and a research thesis. Students in the program will benefit from dedicated educators at diverse practice locations and have access to clinical experiences from more than 20 genetics clinics located in a variety of community settings.
The first year of admissions for the program was a success, as more than 10 times the number of applications were submitted than slots were available. A strong emphasis was placed on recruiting and admitting students who were representative of the general population diversity of the greater Milwaukee area, with a focus on first-generation and underrepresented learners.
It was this focus that particularly appealed to Siomara Santana, among the students enrolled in the program's first cohort. "A lot of other programs that I looked into had a mission that didn't really speak to me the way that MCW's did, with the inclusion of diversity," Santana shares. Her interest in the program was further driven by her positive experience with MCW's Apprenticeship in Medicine (AIM) program in which she participated as a rising junior in high school. "This is exactly where I should be. It felt more like home."
As recruitment begins for the second cohort of students, the MSGC program will look to build upon the positive momentum from its first year of admissions. Santana has confidence in the program's ability to attract and select a competitive yet cohesive pool of candidates. "I love my cohort class. The program did an awesome job of picking a great group that feels like a family."
Students who successfully complete MCW's MSGC program will be eligible for the American Board of Genetic Counseling (ABGC) certification examination and subsequent licensure in states where available. Genetic counseling is one of the fastest growing health careers, with an anticipated 26 percent job growth rate from 2020-2030, according to the US Bureau of Labor Statistics.
– Anthony J. Perez