Dr. Caitlin Patten Honored in Annual '40 Under 40' List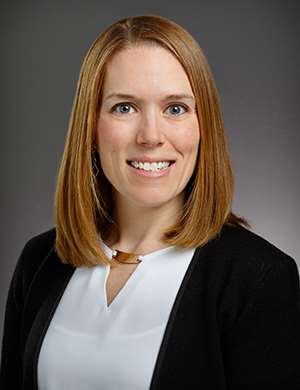 Milwaukee, March 17, 2023 – Caitlin Patten, MD, has made the 2023 '40 Under 40' list from the Milwaukee Business Journal. Dr. Patten completed all of her training at the Medical College of Wisconsin, and is assistant professor of surgery in MCW's Division of Surgical Oncology within the Department of Surgery, and director of medical student education.
Dr. Patten is a breast surgical oncologist whose clinical focus consists of caring for patients with breast cancer, benign breast diseases, and those who are at high risk for developing breast cancer. She utilizes a multidisciplinary team approach in order to deliver a personalized care plan tailored to each patient's needs. Dr. Patten not only offers available clinical trial opportunities to her patients but she also incorporates the latest surgical technology and techniques in her practice. Her research interests include breast disease clinical outcomes and developing innovative techniques and curriculum involved with student education.
Her full profile in the Business Journal calls her a doctor with a gift as an educator and unique technical skills as a surgeon. In the community, it states, she's championed the cause of breast cancer advocacy and given numerous presentations on breast cancer management.
When asked who most inspires her, she says:
"My breast cancer patients – I meet them at the most stressful time in their lives, but I am in awe of their ability to overcome the mental and physical challenges their diagnosis brings all while maintaining their professional careers and actively supporting their families."
Each year, Business Journal reporters and editors select 40 leaders under the age of 40 – from a pool of hundreds of nominations – who have demonstrated outstanding professional achievement while also becoming leaders in their communities.
Keep up with the latest news. Sign up for Newsroom Alerts.
Latest press releases, stories and resources.
MCW Media Contacts
The media relations team at MCW is happy to assist in coordinating experts for interviews. Please reach out to us at: