Dr. Julie Owen Named Inaugural Chief Medical Officer for Milwaukee's Mental Health Emergency Center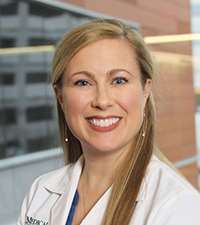 Milwaukee, April 13, 2023 – Julie Owen, MD, MBA, assistant professor of psychiatry and behavioral medicine and emergency medicine at the Medical College of Wisconsin (MCW), has been named the inaugural chief medical officer for Milwaukee's new Mental Health Emergency Center (MHEC).
A freestanding emergency psychiatric facility located at 1525 N. 12th St., MHEC is a joint venture between Milwaukee County and Milwaukee's four health systems: Advocate Aurora Health, Ascension Wisconsin, Children's Wisconsin, and Froedtert Health. It offers crisis mental health assessment, stabilization, treatment, and transition care management for youth and adults. As in any emergency department, the goal is for patients who present at MHEC to receive timely, stabilizing treatment before transitioning to the next most appropriate level of care.
The MHEC is the only emergency department in the city specializing in psychiatric emergencies. The other Milwaukee health system emergency departments have more limited resources to offer patients presenting with psychiatric concerns. The public-private collaboration behind MHEC is unique and represents a shared commitment to providing this specialized and expert care to the community.
"With the addition of Dr. Owen's clinical leadership, the Mental Health Emergency Center has the potential to be a national model for emergency psychiatric care that is patient-centered, recovery-oriented, and culturally informed," said Jessica Small, interim administrator of MHEC and president, Aurora Psychiatric Hospital, WI Behavioral Health Operations, Aurora Health Care. "We look forward to achieving great things for our community through this unprecedented partnership."
One of Dr. Owen's top priorities since starting her new role was to work with the MHEC leadership team to prepare for the certification process. MHEC received full accreditation on March 2, 2023. Among Dr. Owen's other responsibilities are overall medical direction of the facility and clinical team; recruitment, leadership, and support of a dedicated medical staff; relationship-building with community partners; and the design and implementation of an MCW psychiatry resident rotation at MHEC.
"We felt it was important for the MCW departments of emergency medicine and psychiatry and behavioral medicine to support Dr. Owen's new leadership role at the Mental Health Emergency Center," said Ian B. K. Martin, MD, MBA, chair and professor of emergency medicine, and Jon Lehrmann, MD, chair and professor of psychiatry and behavioral medicine and the Charles E. Kubly Professor in Psychiatry and Behavioral Medicine. "This amazing collaboration will provide so much benefit, and we wanted to do our part to support the community. Part of that support will come in the form of programs that will train mental health professionals in emergency psychiatry care, which in turn will provide the future workforce to make this collaboration successful."
Dr. Owen completed medical school and residency training in General Adult Psychiatry at MCW, as well as fellowship training in Consultation-Liaison Psychiatry. She earned her MBA from Marquette University in 2020. She serves as co-chair for the Academy of Consultation Liaison Psychiatry's Emergency Psychiatry Special Interest Group, one of the largest professional groups dedicated to the treatment of behavioral emergencies.
Keep up with the latest news. Sign up for Newsroom Alerts.
Latest press releases, stories and resources.
MCW Media Contacts
The media relations team at MCW is happy to assist in coordinating experts for interviews. Please reach out to us at: