Armand J. Quick Award for Outstanding Senior Medical Students in Biochemistry
About Dr. Armand J. Quick
About Dr. Armand J. Quick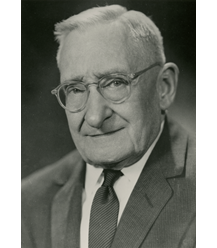 Armand J. Quick, MD, PhD, was an internationally recognized physician scientist who contributed substantially to our knowledge about basic mechanisms of blood clotting and techniques for the diagnosis and treatment of hemorrhagic disorders. He is famous for developing a widely used blood clotting assay now known as the Quick Prothrombin Test. Dr. Quick was chairman of the MCW Biochemistry Department from 1944 to 1964, during which he continued his research related to blood clotting disorders.
The Quick Award
The Quick Award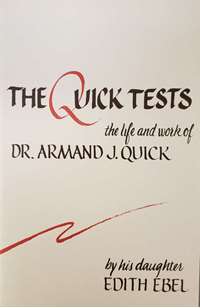 The Armand J. Quick Award was established by the MCW Biochemistry Department to honor senior MD and MD/PhD students with outstanding accomplishments in their course work as well as biomedically-related research projects. As a tribute to Dr. Quick, these students are encouraged to maintain an ongoing interest in being involved with biochemical/biomedical research in their future careers. Award recipients are recognized at a yearly reception, and receive a copy of the Quick Tests book for their personal library.
Armand J. Quick Award Current Recipients
Brennan Decker, MD, PhD
A native of Wisconsin, Brennan majored in Biology and Chemistry at St. Olaf College, where he was awarded the Buntrock Regents' Scholarship and a National Merit Scholarship. After graduating, Brennan traveled to Hungary on a Fulbright Fellowship and used atomic force microscopy to examine muscle proteins. Brennan then matriculated at the Medical College of Wisconsin as a Rath Scholar. As a medical student, Brennan contributed to genetic diagnosis of a young patient with severe, treatment-resistant inflammatory bowel disease. Using cutting-edge strategies, the team identified the mutation responsible for the child's illness and, for the first time, suggested optimal treatment based on the results of exome sequencing, which resulted in dramatic remission of the patient's disease.

Motivated by this perspective-altering experience, Brennan pursued further opportunities to explore medically-relevant applications of genomics through the Howard Hughes Medical Institute-NIH Research Scholars Program, and later the NIH-Cambridge Scholars program, which offers joint PhD training at the University of Cambridge, England and the National Institutes of Health in Bethesda, Maryland. Brennan joined Dr. Elaine Ostrander's lab where, among other projects, Brennan examined the genomic landscape of aggressive prostate tumors. As an Honorary External Research Scholar at Trinity College, Cambridge, Brennan worked with Professor Douglas Easton to provide clinicians with better risk estimates for high and moderate-penetrance breast cancer susceptibility genes.

Following graduation from MCW, Brennan will join the Pathology Residency Program at Brigham and Women's Hospital in Boston, Massachusetts, where he intends to specialize in Molecular Pathology and continue his multifaceted translational research to integrate genomics into the practice of medicine.
Anna K. Park, MD
Anna was born in Seoul, South Korea and moved to the U.S. at the age of five, where she was raised in Erie, Pennsylvania. In 2012, she earned her Bachelor of Science degree in Biological Sciences at Carnegie Mellon University in Pittsburgh, PA and conducted ribosome research under the direction of Dr. John L. Woolford, PhD. Anna completed a one-year research fellowship at the NIH in the National Cancer Institute under the direction of Division Chief, Dr. Lawrence E. Samelson, MD. Her research involved studying the biochemical basis of T cell activation. Her work has been published in The Journal of Immunology.

After the NIH, Anna began medical school at the Medical College of Wisconsin in 2013 and conducted research under the direction of Dr. DJ Sidjanin, PhD. In 2014, she received the Dr. Michael J. Dunn Summer Research Fellowship Award for her research project. Her focus was on the molecular and phenotypic characterization of mice deficient for an analogous gene mutated in patients affected with Warburg Micro syndrome. This project led to her publication as first author in the journal, BMC Genetics. She presented a talk at the 2015 Association for Research in Vision and Ophthalmology conference in Denver, Colorado on the molecular etiology of Warburg Micro syndrome. She earned the NEI/ARVO Travel Award to present at this meeting. Furthermore, her work led her to co-author a publication in the journal, Autophagy.

After graduation from MCW, Anna will begin training in the Anatomic and Clinical Pathology Residency Program at Stanford University in California. She plans to pursue a career in Gastrointestinal Pathology combined with Molecular Genetics and Bioinformatics.
Armand J. Quick Award Past Recipients
2001-Present Recipients
2001-Present Recipients
2021 - Andrew Kleist, MD, PhD and Jamie Schnuck, MD, and Michael Olp, MD, PhD
2020 – Daniel Keesler, MD and James Miller, MD, PhD
2019 – Steven M. Blinka, MD, PhD and Nicholas P. Gannon, MD
2018 – Erin M. Kropp, MD, PhD and Zachary R. Shaheen, MD, PhD
2017 – Brennan Decker, MD, PhD and Anna K. Park, MD
2016 – Tarin Bigley, MD, PhD and Jacob M. Wilson, MD
2015 – Erica Schmitt, MD, PhD and Ben Biesterveld, MD
2014 – Tyce Kearl MD, PhD and Wasakorn Kittipongdaja, MD
2013 – Krista Asp, MD
2012 – Jamie R. Privratsky, MD, PhD and Kevin M. Riggle, MD
2011 – Lance M. Relland, MD, PhD and Cheryl J. Maenpaa, MD
2010 – Jonathan M. Skarie, MD, PhD and Corbin D. Sullivan, MD
2009 – Brandon T. Larsen, MD, PhD and Christopher R. Henry, MD
2008 – Andrea B. French, MD
2007 – Sakkapol Ongwijitwat, MD, PhD and Joseph P. Roche, MD
2006 – Sachin Patel, MD, PhD and Michael D. Roseblum, MD, PhD
2005 – Timothy J. Nelson, MD, PhD
2004 – Matthew J. Riese, MD, PhD and Brooke A. King, MD
2003 – Brent L. Fogel, MD, PhD and Andrew E. Trochlell, MD
2002 – Jason A. Jarzembowski, MD, PhD
2001 – Jonathan M. Bock, MD and Anand Krishnan Ganesan, MD, PhD
1982-2000 Recipients
1982-2000 Recipients
2000 – Stacey A. Strege-Sjoberg, MD, PhD and Robert E. Sonnenburg, MD
1999 – David Potter, MD, PhD
1998 – Heather A. Stanko, MD
1997 – Richard J. Gumina, MD, PhD
1996 – Cathleen M. McCabe, MD
1995 – Grace Levy-Clarke, MD
1994 – Paul W. Hruz, MD, PhD
1993 – Gerald P. Loushin, MD
1992 – David K. Gaffney, MD, PhD
1991 – James P. Thomas, MD, PhD
1990 – John Caton, MD
1989 – Bert G. Tardieu, MD
1988 – Barry J. Roseman, MD
1987 – James P. Witter, MD, PhD
1986 – DuWayne Willett, MD
1985 – Jon R. Resar, MD
1984 – Mark L. Kadden, MD
1983 – Mark I. Freedman, MD
1982 – Carol Anne Popp, MD, PhD