Collaborative for Healthcare Delivery Science (CHDS)
The overarching goal of the Collaborative is to improve the value delivered to patients in Wisconsin while improving care globally through the intersection of healthcare operations, improvement methodology, and health services research.
Where Value and Innovation Meet
Professionals from multiple disciplines joined together in 2017 to form the Collaborative for Healthcare Delivery Science (CHDS) at the Medical College of Wisconsin, in partnership with Froedtert Hospital, Inception Health, and Children's Hospital of Wisconsin.
This partnership between healthcare leaders and researchers is designed to measurably improve the way healthcare is provided. Challenges are taken from the clinical front lines and interventions are co-designed with researchers experienced in implementation science, heath services research, economics and informatics. Along with an implementation and evaluation plan, findings are then disseminated with partners, through academic publications and white papers, and industry presentations.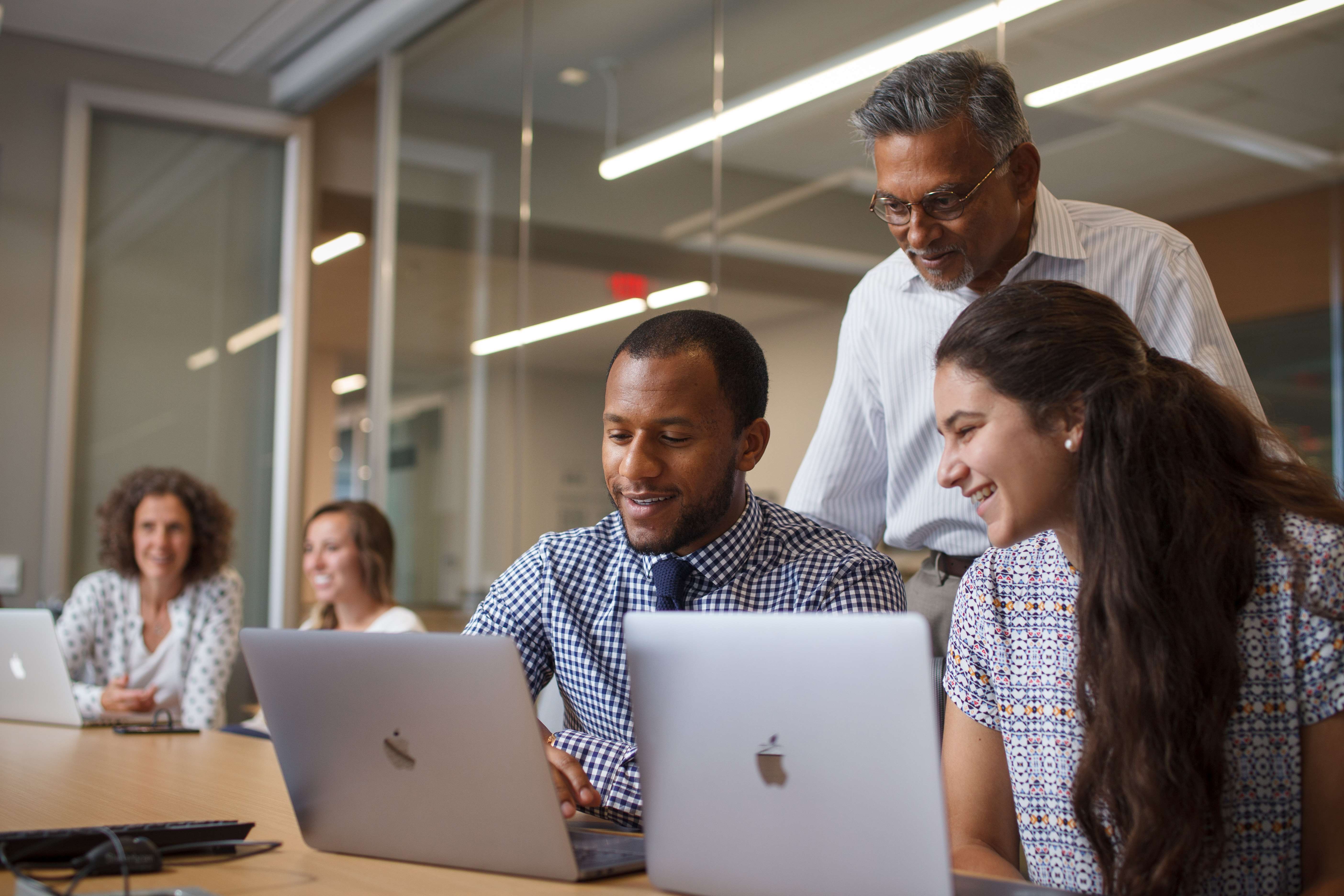 CHDS Process Overview
Clinical & Operational Problems
Clinical & Operational Problems
Clinical leaders define challenges that patients and clinicians encounter in the healthcare system. Their frontline perspective helps prioritize projects, while ensuring a connection between clinical impact and delivery science.
Co-Design
Co-Design
Researchers experienced in delivery science co-design implementation and evaluation plans with clinical leaders and frontline staff. Clinical leaders and frontline staff assess the feasibility and impact of proposed solutions and identify and manage operational details.
Data Scientists & Statisticians
Data Scientists & Statisticians
This team uses data from the EHR, ancillary systems, and prospective data collection to assess process and outcome measures.
Evaluation
Evaluation
CHDS provides resources for the rigorous evaluation of projects, including clinical, quality, and cost outcomes.
Dissemination
Dissemination
CHDS faculty and staff work with clinical leadership to publish and disseminate learnings.
CHDS Program Details
Project Selection Process
CHDS Project Selection Process (PDF)
Leadership
Ann B. Nattinger, MD, MPH, MACP
Associate Provost for Research
Lady Riders Professor for Breast Cancer Research
Liliana E. Pezzin, PhD, JD
Professor of Economics and Health Policy
Siddhartha Singh, MD, MS
Chief Quality Officer, Medical College Physicians & Froedtert Hospital
Associate Dean for Quality
Associate Professor of Medicine
David C. Brousseau, MD, MS
Professor of Pediatrics
Jon E. Vice Endowed Chair for Emergency Medicine
Chief, Section of Pediatric Emergency Medicine
Laura D. Cassidy, PhD
Professor and Director of Epidemiology
Director, PhD Program in Public & Community Health, Institute for Health & Equity
Bradley H. Crotty, MD, MPH, FACP
Assistant Professor of Medicine
Medical Director for Digital Engagement, Inception Health
Kathlyn E. Fletcher, MD, MA
Professor and Program Director, Internal Medicine Residency Program, Patient Safety & Quality Improvement Research
Purushottam W. Laud, PhD
Professor of Biostatistics
Advisory Board
Our Advisory Board acts as a sounding board for our Executive Committee, bringing forward community concerns that may be addressed by CHDS. The members ensure the relevance of project initiatives for improving healthcare delivery and value, advise on the strategic direction of projects, and assist in communicating and promoting the Collaborative's mission and programs.
Members:
Michael Anderes, MBA, Chief Innovation and Digital Officer, Froedtert Health: President, Inception Health
Elizabeth (Betsy) Brenner, MBA, MCW Board of Trustees, Former Publisher of The Milwaukee Journal Sentinel
Lila Rutten, PhD, MPH, Professor of Health Sciences, Mayo Clinic College of Medicine
Jonathon Truwit, MD, MBA, Enterprise CMO, Froedtert and Medical College of Wisconsin
Scott Turner, MHA, COO, Children's Hospital of Wisconsin; Executive Vice President, Children's Hospital and Health System
Staff
Our staff provides project support in the areas of data analytics, communication, design, IRB protocol development, reporting, and coordination.
Ryan Hanson, MS, Data Scientist
Emily McGinley, MS, MPH, Biostatistician
Annie Penlesky, MPH, Project Manager
Jeanne Tyszka, MA, Program Coordinator
Collaborators:
Silvia Muñoz-Price, MD, PhD
Rahul Sudhir Nanchal, MD
Andrew Resnick, MD, MBA
Michael Uhing, MD
CHDS Educational Programs
Education Overview
The CHDS Educational Programs provide an instructional framework for trainees, starting with foundational knowledge for summer medical students and progressing to applied, independent healthcare delivery projects. We expect learners to develop projects that focus on the care patients receive, that seek to improve safety, quality, and/or patient experience, and that will improve patient outcomes for the same or lower cost. Educational Partners include the Medical Student Summer Research Program (MSSRP) and the Medical Student Summer Quality Improvement Program (MSSQIP).
Fellowship Program
The CHDS faculty are looking forward to the start of their one-year fellowship program, beginning in July 2019. These Healthcare Delivery Science fellows will join teams working on larger projects and lead smaller projects. Through these experiential activities and accompanying didactic curricular activities fellows will gain the skills needed to lead future work in the science of healthcare delivery.
The Fellowship will combine classes and experiential learning with a focus on finding innovative solutions to problems in healthcare delivery.
Key Dates & Deadlines
October 1, 2018 | Announce opportunity
October 15-November 9, 2018 | Preliminary interest survey open
Provide concise descriptions of your prior experience with research, quality improvement, why this fellowship interests you, and how it would support your career goals
Semi-finalists will be selected by CHDS Education Committee
November 13, 2018 | Invitations will be sent to semi-finalists to complete the full application
Full application will include:
CV
Letter of intent (1-2 pages; why CHDS Fellowship would advance your career)
Types of healthcare delivery science projects of interest to you / Project you may wish to lead
Identify individual(s) with whom you hope to work during fellowship
2 LORs (one from PD if you are still in residency)
December 5, 2018 | Applications close
Mid-December 2018 | Finalist selection and interviews
Mid- to late-December 2018 | Fellowship award issued
July 1, 2019 | Anticipated Start Date
Eligibility
Doctoral degree (e.g. MD, DO, PhD, PharmD, PsyD, Informatics, Economics, or other relevant field) by June 2019
Includes Residents or subspecialty fellows, Pharmacy school residents, and PhD candidates who will graduate in June 2019
Includes Residents or subspecialty fellows who have a research year between July 2019-Jun 2020 and would like to use it for HDS research
Includes Fellows or practicing physicians who are interested in dedicating a year to studying HDS
What does the fellowship year look like?
Initial preparatory work during 6 months prior to start of fellowship
Coursework
Practice-level or Hospital-level project with a senior mentor
Personal project as leader
Mentorship in leadership
Email chds@mcw.edu with any questions.
Contact Us
Collaborative for Healthcare Delivery Science (CHDS)
Medical College of Wisconsin
8701 Watertown Plank Rd.
Milwaukee, WI 53226