Department of Medicine Internal Medicine Residency Program
The Internal Medicine Residency of the Medical College of Wisconsin (MCW) is a multi-hospital university program, located on a beautiful campus serving the diverse patient population of Milwaukee. In existence since 1925, the MCW Internal Medicine Residency prides itself on a long history of training high-quality internists. Currently, the Department of Internal Medicine is comprised of more than 100 residents, 70 fellows, and 350 faculty members. Our mission is to provide a comprehensive three-year internal medicine training program that prepares graduates to enter fellowship or to practice either primary care or hospital medicine. We have a close knit, supportive environment that fosters camaraderie, excellence and well-being. We are committed to diversity, equity and inclusion. Thank you for taking the time to explore our website!
Reasons to live in Milwaukee
Milwaukee is a one-of-a-kind city with a vibrant and diverse culture, this charming, yet metropolitan must-see is just 90 minutes north of Chicago and nestled on the coast of Lake Michigan. Whether you're catching a show at Summerfest, the world's largest music festival, immersing yourself in the old world charm of the Historic Third Ward or taking in the sights and sounds of one of the many cafés, beer gardens or restaurants that line the city's riverbank and shoreline, Milwaukee never disappoints. Find out why MCW residents and fellows take pride in calling Milwaukee home.
Welcome from the Program Director | Kathlyn Fletcher, MD, Professor of Medicine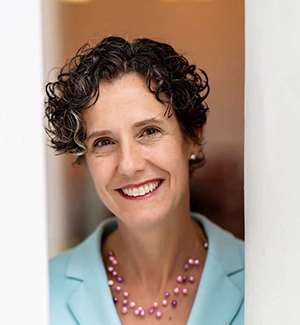 Supportive. Challenging. Friendly. Collegial. These are the words our residents use to describe our program. This is the ethos of the Medical College of Wisconsin Internal Medicine Residency Program. Our program is known for its balance of support and challenge. That means that our residents become excellent, independent internists while having a network of faculty and co-residents to guide and help them through the process. If you want to become a world-class internist, please apply here!
A little about me… I went to college in Indiana at DePauw University, which is a small liberal arts school. I went to medical school at the University of Chicago, Pritzker School of Medicine, and then stayed at the University of Chicago for residency. After doing a chief resident year at a community hospital, I went to the University of Michigan to complete the Robert Wood Johnson Clinical Scholars program. While at Michigan, I also got a Master's in Higher Education Administration. I have been at MCW since 2003. My initial faculty appointment was as a clinician investigator; my area of research expertise is the intersection between graduate medical education and patient safety. So I have written about lots of issues that are important to running a strong residency program: duty hour rules, hand-offs, and workload. In 2017, I took over as the program director, the most rewarding job in academic medicine.
In a recent exercise that our whole residency participated in, the house staff rated the following three things as the most important principles of a high quality residency program:
Training excellent internists
Having passionate faculty with time to teach
Having happy, well-balanced residents
With those principles in mind, our leadership team completely reworked the structure of our program to a 50/50 schedule we call "I's/O's." "I" months are ward months, and "O" months are non-ward months in which all continuity clinics occur and weekends are free. I's/O's began July 1, 2020. Other things we're proud of include our program's wellness program, diagnostic reasoning and POCUS. MCW, the Department of Medicine and our residency program are strongly committed to antiracism.
Being a physician is a serious commitment. Patients literally trust us with their lives. Therefore, my role as the program director is to provide my residents with rich, diverse opportunities to learn from patients, faculty and each other. It is also my responsibility to provide an environment where we look out for each other, stand up for each other and challenge each other to be the best versions of ourselves.
Welcome from the Vice Chair of Education | Michael (Mike) Frank, MD, Professor of Medicine
I joined the faculty at MCW in 1999, having previously served on the faculty at Indiana University School of Medicine. I went to school at the University of Wisconsin and completed residency training in internal medicine and fellowship in infectious diseases at the University of Virginia. I was the internal medicine residency program director here at MCW from 2004 through 2016, and still consider it the most important and rewarding work I have done in my career. I resigned as program director in order to take over the position of Chief of the Division of Infectious Diseases.
I have also been the Vice Chair for Education in the Department of Medicine since 2008, and am very excited to continue in this role. As Vice Chair for Education, I have overall responsibility for all of the education missions of the department – student programs, the residency program, and all of the subspecialty fellowships within medicine. In this context, I am very active with the residency program, working closely with the program director and associate program directors, and remain very involved with residents, both in direct teaching and in advising and mentoring. This remains the part of my job I enjoy the most.
Diversity, Equity & Inclusion
The Department of Medicine and the Internal Medicine Residency Program are committed to diversity, equity and inclusion. We strive to reduce and eliminate health care disparities, through reflective clinical practice, a purposeful curriculum and relevant research.
Additional Information
Accreditation Status
The Medical College of Wisconsin Internal Medicine Residency Program has been continuously accredited by the ACGME since 1947. In 2011, an ACGME site visit resulted in the Internal Medicine Residency Review Committee awarding us full reaccreditation to 2021.


Resident Schedule
Every attempt is made to meet the educational goals of each individual resident. Below are examples of curriculum templates for residents in our various training programs. Each rotation is typically a one month block.

Typical Schedule Overview for all PGY Residents (PDF)
Typical Conference Schedule
Daily: Internal Medicine Noon Report, MICU Teaching Conference, Subspecialty Conferences


Weekly: Academic Half-Day, Resident Case Conference, Integrated Skills Workshop, Medical Grand Rounds, Board Review, Ambulatory Case Conference, Intern Report


Monthly: Clinicopathologic Conference, Journal Club, Autopsy Rounds, Morbidity & Mortality Conference
Special
Core Skills Program 101: A week long course designed to help first-year residents transition into the challenging world of internal medicine.


Core Skills Program 201: A two-day long course for second-year residents that highlights key topics for continued learning.


Core Skills Program 301: A week long course for third-year residents specifically geared toward board review and preparation.
Special Features of Our Program
Chair is strongly supportive of student and resident scholarship and education.
Program Director and Associate Program Directors at all training sites, with a strong commitment to furthering residency education and scholarship, as well as the health and well-being of the residents.


Curricular flexibility allowing you to tailor to specific career goals.


Education through support and independent decision-making; back-up ALWAYS available.
MCW Research
In the federal government's FY 2013, the College received $88.7 million in NIH funding and ranked 43rd among the nation's 138 medical schools receiving NIH research funding. The Medical College remains in the top third of medical schools receiving NIH funding.


In MCW's fiscal year 2013, the College received $144 million in total grant awards for research from all funding sources. More than 2,100 research studies were conducted, including clinical trials.


Among the top 50 Schools of Medicine for NIH FY2013 funding, MCW ranks 3rd for dollars per award. This ranking is above Duke University (4th), Harvard University (5th), Stanford (9th) and Johns Hopkins (12th).


Active research programs at MCW and VA that include basic science, clinical and health services research.
MCW Clinical
The opportunity to treat patients in three different types of health care facilities:
Quaternary Care, Level 1 Trauma, Academic Medical Center – providing care to both Urban Milwaukee, outlying suburban patients, and referrals from all over Wisconsin.


Regional Veterans Affairs Medical Center – 55,000 patients with complete spectrum of inpatient and ambulatory specialty care.


Community Hospital – private patients admitted to both private and hospitalist services.
Froedtert Hospital, our primary training site:
Froedtert was rated one of the Top 10 Academic Medical Centers in the country by United Health Consortium
Level One Trauma Center
State-of-the-art, multi-discipline Cancer Care Center
Active transplant services (bone marrow, lung, heart, kidney, liver, pancreas)
Extensive campus growth in infrastructure
Nationally recognized Palliative Care service
Full electronic medical records system
Clement J. Zablocki VA Medical Center:
Zablocki VA rated as a '1A' facility, for delivering the most complex types of tertiary care. Only 30 VA Medical Centers have received a '1A' designation
Provides primary, secondary and tertiary care
165 acute care beds, and over 500,000 outpatient visits per year
Special services at the Milwaukee VA that are not offered at all VA's include: Spinal Cord Injury center, Comprehensive care including Radiation/Oncology, Long Term Care unit, a Geriatric Evaluation and Management Program and a Palliative Care program.
Diverse opportunities for experience in specially-designed rotations
Ambulatory Immersion (over 30 clinics to choose from)
General Medicine Consults and Pre-ops
Private Practice Preceptorships
Women's Health
Research Elective
Sleep Medicine
Bone Marrow Transplant
Neuro-ICU
Palliative Care
Hepatology
Allergy
Protected Educational Time Educational Programs
Seeing a variety of patients and medical conditions is vital to internal medicine residency training. However, educational sessions that are practical, interactive, and cover the breadth and depth of internal medicine are just as important in producing a successful general internist or subspecialty physician. It is crucial to point out that simply having conferences is not good enough when there are competing priorities. Our philosophy is to provide residents with protected, uninterrupted educational time. The internal medicine residency program provides a coordinated series of educational sessions that are protected from interruption by patient care responsibilities for housestaff. The overall program includes:
Academic Half-Day: every Wednesday throughout the year. This conference series replaces the traditional noon conference. PGY-1 residents have dedicated core presentations Wednesday afternoons to enhance their internship, and PGY-2 and PGY-3 residents meet Wednesday mornings for didactic series and integrated board review designed to expand their knowledge base and to assist with preparation for the ABIM examination.


Noon Conferences: every Monday, Tuesday, Thursday and Friday. Noon reports are held daily and feature a complex or unique case presented by a senior resident and moderated by a chief resident. These conferences are highly regarded and are attended by all interns and residents, as well as GIM and subspecialty faculty. In addition to working through a case with the audience, a PICO question relevant to the case is presented with each case in order to further our evidence based learning.


Clinicopathologic Conference (CPC): monthly at both FLMH and the VA. Each month an expert clinician is presented with the clinical course, relevant laboratory results and radiological findings of a particular patient and asked to develop a case discussion to present to students, residents and faculty. In addition to learning how our expert presenter would approach a challenging case, radiology and pathology also present relevant findings which lead to an unveiling of the diagnosis.


Morbidity & Mortality Rounds: monthly at both Froedtert Hospital and the Zablocki VA. As there is much to be learned from every case M&M conferences are important learning tools. In addition to the traditional management based M&M conferences, we also present Morbidity, Mortality & Systems Improvement cases four (4) times a year. These are interdisciplinary conferences that focus on a system based issues that may contribute to an adverse outcome. The key products of the conferences are workgroups (including administrators, faculty, residents and staff) who meet subsequently to address the specific issues and improve patient care.


Grand Rounds: Friday mornings. Selected speakers present relevant information on medical topics, new and innovative research or breakthroughs within Medicine.


Core Skills Program (IM 101, 201 and 301): One week of protected learning in each residency year. Sessions are conducted in small groups covering a broad array of topics. IM 301 (for PGY-3s) is dedicated to high yield board review.


Yearly retreats: One- or two-day retreats for each residency class. The retreats are designed to provide residents with ample time for building camaraderie, developing skills necessary for their respective PGY, and providing the program leadership with feedback. The PGY-3 retreat is particularly popular with residents as it is the only overnight retreat! Previous locations have been Wisconsin Dells, Lake Geneva, and The Blue Harbor in Sheboygan.


Evidence-based medicine sessions: A dedicated series of interactive conferences are held during the Ambulatory Immersion rotation, which are designed to enhance residents' ability to critically appraise journal articles and to encourage them to apply their knowledge in their practice of evidence-based health care.
Call Schedules
Call schedules will vary depending upon rotation. On average, PG-1 residents will have 7-8 months of ward responsibilities, PG-2's 5-6 months, and PG-3's 4-5 months. However, some "ward" rotations do not have any overnight call, so the number of overnight ward rotations is less. In general, interns do more call months than residents, but call frequency is less for interns.


As with any residency program, the implementation of the 2011 ACGME duty hour rules required some changes in call structure. We felt it was important, however, to make changes based on principles that we considered important in residency education, and not just jump to an all night float system in order to meet hospital coverage needs. We first defined the following principles to guide our decision-making:
We believe there is educational value in having some training in the hospital at night—you will see things and learn things at night that you wouldn't otherwise.


We believe in team call and team care. Teamwork is essential in today's health care environment and working as a team is also more fun and facilitates learning. When you are on call, it should be with your own team.


We believe that night float time should NOT take away elective time. Night float months are considered ward months and time has been taken to make this time educational.


Intern year: VA night float is paired with heme/onc wards to provide exposure to overnight cross cover issues and gain experience with inpatient heme/onc patients.
Second and Third year: Night float is paired with the VA urgent care center.

We believe that call schedules and coverage should be tailored to the individual rotations and services, according to educational priorities, rather than applying a "one size fits all" system across all services. For example, the best schedule for learning in an ICU is likely somewhat different than a general medicine ward which is different than a subspecialty ward.
At Froedtert hospital, there are five housestaff teams for general medicine wards and seven "uncovered" hospitalist-PA teams which are covered 24/7 by hospitalist faculty and never by housestaff. Our VA hospital now also has hospitalist teams that admit and cover their own patients 24/7. This allows for admissions to be more spread out, and more importantly to be tailored to the housestaff schedule—thus avoiding admissions during morning rounds, during Academic Half-Day and after 2:00 am.

General medicine ward teams have one attending, one resident, two interns, one sub-intern and two junior students. For Froedtert general medicine wards, overnight call is five (5) nights for residents and ten (10) for interns. In 2012, the VA wards changed to incorporate an intern night float system; this change was driven by the housestaff and designed to create more continuity within teams.

The Froedtert MICU has two teams of five housestaff; each person takes call for their team every fifth night. An intern is always paired with a senior resident.

The Froedtert cardiology, transplant and oncology services as well as the VA oncology service do not have overnight call. This is so that housestaff are never post-call and can be present for all daytime educational activities on these specialized services.

PG-2 and PG-3 residents each do 12 nights of night float per year which is coupled with an Ambulatory - Urgent Care rotation.

While on an elective month, interns and residents do not have night or weekend coverage responsibilities, however all housestaff while on an elective are designated to have either a weekend or week of jeopardy where they could be asked to provide coverage for a co-resident if needed.
Board Preparation Curriculum
Regular Board Review Sessions
Faculty-led board review sessions 2-3 Wednesdays per month during senior resident Academic Half Day
Utilizes board style questions and emphasizes general and topic specific test taking strategies
Active participation is encouraged with the use of an audience response system.
High-Yield Board Review Course

A week long course held in the spring of each resident's PGY 3 year
Residents are relieved of all other responsibilities to attend
All major ABIM certification exam topics covered by faculty with experience leading ACP Recertification Exam Preparation sessions or writing ACP In-Training Exam or ABIM certification exam questions
Medical Knowledge Improvement Plan

Program leadership assists residents in identifying personal learning styles and guides their selection of the board review resources that best fit their needs
Residents with identified test taking difficulties are given individualized assistance with board preparation
Insurance-covered neurocognitive testing is available for residents seeking special accommodations for the ABIM certification exam
Independent Study

A library is kept up to date with the major resources utilized by residents for board preparation, including MedStudy ® and MKSAP ® (text and computer resources).
Career Mentorship Plan
Program director and assistant directors meet with residents regularly to assist with the identification of potential research and clinical mentors.
Over 100 enthusiastic faculty willing to actively participate as mentors for research projects, clinical advice, career preparation needs and the fellowship application process.
The program offers sessions giving tips on obtaining a fellowship as well as how to start your search for a full-time position in either academics or community medicine.
Benefits, Conditions and Terms of Employment
Find everything you need to know about the comprehensive benefits package for residents at MCW.
Contact Us
Department of Medicine
Medical College of Wisconsin
Hub for Collaborative Medicine
8th Floor
8701 Watertown Plank Rd.
Milwaukee, WI 53226