Medical College of Wisconsin Department of Emergency Medicine Collaborative to Strengthen Emergency Care in Belize
Background
Leadership from Karl Huesner Memorial Hospital (KHMH), the Belize Ministry of Health and the Belize Medical and Dental Association (BMDA) have sought international collaboration to improve the medical knowledge of their doctors and nurses and quality of patient care vital to a healthy country.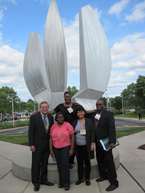 In 2010, Belizean physicians asked Milwaukee area Emergency Medicine doctors to provide continuing medical and nursing education to strengthen pre-hospital transport and emergency care at their flagship hospital Karl Huesner Memorial Hospital (KHMH). A concerted partnership with Belize healthcare leadership and the Medical College of Wisconsin (MCW) has grown over recent years. MCW faculty and Froedtert and Children's hospital nursing leaders have participated in multiple planning sessions with Belizean community and medical leaders and have identified specific KHMH medical training goals. Since 2010, our collective efforts have put forth a plan to address emergency care, disaster preparedness and response development for the country.
The staff and facilities of Karl Huesner Memorial Hospital (KHMH) provide tremendous care to the people of Belize. The first contact for patients entering this critical facility is through the Accident & Emergency (A&E) department.

Through training partnerships with international colleagues, Belizean medical providers will develop standardized approaches to physician/nursing education and improve patient care. These collaboratives equip the A&E's nurses and doctors to increase their understanding, skills and access to advanced clinical care knowledge. This will empower them to further improve the lives of Belizeans who come through the doors of the KHMH A&E.

Strengthening Emergency Care at KHMH Vision
Every citizen and visitor will have access to timely and quality emergency care, regardless of who you are or where you live in Belize.

Guiding Principles of our Partnership
This collaborative effort with KHMH will engage MCW and other health care personnel from the academic health campus at MCW as trainers and consultants in working with medical/nursing providers at KHMH with the goal to strengthen emergency care in Belize. A long-term collaboration with the Medical College of Wisconsin, Belize Ministry of Health, KHMH and regional hospitals will be sustained and will abide by principles of partnership: Sustainability, commitment, equity, respect, transparency, reciprocity, social justice, credibility, and trust.

Rationale
To strengthen the A&E at KHMH, a two year Training of the Trainers (TOT) Program will be developed for physicians, nurses, and other professionals including emergency medical technicians (EMTs) to strengthen emergency care and disaster preparedness and response.

This program seeks to build on the existing diverse training backgrounds among nurses and physicians and establish a national identity of care throughout the health care systems through team based, standardized training of nurses and physicians. The Program will include exchanges of learners and leaders and will also secure resources for in-country learning resources, including simulation equipment.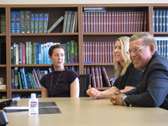 Team-based training themes will emphasize:

-personal empowerment through increased training involving triage, simulation, and equipment use -patient care management improvement through standardized work flow, observation and care

In countries such as Belize where there are few formally trained emergency medicine providers, emergency care training is vital to improved patient outcomes.
Objectives
1. Strengthen the education base of emergency medical technicians (EMTs), medical doctors, and registered nurses from KHMH

1.1 Enhance training in emergency care 1.2 Implement simulation training for critically ill and injured patients 1.3 Implement a medical exchange program with the Medical College of Wisconsin with faculty in Emergency Medicine, Pediatrics, Surgery, and Infectious Disease 1.4 Build a "Training of the Trainers" infrastructure to further strengthen emergency care and leadership for sustainability

2. Standardize care of patients with the development of expectations for both nurses and physicians

3. Integrate technology to improve patient care and management

3.1 Develop and integrate video teaching materials for initial and ongoing training addressing triage, screening, and care in the emergency department 3.2 Implementation of a simulation-based training program
Outcomes
Based on a MCW needs assessment and recommendations from the KHMH medical and nursing leadership, we believe there is a unique opportunity to achieve significant and measurable outcomes using four broad categories that are key to success: 1) Impact, 2) Leverage, 3) Sustainability and 4) Partnership.

Impact: KHMH is the primary tertiary care and receiving hospital for the country of Belize, along with tourists and others visiting the nation.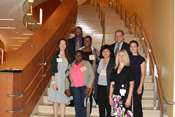 We believe that relatively small changes in the physical layout of the A&E, along with a significant investment in educational modules for staff and nurses, could result in a dramatic improvement in acute patient care.
Partnership: The medical and nursing staff of KHMH is hard working and
enthusiastic about the life saving work they are expected to perform. While the medical staff leadership at KHMH would benefit from an academic partner as MCW to provide consistent education, a coordinated approach that emphasizes "train the trainers" will result in the best sustainable partnership. MCW is optimally positioned to provide educational modules and facility consulting that will meet the four criteria outlined for success above. A three year time frame would be appropriate to ensure continuity and on-going support.
Curriculum Overview:
Recommendations to improve patient care and team-based practice
Triage area renovation
Dedicated trauma/resuscitation bay
Ventilator/crash cart supply cabinets
Larger pediatric ward
Education Models
Triage/Patient flow training (physician/nurse)
Team resuscitation training (physician/nurse)
Airway management training/procedural sedation
Central line/vascular access training
Chest tube training
Shock
Pediatric resuscitation/team training
Pediatric sepsis
Sustainability: Our shared goal is to build a sustainable, effective educational/training program in Belize. Many medical groups have come and left Belize before, only to leave behind unused equipment and good intentions. The shipwrecks that line the shallow waters of the coast are an apt metaphor. A successful long-lasting educational/training program must have as its goal to advance quality healthcare with ongoing and independent continued medical education.