Global Health Efforts in North America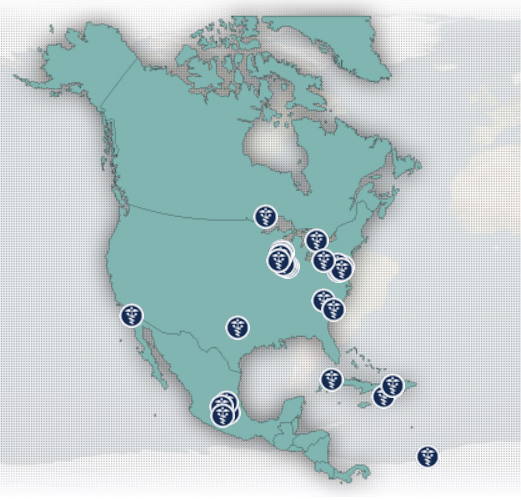 Canada
Pulmonary Hypertension in Children
Dr. Jeannette Vasquez Vivar collaborates on a two year study investigating Pulmonary Hypertension in children at the SickKids Hospital in Toronto, Canada. Samples are sent via mail to MCW to be analyzed.
International Joint Commission: Health Professionals Advisory Board
Dr. Foldy is the US Co-Chair of the Health Professionals Advisory board that assists the International Joint Commission (IJC) by providing advice on clinical and public health issues related to the transboundary environment. It is also responsible for recommending ways to communicate about these issues with the public and stakeholder groups. The IJC was formed by the Boundary Waters Treaty which was signed by Canada and the United States in 1909. It regulates shared water uses and investigates transboundary issues related to shared watersheds (rivers and lakes, including the Great Lakes). As water quality is increasingly implicated in human health, it recommends solutions to governments.
Cuba
US-Cuban Healthcare Collaboration
Dr. de Moya focuses on the development of trauma and acute care surgical services and education in Cuba.
Haiti
M4 Elective in Haiti
Dr. Wolf leads this M4 elective focused on primary care services at a rural low-resource primary care clinic in a small mountain community outside of Jérémie. Founded in 2007, Friends for Health provides medical out-patient services and public health outreach around nutrition and sanitation.
Community Outreach
Dr. Fehr traveled on a medical team for one week in and around Bonne Fin, Haiti. He participated in outreach clinics for school children with Hospital Lumiere.
Burden of Surgical Disease
Dr. Dodgion is Co-PI on a project to evaluate the burden and geographic distribution of surgical disease treated at St. Boniface Hospital on the southern peninsula of Haiti.
Ophthalmology Care & Training
Dr. Wilkes is part of a team with the CRUDEM Foundation that provides local patient care in Ophthalmology as well as education and training in Ophthalmology for Haitian physicians & US Ophthalmology residents Hôpital Sacré Cœur in Milot, Haiti.
Mexico
International Radiology Residents Visiting Observership Program in Diagnostic Radiology
Dr. Quiroz's program is intended to provide exposure for international medical graduates on how a modern academic department of radiology operates in the United States and to provide the candidates a focused experience in several specialized areas of radiology (i.e. Body Imaging, MSK Radiology, Neuroradiology, Breast Imaging, Chest Radiology, Interventional Radiology and 3D Lab) that will allow them to utilize the knowledge in their countries of origin upon their return. Residents spend 8 weeks observing and discussing techniques and cases of multiple subspecialties of the Department of Radiology. Visiting residents are from the National Institute of Medical Sciences and Nutrition \""Salvador Zubiran\"", affiliated with the National Autonomous University of Mexico (UNAM), one of the National Institutes of Health in Mexico.
Outreach Clinics - Gait and Human Motion Analysis (Mexico City, Mexico)
Dr. Harris is the faculty lead for this activity which to date, that has set up 3 outreach labs that are being actively maintained to: a) support better orthopaedic and rehabilitative care of children with orthopaedic disabilities and b) to provide support for collaborative clinical research. Labs have been established at the Club Noel Children's Hospital in Cali, Colombia, Philippine General Hospital (PGH) in Manila, and Shriners Hospital for Children in Mexico City. Each lab has a 3D motion analysis system that has been designed and validated for assessment of lower extremity kinematics during gait. This data is used for surgical and rehabilitative planning and follow up. Support for the labs is provided by the Orthopaedic and Rehabilitation Engineering Center (OREC) which is part of the new Joint Department of Biomedical Engineering (MU/MCW) and a long standing collaboration with the Department of Orthopaedic Surgery at MCW.
Observership in Pediatric Gastroenterology
Dr. Martinez partners with UMAE Hospital de Pediatria CNM SXXI in Mexico City annually to host two doctors for month-long observerships in pediatric gastroenterology.
Exchanges of Radiology Professors
Dr. Tutton is part of the committee of the World Congress of Interventional Oncology (WCIO), where his duties include helping coordinate educational efforts globally, with a focus on South and Latin America.
Saint Vincent and the Grenadines
Mobile Medical Mission Hospital (MMMH)
Dr. Olasz served as an outpatient dermatologist in the hospital in St. Vincent and the Grenadines, which otherwise has only one semi-retired dermatologist. The patient population ranges from pediatric to adult patients. She has diagnosed, educated and treated common and some rare tropical dermatologic diseases using very limited medicine supply and instrumentation. She has performed biopsies and minor surgeries as well. The Mobile Medical Mission Hospital (MMMH) has conducted over 300 missions to Europe, Africa, India, Central & South America, and the Caribbean and in rural areas in the US including in the Mississippi Delta & Appalachia.
United States
Education
Dr. Marchese gives didactic lectures and facilitates small groups for graduate and medical students. He directs research activities for domestic and international undergraduate, graduate, medical, and postdoctoral students.
Education/Training
Dr. Ebert does basic science research in pediatric and age-related diseases.
Dermatology in Global Health Lecturer
Dr. Wilson teaches second year medical students on issues of Global Health in Dermatology in annual lectures.
Development of Specialty Access for Uninsured in Milwaukee
Dr. Wilson is working with Specialty Access for Uninsured in Milwaukee leaders to provide better models for access of the uninsured to dermatology in Milwaukee, WI.
Treatment of Leprosy in Milwaukee
Dr. Wilson and National Hansen's Disease Program (NHDP) provided treatment for a patient with Leprosy. The patient completed two years of treatment and the IRB required to use investigational drugs and collaborate with NHDP.
Control of Diabetic Vascular Endothelial Function by Mitochondrial Fission Proteins
Dr. Hill works with drug discovery on mitochondrial fission proteins as potential therapeutics for vascular problems associated with diabetes.
Fis1 Regulation of Mitochondrial Fission
Dr. Hill does basic research on the molecular basis of mitochondrial quality control which, when impaired, causes severe neurological and cardiac diseases.
Contributions to M1 Medical Education
Dr. Hill participates in Molecules to Cells medical school course.
Research Internship for a Foreign Medical Student
Dr. Hill has hosted a medical student from Karachi, Pakistan for a research internship in his laboratory.
Basic Research in Epigenetic Post-Translational Modifications
Dr. Smith studies sirtuins and bromodomains: two epigenetic protein families that are targets for treatment of a variety of global diseases including cancer, heart disease, and diabetes.
Waukesha Family Medicine Residency Program International Away Rotation
Dr. Witt is the faculty responsible for the International Away Rotation at the Waukesha Family Medicine Residency Program.
Animal Models of Cerebral Palsy
Dr. Jeannette Vasquez Vivar is involved in a five-year Cerebral Palsy study with sample exchange and animal model development. Her project includes collaborations in Chicago, Spain, and Canada.
Teaching and Research in Fabry Disease
Dr. Dahms does basic research in Fabry disease using a new animal model. An MSTP student in the lab disseminates information to high school students in southeastern Wisconsin via the SMART team program. She also presented (didactic) a clinical case on Fabry disease in M1 medical school course in 2016.
Interactions of Leptospira Interrogans with Human Cells
Leptospirosis is the most widespread zoonotic infection, and causes not only human disease but also livestock disease and gestational loss, resulting in significant economic as well as health burdens. Dr. Coburn's work focuses on identifying bacterial and human proteins that are involved in host-pathogen interactions, particularly those responsible for the disruption to endothelia seen in disease and in vitro. They have also identified a non-antibiotic drug currently approved for use in humans that slows this disruption, and are collaborating with other investigators to determine whether it has protective benefits in animal models of infection. While leptospirosis is uncommon in the continental US, it is a significant illness in agricultural and urban slum areas in the developing world, particularly where water sources are contaminated by animal urine.
AANS/CNS Joint Spine Section
Dr. Wolfla is on the Board of Directors for the AANS/CNS Joint Spine Section which has an international membership.
Neurodegenerative Diseases Research
Dr. Scaglione studies protein aggregation.
SMART Team
Dr. Scaglione mentors grade school students at St. Dominic Catholic School in Brookfield, WI for their SMART Team project.
International Society of Bayesian Analysis 2016 World Meeting
Dr. Laud participated in the World Meeting of the International Society for Bayesian Analysis by serving on its Scientific Program Committee. He organized a special topics session and presented.
Spine Guidelines and Insurance coverage of various spinal procedures through NASS
Dr. Baisden works with the North American Spine Society (NASS) on the development of national guideline for multiple spinal disorders, spine policy, and insurance coverage recommendations from evidence based medicine on multiple spinal disorders.
Center for International Blood and Marrow Transplant Research
Dr. Horowitz is the Chief Scientific Director of the Center for International Blood and Marrow Transplant Research, a combined research program of the National Marrow Donor Program and the Medical College of Wisconsin. The main goal is to collaborate with the global scientific community in order to advance hematopoietic cell transplantation and cellular therapy research throughout the world. The vast array of research is accomplished through scientific and statistical expertise, a large network of transplant centers and a clinical database of over 350,000 transplant recipients from all over the world. In addition, the CIBMTR collects and maintains outcomes data and provides education, guidelines and training. For more information, visit the CIBMTR website.
American Association of Neurological Surgeons (AANS) International Committee
Dr. Swartz's primary role at AANS is to review international neurosurgeons' applications for sponsored USA studies, granting the funds to do so, and performing international outreach in Neurosurgery.
Dementia Care in the Hispanic Population
Dr. Antuono has collaborated with the United Community Center to address the clinical needs of Milwaukee's elderly Hispanic population. Initially begun with research funding from the Greater Milwaukee Foundations, this clinic is now free-standing, accessible and providing care to all Hispanics in the region.
International Adoption Clinic
Dr. Wilson is part of the International Adoption Clinic in Brookfield, WI. This multi-disciplinary clinic provides specialized care to children adopted internationally. She provides pre-adoption education to families regarding the potential social-emotional impact of institutional care and early adversity as well as consultation and long-term support for families parenting children who were adopted internationally. Children are seen by medical/mental health providers on Fridays shortly following their immigration to the US for purposes of adoption. Dr. Wilson follows families as needed to support their adjustment, positive post-adoption developmental attainment, and optimal social-emotional functioning.
Research and Education
Dr. Vaughn's research involves understanding the cellular mechanisms that regulate gene expression. This basic research broadly applies to a variety of diseases in which aberrant expression is observed. The educational emphasis is in the training of medical and graduate students which come from a number of different countries where health disparities are significant. He has also had the opportunity to teach high school chemistry at an educational facility in Sierra Leone for purposes of encouraging students and parents to seek appropriate health care.
Improving Health in Children
Dr. Kansra leads healthy lifestyle classes at Milwaukee's COA Glodin Center.
Neuropsychology Practice/TBI Research
Dr. Nelson conducts research on traumatic brain injury in humans and practices adult clinical neuropsychology.
MCW Office of Global Health
Dr. Hargarten serves as the Associate Dean for Global Health at the Medical College of Wisconsin. He is working to establish a sustainable platform of global health partnerships to support the education, research, clinical, public and community health training and international collaborative activities of our faculty and trainees. He is also the Director of the Global Health Pathway and overseas the curriculum and scholarly projects of medical students who declare this medical school foci. Dr. Hargarten was recently inducted into the Institute of Medicine and serves on their Global Health Board.
Hosting International Post-Docs and Research Fellows in Medical Physics
Dr. Li mentors international visitors from China, Spain, and Mexico to conduct research in medical physics at MCW.
International Cancer Expert Corps Early Career Leaders Working Group co-chair
Dr. Longo is the co-chair of the Early Career Leaders Working Group for the International Cancer Expert Corps (ICEC). The goal of ICEC is to reduce mortality and improve the quality of life for people with cancer in low- and middle-income countries, as well as the indigenous and geographically underserved populations in upper-income countries and regions worldwide. The ICEC addresses this mission through a mentoring network of cancer professionals who work with local and regional in-country groups to develop and sustain expertise for better cancer care. The ICEC envisions a world in which everyone has access to interventions to prevent and treat cancer and its symptoms using high-quality best practices for the local circumstances. Addressing, realizing and sustaining this vision can benefit people everywhere because of the scientific, societal, humanitarian and diplomatic consequences of ICEC activities. ICEC has established an Early Career Leaders Working Group that is organized by and comprised of a group of young people in oncology focusing on cancer care for the underserved. The ICEC Early Career Leaders Working Group operates within the ICEC Experts Committee. They welcome participation from trainees and early career faculty (somewhat loosely defined) as the greater the size of the critical mass the better. ICEC is seeking financial support for programs and operations, and to having cancer control be a challenging new opportunity to make a substantial impact on overall global health and also to provide a rewarding career and life path.
American Brachytherapy Society International Committee Member
Dr. Longo is a committee member for the American Brachytherapy Society International (ABS). This committee's mission is to enhance and facilitate international learning experiences and respond to international needs. The committee helps to organize ABS educational outreach opportunities with international colleagues, including identification of expert speakers for local and international meetings as well as for single institutions. The committee would also like to enhance resident and fellow education by providing an inventory of international brachytherapy rotations. There is also hope to have virtual meetings, webinars, and links to other brachytherapy learning activities on the ABS website.
American Brachytherapy Society International Committee Chair
Dr. Erickson is the Chair of the International Committee of the American Brachytherapy Society (ABS). This committee's mission is to enhance and facilitate international learning experiences and respond to international needs. The committee helps to organize ABS educational outreach opportunities with international colleagues, including identification of expert speakers for local and international meetings as well as for single institutions. The committee would also like to enhance resident and fellow education by providing an inventory of international brachytherapy rotations. There is also hope to have virtual meetings, webinars, and links to other brachytherapy learning activities on the ABS website.
American Society of Radiation Oncology (ASTRO) International Representative
Dr. Lawton is an International Representative for the American Society of Radiation Oncology (ASTRO). She represents ASTRO on a global stage in prostate cancer research and treatment.
MCW Medical Student Global Pathway Mentor
Dr. Long mentors a second-year medical student in scholarly activities and research related to global health.
Improving Eye Health Among Latinos
Dr. Kim and her team has established a telemedicine eye screening for retinal diseases including diabetic retinopathy and macular degeneration at the United Community Center in Southside Milwaukee. They have been training college students and community people to be able to perform these screenings using a retinal camera and they have been hugely successful. It is an ongoing project in an effort to catch blinding eye disease early in this high risk population. They have been awarded an Advancing Healthy Wisconsin grant for a systems change with this project. There are many interesting and exciting facets to this project that benefits the health of our Latino population that is at high risk for diabetes and other chronic disease. They welcome those with enthusiasm, responsibility, and ideas to join their efforts at better health and eye care for the community here and beyond with the use of telemedicine.
STEM Project
Dr. Kim and her team have a science education project with the middle school students to engage them into science early in their schooling in hopes of serving as a pipeline for STEM. MCW medical students can get involved with the telemedicine aspect and the pipeline aspects of their project as well as community education on diabetes. Those interested in health policy, community engaged research, or cost of health care may also be interested in this project.
Global Health Advisory Council Member and Student Mentor
Dr. Bosnjak contributes to the value of Global Health at MCW by being an active member of the MCW Global Health Advisory Council which makes strides to strengthen both the Program and Pathway. He also mentors students in the Global Pathway and those spending the summer in Croatia as part of their participation in the Dr. Elaine Kohler Summer Academy of Global Health Research.
International Surgical Trips with LEAP and Operation Smile
Dr. Campise-Luther is part of a team of physicians providing free surgical services to children with facial abnormalities through LEAP Global Missions. LEAP develops long-term relationships with its patients, their communities, and the other partners involved in their international surgical trips. Dr. Campise-Luther has provided anesthesia service for ENT, Plastic, and Urology procedures in Haiti and Belize. She has provided similar care and trained local residents in anesthesia in Kenya and India through the program Operation Smile.
Surgicorps International
Dr. Argenta participates in international surgical trips coordinated by Surgicorps International. These surgical trips vary by country but focus on cleft, burn, and hand surgery. Some trips have a vision/eye care component. Teams are composed of anesthesiologists, surgeons, nurses, occupational therapists, pediatricians, peri-operative medicine specialists etc. Students are welcome. Dr. Argenta has traveled to Bhutan, Guatemala, Zambia, and Vietnam with Surgicorps.
Surgical Service in the Developing World
Dr. Kampalath has participated in 25 international surgical trips since 2004 with LEAP, Connect Med International and Resurge International to India, Laos, Haiti, Malawi, Zimbabwe and Vietnam.
Indigenous Health International-MCW Institutional Agreement
Dr. Leonard Egede is the faculty lead for the institutional agreement between MCW and Indigenous Health International. Signed in 2017, this agreement lays the groundwork to stimulate scientific cooperation and strengthen research, teaching and patient care, broaden international experiences, and promote cross-cultural knowledge.
Prevention of Liver Cancer Health Disparities in Hmong Refugees
Dr. Lor is a committee member with the Southeast Asian Educational Development. Liver cancer disproportionately affects the Hmong community. The committee is working on developing a curriculum for the Hmong refugee community on prevention of liver cancer.