Pediatric Orthopaedic Research Lab
The Musculoskeletal Functional Assessment Center supports basic science and clinically related studies involving orthopaedic conditions, focusing primarily on pediatric spinal deformities. The center is involved in research to better understand the etiology and effects of pediatric spinal deformities, to analyze and monitor spinal deformities progress using 3D surface topography and the EOS system, to design and evaluate new spinal implants in animals and in patients, and is collaborating with researchers in genetics to study children with scoliosis. The center provides research opportunities for medical students, biomedical engineering students, residents, and physicians. The center advances clinical transitional research that directly benefits children with orthopaedic deformities.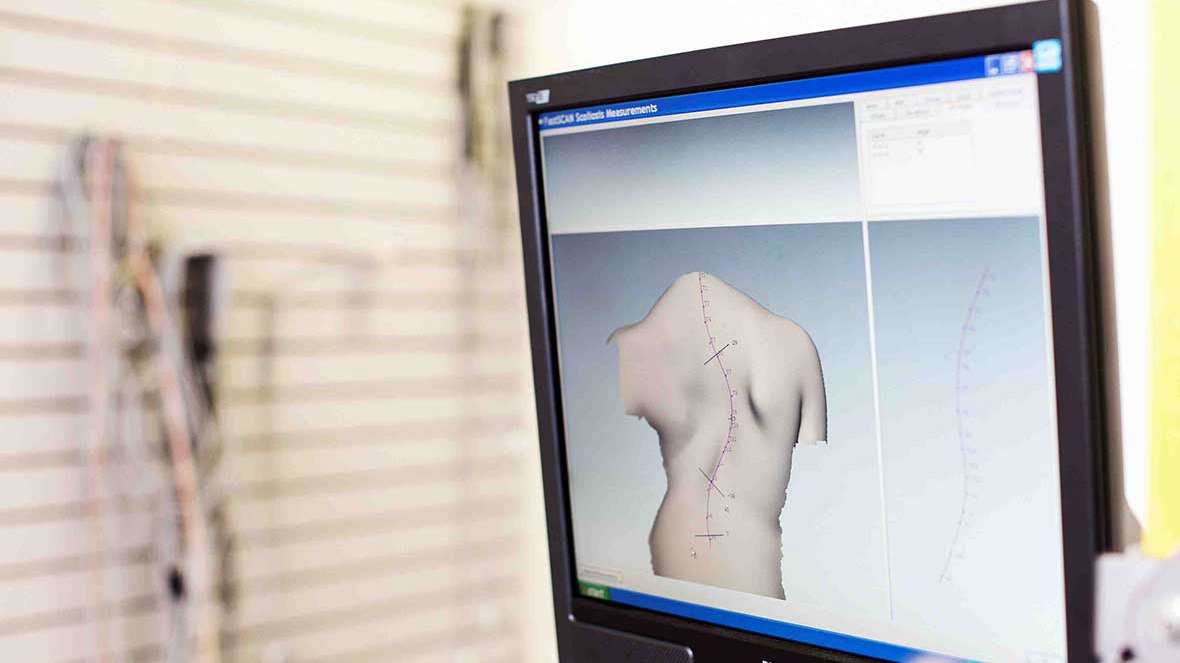 About the Lab
Equipment
The MFAC features several unique pieces of state-of-the-art equipment.

The Milwaukee Topographic Scanner uses a handheld laser scanner on the surface of the patient's back, which allows it to monitor mild to moderate spinal curvatures without radiation. The scanner produces 3-D back contours that conventional X-Rays cannot give, and physicians can see results within 30 minutes. This allows clinicians to quantify a shoulder discrepancy, rib hump, pelvic tilt, area and rib cage volume asymmetry, spinal alignment and many other conditions in follow-up appointments.

The Rodin4D scanner offers optimal precision for everybody part, with the ability to make a custom torso scan during manipulation and correction of the spine. This is then used to make a custom-fitted brace through a Computer-Aided Design (CAD).

The EOS 3-D X-Ray Scanner uses an ultra-low dose of radiation to take front and side X-Rays at the same time. From these simultaneous images, we are able to reconstruct a 3-D model of a spine that presents in an upright standing position (weight-bearing). This can provide a better understanding and accurate diagnosis, while also helping to determine the course of treatment.

The DIERS System is a radiation-free measurement system that provides both a static and dynamic three-dimensional spinal analysis. Horizontal bars of light are projected onto the surface of the back while a camera records the image. The computer software reconstructs the curvature of the spine using this image as well as various anatomical landmarks.

The Orthotimer is a wear-time measurement system that consists of a microsensor and wireless reading device to measure the success of the therapy, including orthotics, shoes, insoles, prosthesis, etc. It will document the patients' compliance and help determine what might be causing any problems and how to find solutions.

Funding
The laboratory is supported by Children's Hospital of Wisconsin.

Personnel
The laboratory is supported and run by Dr. Xue-Cheng Liu (Lab Director).
Space
The Musculoskeletal Functional Assessment Center: Pediatric Orthopaedic Research Lab is located in the Pediatric Orthopaedic Clinic at the Children's Hospital of Wisconsin. There is a 200 sq. ft area adjacent to the orthopaedic clinic and imaging rooms.