Microbiology and Molecular Diagnostics
The Microbiology and Molecular Diagnostics division, under the direction of Dr. Nathan Ledeboer and Dr. Blake Buchan, utilizes cutting-edge methods and technology to provide accurate and timely patient care. The division has successfully incorporated a number of molecular diagnostic tests to greatly improve analytic sensitivity and specificity, as well as turnaround time for result reporting. We are leaders in bringing in new tests, averaging six new test additions versus the national average of two tests per year.
We are leaders in infectious disease molecular testing for transplant patients, helping to monitor disease states that can be rapidly devastating to transplant patients. We also provide highly sensitive testing with optimal turnaround time to help monitor patients with HIV and Hepatitis B and C. For respiratory testing, we provide cutting-edge technology for influenza and other important respiratory pathogens. During the 2009 H1N1 Influenza outbreak, we were the only laboratory in the state that kept up with testing demands without compromising turnaround time. Most recently, a molecular assay for the detection of Gram-positive organisms directly from positive blood cultures was added to the test menu. This decreased the time to organism identification from 1-3 days to two hours, providing physicians with targeted guidance for patient treatment.
In the area of Microbiology, we are leaders in the use of Matrix Assisted Laser Desorption Ionization-Time of Flight (MALDI-TOF) mass spectrometry for organism identification. We were one of the first laboratories to use MALDI-TOF as our primary identification method for yeast. We are currently using it for aerobic organism identifications and are finalizing our validations for anaerobes, mycobacteria, and filamentous fungi. This technology completely changes the face of Microbiology. As an example, yeast identifications required 24-72 hours. With MALDI-TOF, we can have a highly accurate identification within 10 minutes.
The division is also adding specimen processing automation to increase productivity and consistency, while decreasing ergonomic fatigue and hands on time. This will also provide the flexibility to more efficiently utilize staff for technical procedures. Our goal in this area is to add on to this system to ultimately include a full line automation of microbiology cultures.
Microbiology and Molecular Diagnostics Faculty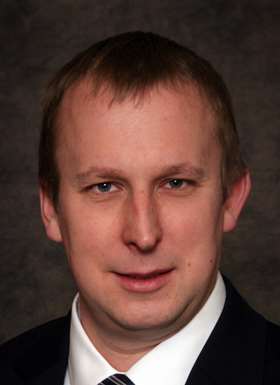 Professor; Medical Director, Clinical Microbiology; Medical Director, Molecular Diagnostics