Medical College of Wisconsin Pediatric Infectious Disease Fellowship
Welcome! Thank you for your interest in the Medical College of Wisconsin (MCW) Pediatric Infectious Disease Fellowship! Our goal is to provide comprehensive clinical and research training in pediatric infectious diseases that is tailored to the fellow's previous experience, individual interests, and aspirations, in a collegial and nurturing environment that fosters intellectual curiosity, and prepares them to excel as academic researchers and clinicians. The vast resources of MCW provide ample opportunity for fellows seeking academic excellence in infectious diseases.
These opportunities include but are not limited to: the Clinical and Translational Science Institute (CTSI), Center for Infectious Disease Research, the School of Public Health, the Office of Global Health, and Kern Institute.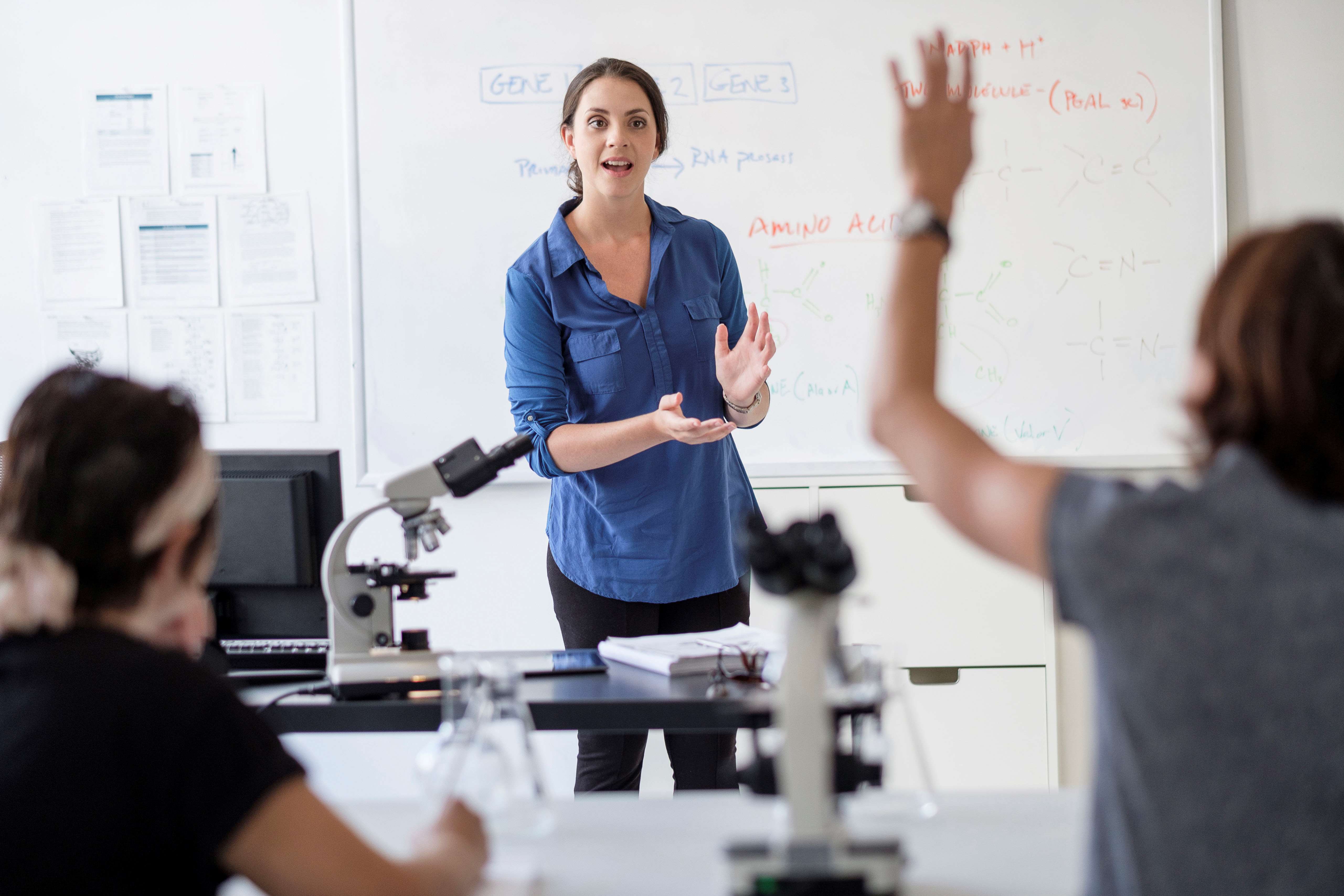 A Message from our Program Director
Welcome to our fellowship webpage! We love our pediatric infectious disease group and Children's Wisconsin. We also really value our personal connections with our fellows. It is incredibly important that we work with each of our fellows to make sure that we help you to your dream job. This may include matching you with faculty, mentors, and programs to help you reach your pre-determined career goals. But this may also be helping you get starting within the field by exploring the many different aspects of academic medicine and pediatric infectious diseases to help you find what really interests you. Please look around our site and reach out to us for any questions you may have.
Katie Ryan, MD, MPH
Fellowship Director, Pediatric Infectious Disease
Meet our Directors
Katie Ryan, MD, MPH, and Michelle Mitchell, MD, our fellowship directors, discusse our program, our institutions, and living and training in Milwaukee.
As a fellow, you will...
Become competent in evaluating and treating children with common and rare infectious diseases
Learn from attendings who are national and international experts in the field of Infectious Disease
Work with other subspecialties at a premier Children's Hospital
Establish a foundation for a successful career in Infectious Diseases tailored to your interests and ambitions
Receive mentoring in your area of research, present your research in scientific meetings, and get training in submission of grant proposals and preparation of manuscripts
About Our Fellowship
Clinical Experience
Fellows will rotate on the inpatient infectious disease consult service for 52 weeks divided throughout the 3-year training period. A broad range of patients with an immense depth of pathology will be evaluated in the hospital including but not limited to intensive care, surgical/post-surgical, transplant and other immunocompromised hosts. Fellows will also participate in outpatient clinic experiences (approximately 15-20 half-day clinics per year) that includes general infectious disease, HIV, hepatitis C and care for the international traveler. Fellows will participate in weekly microbiology rounds and weekly conferences that review in-depth management of patients and guidelines in pediatric infectious diseases.
Academic Curriculum
In addition to bedside teaching of residents and medical students, there are many opportunities to participate in formal lectures outside the clinical and research settings including:
Pediatric Infectious Diseases Case conference: Weekly meeting to discuss care of patients on the infectious disease service and complex longitudinal patient care.
Infectious Disease Grand Rounds: Weekly combined adult and pediatric infectious disease conference including fellow case presentations, invited speakers, morbidity and mortality discussions, and journal clubs.
Microbiology Rounds: Weekly conference lead by the microbiology director to review interesting, unusual, or unique microbiological findings.
Fellows Didactics: Weekly hour-long conference for educational topics including antibiotic coverage, pharmacokinetics/pharmacodynamics, and specific infectious disease states.
HIV Education: Weekly HIV patient care conferences and monthly statewide HIV case conferences.
Combined Peds Transplant Infectious Disease Teaching Series: Monthly educational series targeted to pediatric infectious disease fellows from multiple intuitions throughout the US.
Journal club: Each fellow will lead journal club with 2 article reviews per year.
Integrative Study Conferences: Robust asynchronous learning including podcasts and pre-recorded lecture material.
Pediatric Joint Fellowship Curriculum: See more information on next section on our website.
Additional optional conferences include:
Department of Pediatrics Scholarship in Progress: Opportunity to learn about or present research occurring at our institution for feedback and suggestions.
Professor Rounds: Weekly conference presented by pediatric residence on unknown clinical cases.
Microbiology & Immunology Seminar Series: Twice monthly presentations by local or invited speakers on basic or translational research in the fields of microbiology and immunology.
Children's Research Institute Conference: Weekly series focusing on pre-clinical and clinical child health research.
Kern Institute Grand Rounds: Monthly conference of guest lecturers presenting on their area of expertise within the Triple Aim of Medical Education: Character, Competence, and Caring.
Pediatric Joint Fellowship Curriculum
The Joint Fellowship Curriculum (JFC) at the Medical College of Wisconsin is a series of longitudinal educational experiences designed to cover topics required for all pediatric fellows. While
specialty
-specific education is covered within each section, the JFC endeavors to cover the remainder of topics that are common to all fellowship trainees. Fellows not only gain insight on these topics from campus-wide experts, but also do so in a collaborative learning environment with their same level fellow peers from across the pediatric enterprise.
Diversity and Inclusion
At MCW and within the Department of Pediatrics, we have several programs and resources focused on fostering a diverse and inclusive environment. Our departmental and institutional focus is confronting negative perceptions and welcoming our community. Below is just a sampling of the efforts across our institutions to embed the principles of diversity and inclusion into our culture.
DOP Diversity, Equity and Inclusion Council | Our Diversity Council, led by Dr. Mike Levas, the DOP Vice Chair for Diversity and Inclusion, and comprised of faculty, staff, administration, and trainees, is focused on connecting with partners across our system and within the community to ensure the DOP is a diverse, equitable and inclusive employer.
DOP Fellowship and Residency Diversity and Inclusion Committees | In a city filled with its own diversity and rich cultural history, our fellows and residents recognize the importance of addressing diversity, health equity, and inclusion within our programs. As such, the program is proud to recognize the presence and work of its Committee for Diversity, Equity, and Inclusion.
DOP Unconscious Bias Training | The AAMC has partnered with Cook Ross, Inc., a leading consulting firm, to create training focused on the science behind unconscious bias to help academic medical staff and faculty mitigate disparities. Seven members of our team have earned a certification as unconscious bias trainers through Cook Ross. These trainers have translated what they've learned into a two-hour training for our faculty and staff. By learning how to identify and confront unconscious bias, it is possible to mitigate the impact and promote respect for all groups.
Trauma-Informed Workplace Training | This committee has undertaken actions including a department-wide survey and the creation of four online training modules sharing the principles of trauma-informed approach and how to recognize signs and symptoms of trauma in ourselves and others. This group started as part of Fostering Futures, a state-wide initiative aimed at infusing a trauma-informed approach into all the systems and organizations that touch the lives of Wisconsin citizens with the goal of expanding across the state to make Wisconsin the first trauma-informed state in the nation.
Office of Diversity and Inclusion | Established in March 2016, the MCW Office of Diversity and Inclusion (ODI) partners within MCW and with community partners to foster and drive inclusion excellence as an effective, empowering enabler of MCW mission and strategic goals.
Spring Festival of Cultures | The annual Spring Festival of Cultures encourages an increased awareness and celebration of the visible and non-visible identities among our MCW community. This three-day event is an opportunity to promote the fostering of diversity, inclusion and unity at MCW.
President's Diversity and Inclusion Award | MCW's President's Diversity and Inclusion Award recognizes the accomplishments of faculty, staff, students, residents, trainees, and community members in contributing to diversity and inclusion through exemplary leadership.
Institute of Health and Equity | The Institute for Health & Equity is focused on researching the root causes of health disparities in our communities, and advancing the best ideas to foster health equity throughout the world. We target populations with abnormally high rates of disease and injury – urban and rural alike – and then we find out why. Partnering with community health collaborators who live and work closest to the most vulnerable populations, we are making an impact on reducing those disparities, one community at a time.
GMF-MCW Partnership | Through their overall partnership, MCW and GMF will bring complementary expertise on a range of strategies to invest in the health, equity and economic well-being of people across Milwaukee, beginning with the neighborhoods adjacent to the new development. Guided by community priorities and data, the GMF-MCW Partnership will be a catalyst for additional investment and community impact. Together, the partners will:

Engage resident and community partnerships
Improve social determinants of health
Catalyze change that leverages resources and investment
Our Fellows
Khaled Al-Zubaidi
Second Year Fellow (2022-2025)
Hometown: Yemen
Medical school: The University of Jordan, College of Medicine
Residency: Hamad General Hospital, Qatar
Research /Scholarly Project: My research focus is antimicrobial stewardship and tackling the issue of antimicrobial resistance. As overuse of antibiotics is one of the main reasons of evolving resistance, I am working on a research project to assess the noninferiority of short course antibiotics compared to current standard duration in hospitalized children with community acquired pneumonia.
Mentor(s): Dr. Michelle Mitchell
Research interests: Antimicrobial stewardship and management of infectious disease-related complications in immunocompromised children
Interests and Hobbies: Reading, playing squash and traveling.
Why did I choose MCW for fellowship? A large academic center with diverse pathology in a city with diverse clinical cases is one of the aspects that attracted me to MCW. In addition, on my interview day, I got a glimpse of how friendly and dedicated the pediatric infectious disease is at MCW.
One of the best things about living in Milwaukee: The variety of activities one can do year-round. Including hiking, exploring national parks and lakes, the beautiful fall scenery, and the variety of food options. I was also pleasantly surprised by how friendly, and welcoming are the residents of Milwaukee area.
Zachary Telfer
Adult ID/Pediatric Infectious Disease Combinded Fellowship
Hometown: Hebron, Fort Atkinson, WI
Medical school: Medical College of Wisconsin
Residency: Medical College of Wisconsin and Affiliated Hospitals
Research /Scholarly Project: My interests include pre and post exposure prophylaxis for HIV as well as the management of HIV and AIDS kids and adults, sexual and global health, and the inclusive care in LGBTQA+ individuals.
Mentors: Andrew Petroll, MD, MS, Kartik Acharya, MD, MPH, and Claudia P Vicetti Miguel, MD
Research interests: PrEP prescribing in adolescents
Interests and Hobbies: I bought a house at the beginning of residency because I love DIY projects. I have always enjoyed working with my hands and continue to spend my days off renovating and revamping my home. I dream that one day to have a workshop stocked with precision tools to help hone my craft and create projects that bring joy to myself and others.
Why did I choose MCW for fellowship? I have spent the entirety of my medical career training at MCW. The patient population in Milwaukee and its culture is wonderfully diverse. I have learned so much from patients, colleagues, staff, and faculty and hope that I can continue to give back to my communities. My goal has been to continue to train in both internal medicine and pediatrics, even into my fellowship, which has always been encouraged and supported at MCW. I am excited to begin my career in infectious disease and couldn't be happier to join the ID groups at MCW. I hope to continue to strengthen the partnership between the pediatric and adult programs and receive a robust training in return.
One of the best things about living in Milwaukee? Milwaukee is rich in culture, arts, brewing, and food. We have all the perks of a big city with the charm of the Midwest. I am always happy to give a recommendation for a local establishment with a great atmosphere!
Our Faculty
Our talented team of pediatric infectious disease providers are ready to help train you for a successful career in our field.
Our Institutions
About the Medical College of Wisconsin
With a history dating back to 1893, the Medical College of Wisconsin is dedicated to leadership and excellence in education, patient care, research and community engagement. More than 1,400 students are enrolled in MCW's medical school and graduate school programs in Milwaukee, Green Bay and Central Wisconsin. MCW's School of Pharmacy opened in 2017. A major national research center, MCW is the largest research institution in the Milwaukee metro area and second largest in Wisconsin. In the last ten years, faculty received more than $1.5 billion in external support for research, teaching, training and related purposes. This total includes highly competitive research and training awards from the National Institutes of Health (NIH). Annually, MCW faculty direct or collaborate on more than 3,100 research studies, including clinical trials. Additionally, more than 1,600 physicians provide care in virtually every specialty of medicine for more than 4.0 million patients annually.
About Children's Wisconsin
Children's Wisconsin is the region's only independent health care system dedicated solely to the health and well-being of children. The hospital, with locations in Milwaukee and Neenah, Wisconsin, is recognized as one of the leading pediatric health care centers in the United States. It is ranked in nine specialty areas in U.S. News & World Report's 2019-20 Best Children's Hospitals report. Children's provides primary care, specialty care, urgent care, emergency care, community health services, foster and adoption services, child and family counseling, child advocacy services and family resource centers. In 2019, Children's invested more than $130 million in the community to improve the health status of children through medical care, advocacy, education and pediatric medical research. Children's achieves its mission in part through donations from individuals, corporations and foundations and is proud to be a member of Children's Miracle Network Hospitals.
Living & Learning in Milwaukee
Milwaukee is one of the Midwest's best-kept secrets and a prime location for the Medical College of Wisconsin's main campus. A one-of-a-kind city with a vibrant and diverse culture, this charming, yet metropolitan must-see is just 90 minutes north of Chicago and nestled on the coast of Lake Michigan. Whether you're catching a show at Summerfest, the world's largest music festival, immersing yourself in the old world charm of the Historic Third Ward or taking in the sights and sounds of one of the many cafés, beer gardens or restaurants that line the city's riverbank and shoreline, Milwaukee never disappoints. Find out why MCW students, faculty and employees take pride in calling Milwaukee home.
Learn more about housing and rental options.
Application Process and Visa Information
Our 3-year fellowship program is ACGME accredited and begins on July 1 each year. We accept one fellow each year through the National Resident Matching Program (NRMP). Applicants must have completed an ACGME-accredited (ACGME, ACGME-I) pediatric or combined pediatric residency program. Applications from prospective applicants are accepted from July through October via the Electronic Residency Application Service (ERAS). We will access your application and contact you to make interview arrangements.
Complete applications should include the following:
ERAS application form
At least 3 letters of reference including Program Director letter
Medical Student Performance Evaluation/Dean's Letter
Curriculum Vitae
Personal statement
MD Applicants: USMLE scores - Steps 1, 2, and 3 or
DO Applicants: COMLEX scores – Levels 1, 2 and 3
ECFMG certificate for foreign medical school graduates (see visa information below)
Our program currently accepts applicants with Permanent Resident Visas and can also sponsor the following visas:
Exchange Visitor Visa sponsored by ECFMG (J-1)
Temporary Professional Workers (H-1B)
For additional visa information please visit MCW's office of Graduate Medical Education.
Benefits, Conditions and Terms of Employment
Our Fellowship in Photos
My fellowship training at Children's Wisconsin was more than I expected. The case load was manageable while exposing me to a wide array of pathology. The faculty were invested in my research and education and I've learned so much from them! I couldn't be happier with the training I've received
Brittany Player, DO (Departing Fellow)
Contact Us
Pediatric Infectious Diseases
MCW Department of Pediatrics
Children's Wisconsin
P.O. Box 1997
Milwaukee, WI 53201-1997
(414) 337-7070
(414) 337-7093 (fax)
Program Coordinator
Connie Chase