OnCore Financials
Financials is a module of OnCore Clinical Trials Management Software that standardizes clinical research financial workflows, manages study budgets, and leverages system integrations including Epic.
OnCore Financials implementation is underway!
Reference the below FAQs for answers to common questions. Refer to the OnCore Financials InfoScope page (intranet access required) for the latest implementation updates.
Financials FAQ
Frequently Asked Questions regarding the introduction, implementation, and use of OnCore Financials.
How do study teams know whether a study belongs in OnCore or if an OnCore calendar is required with the new OnCore Financials process?
Which projects will be in-scope/out-of-scope for OnCore Financials implementation?
Please refer to the
Froedtert & MCW OnCore Decision Tree
(PDF). All new studies utilizing FH Epic billing must go into OnCore with calendars and use Financials. For legacy studies, the final criteria for projects being in-scope or out-of-scope has not been decided. This decision will evolve as the financials process development occurs. Current thinking supports inclusion of all studies which have research billing that is managed in FH EPIC by OCRICC and/or CPS. Further considerations include the expected duration of the trial and the need for study teams to enter all legacy data (i.e., calendaring visits, coverage analysis, budget details, previous invoicing). Ultimately, the real benefit will need to be measured against the effort of manually entering legacy data.
What is the timeline for completion of the two phases of the OnCore Financials project?
The OnCore Financials project started June 2022 and is projected to continue through calendar year 2023. Phase 1 completion and end user training is anticipated in Spring 2023. Refer to table below for the activities during this timeline.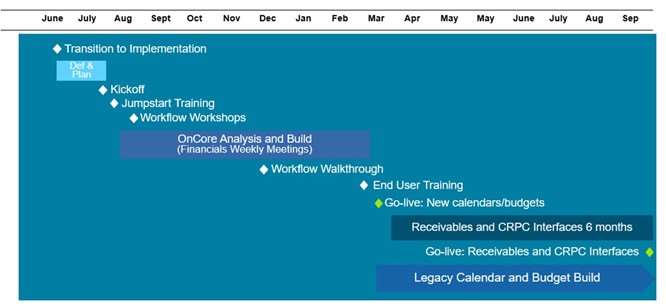 Are training resources available if I want to learn more about the OnCore Financials Console or review how it works before End User training in spring 2023?
Will the need to email signed consent forms to OCRICC cease once OnCore Financials is in place? 
At this time, the need to send signed consent forms to OCRICC to be added to the EMR remains the same. The signed consent also represents the patient authorization of release of protected health information for research, which is required to be documented in their legal health record. Consent documents (signed or unsigned) are not stored in OnCore. Consent documents may be stored and certified as original through the electronic certification processes within Florence eBinders.
Will costs for an OnCore calendar build differ based on the project funding source? 
The cost of the OnCore calendar is not dependent on the type of funding source. The cost is a flat fee, which includes MCW F&A, and the effort of the research staff to review the calendar prior to study activation.
Advarra uses their fully owned subsidiary company to provide services for clinical trials including calendar builds. These services are provided by their Business Operations Services (BOS) team. The current calendar purchase fee is $246.05, will be assessed the appropriate MCW indirect rate (based on funding source). This fee may change as the contract between Advarra and MCW is renegotiated in the future.
Under which circumstances will someone from the department/study teams need to build a calendar or calendar pieces?
Please refer to the Froedtert & MCW OnCore Decision Tree (PDF) to determine when a calendar is required. Research staff are not responsible for completing the initial calendar builds for each study. Building the calendar can be complicated, and the accuracy of the calendar will impact multiple features in OnCore Financials; Coverage Analysis, Budgeting, etc. MCW uses the Advarra BOS team for initial build of most calendars for a nominal charge and the department/study teams will be responsible for calendar approval prior to release.
Individuals responsible for study budget development may need to make/request adjustments to the OnCore calendar to accommodate study budget needs.
Will Children's Wisconsin services be affected by OnCore Financials? 
Use of OnCore by pediatric study teams is welcomed, encouraged, and available at no cost to any MCW investigator/study staff. Many of OnCore's current functions would directly benefit the pediatric study teams, including integration with eBridge, Payments and Florence eBinders. However, it is important to note that Children's EPIC does not currently interface with OnCore. Consideration for expansion of Oncore Financials workflows will be discussed with Children's in the future; but would be limited without the OnCore – Epic interfaces.
Study teams with protocols that involve both minors and adults and use Froedtert Health (FH) services including FH Epic and enrolling adult subjects, will be transitioned to the new standardized financials beginning in Spring 2023. Pediatric study teams with research involving adult subjects with FH services are encouraged to begin using OnCore to track these study subjects as soon as possible to eliminate the need to catch up later.
Will research teams be able to view status updates on OCRICC invoices through OnCore? For example, will they be able to log in a see that payment for an OCRICC invoice was fully processed?  Will invoices be processed directly through OnCore vs. an outside system like Oracle?
No, invoices from "service areas", like OCRICC, are not part of the automation plan. Expected study costs built into the budget will produce Study Payables in OnCore allowing study teams to reconcile invoices they receive but will not trigger payments.
In Phase 2 of the project, Summer of 2023, Sponsor Invoices produced by the study teams will be interfaced to Oracle to create receivables to help facilitate the sponsor payment reconciliation process easier.
ORACLE will remain the source of truth for account transactions and summaries at the end of the OnCore Financials project.
Will subject stipends be able to be issued directly through OnCore vs. needing to log in separately to the Study Payments system to issue these?
No, subject stipends will continue to be processed through Advarra Payments. The Payments system is integrated with OnCore and does receive some subject data from OnCore; however, management of the subject stipend process will remain a function of Advarra Payments.
What will change with Epic and charge entry in relation to OnCore Financials implementation?  How will the systems know that a visit marked as "occurred" in OnCore matches a specific visit encounter in Epic?  How will these be linked?
Study coordinators will be expected to link the visits and procedures to the study in FH Epic as they are required today. This will remain an important step after the OnCore Financials project is complete. Specific data entered in your OnCore protocol, coverage analysis, and subject statuses support this process. Phase 1 will introduce a new process to notify OCRICC and CPS of visit variations through OnCore.
In the second phase of the project, a new interface, the CRPC, will enable coordinators to generate patient timelines (study billing grids) in Epic which will identify which visits match the study timeline for easier identification and linking. The best description of how the CRPC interface works with Epic is by association; meaning the linked visits are directed to the research billing buckets by falling within the research billing grid.
How does the CRPC interface affect subject billing?
The CRPC interface will communicate details regarding procedures, visits, coverage analysis, and Q0 and Q1 modifiers from OnCore to the Epic Billing Protocols. These communications will only cover study charges that are included as a billing line item in Epic (service, supply, procedure, or encounter). The details received in Epic will pre-bucket study related charges to the appropriate "Bill to Study" or "Bill to Insurance" bucket, with Q0 and Q1 modifiers, for OCRICC and MCW billing teams to review and release appropriately to insurance or back to study teams for payment. The CRPC does not directly deal with per subject billing.
This grid allows OCRICC and CPS (MCW) to appropriately route each charge in Epic: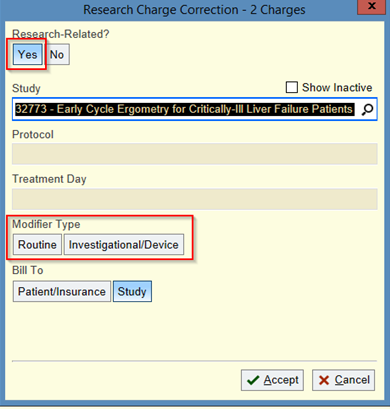 After the CRPC interface is active, will Epic bill the study account directly?
Unlikely. OCRICC needs to do manual review of invoices prior to sending to ensure accuracy and remove ancillary/supply charges from bundled services. CPS does not manage invoicing to study accounts.
Can OnCore calendars and OnCore Financials be used for all clinical trials, regardless of sponsor type?
Yes, OnCore and all its functions should be used to track study and subject study-related activities, especially those involving Froedtert resources, regardless of the funding source. OnCore allows for efficient and standardized tracking and reporting of financials tied to study activities and subjects in a single system, and by the end of Phase 2 of Financials implementation will allow for receipts tracking through the ORACLE interface.
The Coverage Analysis Console talks about a QCT Checklist. What is a Qualifying Clinical Trial (QCT)?
Click the links for details and background information about what meets the criteria for a qualifying clinical trial. The
National Coverage Decision (NCD)
(PDF) offers specific guidance concerning Clinical Trials Billing. Under the National Coverage Decision (NCD), Medicare will cover those routine costs of qualifying clinical trials and the costs of items and services that are reasonable and necessary* to diagnose and treat complications arising from participation in all clinical trials (
Centers for Medicare and Medicaid Publication 100-3, Ch 1, Part 4, Section 310.1
) (PDF).
What are Q0 & Q1 billing modifiers?
The Q0 & Q1 modifiers are included on outpatient provider (professional billing) claims for items/services provided in Medicare qualified clinical trials/studies.
Use Q0 to designate the item under investigation in the trial/study.
Use Q1 to identify routine services provided in the trial/study.
Routine clinical services are provider-based services, procedures, items that would be covered by Medicare if the subject was not in the study and are standardly used for clinical care of a patient with the same diagnosis.
Investigational services are provider-based services, procedures, items that being evaluated as effective or safe in the trial/study.
Examples of Routine Services
Items or services required solely for the provision of the investigational item or service (e.g., infusion)
Items or services typically provided absent a clinical trial
Clinically appropriate monitoring of the effects of the item or service (e.g., monitoring side effects or complications)
Prevention of complications
Items or services needed for reasonable and necessary care arising from the provision of an investigational item or service (e.g., hydration fluids as part of chemotherapy treatment)
Excluded from Routine Costs
Items or services provided solely to satisfy data collection and analysis needs that are not used in the direct clinical management of the patient or not used to monitor the effects of the item or service (e.g., plasma biomarkers)
An investigational item or service itself if used in a non-FDA approved way
Items or services customarily provided by the sponsors free of charge
Items or services provided solely to determine trial eligibility
Treatment of healthy volunteers unless used as controls
Cosmetic surgery, some prosthetics, herbal remedies, relaxation therapies, etc.
What other OnCore Financials questions do you have?